An Exclusive Offer For You
ENHANCE LED Dimmable Lamp - Premium Glass Color Changing Light with Remote Control - 7.9 inch Night Light Lamp, 4 Lighting Modes, Battery Power, or AC Adapter - Perfect for Children and Adults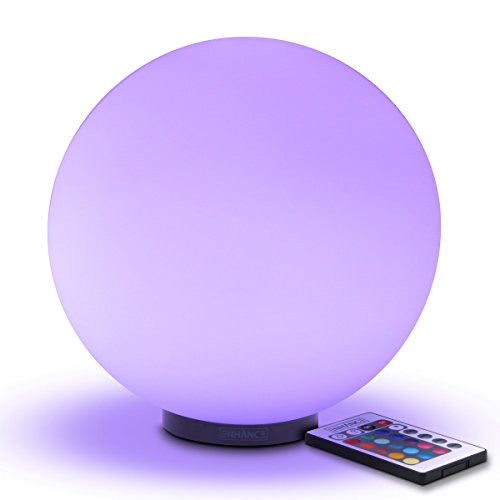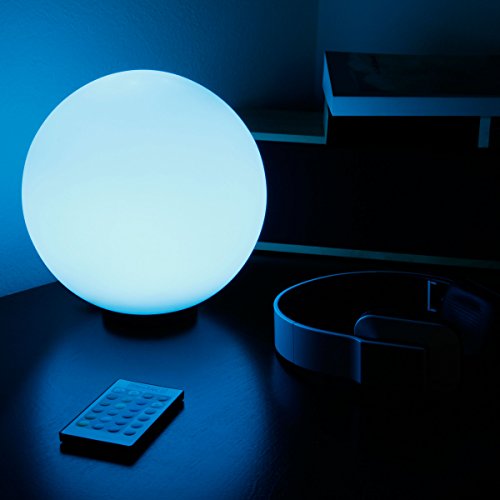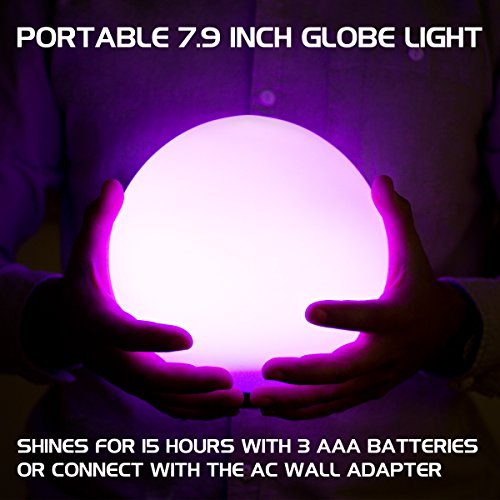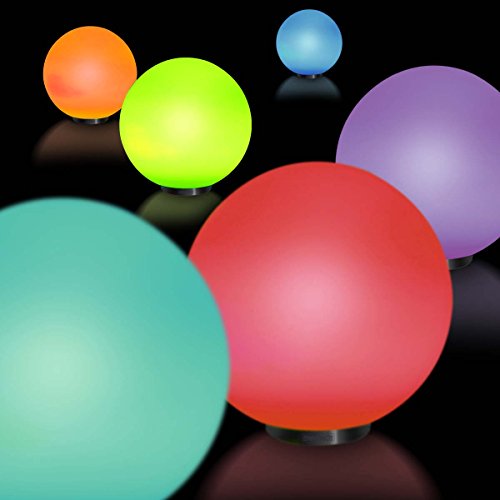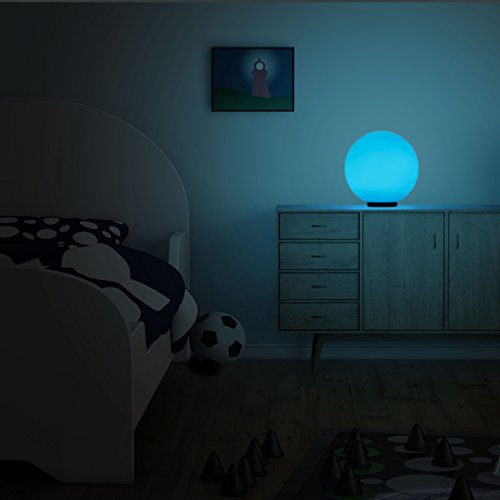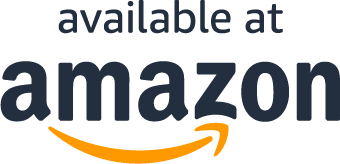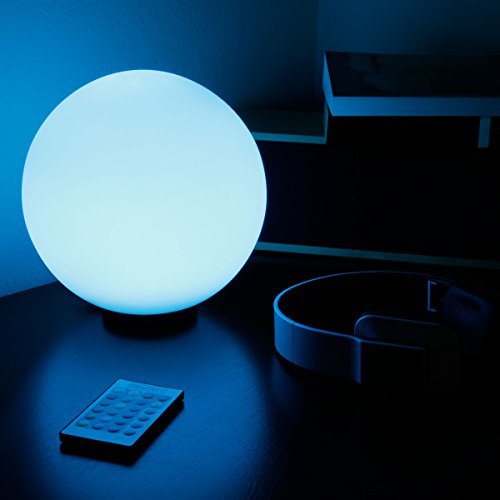 About the product
VERSATILE: Cycle through 256 rgb lamp colors that fit anyone's preference, or use any of the 4 modes (FADE, SMOOTH, FLASH, STROBE) to help set the mood and create a more ambient atmosphere.
PORTABLE: With batteries, move anywhere you need it. Patio, pool, table, anywhere that fits, our light goes with you. Even more, if you need the light all night, then plug it in as a stationary light
WIRELESS REMOTE CONTROL: Change colors, modes, brightness, and more of the orb lamp from your couch, bed, or across the room! Never worry about others touching the glass globe to change the settings
BRIGHT, VIBRANT, AMBIENT LIGHTING FOR EVERY ROOM: Whether using as a night light, desk lamp, or meditation lamp, the Mood Light can be tuned to enhance the ambiance of any environment
PREMIUM GLASS DESIGN & ENVIRONMENT FRIENDLY : Free of UV, IR, and other toxic elements. Glass lets low heat & non-polluting LED shine more brilliantly, great sphere lamp for kids. || 3 Year Warranty
What Our Customers Are Saying
Great Lamp!
I bought this lamp in order to create a Goku lamp because of the shape. My project was a success and the lamp looks awesome!
Great product
This is a very good product. My daughter does not like to sleep in the dark, and our previous lamp was just too bright, so we bought this one. I attached 2 pictures where you can see it by day and night. It has several colors to choose from, and also a "slideshow" mode where the colors are changed automatically (pretty sure that might induce seizures in the children :). Most of the colors are soothing and perfect for a child's sleep, but I find some of the colors to be very strong, and I don't think a child would sleep well with them.My only concern is with the remote. There are no controls in the lamp itself, so if the remote is broken or lost, there is really no way to control the device (unless we get a new one from the manufacturer). All in all, a great product
Amazing lamp!
I bought this neat little thing for my daughter for Christmas. I had considered a lava lamp, but ultimately decided this was a better, more functional lamp. Be aware, the globe is glass, so handling it roughly is a bad idea.There are tons of colors and brightness levels to choose from, as well as preset color changing modes. It can be quite bright, or just dim enough to use as a night lamp. My daughter loves it, and every time I look in her room, it's on a different color, so she's playing with it constantly. I don't think she's turned it off since she received it, so it does appear to be pretty durable.All in all, I wish I'd bought one for myself as well. Jump on it! You won't regret the purchase!
Awesome mood light!
A lot of people seem to have bought this for their kids as a night light, but I'm an adult and bought it because I thought it looked cool, lol. And it is! I love the "Smooth" function, which cycles through the color spectrum slowly. I wish it was a *bit* more gradual, but it's still a nice setting. I also like how you can adjust the brightness level. At nighttime, I have it set to the lowest brightness, because my bedroom is a bit small, and so even on the lowest setting it lights up the room quite a bit (but not too much). I've found that the blue and red colors seem to work well at night, they're quite soothing.I also like how the sphere itself is made of glass, and not plastic. I bet that's why it looks so cool, since the light shines through it better than it would through plastic. All in all, I'm glad I bought this. It's not like it's a household necessity or anything, but it's awesome if you want something to make a room feel atmospheric and relaxing.
Perfect Night Light!
I was looking for a night light for my son's room and I'm so glad I found and chose this! Mostly, I could only find ones that ran off battery power only and automatically shut off after 45 minutes or so. My son wakes up often in the middle of the night, so I needed something that would be on all night. This mood light does the job. It plugs in so it can be run all night long (there's only an on/off option, no timer). It has a battery back up if the power fails (3xAAA). The only way to control the globe with a remote. You can switch between 16 different colors and adjust the intensity of the light. Other than a constant color you have options of Flash - switches colors every 1.5 seconds, Strobe - switches colors every 10 seconds, Fade - rapidly flows through colors and gradients, and Smooth - slowly flows through colors and gradients. It's simple to use and lets off great light. Also, the globe is glass.
My favorite purchase of anything I've ever bought from Amazon
This is my first Amazon review ever, and I buy probably 90% of the things I own from Amazon. But I felt truly compelled to write a review simply because I love, love, LOVE this light. I bought this for myself because I wanted add some nice color to my room at night. And for $30.00, you truly get your money's worth.I bought mine two years ago and after many music festivals, moving homes, and even being left outside in the rain momentarily at one point, it finally broke. And not because the light itself died, but because somebody actually knocked it over and shattered it. Otherwise, I genuinely believe this would have lasted me many more years.My mom ended up buying one a week later for herself once she saw mine because she was so jealous. It really does enhance your room, just as a mood light should. Plus, you have the ability to adjust the brightness/dimness of the lighting, which is fantastic for night time if you're trying to sleep. I've used it every single day since I bought it two years ago, and I'm about to buy another one right now.One of the best parts is the fact that it can be plugged in, or run on battery. It truly is a fantastic light that I believe any child or adult alike will genuinely enjoy.Without hesitation, I would recommend this to anybody of all ages.
Questions?
Why are you running this promotion?
How can I use my coupon on Amazon?
Does this include free shipping?
What Are You Waiting For?