An Exclusive Offer For You
ENHANCE Large Gaming Mouse Pad - Thick Mousepad with Stitched Edges, Non-Slip Rubber Base, High Precision Smooth Cloth Fabric Tracking Professional Esports Mouse Mat - 3D Blue Hex Design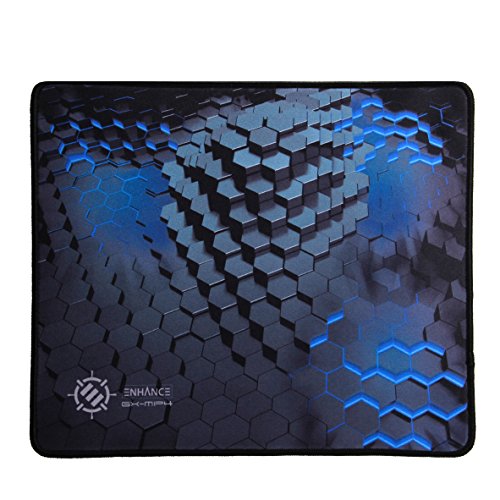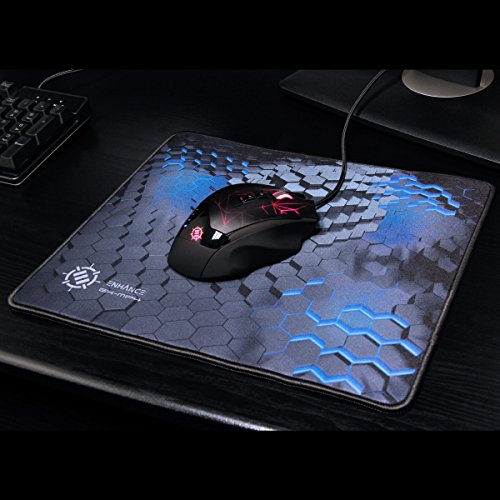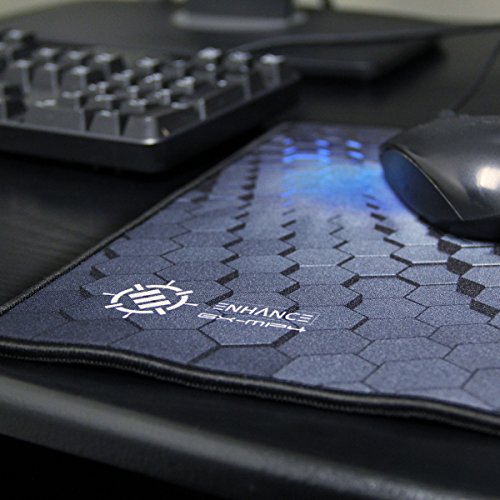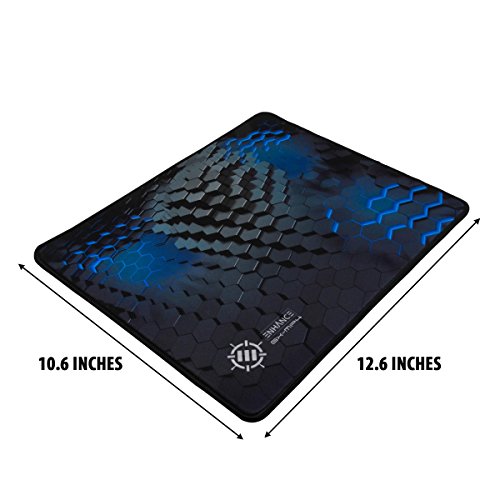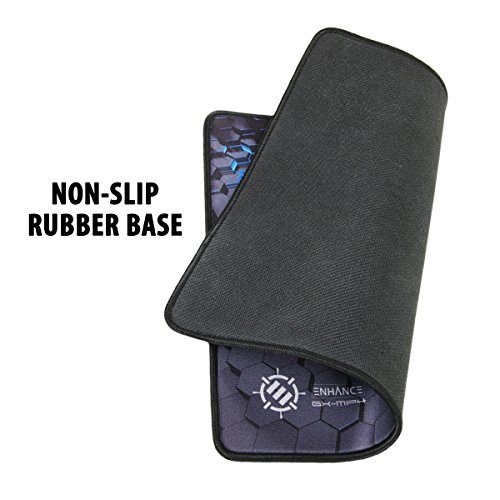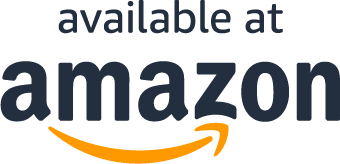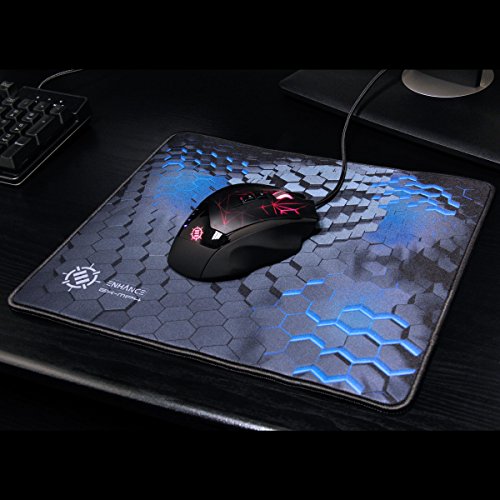 About the product
LARGE GAMING MOUSE PAD at 12.6" x 10.6" inches offers 50% more surface area than a standard mouse pad while remaining compact enough to fit on smaller desks

ANTI-FRAY STITCHING increases durability and prevents everyday wear and tear that mousepads endure
SMOOTH MOUSE PAD WITH LOW FRICTION for exceptional tracking performance with optical and laser mice
ANTI-SLIP RUBBER BASE keeps the large mouse pad in place even during the most intense gaming sessions
3 YEAR MANUFACTURER'S WARRANTY included with all ENHANCE Gaming products!
What Our Customers Are Saying
Best Mouse Pad I've Ever Used
I had quit using mouse pads years ago because they tend to be too small and degrade quickly.At a new job, I found my mouse feet tended to get crud build up on them making the mouse cursor behave erratically.After checking reviews, I bought this mouse pad in attempt to correct the above issue. I am pleased to say that it is everything that is advertised. The stitching is top notch, it does not move from where it is placed and I rarely have to pick the mouse up to reposition it because of the perfect size. Most importantly, the mouse feet no longer get any type of build up. The mouse pad itself doesn't seem to get dirty either.I would definitely buy this mouse pad again over any other.
A hidden gem
I had to scroll quite a few pages in before I found this mouse pad. It deserves to be at the front. I didn't want to go with some drab black colored mouse pad recommended by amazon. I wanted something in Blue yet not something too flashy. This was just what the doctor ordered. I feel like it was made just for me. Subtle shades of Blue and Black with that futuristic design. Love it. I was skeptical about the quality but it blew me away. Good quality product and excellent value for money. I'm using with Corsair M65 Pro RGB and its been working great with that.
High Quality Mouse Pad
I bought the pad & it looks really good. My gaming mouse works very nicely on it. It seems well made, no loose strings hanging from it, & the warranty that came with it was also nice. My kid's & their friends all really like the look of it, & try to use it whenever they come over from a LAN party.The only issue to watch out for, is that when you open it, it's rolled up. After you unroll it, it doesn't necessarily want to stay flat, & you may want to put a large heavy book on it for a few days. For me it's been a few weeks without using a book, & one side is laying flat the other one still curves a little.
Super Nice Mouse Pad
I haven't used a mouse pad in years. After replacing my old mouse with the Logitech M510 (Longer battery life), I needed a pad to avoid scratching the desk surface. The mouse operates and tracks better on the large pad. I like the 3D design that matches my LED Blue Keyboard and Blue LED RGB Computer case. Great quality and the packaging was really nice.
The mouse pad was rolled up in a box but it rolls out completely flat and the quality of the mat is very good. There were some reviews that state otherwise but ...
I purchased this gaming mouse for my son. Before purchasing I read a lot of reviews and found them helpful until the mouse pad arrived. The mouse pad was rolled up in a box but it rolls out completely flat and the quality of the mat is very good. There were some reviews that state otherwise but I did not find this to be the case. My son said it is nice and likes the large design allowing for more movement with the mouse itself.
Very good mouse pad
I have never had a fancy gaming mouse pad, only the run of the mill office mouse pad, and for the last year i have been just using the desk with nothing on it. Using this makes a big difference. I dont know if it really helps the mouse to track any better, but it is certainly more comfortable. Its pretty thick so i line the edge up with my desk edge, and i no longer have the desk edge biting into my wrist when i game. The only downside is that its bigger than i expected, and i only use about half of it, but thats ok with me.Pros:Feels nicedoesnt slipthe mouse works well with itLooks goodIt seems high qualityCons:Very large, but i did buy the XL versionIts definitely better than anything i have used before, if it ever wears out il get another one
Questions?
Why are you running this promotion?
How can I use my coupon on Amazon?
Does this include free shipping?
What Are You Waiting For?