An Exclusive Offer For You
ENHANCE Gaming Headset Stand Headphone Holder with 4 Port USB Hub
$9.00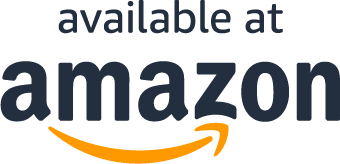 | | | | |
| --- | --- | --- | --- |
| 37 | Coupons used | 13 | Coupons left |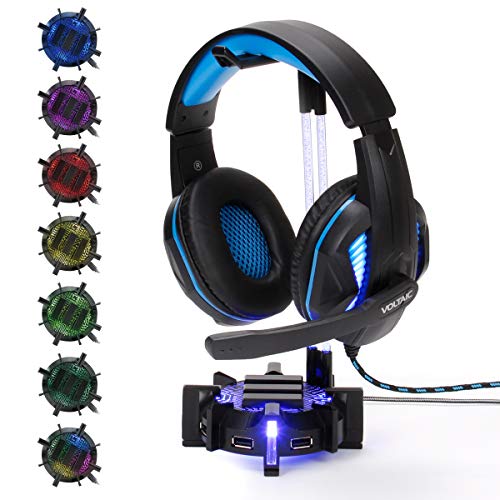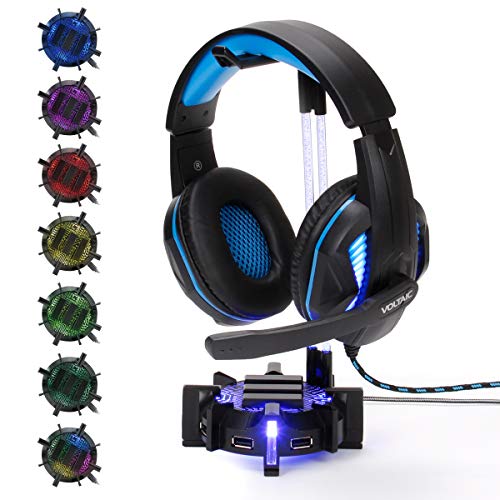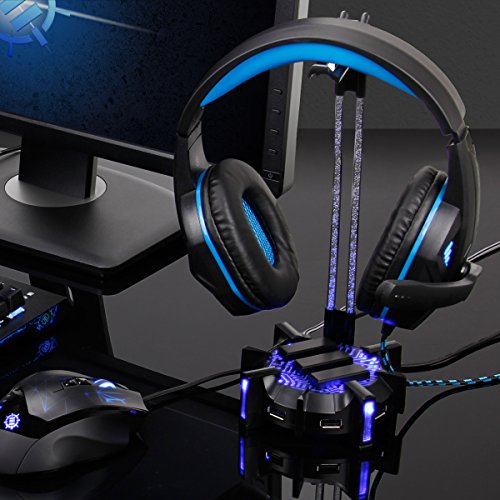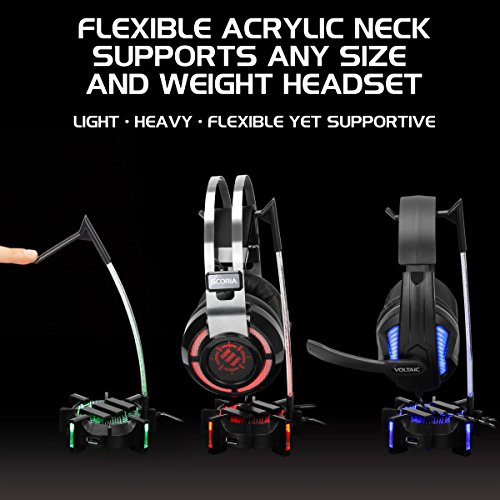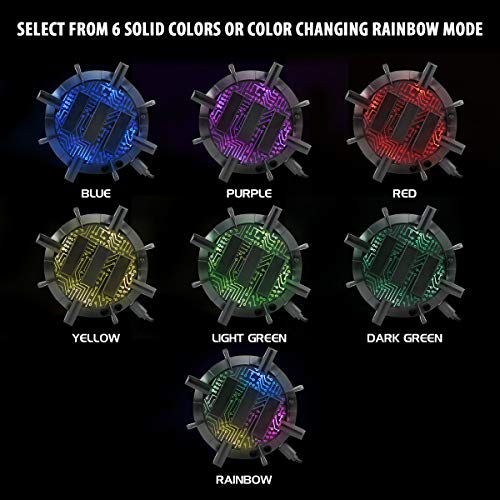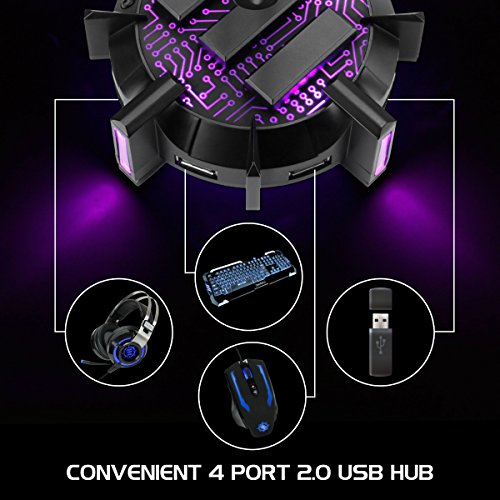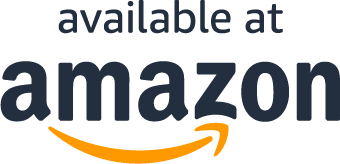 | | | | |
| --- | --- | --- | --- |
| 37 | Coupons used | 13 | Coupons left |
Read More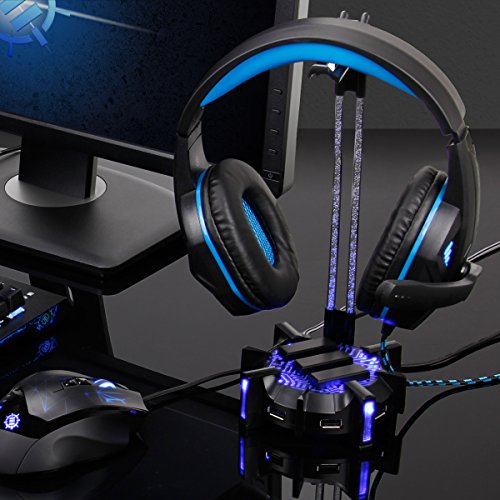 About the product
7 LED COLOR MODES: Switch between 6 solid colors and a Rainbow color changing mode (RED, BLUE, GREEN, YELLOW, LIGHT GREEN, PURPLE & RAINBOW)

4 USB PORTS: Easily connect a headset, keyboard, mouse, or transfer data with the four USB 2.0 ports built into the side of the headset stand
FLEXIBLE TRANSPARENT NECK: The durable acrylic neck shines with your selected LED setting and holds even the largest headsets with ease
WEIGHTED DESIGN WITH NON-SLIP GRIP: Weighted base dock with rubber feet grips prevent accidental movement and securely hold your headset in place on any surface including glass, wood, metal, and more
SPACE SAVING DESIGN: Sleek and discreet design stores your headset while remaining compact enough to reduce desk clutter by consolidating headphone storage with USB hub utility || 3 Year Warranty
What Are You Waiting For?
What Our Customers Are Saying
Mostly a great stand, with one minor complaint
pros- looks cool- looks cool- looks cool- functional USB ports- does the intended job- sturdy and does not tip, even when heavy-ish headphones are on it, despite having a small footprintcons- the acrylic poles with embedded gas bubbles are flimsy ("flexible") and can bend/bow when heavier headphones are placed on them. but does not affect the functionalityIf you want something that looks like a light up accessory from Tron, then this is your item. It looks fairly futuristic and the USB ports are a great bonus.. This is the perfect compliment to your colored LED keyboard, mouse, and headphone setup.
OoooOOoOooo~ Pretty Colors!
I love the LED's on it, it's so neat having a rainbow effect glowing over my desktop. I don't actually put my headphones on it as the only spot to put it is way too close to my monitor. I do, however, use it to hang a very dear necklace, and the little gems on it catch and reflect the light in a dazzling display! So there you go, don't use it for headphones but jewelry! ... Okay, maybe this really isn't for that. I did try my headphones on it though, some Microsoft lifechat(?) thing, heavier than I'd like. They worked great on it, didn't really bend, etc. Honestly my only complaint is how freaking difficult it was to get the posts into the USB hub-thing. Took me a good 10 minutes of trying and re-trying, very tight fit. On the plus, it's that fit that makes them not instantly fall out from headphones or shiny jewelry.The USB ports work very well, I've had zero issues with any of them. I like to use it to charge my 3DS while I play it, as my main charging area for it isn't really close enough to charge & play. I feel like this is a worthy buy if you need something fancy to light up your area.
Has a switch on the side to change colors and has 4 ports for USB connections.
Bought this for my sons bday, he is into rgb now. He has a computer that is rgb, keyboard, mouse, monitors and the headphone stand which is rgb. He can change it to any color he wants or multiple colors. He really likes it and it is durable and holds the headphones really well. Of course if that are a little heavy the piece that hold them up will flex a little bit. He is happy with it and it was a good buy.
Highly recommend
I originally bought a rgb stand for more money than this one and was extremely disappointed. So when I got this one the other day I was ecstatic to have gotten exactly what I wanted. It is just as described. The lighting looks very nice and is soothing to watch. I wish the stand was a bit taller for large headsets, but it still works just fine. I charge my phone from one of the usb ports and am able to organize all my wires much better now. If you are looking for an aesthetically pleasing headphone stand, I absolutely recommend this one. I appreciate when sellers describe a product as exactly what it is; Nothing more and nothing less. And the seller did just that. Thank you!!
Awesome stand
I love Enhance products and own more than a few,this stand was my latest addition,and like all their stuff,it matches perfectly.Yes w/bigger cans the acrylic support rods flex a bit,but it holds fine and is very stabil,I have a bigger set of Sennheiser gamers on mine and it does fine.The clear supports look very nice on every color or using the rainbow setting.If you're into RGB or things that glow and are colorful this stand is for you.As for a hub,it is fairly useful but as it is only 2.0 it isnt to good for data transfer,but to me it really doesnt matter,I knew what it was before i bought it and it is everything i expected.
Gaming Son
My son absolutely loves this! Hes able to charge his phone and uses the other ports for charging other gaming device. Now he doesn't have to worry about his dog getting a hold of them or messing them up!
What Are You Waiting For?
Questions?
Why are you running this promotion?
How can I use my coupon on Amazon?
Does this include free shipping?
What Are You Waiting For?