An Exclusive Offer For You
ENHANCE Extended Large Gaming Mouse Pad - XL Mouse Mat (31.5" x 13.75") Anti-Fray Stitching for Professional eSports with Low-Friction Tracking Surface and Non-Slip Backing - Blue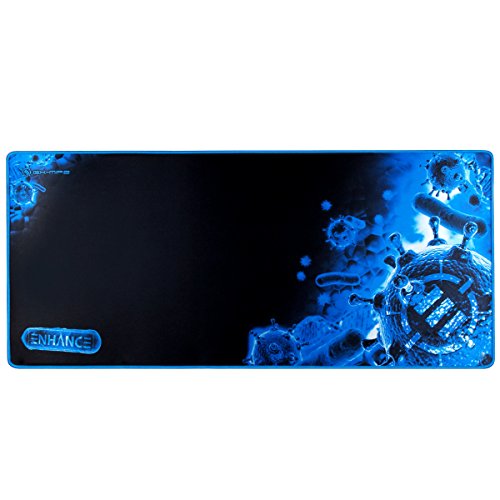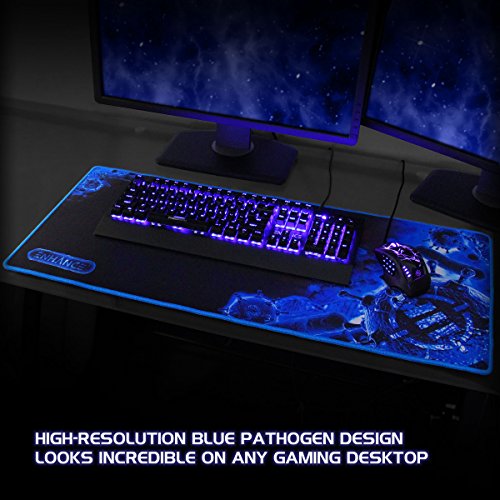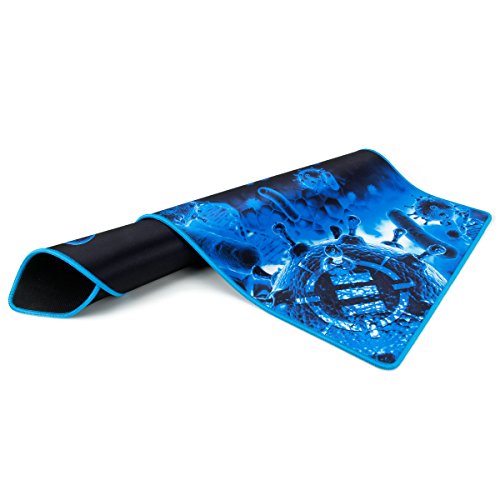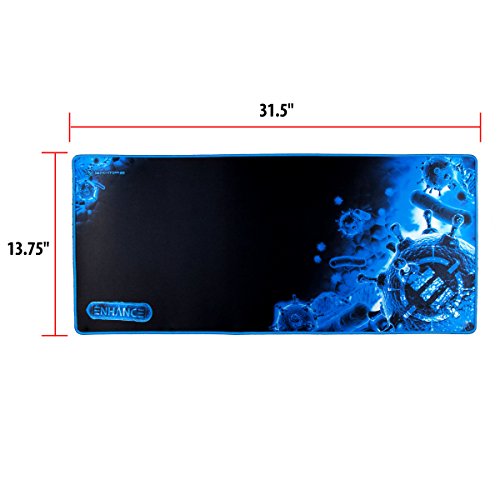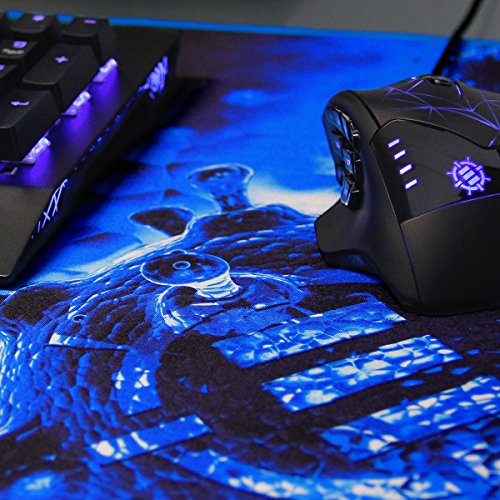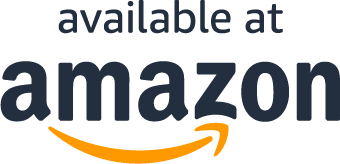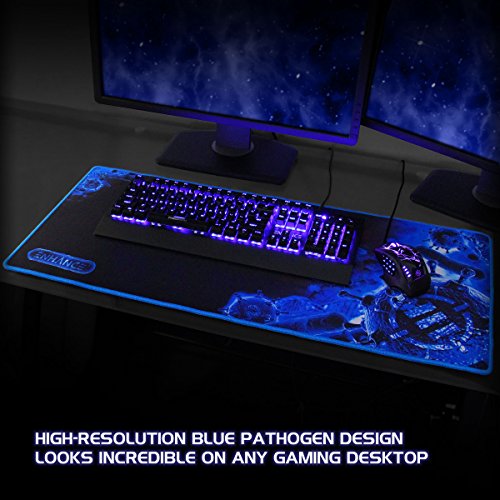 About the product
GIANT LONG MOUSE PAD: With over 400 square inches of surface area, the Pathogen offers an extensive tracking surface for both your keyboard and mouse, providing plenty of room for movement

HIGH QUALITY STITCHED EDGES: The premium stitching prevents unsightly fraying from wear and tear of daily use and eliminates edge flair and curling
TEXTURED RUBBER GRIP: The entire backside is covered in a non-slip grip that lets the pad remain stable on a variety of desk surfaces including wood, glass, metal, and more
SUPER SMOOTH NEOPRENE SURFACE: Incredibly sleek surface lets your mouse glide effortlessly over the pad for incredible speed and precision
3 YEAR WARRANTY: At ENHANCE, we back all of our premium gaming products with a 3 Year Manufacturer Warranty
What Our Customers Are Saying
GREAT PRODUCT
LOVE IT. I was worried because this isn't a brand I usually hear about however I saw the price and bought it. This mouse pad is EXTREMELY well made and it is exactly as claimed. It's relatively thick and the stitching is superb. I would HIGHLY recommend this product because it is a very nice mouse pad. If you haven't had an extended mouse pad before just take note of the size, cause it's pretty large. Mine overlaps my monitor's base because of the space on the desk that I have
Best Gaming Pad I Could Have Hoped For
This is my first gaming pad, and after using it for nearly a month, I absolutely love it. I mainly purchased this pad (great deal at $14.99) to protect my desk surface, which was beginning to show some wear in the areas where the mouse and keyboard sit. PACKAGING This pad comes rolled in its own plastic tube (much better than folded), so it was laying perfectly flat within a matter of hours. There was a slight curl at the mouse side (for right-handers), but this was never a problem as the weight of a hand and mouse took care of it until it settled. The smell inside the canister was nothing short of horrible, so if you are sensitive to these smells, you might need to allow some time before you use it. Having said that, the pad itself did not have a terrible smell for me once removed, so to me this shouldn't be a deal-breaker. Warranty paperwork and a "user manual" are included, but these are basically advertisements for other gaming products and warranty information (1 year warranty, or 3 year warranty if you decide to register your product). SIZE/QUALITY The size of this pad is perfect for my purposes, plenty of room for a keyboard and mouse, with enough extra space to move the mouse and keyboard wherever I want, without having to move the pad itself. It appears to be of superior quality, with stitched edging and a substantial thickness. At first I was concerned that it might even be too thick/spongy, but having used it for weeks, it is exactly what I wanted. In the places where my hands/forearms rest, the stitching along the edge has become "fuzzy" after a few weeks of use, but I believe this is probably normal and so far has not effected the appearance or function of the pad. The backing has a rubberized herringbone type pattern and keeps the pad in place quite well, without making it impossible to slide the whole thing back when I need access to the desk surface. USE The pad's surface is silky smooth and my mouse glides effortlessly. I have noticed a considerable improvement in the tracking of the mouse with this pad (I was using the mouse on the desk surface, which of course is terrible). The rubber pads on my keyboard have kept the keyboard in place during use despite the smoothness. When I do need to adjust the keyboard location or angle, it moves easily enough. (Turns out I actually adjust my keyboard a lot and never noticed because it was on the hard desk surface) CLEANING I had been able to keep my pad clean for the first few weeks, but just prior to writing this review, I spilled half a mug of coffee right on it. While the bulk of the liquid stayed on the surface, it did not exactly repel it. Unsure of what to do, I sopped up the coffee and pressed what I could out of the padding. It left a rather potent coffee smell behind, and not wanting it to set in, I used the sprayer on the kitchen sink to try to get rid of the absorbed liquid and smell. After squeezing out what I could with a rag and paper towels, and allowing it to air dry the rest of the way, I am happy to report that I no longer smell coffee (just the faint hint of that rubber smell that used to be much worse) and there is no apparent stain. Hopefully this won't happen again, but I am pretty happy knowing it cleans up well. Overall I am very happy this was my first gaming pad purchase. The price was outstanding considering you could easily pay that much for a mouse pad itself, and given the overall quality and function, I can't imagine finding a better bang for my buck. PROS Good size and quality, mouse moves and tracks perfectly, keyboard stays put, looks great CONS Terrible smell in the package, fuzzy wear on the stitching could indicate future issues (but none so far)
Perfect for gamers! Top notch product! (Update after a year of owning at the bottom)
I never thought it would be THIS good at this price! I looked for reviews talking about it's speed (my current one was rough and caused friction) and all the reviews were top notch. I thought I'd give it a try since the price was so cheap. What could I lose, right? Well let me tell ya...From a gamer's view...This thing is both high quality and high performance! I am amazed at what this is and still can't believe the price. If you are even considering a new mouse pad, please please please stop looking. Just get this one and be amazed! Update after owning for over a year..... I rotate this pad out with 2 others. After about 2 weeks, it begins to get dead spots that become an issue during FPS games. I use another pad and toss this one into the washing machine and then air dry. It doesn't come out brand new, but it comes out darn nice. Am buying another one and will just use these as I rotate them through the washing machine. It is by far the best mouse pad I have used. I have the Logitech Steel series and other big name brand pads...These are not only super quality pads, they are also at a super price. It's almost unreal to see these be so much cheaper than the big name brands, yet are so much better. Thank you, Enhance, for a great product at a great price!
awesome product! when i first bought this the only ...
awesome product! when i first bought this the only thing i was kinda worried about was it maybe being a little too thin but after receiving i can safely say that is not the case this pad has a very nice thickness to and the graphic looks awesome as for the feel its very nice and smooth pretty much glides across it haven't actually tried gaming on it yet but my mouse feels a lot more fluid as opposed to a sort of drag down feeling i had with my old mouse pad so im expecting good results what else can i say shipping was on time and the pad spreads out nice and flat on the table no noticeable kinks or bumps the only con i can think of is the kinda high rubber smell you get from it at first but given what this product is its kinda to be expected....all that said i would totally recommend this pad
Took a while to get used to, but fell in love with it over time!
It took a while to get used to this mouse pad because of it's material. The material is a bit on the "silky-smooth" side and can really be hard to use if your used to a regular cloth mouse pad, or better yet: a gripped Razer mouse pad. I bought this for mainly two reasons: One, my keyboard kept shaking when I typed because one of the legs was short, so I needed something under it softer to reduce this. Two, I kinda of have this "Black and Blue" theme in my office so I felt like getting it as well. After a few months of use, not only does it become easier to use by some wear, but you really do get used to material eventually. When I used cloth mouse pads, the "palm being dragged against the pad" issue never affected me. As I decided to one day take a look at my old pad, it was seriously uncomfortable for me to slide my mouse side to side as my hand's friction was very irritating. The smooth texture of this mouse pad really does feel great, just needs some time getting used to and getting that DPI down a bit. Hope you enjoy it :)
Very Nice Gaming Pad
I purchased the Enhance Extended Large Gaming Mouse Pad to replace a smaller mouse pad. I've found this pad to be of excellent quality so far. I've found no missing stitching the pad measures as described and was ready to use right out the box. There was no bending marks from being rolled in the packaging and laid flat when placed on the desk. This was an excellent purchase for the price.
Questions?
Why are you running this promotion?
How can I use my coupon on Amazon?
Does this include free shipping?
What Are You Waiting For?