🔥Diaper Bag 50% off Amazon Sale Limited Time only

Diaper Bag Backpack,Durable Waterproof Large Capacity Multifunction Diaper Bag for Mom for Travel,Stylish Handsfree Nappy Bag with Stroller Straps,Insulated Pocket,Navy Blue
$14.95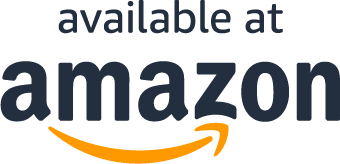 | | | | |
| --- | --- | --- | --- |
| 0 | Coupons used | 0 | Coupons left |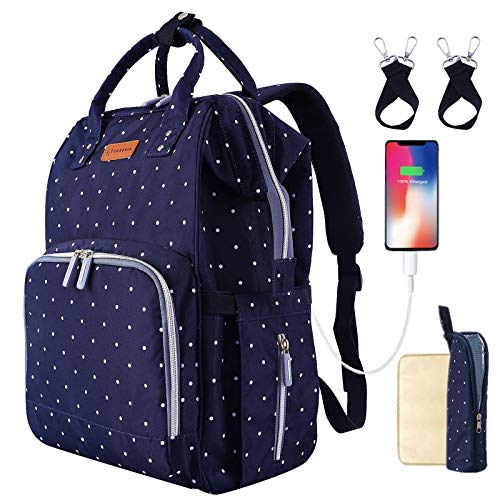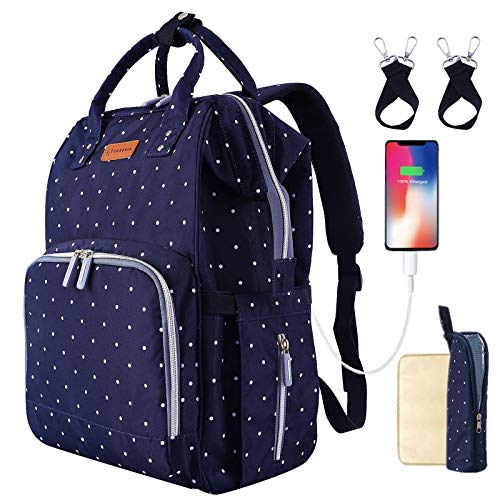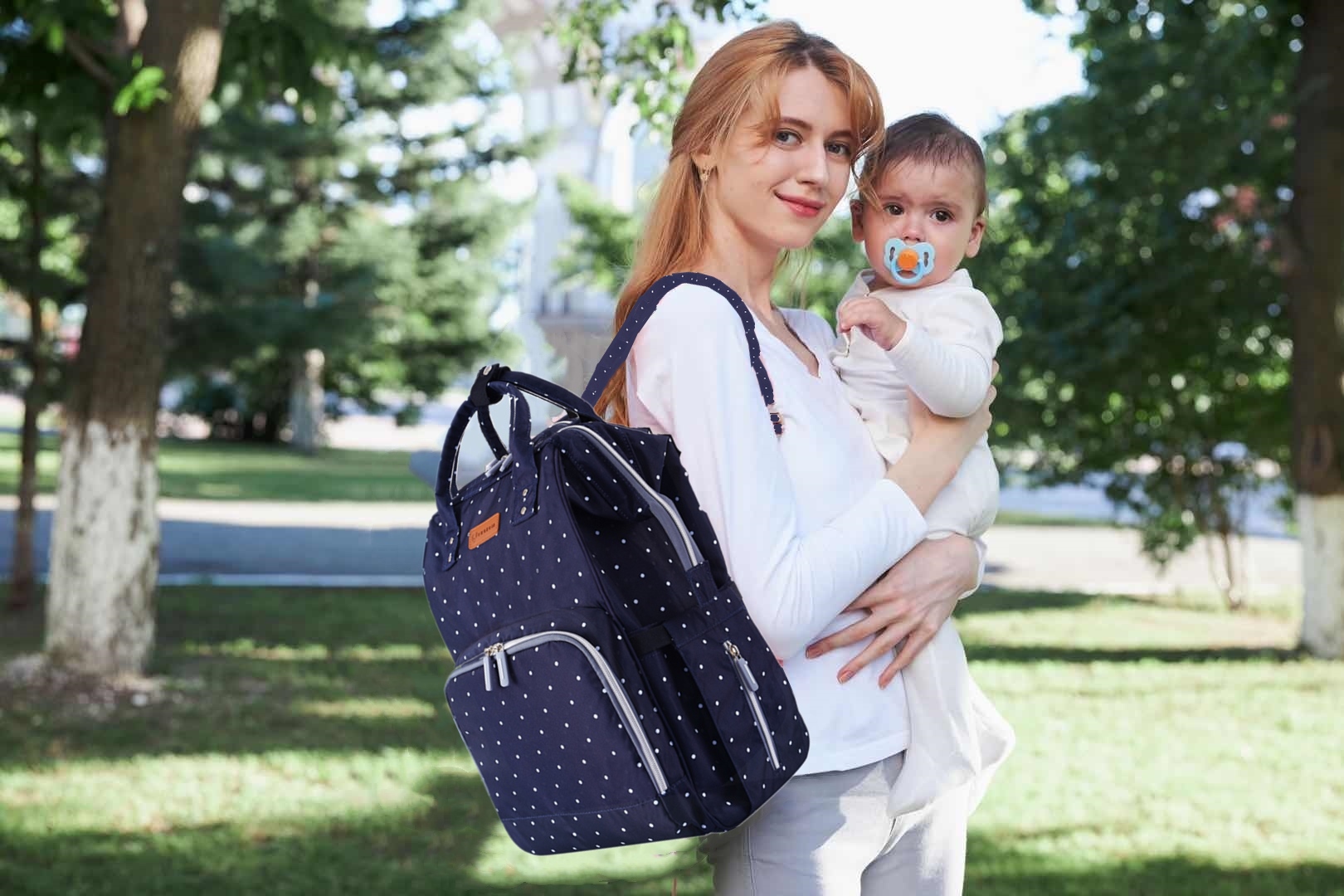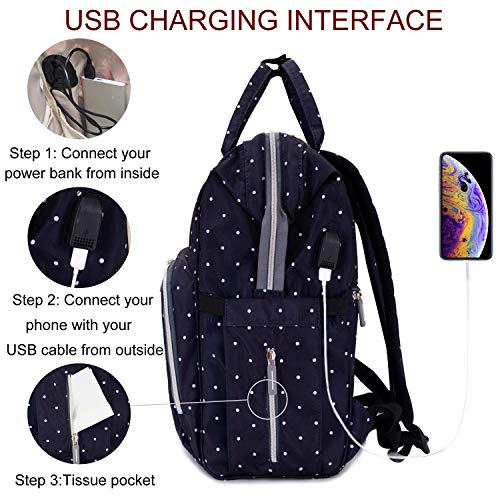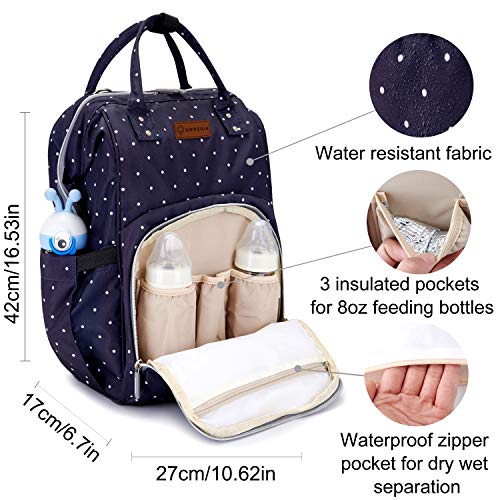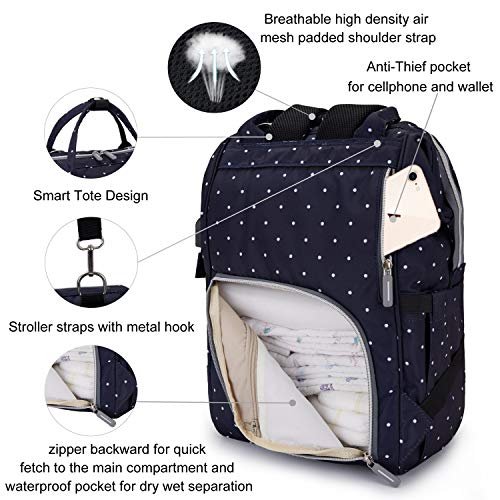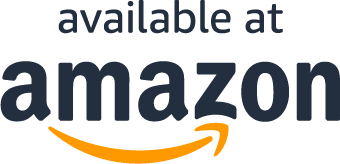 | | | | |
| --- | --- | --- | --- |
| 0 | Coupons used | 0 | Coupons left |
Read More
About the product
★Large Capacity&Practical:Diaper Bag with 14 Multifunctional Pockets Include 3 Insulated Pockets,2 Waterproof Pockets,2 Elastic Easy-taking Pockets,1 back Anti-theft pocket etc.,Spacious Enough to Hold Essentials and still Perfectly Organized and Compact
★High Quality&Durable:Our Diaper Bag use Durable,Lightweight,Waterproof Oxford Fabric,Thick Strong Nylon Thread and Smooth Strong Zipper,Reinforced Stitching on Shoulder,Handle and Stroller Straps,Very Good Deform&Tear Resistance
★5-Pieces Set:1 Backpack Diaper Bag(Size:10.6l*6.5w*16.5h inches) with Key Holder,1 Extra Insulated Pocket(Size:3.15dia*10.2h inches),1 Water Resistant Changing Pad(Size:18.5l*12.6w inches), 2 Stroller Straps
★Stylish&Convenient:Neutral Design Diaper Bag in Navy with White Polka Dots.Handsfree by the Stroller Straps,One-Hand Controlling via the Easy-taking Zipper and the Outside Pockets without Opening the Big Zipper
★If you have any quality problems within one year,Just feel free to contact our 24-hours customer service for after-sales service, it's our intention to offer the best service experience on Amazon
What Are You Waiting For?
What Our Customers Are Saying
Perfect airline carry-on bag...fits the required dimensions perfectly!!
Forget diaper bag!! This is my new carry on bag when I fly back and forth to Florida a few times a year!! I dont check baggage because I only take weekend trips and would rather not pay to check luggage, then have to wait at the airport to retrieve it, risk having it get lost, etc etc etc. So I have been searching for something that can hold a weekends worth of clothes, shoes, and makeup, be easy and comfortable to carry, AND fit it the dimensions required for carry on luggage. I finally found it!! I'm soooooo happy I got this bag!! It also came with a changing pad and an insulated attachable "bottle bag" and a USB extension cord. Before I go any further...the color....is GORGEOUS in person. It's not as green as it is in the ad photos, rather it's a lot lighter, "mint" green color. Much prettier than I thought it was going to be! The included changing pad I will be using inside my fur baby's carrier (my dog lol), the bottle bag I will use to carry my drinks and whatever else I want to keep cold (or hot) while traveling, and I love that it attaches to the backpack too, and the USB cord....well that definitely will stay as part of the bag, and I KNOW it will get used...A LOT. I also love that there is a small "hidden" pocket on the back side that you can securely store your money, credit cards, and travel documents without worry of being pick-picketed from behind while wearing this on your back. Did I mention how much stuff I can carry in this?!?! Oh, and I also love that there are "waterproof" pockets for wet swimsuits and towels. That definitely comes in handy when I decide to take a dip before my flight home. I am so happy with this bag, I can not stop raving about it. You will NOT be disappointed with this either, I can assure you. I am definitely getting another for my hubby (he was so jealous when mine came and he saw the difference between this and what we HAVE BEEN using lol)! Happy travels!!
Pockets for the things you didn't know you needed
So this at first looked structurally odd eventually I realized it was so more stuff would fit. I am excited to be giving this at a baby shower for a mom and dad that like the outdoors. I can say from personal experience that getting the most epically stylish diaper bag is not exactly the most intelligent thing to do. It gets bulky and cumbersome. I would love to have used something like this instead. It has very slick surfaces making it easier to clean. And the fabric on the outside isn't so shabby either. It is also structurally sound and now you can get that one thing on the bottom.
Great diaper bag
This diaper bag is so neat. So many pockets! They've really upgraded diaper bags since I've had a baby 10 years ago! I really dig the backpack style and all the space for not just baby stuff but my stuff too! Highly recommend!
Nice Bag
The features are what drew me to this product. This was a give for my daughter with her first child. I like the back pack diaper bag because it is easier to manage with baby. The charging port is a nice convenience & i like that it attaches to the stroller.
Love it.
This bag is withstanding the test of time. I've been primarily using it for a few months and it's holding up.
What Are You Waiting For?
Questions?
Why are you running this promotion?
How can I use my coupon on Amazon?
Does this include free shipping?
What Are You Waiting For?