FOR HANGOVERS AND HEALTHY LIVER FUNCTION.
Get the popular natural supplement everyone's raving about to help prevent hangover symptoms & support healthy liver function for 50% OFF AMAZON.COM TODAY ONLY. (Limit 2 Bottles Per Customer)

Powerful formula with natural ingredients works fast to boost glutathione production and help the body metabolize alcohol.

Includes FREE 2-day shipping with Amazon Prime and a 60-DAY MONEY-BACK GUARANTEE!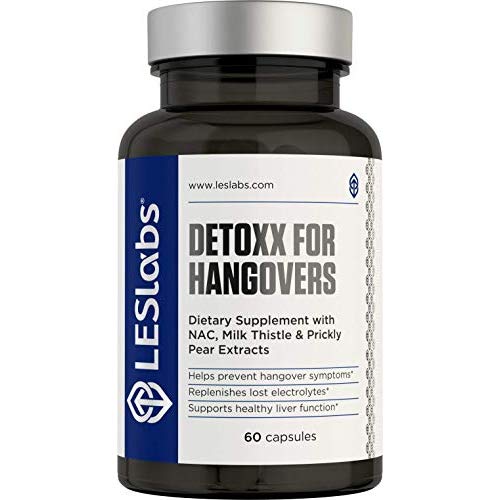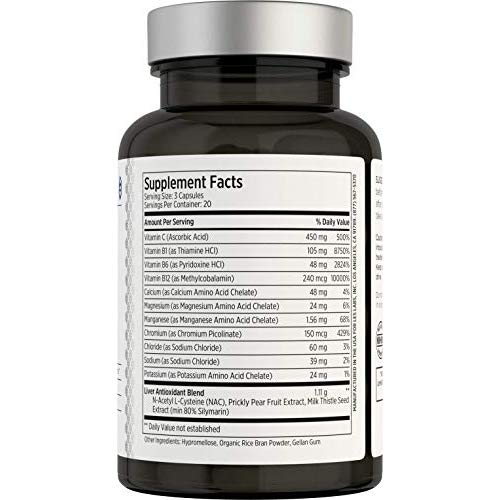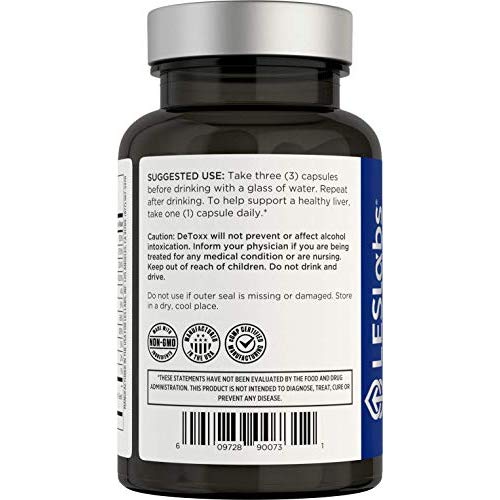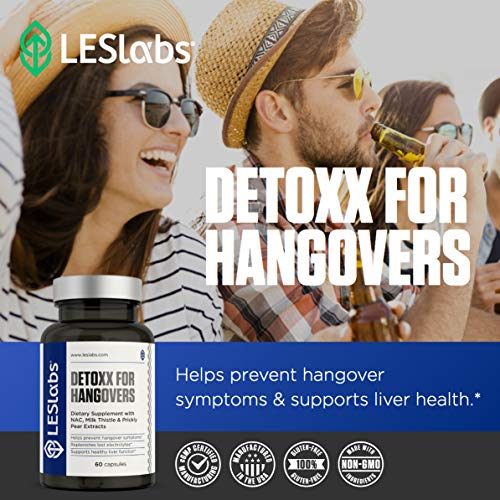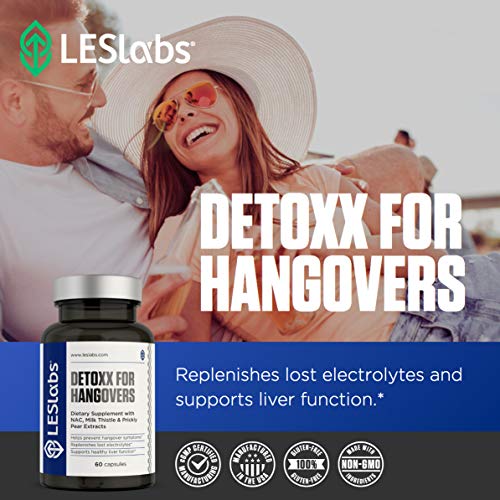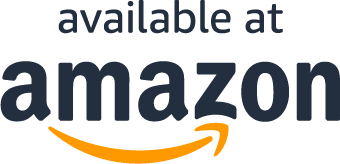 9
Coupons left
334
Coupons used
About the product
HELPS PREVENT HANGOVER SYMPTOMS. DeToxx is specifically formulated to help prevent hangover symptoms and support healthy liver function without caffeine or pain relievers that put excess stress on your liver.
NATURAL INGREDIENTS IN VEGETARIAN CAPSULES. Packed with natural ingredients including prickly pear and milk thistle extracts to help fight nausea, dry mouth, and loss of appetite.
ELECTROLYTE BLEND REPLENISHES VITAL NUTRIENTS. Refuel electrolytes lost during alcohol consumption with a powerful blend of calcium, magnesium, sodium, chloride, and potassium.
DRUG-FREE FORMULA SUPPORTS THE BODY'S ABILITY TO PROCESS ALCOHOL. N-Acetyl L-Cysteine helps the body metabolize alcohol by boosting your body's supply of glutathione.
HELPS SUPPORT A HEALTHY LIVER WHEN TAKEN DAILY. DeToxx isn't just for drinkers. Take 1 DeToxx capsule daily to help support healthy liver function. Our supplements are manufactured in the USA with the highest-quality ingredients from around the world.
What Our Customers Are Saying
Pre Toxx is a beacon of light for your liver amongst the high seas of death
Dear reader,long time listener, first time caller.Upon telling my brother that I ordered hangover pills from amazon based on various positive customer reviews, his reply was:"Well, do these people drink like vikings that just pulled into port" with a laugh.Good point.Welp, too late. They were already on the way. So as soon as they arrived, they were put to the test. Let's just say 14 hours with lunch and dinner being poured, not served if your picking up what I'm laying down.Next day, I drove a car, paid bills, and even solved a few binomial equations. Fast food still went down, but I functioned at a supreme level.Thank you LES Labs.Thank you PreToxx.Sincerely,Davy Jones
WHAT A TIME TO BE ALIVE!
Are you someone that threw away your old beer pong table because you started getting way too hungover after hosting all of your friends and needed to start being responsible? Well my friend, get on Amazon, purchase a brand new beer pong table, send out that party invite, and tell everyone YOU ARE BACK! People will be surprised, maybe not even believe that you are actually back, since they know you hate being hungover. But just wait until they see you run the beer pong table again, rip a few shots with your crush, make everyone do a shotgun with you and then wake up the next morning AND send out a text saying "I reserved that table for 6 at that brunch spot we picked out last night. See you all at 11 AM". Your hungover friends are going to be lying in their drool, wondering "Is this guy serious? We always make drunk plans but never follow through with them." Than someone will surely ask you, "How are you not hungover?" , which you'll than put on that same dumb grin you normally put on and say "Well guys, I got these LES Labs DeToxx pills from Amazon, took 3 of them before you all got to my house, and 3 after you all left, and you wouldn't believe it but I feel pretty good today considering all we drank". Your friends will than give you that face of shock and say "Why didn't I think of that?", which you can than confidently reply with "Because, I've always been the smartest person in the group". And there you are. You can be smart and also live this story.Please note: This story is not real, but I did test these during my trip to Vegas, which definitely surpasses the amount of drinks drunk in this story. And like this story, I was ready to go the next morning.
I don't know how they did it but I'm glad they did.
I don't know how on heaven or earth these people made a hang over pill, but praise be to baby Jesus that they did. This thing has changed my life.I'm at the age where my body doesn't respond well and I'm tired by 10pm. (I'm 27). It sucks. I drink a few drinks and I'll be hung over from saturday morning till tuesday afternoon.Not. With. This.I host wild parties rampant with enough alcohol to embarrass any fraternity during rush week. After a night filled with binge drinking and regret, I wake up in tip top shape like I did when I was an 18 year old, alcoholic freshmen trying to impress random people that I never saw again by showing them how well I could hover between alcohol poisoning and not being able to walk.Take 1-3 of these pills before you go to bed with some water. Wake up and have 1-2. You will feel AMAZING. If you don't sleep, then you wake up tired. But I PROMISE you, you will wake up sober.Thank you, LES Labs.(Please cure cancer next.)
THEY WORK!!
I was skeptical about these really working but after reading the great reviews I decided to try them. This past weekend I drank 6 glasses of wine, 2 martinis and woke up feeling no symptoms of a hangover at all. If I had drank that much and not taken the pills I would have felt like garbage the next day!
IT WORKS?!?!?!
So the only reason I bought this is because of all the great reviews, so I'll write one myself. I'm 32, not old, but old enough to feel hangovers much, much more these days.We took a 4 night trip to Nashville with some friends. I realize that Nashville is a drinking City and that we'd be drinking all 4 nights. I wasn't necessarily excited about this because I knew I'd be wrecked and wouldn't be able to hang all 4 days of having drinks.I'm not proud to say this, but we did get a bit carried away a couple of nights and I got extremely intoxicated. I was very surprised, even after the glowing reviews, that I woke up with no headache, and no other sickly symptoms, such as nausea, heartburn, stomach ache, etc... Having drinks at brunch was then super easy because I had no symptoms.I still had the symptoms most mornings of feeling pretty worn out. I still felt like I had drank a lot the night before. I felt tired and a little hazy, but as far as feeling sick like most do when consuming large quantities of alcohol, I was good! A strong cup of cofee and I was feeling well again!We bought two more bottles for our week long trip to Hawaii. We wren't drinking large quantities in Hawaii like we did in Nashville but still found it comforting to have. I found that if we had 3 to 6 drinks, taking these pills were great and We'd wake up the next morning feeling absolutely 100%.So if you're looking to be irresponsible with your consumption from time to time like I run into, you'll be so thankful to have DeToxx working overtime for you to replenish what the alcohol is draining your system of! Recommend!
Questions?
Why are you running this promotion?
How can I use my coupon on Amazon?
Does this include free shipping?
What Are You Waiting For?