An Exclusive Offer For You
Deluxe Airtight Coffee Storage Canister Keeper with Free Scoop Spoon and eBook – 12.5 oz Beans or 16 oz Ground Coffee Container Jar Holder - Premium Quality Stainless Steel Vault Tin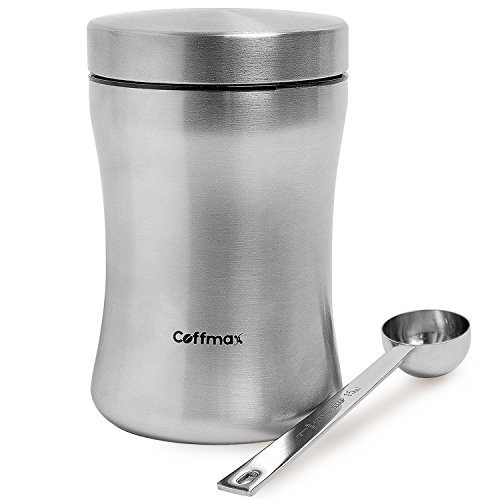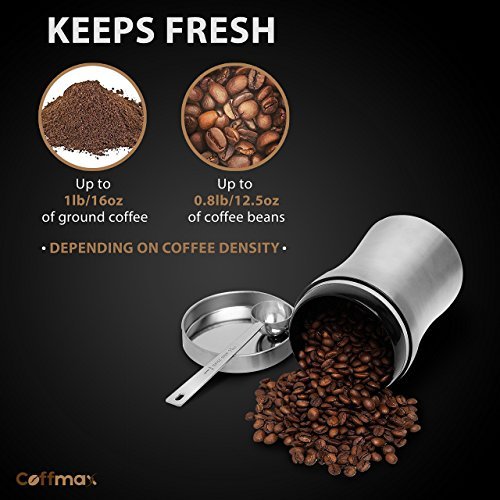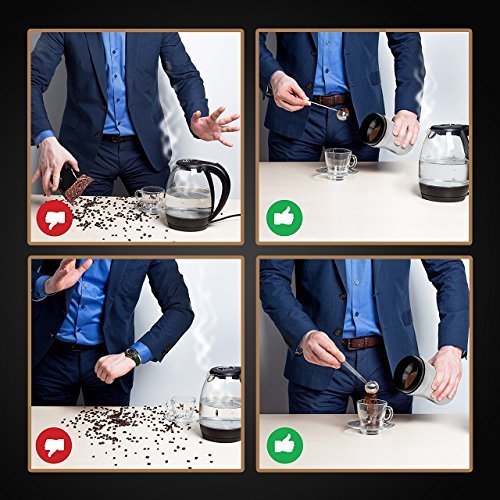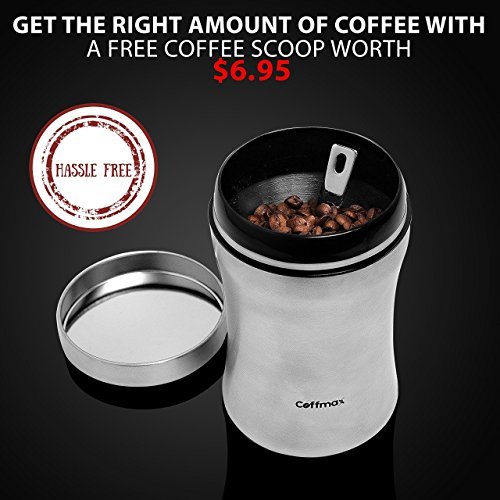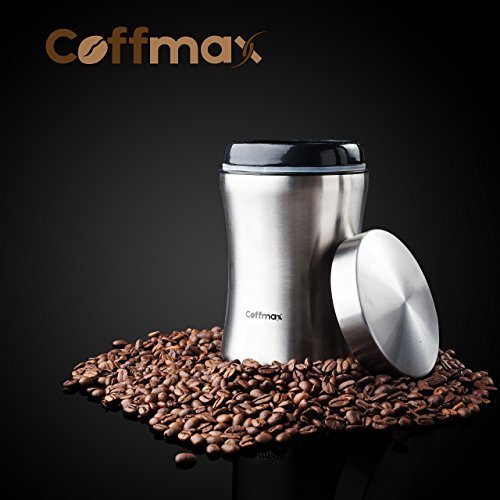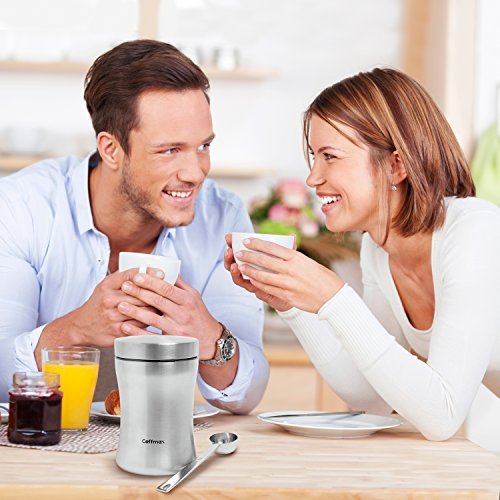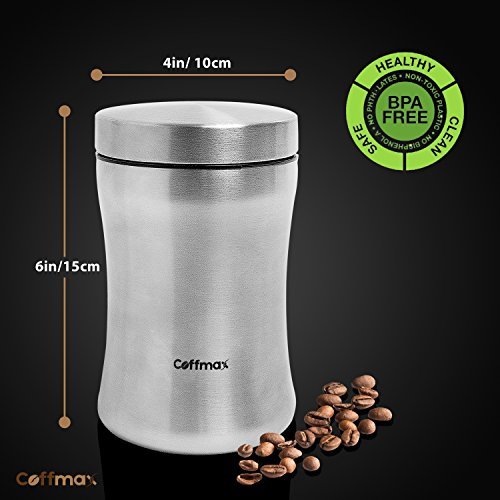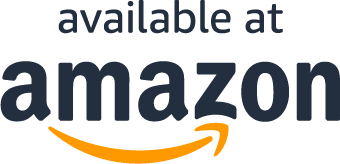 About the product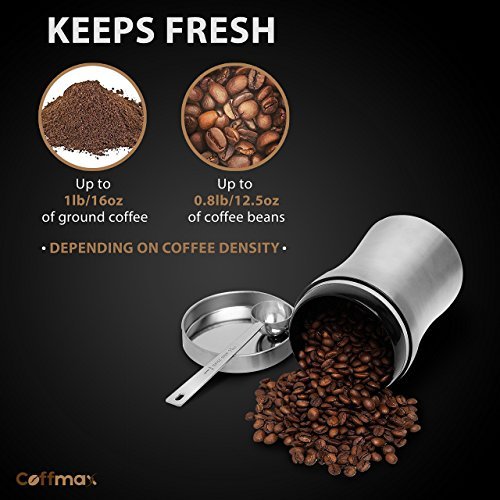 ELEVATE YOUR MORNINGS – There's nothing worse than sitting down to your morning joe and being greeted with a sip of stale coffee. Don't let anything get in the way of your rich, perfectly balanced cup of coffee, whether you prefer to keep your beans whole or ground. Your mornings are precious, and with Coffmax you can make sure to keep them that way.
TASTE THE FRESHNESS – Stop investing in artfully roasted coffee and then letting the flavor fall flat! Keep your coffee safe from the flavor-robbing bad guys (moisture, light and oxygen) with Coffmax's airtight metal holder. Hermetic silicone seal creates an opaque coffee vault to tightly store up to 1lb of coffee.
SLEEK, SOPHISTICATED STYLE – Tired of bulky, cheap looking containers and bags cluttering your counter space? Get magazine-worthy countertops with Coffmax! This brushed stainless steel jar adds a luxurious touch to any kitchen décor, giving you years of elegant style and fresh as the day it was roasted coffee.
BREW TO PERFECTION – With BONUS FREEBIES you get everything you need to make the perfect cup of coffee. Measure out the exact amount of coffee you need, even before your eyes are open with your FREE Long Handled Scooper Spoon. Plus, the coffee shops will want to know all of your delicious secrets with all of the drinks you'll be making thanks to your FREE Seasonal Coffee Recipes eBook (contains hot or cold beverage recipes, depending on the time of year).
THE COFFMAX PROMISE – We can't wait to help you take your mornings to the next level with the Coffmax coffee saver can. But if fresh coffee isn't your thing, that's ok. Your perfect coffee bundle also comes with a 100% satisfaction guarantee. So, if you don't love your coffee keeper, simply send it back for a full refund – no questions asked.
What Our Customers Are Saying
Top-Quality Container
Nice container. Lovely spoon of top quality stainless. Glad I bought, and would do again. Seller included a card "I want to give you MORE." I wonder about that, but I'll never know, because it is necessary to scan a code. I don't own a device that scans codes. And I bet a lot of senior citizens don't. But for those folk well off enough to own a smart phone or similar device (that wouldn't be me) I hope they enjoy their "freebie". Which is probably just an invitation to spend more $$$. Note to Seller: There *are* people in the world who are elder and not rich.
Great product
This stylish container is great, from the look and feel you can tell it is made from quality material, and while I don't have it yet for a long time and can vouch for myself, it seems that it will keep my coffee fresh for a long time. The accompanied scoop is a great addition, its size is perfect for this canister as you can keep it inside when storing but it won't "drop" into the coffee and send you into a "spoon treasure hunt" where you end up with coffee fingers. For you coffee or even Nesquik people, this one is a great solution.
Perfect!
Finally I found my perfect coffee jar. It's perfect size (not too small and not very big), keeps coffee fresh for at least two weeks. It matches my other kitchen items. The scoop's size is correct for my one cup filter. Preparing a breakfast coffee became a pleasure.
Elegant, sleek and truly airtight
So sleek and elegant addition to my coffee/tea cabinet. It is really tight, so the coffee still has the aroma every time I open it. The coffee scoop is just the right size and fits into the container. I put a sticker on it to identify it and will get a few more containers to match the set. This is the perfect design I was looking for.
Love this product
I was looking for a Dan to hold the ground coffeeZzthis can is exactly what I was looking for. It's the right size (holds good amount of coffee yet not too much), seals great, light-weighted (I dropped my previous one .. not fun to clean ground coffee ) and I love the bonus spoon. Oh - and the color matches my kitchen.
Questions?
Why are you running this promotion?
How can I use my coupon on Amazon?
Does this include free shipping?
What Are You Waiting For?