An Exclusive Offer For You
Daisy Elliott Luxury Memory Foam Dog Bed (Medium Slate Grey (91x71cm))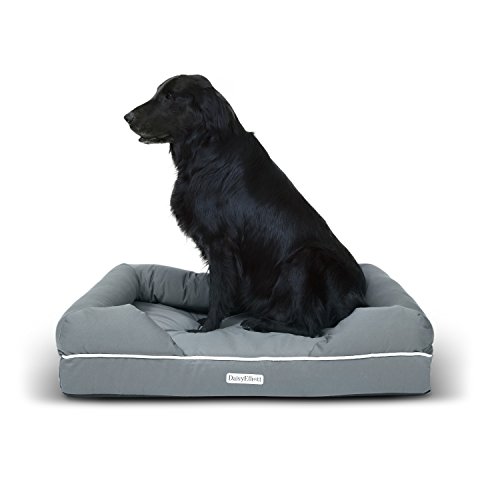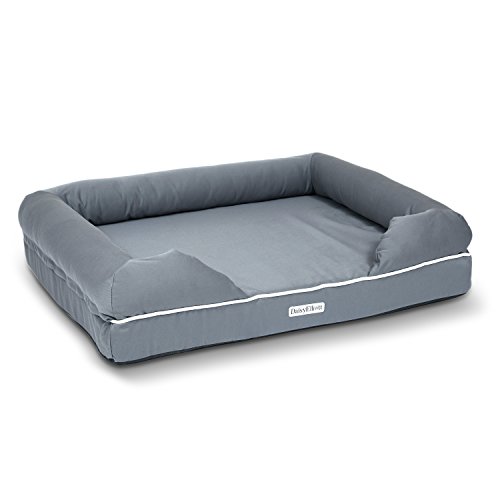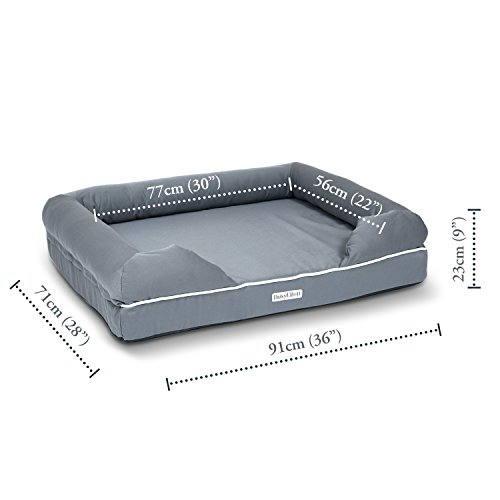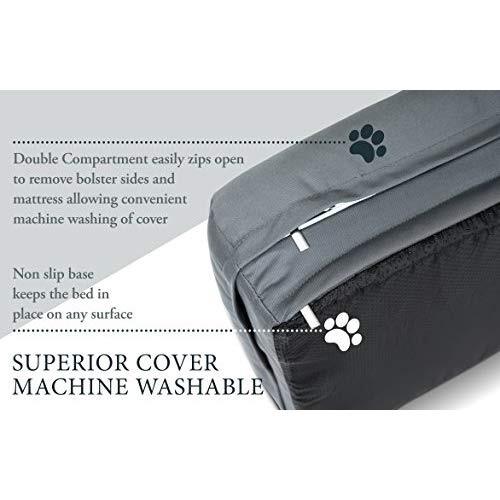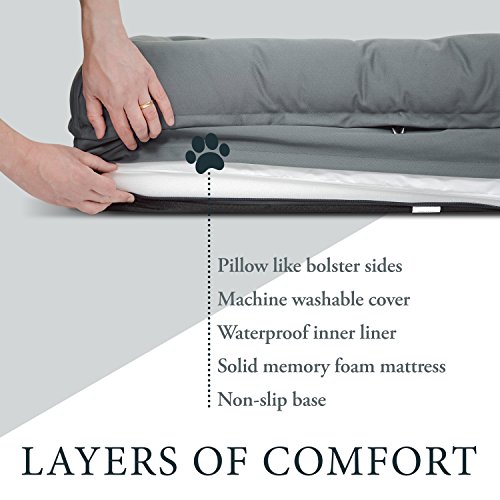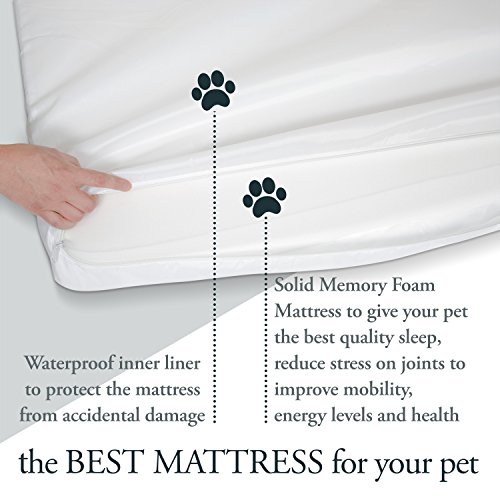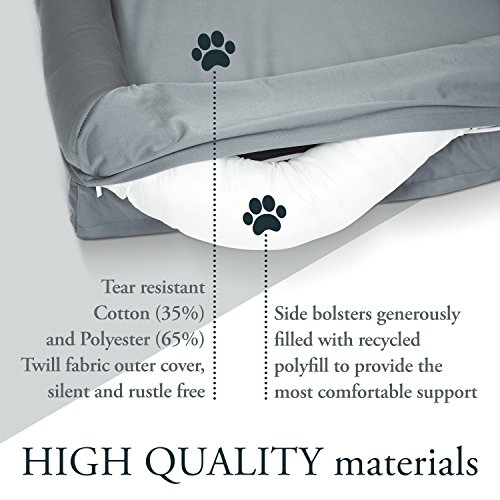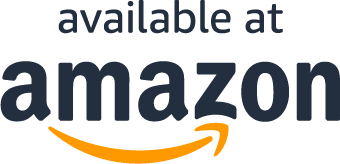 About the product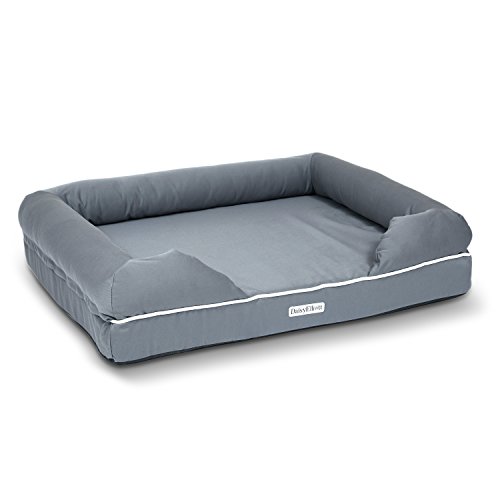 COMFORT - The Daisy Elliott dog bed is designed to give your pet the same level of comfort available in top quality beds made for people. Why should your dog deserve less than the very best? Suitable for X size dogs the bed measures 91cm x 71cm by 23cm high (to top of bolsters). Also available in sizes small, large and extra large.
MATERIALS - Only the very best materials are used in your dog's new bed. Water and tear resistant machine washable outer cover, waterproof inner liner and memory foam mattress. See infographic pictures for more details
MATTRESS - 10cm deep solid memory foam mattress conforms to the the shape and contours of your dog providing the most supportive and comfortable surface for rest and sleep. Puts lower quality beds in the shade, why compromise?
HEALTH - Such is the level of comfort that your pet will sleep more deeply and wake with more energy, better mood, relief from pain and removed stress on joints. Your dog will thank you for improving their quality of life.
SLEEP GUARANTEED - When investing in such a high quality bed you can rest easy knowing that the product is covered by a full 12 month guarantee in addition to our "Sleep Guarantee", if your pet doesn't love their new bed after 30 days then we will collect it and issue a full refund.
What Our Customers Are Saying
My dog loves this bed!
This bed is amazing. Bought large for my 39kilo Rotti cross and he wouldn't get out of it. He even takes his toys in. He's slept in every possible position and this bed is the right size for him to do that as he is long. He is a dog with separation anxiety and usually sleeps at night on a bed at the foot of ours. Last night for the very first time, he didn't want to go up to bed. He stayed in there on his own all night. The great thing about this bed is that he loves it. It does look really comfy so I can't blame him. Wish he could write because I'm sure he outdid give it 5 stars.
Comfy beds make happy dogs.
My dogs do not have good beds and I bought a Daisy Elliott bed. Puffle has claimed it, much to Rags disgust. Puppy also sneaks in it when they are not looking. How they all love it. Would highly recommend. A bonus is it is wipeable, You don.t have to wash it all the time. Great bed and an excellent firm to deal with.
Five stars for an excellent product
It is not often that two similar items are bought within five days of each other. It was the result of acquiring an extra dog due to the death of a close neighbour. the large size was for my basset hound and the medium size for the recent acquisition. As it happens, two medium size would have done - but that is of little consequence in this instance. The dogs interchange between the two at whim. Assembly is easy once the base memory foam has become flat after room temperature, and it slips into a zipped compartment in the base. If you are doing it on your own it is useful to use the dog lead to keep it in a folded position whilst pushing it through the zipper mouth. A good idea for an easy cover is to pop the whole thing into a single bed duvet cover, tuck the surplus under the bed and it looks a treat. The family and the dogs are happy with this very satisfactory product.
Fabulous bed
Arrived quickly. I managed to unpack it and put it together myself although it is very heavy. Superb quality. This is the biggest of the beds and is not moving once in place. Bought for my 50 kilo chocolate lab with hip displasia. I put one of his blankets in the bed and he jumped in and didnt move for an hour. I got the biggest bed as he likes to stretch out when he sleeps. This one has a very deep memory foam base. He seems to like it so far.... We have ordered the next size down for our other 50 kilo lab as he prefers to curl up more.
The Daisy Elliott luxury memory foam dog bed - A quality item
The Daisy Elliott dog bed arrived in good time. It was well packaged with clear instructions. Putting it together was easy. The materials used were of a high standard . The large bed is a great size for my German Shepherd. I would have no hesitation in recommending a Daisy Elliott Luxury Memory Foam dog bed. And finally my German Shepherd is getting into his new bed and is enjoying it. Thank you. Will send a photo when he is in it.
Best bed ever for my limpy labrador
This is a very good product. My dog took to it straight away. I work from home and the bed is to replace a small sofa in my office. I had recently noticed that my dog was struggling to get on and off it. He loves his new bed so much that he often remains in the office until late in the evening which is unheard of since he usually never leaves my side...Tonight I will take the bed to the living room in the hope that he might follow me and enjoy a bit of telly with me :) . the ultimate aim is to take the bed to our bedroom so that he refrains from spreading across our bed, snoring loudly each night....the bed itself is really well put together. The customer service is the best I have ever come across on this platform. I am a very happy customer and a very happy chilled doggy.
Questions?
Why are you running this promotion?
How can I use my coupon on Amazon?
Does this include free shipping?
What Are You Waiting For?