Summertime Chafe & Chub Rub Relief
ChafeZone Chub Rub Anti-Chafe Relief Balm Stick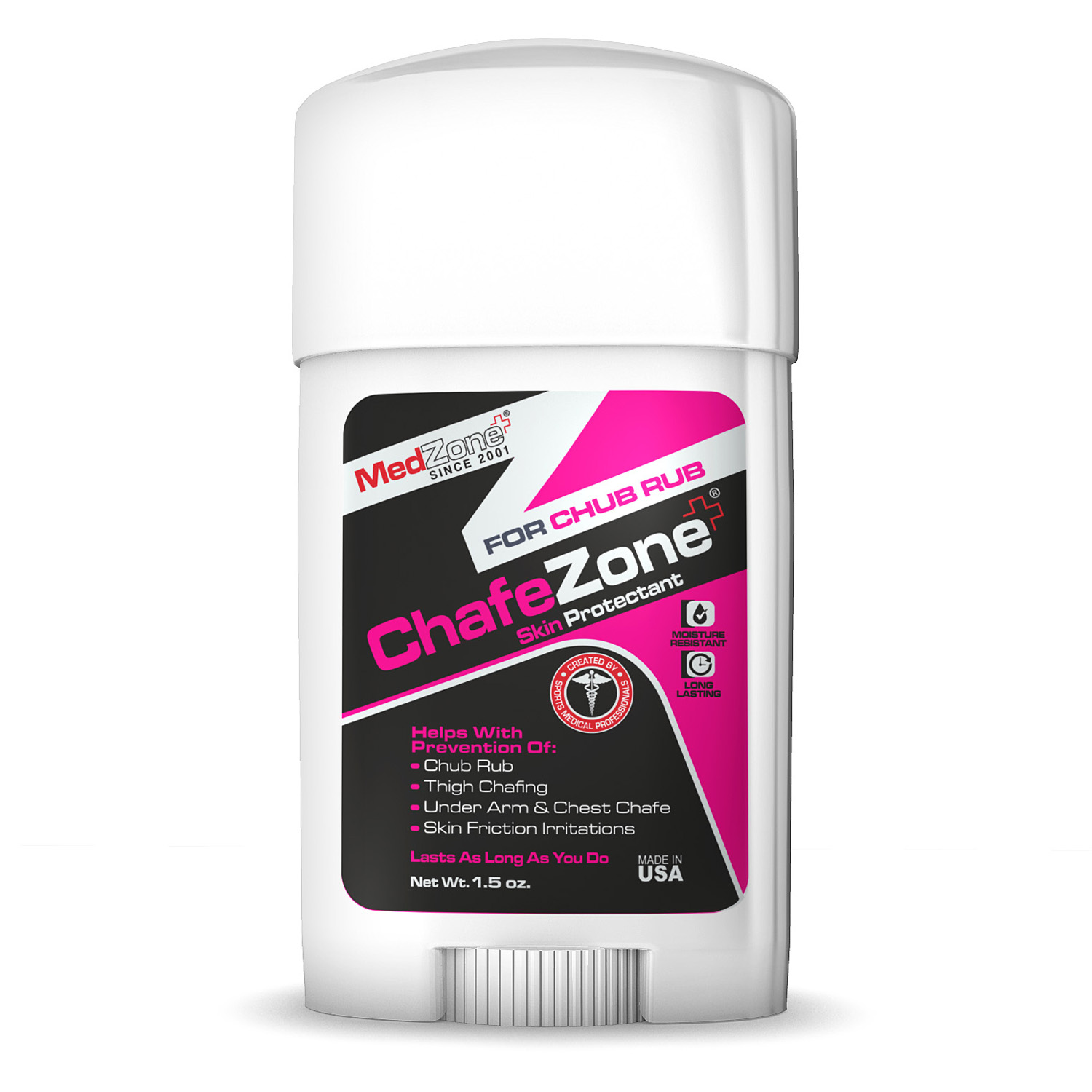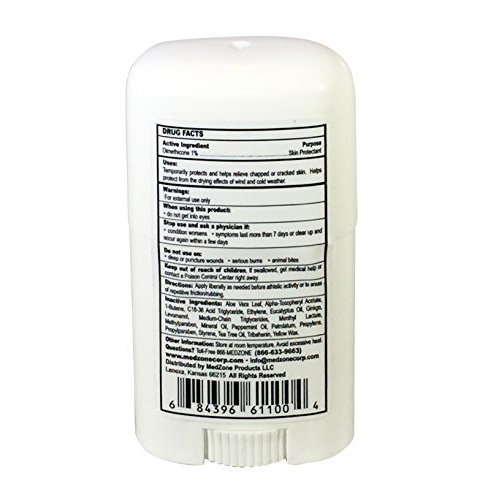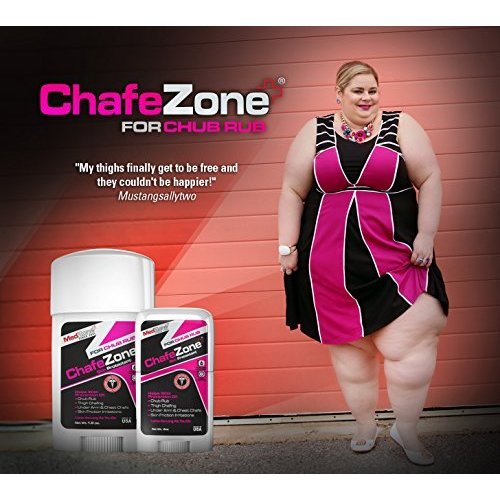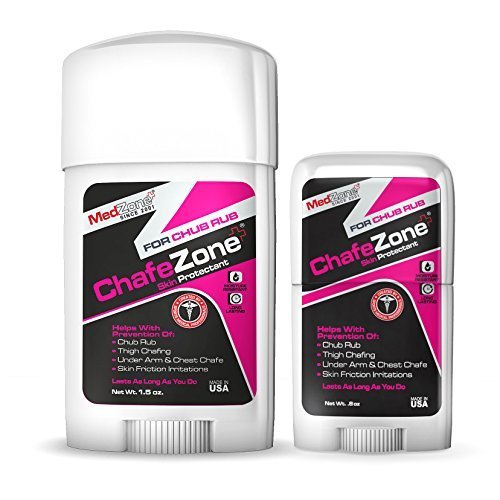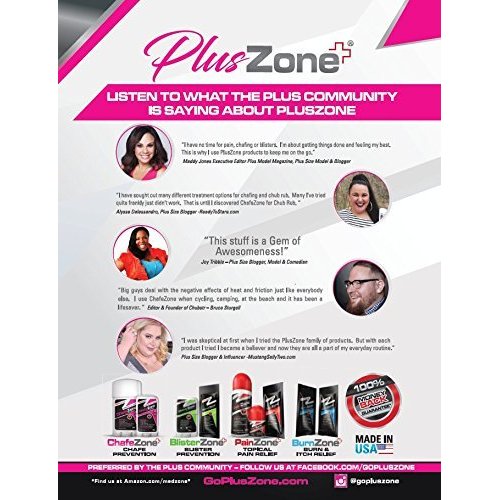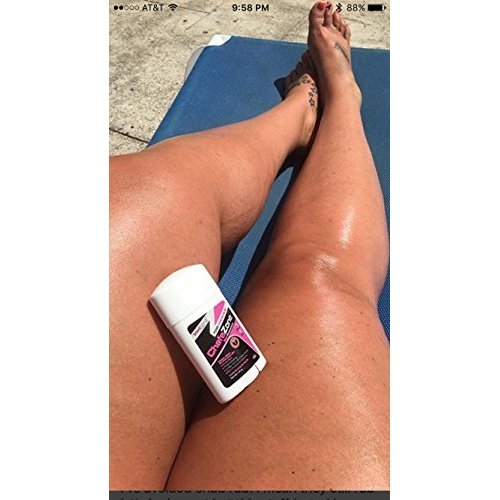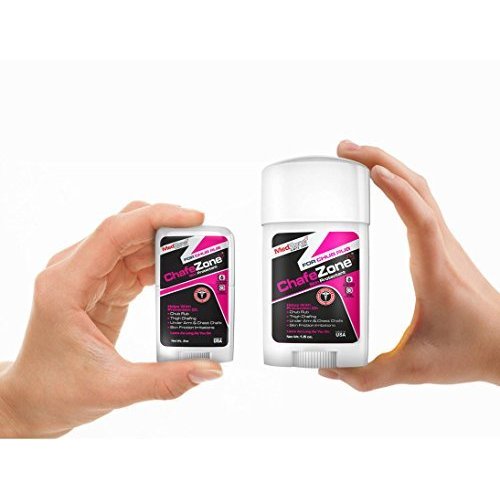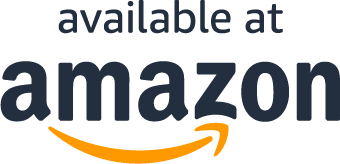 About the product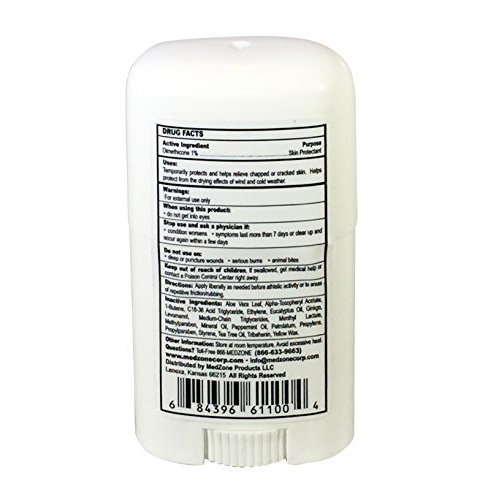 PREVENT CHAFFING: Apply ChafeZone Chub Rub Anti-Chafe Relief Balm before you get dressed anywhere friction may occur - thighs, neck, arms, etc.
SIMPLE, CLEAN APPLICATION: Avoid messy creams and powders by switching to ChafeZone balm stick for effective and long-lasting wear.
LONG-LASTING & SWEAT RESISTANT: ChafeZone creates a barrier of chafe preventing natural ingredients to get you through daily activities without the fear of friction.
CLOTHING SAFE: Feel confident in ChafeZone knowing that it's safe for wear under clothing without a greasy, sticky feel.
DEDICATED TO THE PLUS SIZE COMMUNITY: We are the Plus Size Community's #1 Fan and we believe that chafe should be prevented with a simple solution for a beautiful confidence boost!
What Our Customers Are Saying
It works!!!!!
I discovered this through an ad in FabUplus magazine and at first I was skeptical because I have tried other anti chafing products and nothing has worked. As someone who is a pear shape and a size 28 it has left me with a lot of uncomfortable rashes and chafing over the years. I also carry a lot of weight in my thighs so it is extra frustrating. So given this I decided that I had to try it out because to find something that actually worked would be life changing. I am 100% completely honest when I say that this product is amazing and it really does work! I couldn't believe it. I like that it is easy to apply, its not too sticky or goopy but still provides great protection and it is also long lasting. I can easily go 6 hrs without reapplying which is significant for me. Someone with smaller thighs could go longer. I even started wearing it under my shape wear to protect my skin. I find that unless you are wearing cotton shape wear that the material also causes chaffing and rashes so this helps prevent that when I still want to wear it to smooth out my shape. Or I can finally go free of shape wear if I choose! I can't remember the last time I have done that. They also have a travel size bottle that will be perfect to keep in my purse if I need to reapply on a hot summer day. Check out my video too as I have some other things I think it will be good for.
Game changing
Found this product from a plus sized instagrammer that I follow....Figured I'd give it a try since I have literally tried EVERYTHING else to defeat chub rub. And by everything I mean babdalettes, baby powder, deodorant, monistat, etc. I work plus size retail as an assistant manager so I am literally hustling ALL DAY ( 8-10) hours. I wore a new dress and didn't have to wear shorts underneath......This product is amazing. I'd love to try other products/ versions of this product from this company because it's just that good. Didn't leave clothes stained or have any scent to it that I detected. I also have very sensitive skin and was not bothered at all.
Good Product, Great Customer Service.
This product does what it's supposed to, for a reasonable amount of time. I apply at morning and usually by lunchtime I need to reapply. This has a slight minty smell when you first apply but it fades quickly. It also seems sticky at first but that also seems to dry and disappear quickly. This is an adequate product and does what it should. It is a few dollars cheaper than other brands and is a good bargain value. My first stick cracked in half, but I reached out to the company and the CEO himself responded and made things right for me. He was a very personable man and sent me a replacement for my broken product, but also sent me a few other MedZone products to try. He sent both a large and small size ChafeZone stick. I like having the large size for home and the travel size to keep in my purse or diaper bag for my small child. I really love the great customer service the MedZone company offers and will be trying other MedZone products!
No longer afraid of shorts in the heat!
As a pear shaped lady with chubby inner thighs, I avoided dresses and shorts in the summer at all costs- there is nothing more painful than inner thigh chub rub in 100 degrees and high humidity. I used other products and various "hacks" in the past with no luck. Maybe a pair of Spanx worked under a dress- but who wants to be that restricted and sweaty? ChafeZone goes on like a deodorant and is a bit slick/sticky at first, but once it gets absorbed you can't tell it's there. Ladies, this product is AMAZING! I wore it with a pair of white shorts to an all day wine tasting in 90-degree heat and it held up great! Maybe by hour 8, I could have used a reapplication, but it was starting to get dark and cool down so I got by. If I was going to be gone for longer periods, I would pack this in my bag.There was not staining or marks from this product left on my shorts (which is concerning if you are wearing white!). I highly recommend.
New Fan for Life!
Perfect in every way! I used Body Glide for years to prevent the lovely chafing that comes with road cycling. This item was more affordable, so I took a chance. Now I tell all my friends about it! It has a nice, not too potent scent of what seems like eucalyptus, which also adds to the soothing effect of post-chafing relief that happens sometimes. I recommend keeping this in the freezer so that it goes on smoothly and doesn't melt on hot skin. This prevents using too much at a time since it really only requires a couple quick swipes in the necessary regions.
It works better than the Monistat version and the gold bond I ...
My size 22 thighs are thankful for this. It works better than the Monistat version and the gold bond I previously used. This held up at a beach party with lots of dancing.
Questions?
Why are you running this promotion?
How can I use my coupon on Amazon?
Does this include free shipping?
What Are You Waiting For?