Super Salve to the Rescue- Save now with this coupon Code- This Coupon Code will work for all our salves on Amazon, just search "Creation Farm Salve"
Calendula Comfrey Super Salve, Large 4 oz jar Enriched Herbal Balm by Creation Farm Moisturizer Ointment No Gluten, No Soy, No Parabens, No GMO Herbs Grown and Made in USA Comforts Eczema, Psoriasis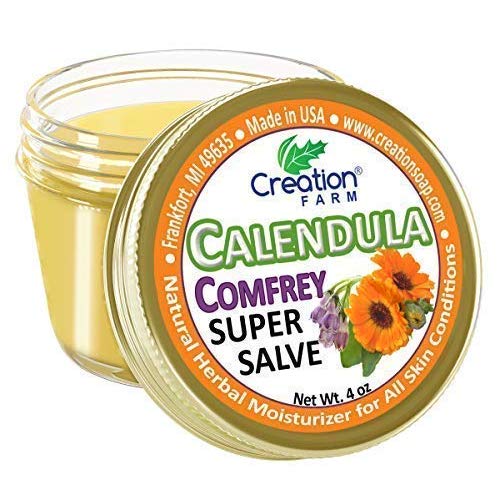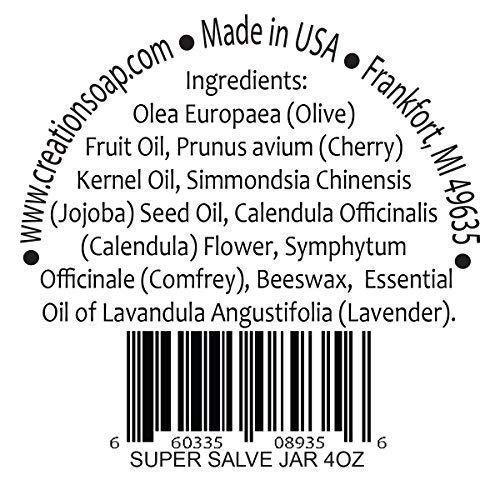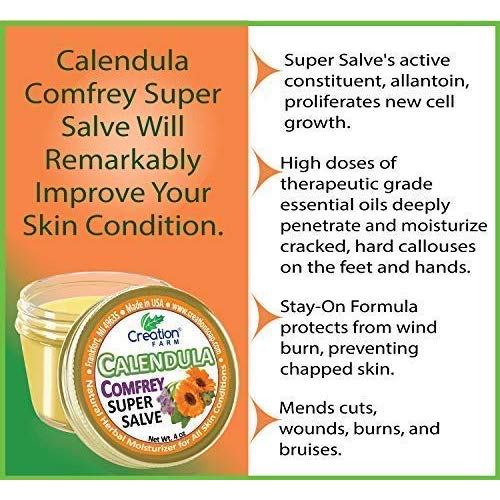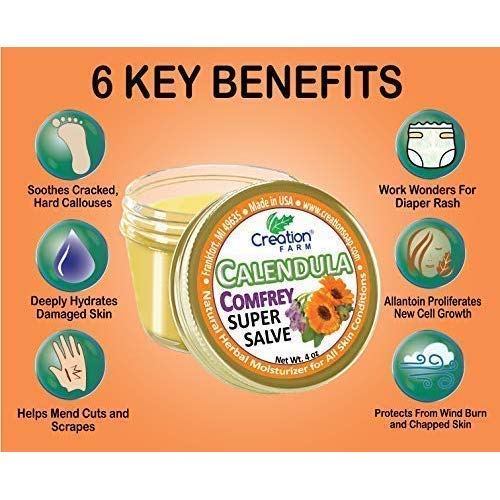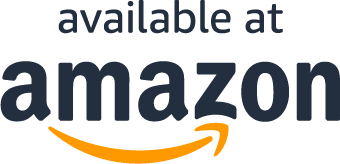 15
Coupons left
35
Coupons used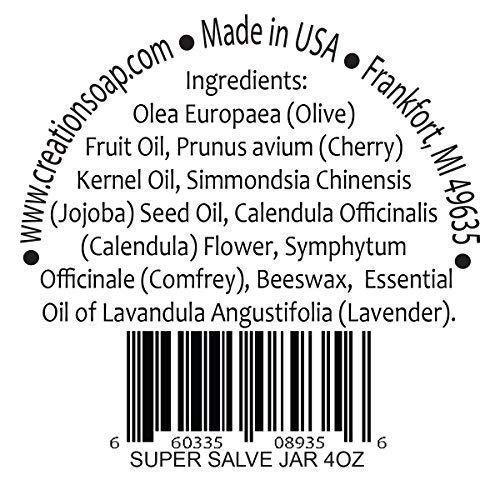 About the product
CALENDULA SALVE- customers like it better than Calendula balm or canadula hand cream for cracked heel treatment
PSORIASIS AND ECZEMA - With this ointment Itch don't stand a chance! Customers are sending us Thank You's and Testimonials Daily. Great salve for treatment of cracked hard callouses on the feet and hands.
PROTECTS DOG PAWS - Also soothes bruising, swelling, Real beeswax marigold candula pomada de crema
CRACKED SKIN REPAIR - a Full 4 0Z Jar-Melts like Cream or Butter on your Skin, honey, ungüento organic ointment
ESSENTIAL ALL, GOOD RELIEF - Rub on for Baby Ointment for Rash, Soothes Adult Wind burn and the dryness, no CBD required!
What Our Customers Are Saying
Great for eczema! Finally some relief.
My toddler suffers from a terrible case of eczema since he is a 2 month old. We tried so many creams and ointments nothing worked.when we tried this product much to our disbelief it really worked!!! His eczema got much better and it did not make it worse.It's a small jar and lasts us for 2 weeks use since my toddler's eczema is all over his body we must use a lot. But definitely worth it for us finally some relief! Thanks for such a great product. Highly recommend.
Excellent creme when you have an itch
Have had this salve for several months but when poison ivy season started found out how good it is. Using a combination of lye soap and this calendula-comfrey salve kept the itching down and dried it up quickly. Was using this on 3 or 4 people at the same time and all found it relieved itching. Also have used on my granddaughter with skin problems and it helps her if she begins to itch.We love natural remedies and this is one we will keep in our arsenal from now on. I'm sure we will find more uses in the future.
Wonderful Natural Product for Lips
My husband is a trumpet player and has always looked for something natural that won't affect his muscles and skin for trumpet playing. He came across Calendula in a trumpet magazine and ordered this product, and we both love it. I have also used it for post-surgery scar massage and it works great for that too. Much less "sticky" than vitamin E and softens the scar for better healing.
but absorbs nicely into my skin
I was pleasantly surprised with this salve. It is not greasy or heavy, but absorbs nicely into my skin. I used it on a burn that I had on my hand and it seemed to speed the healing process quite a bit. Now we are using it on a large burn on my husbands arm. It really helps to ease that annoying tight itchy feeling you get after the burn has healed for a couple of days. I also put it on my hands and feet as a moisturizer occasionally and it really doesn't take much to be effective!
Love the smell and smoothness
Love the smell and smoothness! Must taste good because my dog ate it! (He survived). Good on my kids and eczema.
Well worth it!
This is wonderful stuff! It is good for lips, hands and feet. It doesn't leave a greasy feel! A light scent compliments the smooth feel after applied.
Questions?
Why are you running this promotion?
How can I use my coupon on Amazon?
Does this include free shipping?
What Are You Waiting For?