CANADA! THE Brightest Buoy on Earth is on Sale Today! Get your 2020 Triathlon Season started in style!
New Wave Swim Bubble for Open Water Swimmers Triathletes - Swim Safety Buoy & Multisport Tow Float (Fluo Green)
$27.96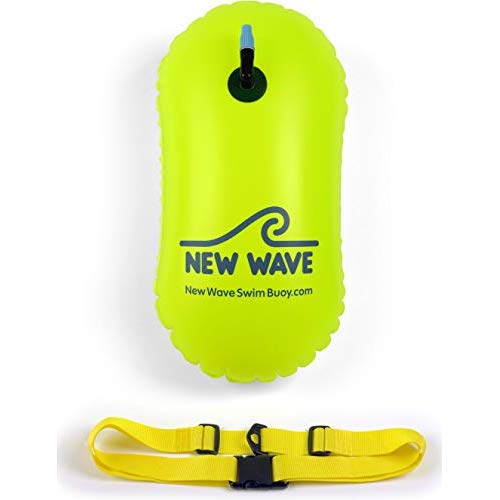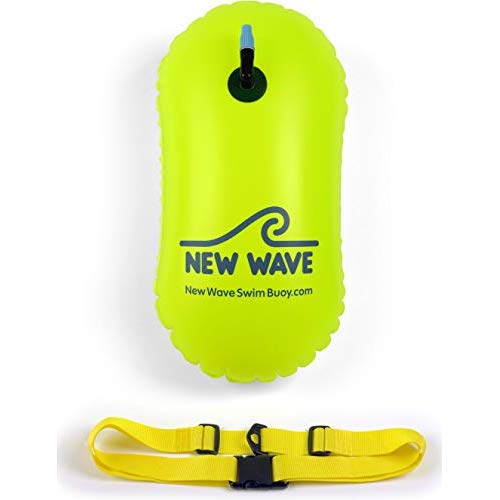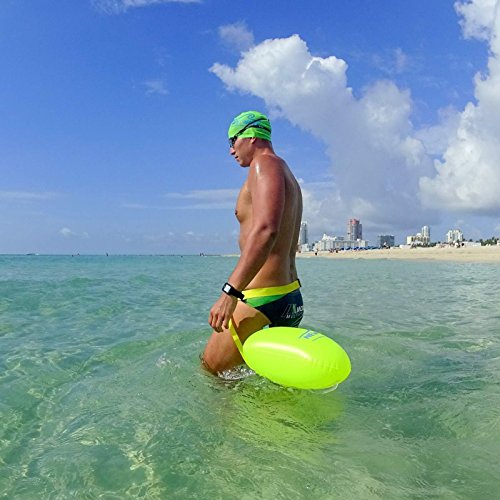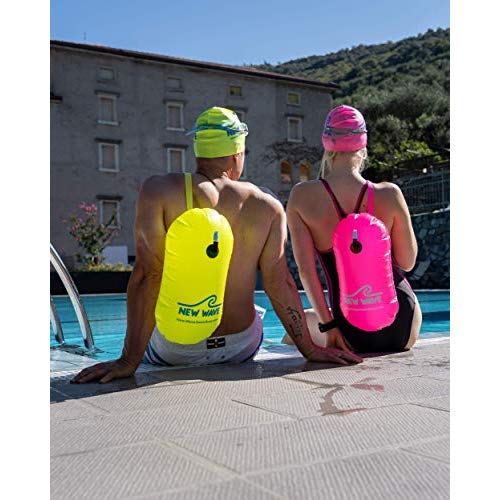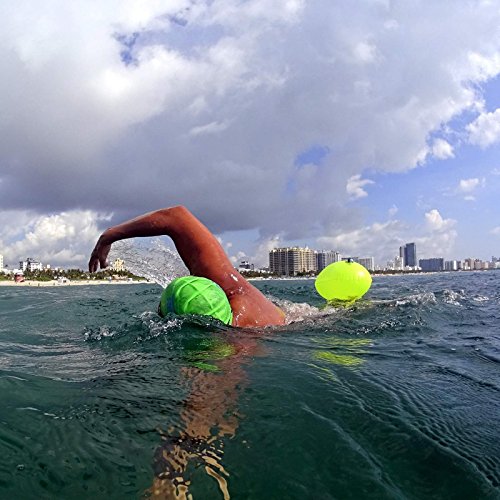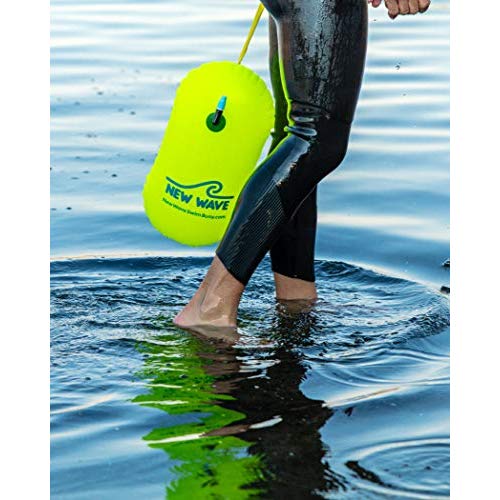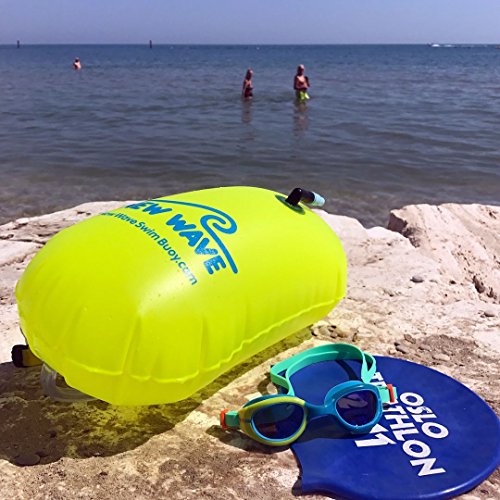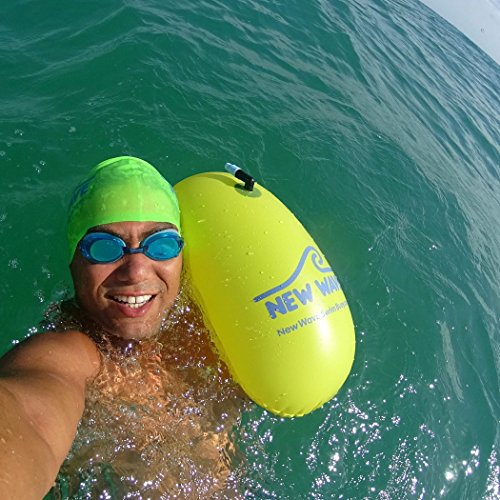 Read More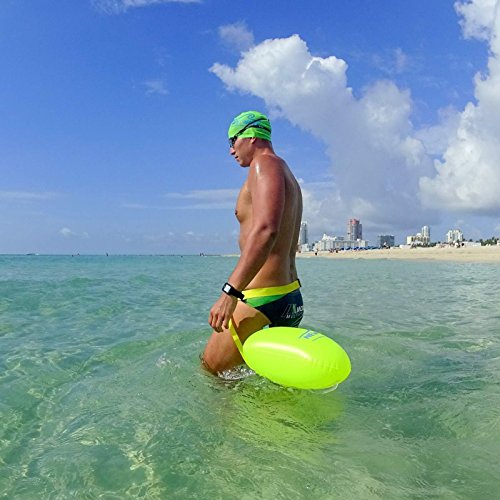 About the New Wave Swim Bubble:
New Wave Swim Bubble is the ultralight swim buoy that provides a safe way to float and rest during your swims. New Wave Swim Bubble is the best open water swim buoy for those looking for a simple swimming buoy without any additional weight-adding features.
The Bubble is similar to the original New Wave Swim Buoy but it is crafted without the attached dry bag compartment. We know not everyone needs to bring their wallet, car keys and cellphone with them for their Ironman training swims. The Bubble swim safety buoy is larger, more buoyant, and lighter than its predecessor, the New Wave Swim Buoy.
The Swim Bubble gently tows behind you without pulling you back or adding extra drag to your swim. The Swim Bubble provides reassurance for safer swimmers by adding extra visibility and floatation, in case you cramp up or simply need rest. The Swim Bubble is light (8oz) so it will be easy to bring with you on a paddleboard or kayak trip. While the New Wave buoy and bubble safe swim series add to your swim safety, they do not replace a personal flotation device (PFD) or a life vest.
Swimmers in black wetsuits are virtually invisible in the open water, but the New Wave Swim Bubble will display your location prominently. Pair this brightly-colored swim float with a New Wave swim cap to be exceptionally noticeable. Be Bright & Be Seen by speed boats and jet skis to avoid getting decapitated. Some have even said this swimmers buoy may be visible from space, but that might just be due to advancements in satellite technology.
The New Wave series of triathlon training buoys help make you a safer swimmer by combining utility with visibility. This New Wave buoy is essentially a lifeguard float which will help track or log your swims with a coach, lifeguard or swim buddy.
What Are You Waiting For?
What Are You Waiting For?
What Our Customers Are Saying
Well made, easy to use, doesn't pull or tug
I didn't want to buy one of these stupid things because they're big, orange, and annoying. One of my racing friends suggested one for a location with high boat activity, so I thought maybe it would at least give me peace of mind, so I decided to take their advice. I have now changed to using this thing for every open water swim, even when my wife spots me in the kayak. It's virtually weightless and indistinguishable while you're using it - I don't feel it around my waist, there's no tugging with waves, and it doesn't deflate while you're using it. It's very well made and easy to use. Very happy I decided to invest in one, especially since it does give me peace of mind knowing I'm visible while swimming. On another note, I have used this recently while swimming in very choppy waves - approximately 4-6ft high. Even then it only pulled a little.
Excellent quality. Well worth the cost. Highly recommend for lake or ocean lap swimming
I hesitated purchasing this because of the price, but I am SOOO glad I "took the plunge" and purchased! I frequently swim in the lake and this pink buoy is perfect for helping me stand out. Although I swim close to shore, the buoy gives me extra security against fishing boats and jet skis that frequent the same cove. I don't typically use the easy to grab handle to rest, but I have found this is a bonus for enjoying a relaxing float after my lap swimming. Very well constructed, yet light weight - I forget I am wearing ...until a large wave bumps the buoy into me (an added benefit for safety).
The waist belt is easily adjustable and the buoy floats effortlessly behind you as ...
Every open water swimmer should swim with a buoy. This product is simple to use. The waist belt is easily adjustable and the buoy floats effortlessly behind you as you swim, making you easy to spot in the water and providing a little buoyancy should you need a rest break to fix leaky goggles or stretch out a cramp. I like the attached handle for short breaks. I won't be doing any practice swims in the future without this great piece of equipment.
High visibility, and doesn't get in the way
During Tri season, I swim in the lake at least weekly, and while I normally swim with a kayaker next to me to help keep me from being run over by a rogue boat, we wanted to add this for extra safety precautions. It's very high visibility. The bubble itself is made of a pretty thick material, which I feel pretty comfortable with being durable. I've only used it for one season though, so we'll see how it goes over time. Inflating and deflating is easy. The strap stays in place like it should, and it doesn't get in the way of my swim stroke. It can be used to hold onto and float if necessary. On a side note, the waist strap came in super handy as a race belt for my last tri of the season. I took the float off of it, and used it for the bike and run portion of the race to keep my number on, rather than pinning it to a shirt. Cool product. Glad we got it.
This is great for open water swimming
My husband I actually bought 2 of these New Wave Swim Bubbles. We love them. We swim in open water and they are nice so the swimmer can actually be seen by boats, other swimmers and people on land. The material is very substantial and looks like it will last a long time if taken care of. It is easy to inflate and deflate. Particular nice is the handle on the bottom side so that if the swimmer was to get tired they can hold this and stay buoyant.
Great for any open water swimming
Love this for both visibility in open water as well as a float to use for a short break while swimming. I am a triathlete as well as snorkeler and this has been great. I plan to buy another one when we take the kids snorkeling in the ocean next year for each kid to have one.
What Are You Waiting For?
Questions?
Why are you running this promotion?
How can I use my coupon on Amazon?
Does this include free shipping?
What Are You Waiting For?