An Exclusive Offer For You
BRI Nutrition Alpha Lipoic Acid - ALA Softgel Combats Free Radical Damage, Supports Healthy Blood Sugar Levels, Promote Healthy Nerve Function - 300mg, 60 Count Fast Absorption Liquid Gels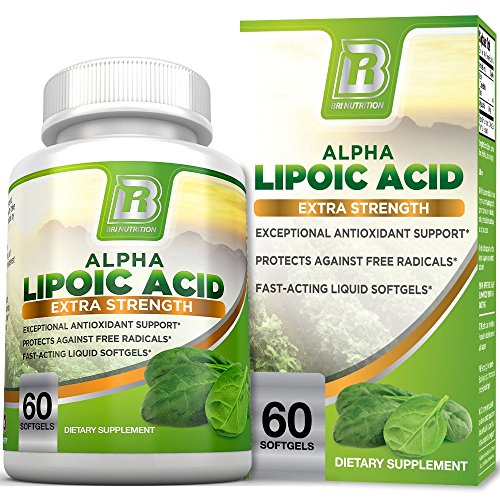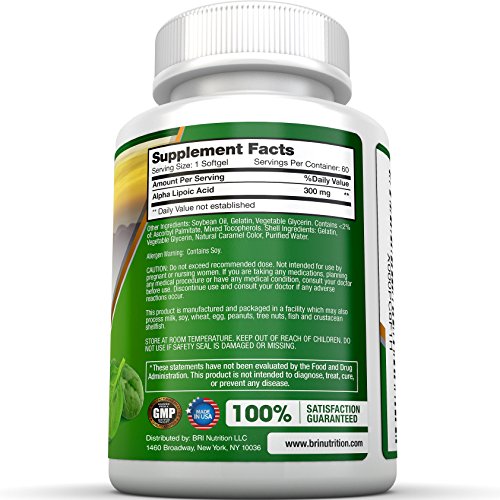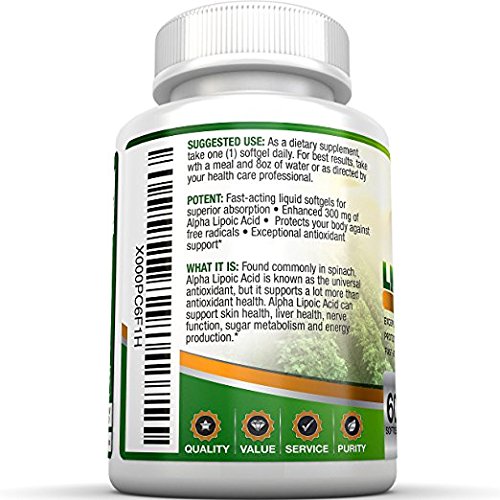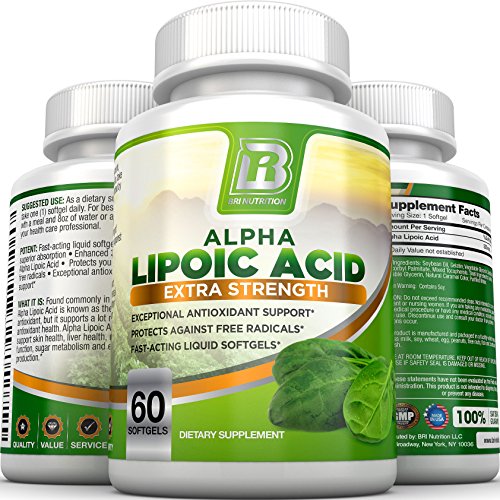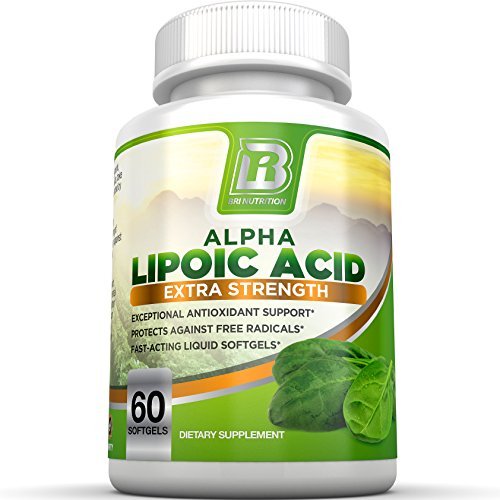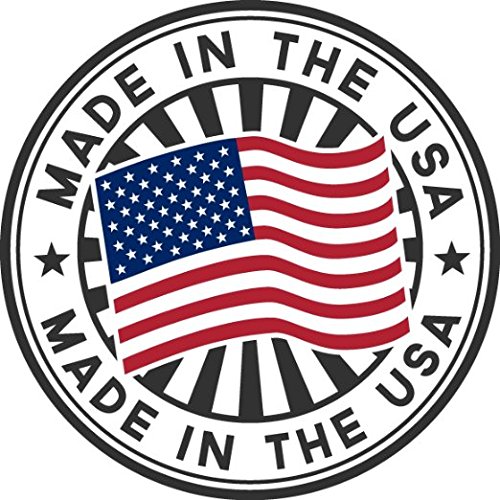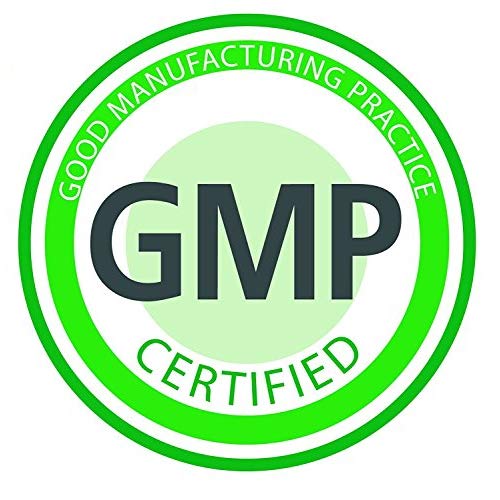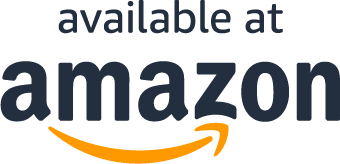 About the product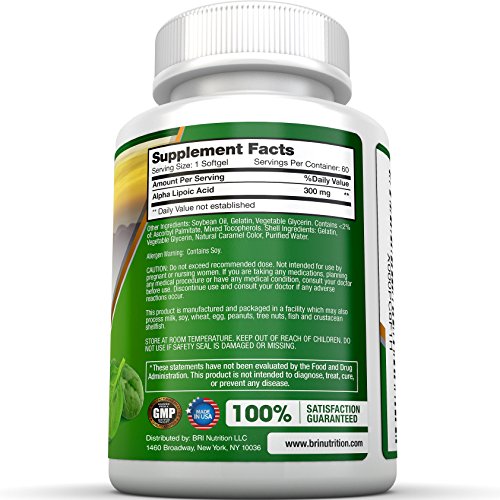 ★WHY US: We looked at all other Alpha Lipoic Acid supplements on the market and were surprised that there were no high end softgel solutions. Most of them are nothing more than powder stuffed into a capsule, no love there. We decided we should source the finest ingredients and sell them at a reasonable price.
★WHAT IT IS: Alpha Lipoic Acid is known as the "universal antioxidant," but it supports a lot more than antioxidant health. Alpha Lipoic Acid can support skin health, liver health, nerve function, sugar metabolism and energy production.* ALA by BRI Nutrition is produced in softgels so that they are easy to swallow and promote easier absorption of the antioxidant in your body.
★PURITY: We use only the finest ingredients, all of which are manufactured in our US, GMP compliant, state-of-the-art, facility. Every batch is laboratory tested for quality assurance. OUR GUARANTEE: We're very so confident that you'll love this product that we offer a 60-day, 100% money-back guarantee.
★COMMON NAMES: As the term Alpha Lipoic Acid be confusing and even difficult to memorize, experts like doctors have long referred to it as simply, ALA. The Spanish counterpart for this antioxidant is Alfa Lipoico Acid and sometimes, it can be spelled as r-ala, "alpha-lipoic acid" or even "alpha-lipoic-acid". However it's spelled and presented though, this does not change its abilities to help jump-start that healthier life.
★SHARE: Consider ordering one bottle for yourself and another for a friend or loved one. Keep each other motivated and reach your goals together and more quickly. BRI Nutrition stands by every quality product we make. We manufacture only premium vitamins, capsules, pills, tablets, powders, multivitamins, supplements, topical liquids, serums, vegan foods and extracts for men, women, and children. Check BRINutrition out today!
What Our Customers Are Saying
I saw results
I think this stuff has really worked in addition to changes in diet. My doctor warned me that I was bordering on becoming Type 2 diabetic. In addition, I had the typical high triglycerides (193), high blood pressure (130/90), borderline glucose (132 fasting and 6.1 A1c), and low good cholesterol (was 33). By watching my diet (removing sugar) I was able to lower my A1C down to 5.9 and my triglycerides down to 173, lose about 20lbs, and raise my good cholesterol to 40 (I had started drinking red wine too). About 4 months ago I took it up a notch because it just wasn't the results I expected from diet. So I went on a low carb high fat diet (sugar already cut out and most bread but cut out all bread, rice, pasta, starch vegetables, alcohol and increased fat intake) and added alpha lipoic acid and resveratrol pills to my diet. I was amazed that in 4 months, I was completely normal my next doctor's visit. My A1C was down to 5.4, fasting glucose 96, blood pressure 110/80, triglycerides 137, good cholesterol 42 and down 10 lbs. I can't say for sure if the diet or these pills did it but I'm going to keep taking these and continue on my health journey.
Great for never pain.
After looking on the internet for a over the counter drug to help with Nerve pain. I found out that Alpha Lipoic Acid would help. I was pretty skeptical of a supplement that's intended for Diabetic nerve pain would help me with nerve pain cause by a severe back injury. But it did help when I had a screw up at the pharmacy. This brand seem to lessen the never pain symptoms more than the 2 other brands none of which were soft gels I've tried. I've been using this daily off and on ( skipping a few days) for over 6 months.
This stuff really helps my back pain!
I'm a confirmed skeptic, but the pain I have experienced with spinal stenosis has made me desperate enough to try ANYTHING that has the slightest chance of giving me relief from this hell. I don't remember how I was attracted to this stuff, but I'm glad I found it. I really think it has done serious battle with the nerve pain I've been living with for years. I'm 80 years old and have suffered with back pain for as long as I can remember. I can honestly attribute the relief I have at this time to these capsules. I'm still a skeptic and have doubts, but I am ordering more of these, just in case this relief I've gotten is for real!
Good quality at fair price
My husband's doctor prescribed alpha lipoic acid extended release to help treat a sciatic nerve condition. The one doctor prescribed was very expensive, but I found this one on Amazon and I'm very happy with it. Evidently, there were other treatments involved in healing his condition, such as physical therapy, exercises, etc. But this supplement was part of it and he got over the pain and doing well now. I highly recommend.
Great product! I started taking it to lower my ...
Great product! I started taking it to lower my borderline high cholesterol. My cholesterol went from 239 to 209 with this product. I was told to take it by a nurse who's husband was taking it due to high blood pressure, high cholesterol and heart issues. Many of my friends are taking it for diabetes issues. I'm no doctor, but my experience has been very good.
Love this product
Love this product. I am currently taking this with L-Carnitine. (also from Bri Nutrition) I take both together first thing in the morning and head out for my work out. I am approaching 50 (ouch) and take pride in my health and maintaining a healthy body weight. My metabolism has drastically decreased the past couple of years. I had put on some weight due to a shoulder injury, and just getting a little lazy. Decided it was time to get that weight off. I was hitting the gym (cardio and weights) hard and watching very closely as to what I was fueling my body with. The scale was not moving and it was so frustrating. I did some research and started taking Alpha Lipoic Acid and L-Carnitine, and it has made a very big difference with my metabolism. My workout are longer because of an increased energy level and the scale if moving in the right direction again. Hooray!!!
Questions?
Why are you running this promotion?
How can I use my coupon on Amazon?
Does this include free shipping?
What Are You Waiting For?