PREMIUM BAGS AT A PREMIUM PRICE
Safari Theme Favor Bags - Bags by B 
$11.65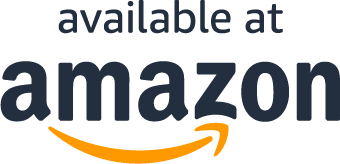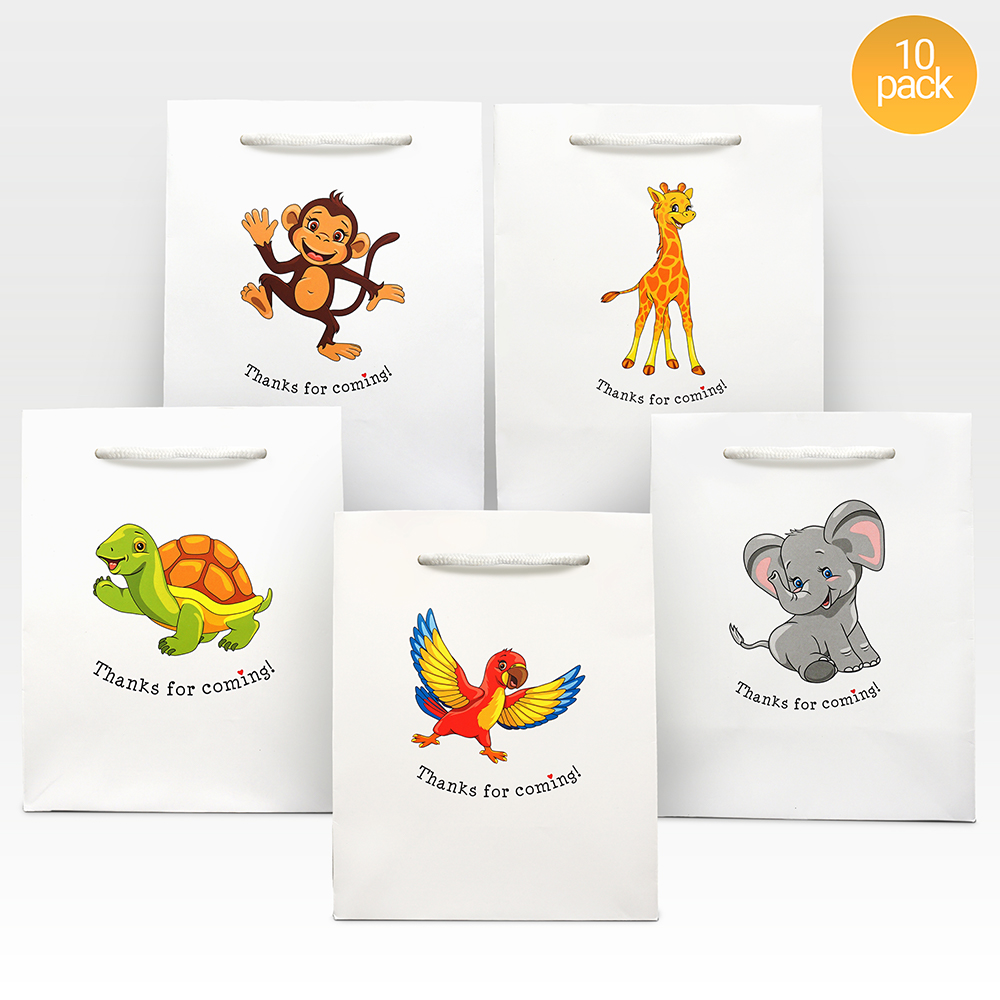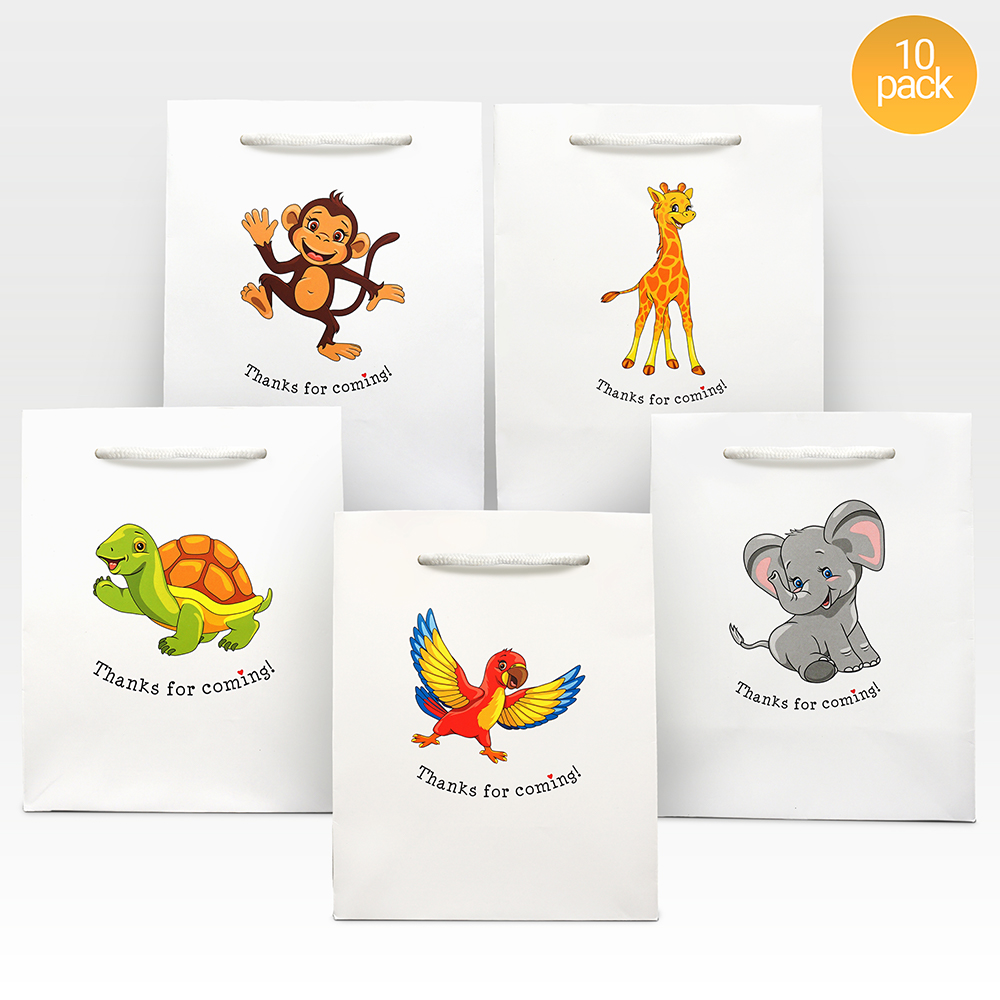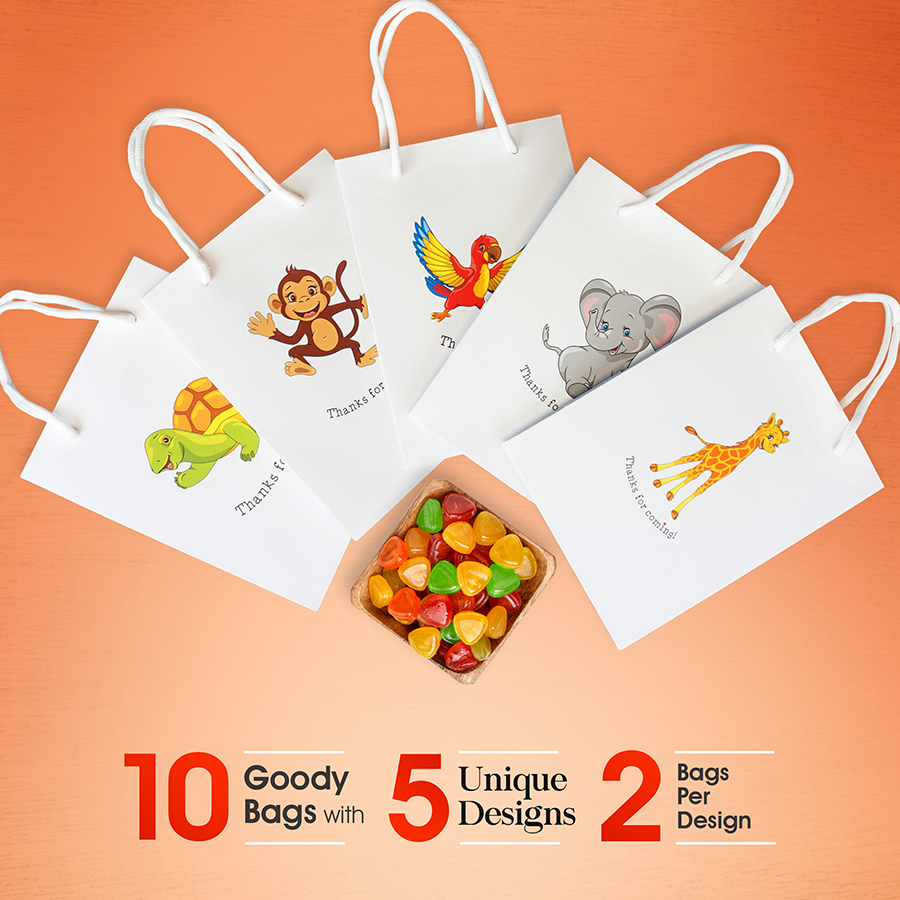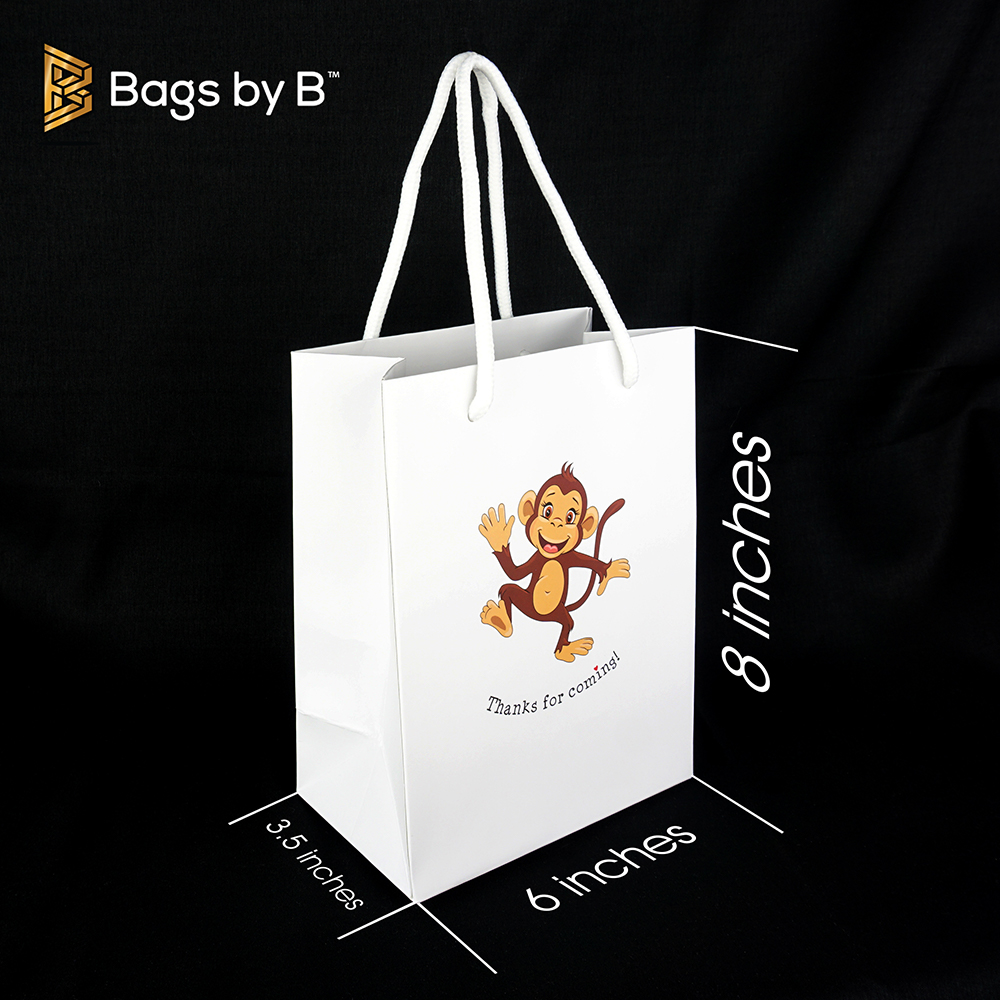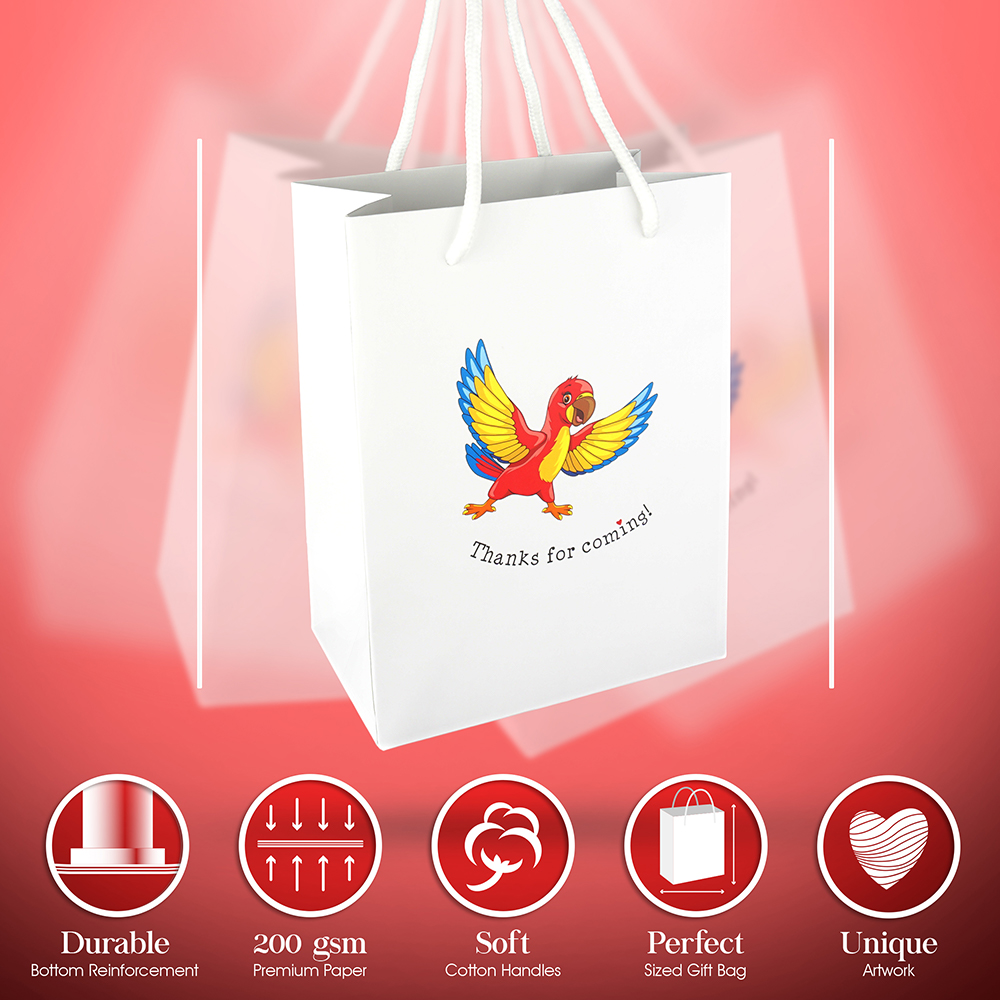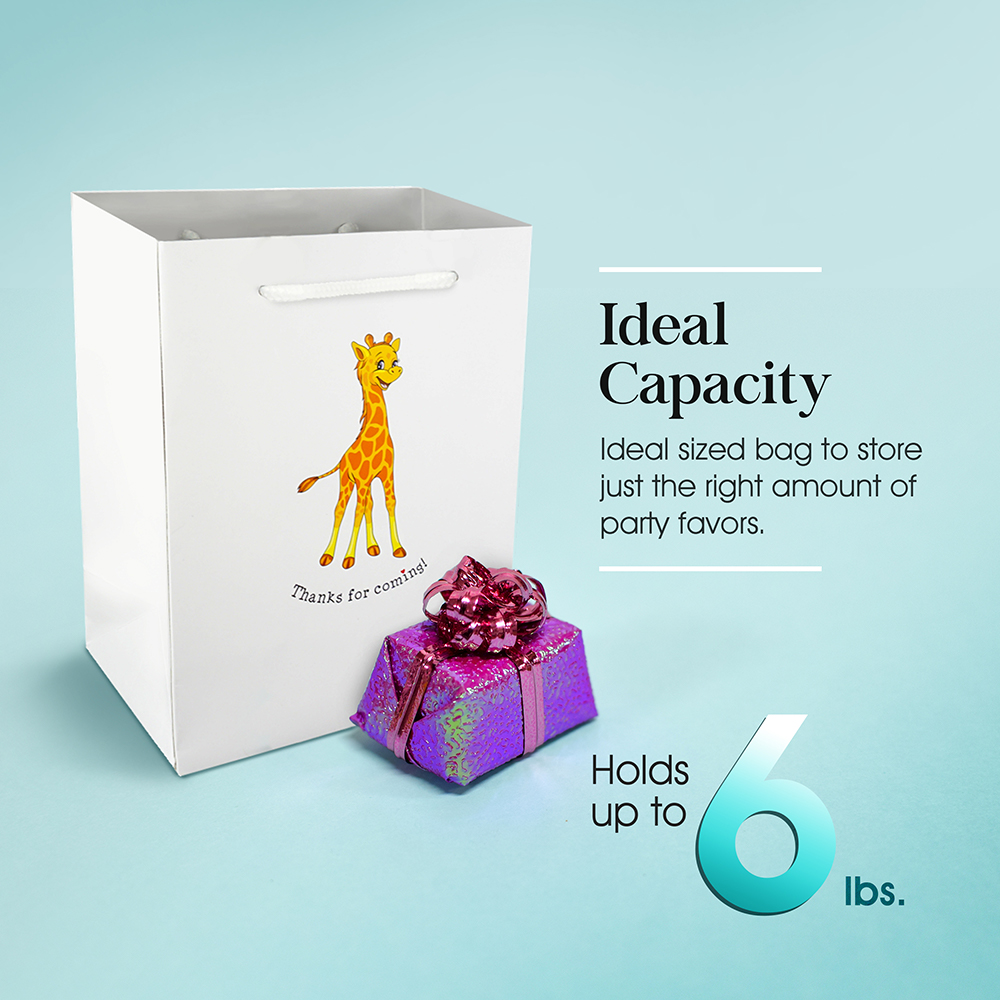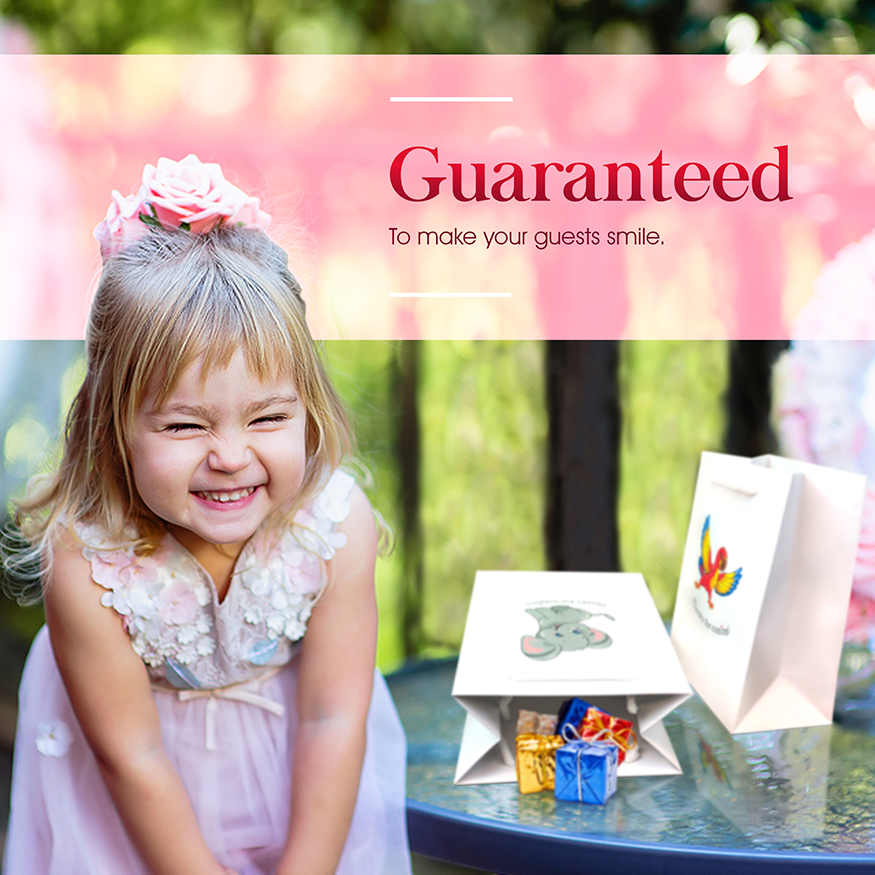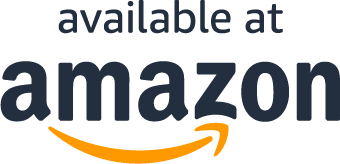 Read More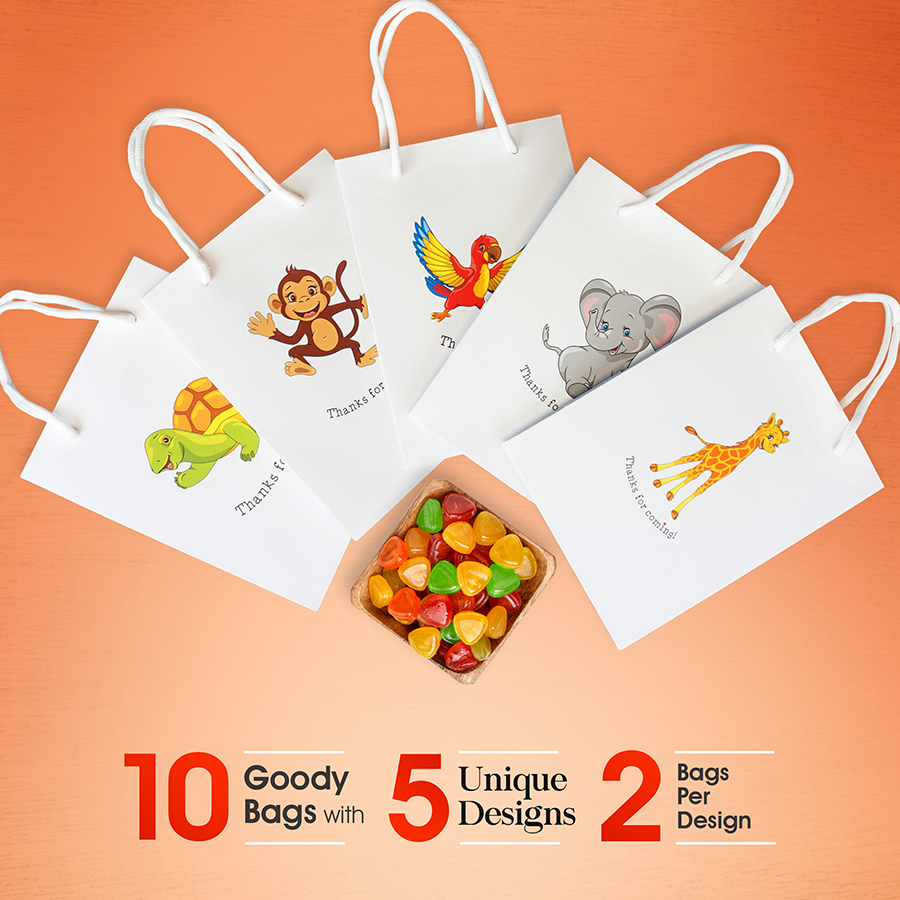 WHY ARE THESE BAGS SO SPECIAL?
🐒PREMIUM QUALITY - Our party favor bags are beautifully crafted using premium 200 gsm paper that is thick and durable. They're smooth and soft to the touch and believe it or not, these goodie bags will feel smoother as they age. Look carefully inside and you'll see the bottom is reinforced with cardboard. This provides extra strength and rigidity. Flip the treat bag over and observe how the bottom of each bag is meticulously and cleanly assembled.
🐢COMFORT - Each goody bag comes with beautiful white cotton rope handles that are super soft to the touch which makes these treat bags a pleasure to carry. As a result, you will barely feel the weight of whatever is inside as the length and elasticity of the handles provide the perfect amount of suspension. Each handle features a hand tied knot which gives the favor bag a customized and sophisticated look.
🐘ORIGINAL ARTWORK - Appearing on both sides of each treat bag are animal designs that will delight and bring a smile to the faces of your guests and loved ones as they feel the warmth from the simple 'thanks for coming' message on each bag. This message will effortlessly emphasize your appreciation and gratitude for sharing the day with you. There are 5 unique and different animal illustrations i.e. monkey, elephant, giraffe, turtle, and parrot.
🦒WHAT'S INCLUDED - Set of 10 party favor bags, 2 prints of each animal design (total of 5 unique animal illustrations). Each party favor bag is the perfect size of: H 7.875in. L 6in. W 3.5in. for all your party favors. Fill them with treats, toys, arts and crafts etc. DO NOT get stuck purchasing treat bags that are so large that you end up having a ton of empty space to fill. These are the perfect size for any collection of party favors.
🦜100% SATISFACTION - We designed our bags with love, in California. We hope you and your loved ones will enjoy these as much as we do. You will receive the same speedy Amazon delivery service that everyone loves, and a NO questions asked FULL REFUND return policy if you're not 100% satisfied.
PREMIUM BAGS AT A PREMIUM PRICE

What Our Customers Are Saying
 High quality cute bags
As a mother of two young children, I've become a connoisseur of gift bags. There's literally nothing worse than giving a flimsy bag to three year old who immediately destroys the bag with wild bag swinging and the usual 3yo behavior, or when you give a cheap looking bag only to get a combination disdain / judgey look from the child's parents.

I am extremely impressed by these bags and will be buying more in the future.

Durability 5/5

Unlike cheap plastic bags, these bags feature thick handle strings (think triple the girth of shoestrings). The bag itself was thick and reinforced. There was never any threat of the bag breaking no matter the weight of the gifts we put in it nor how violently 3 year olds swung the bag.

Aesthetic 5/5

The bags are very classy - a high quality unique image (i.e. an elephant or a giraffe) on the bag, quality font, and no clutter. They're easy on the eyes and a good fit for any occasion. I've gotten numerous compliments on the bags from other mothers.

Kid appeal 5/5

One of the smartest ideas behind these bags is the use of unique animal images. When I gave out these bags, kids got excited about getting an elephant or giraffe and compared their bag to other kids bags. The bag itself really becomes part of the present. We had a leftover bag that my daughter to this day loves carrying with her whenever we shop, kind of like her own mini purse. And with how well built this bag is, it's lasted many shopping trips.
Super cute and well made
Super cute and well made goody bags . They look exactly like the pic. Very Vibrant colors on the adorable animal prints. The bags are nice and durable,sits up well on its own making it easy to fill multiple bags at a time . The bags come pre-sleeved or incased in a clear bag . Which I appreciate, so I didn't have to worry about box scuffs .
Very good quality products for the price
My son recently has his 2 years old birthday and we stuffed so much goodies inside this goody bag.It didn't break and the quality pretty good for the price.
Adorable quality bags
I used these bags for party favors for my son's 1st birthday party, which had jungle animals as a theme. The bags are absolutely adorable. Great size, very strong and durable, and the simple design was perfect. I highly recommend them and would buy them again anytime.
Quality Bags
High quality bags with reinforced bottom and top. The design is just right not too overwhelming which allows me to customize according to the event. The durable bag material is thicker than quality gift boxes found in most department stores.
Perfect for return gifts
I bought this product for our baby shower return gifts. The product quality was great and we are very happy with this product
Creative design
Great party favor. Like the design.
PREMIUM BAGS AT A PREMIUM PRICE

Questions?
Why are you running this promotion?
How can I use my coupon on Amazon?
Does this include free shipping?
PREMIUM BAGS AT A PREMIUM PRICE