An Exclusive Offer For Pet Owners:

Help Your Pet Heal Faster, with Painless Home Treatment, with
B-Cure Laser Vet
B-cure Laser Vet Device
for Pets: A Home Laser Therapy, Accelerates Healing and Reduces Pain and Inflammation in Dogs, Cats, Horses and Other Animals.
Keep your pet healthy and pain-free, while saving time and money on vet bills,
by treating at home.
$700.00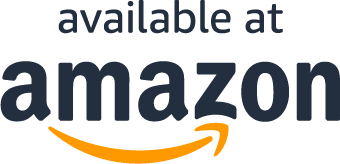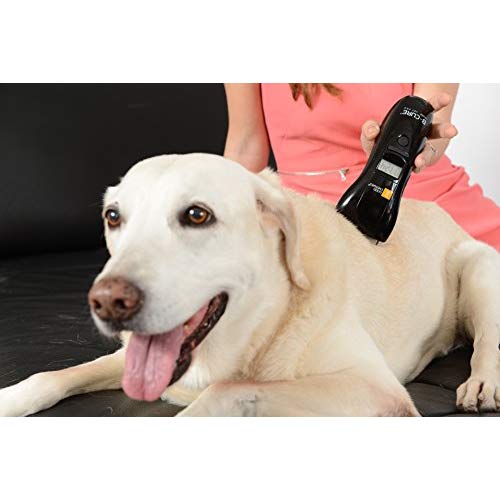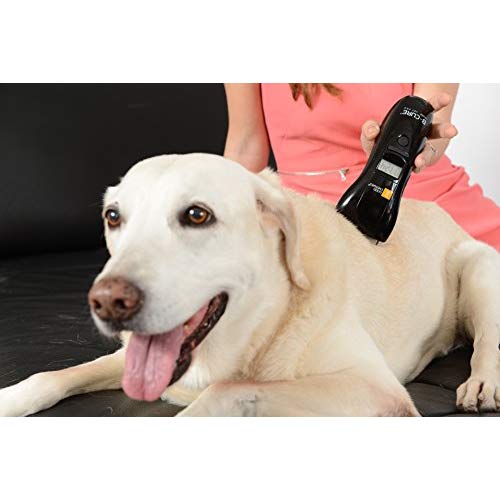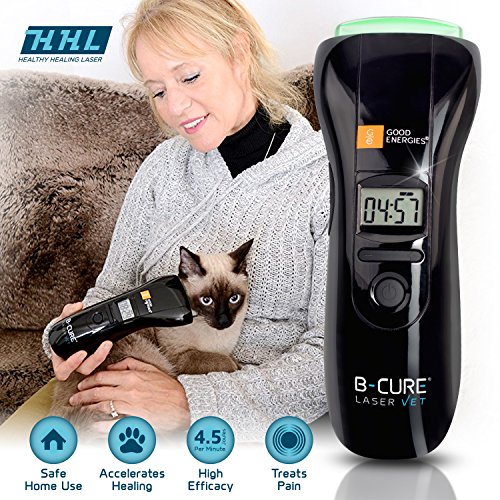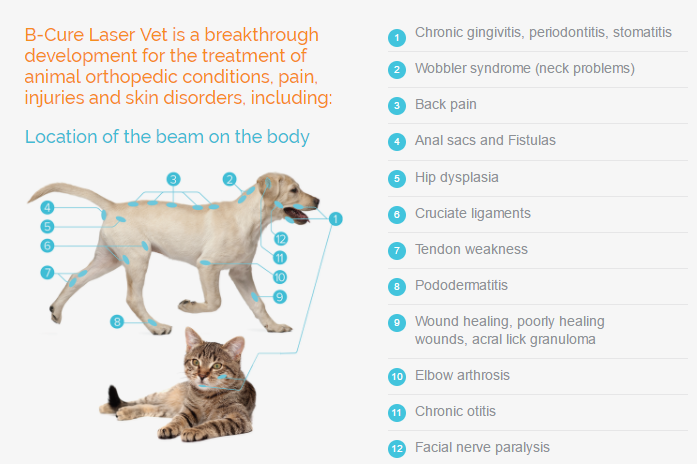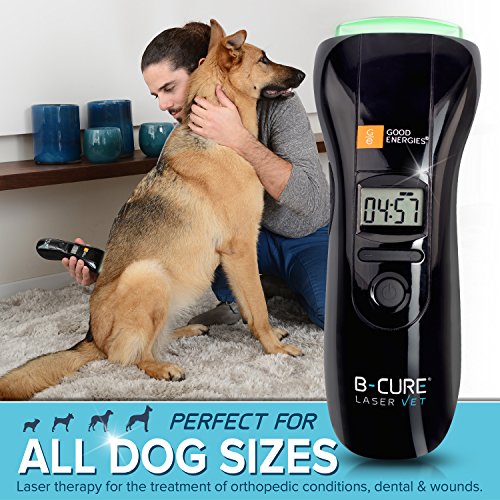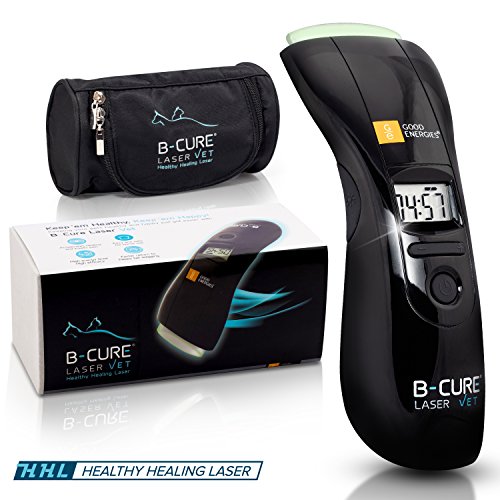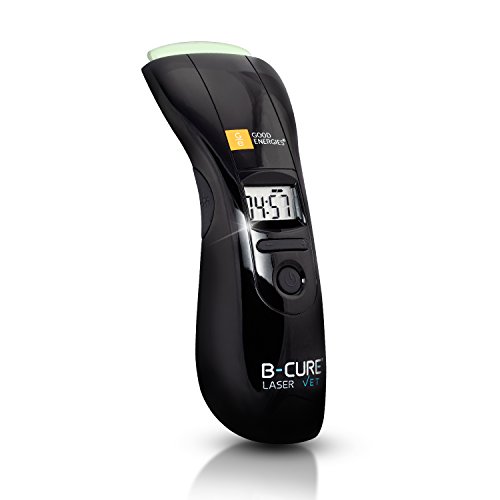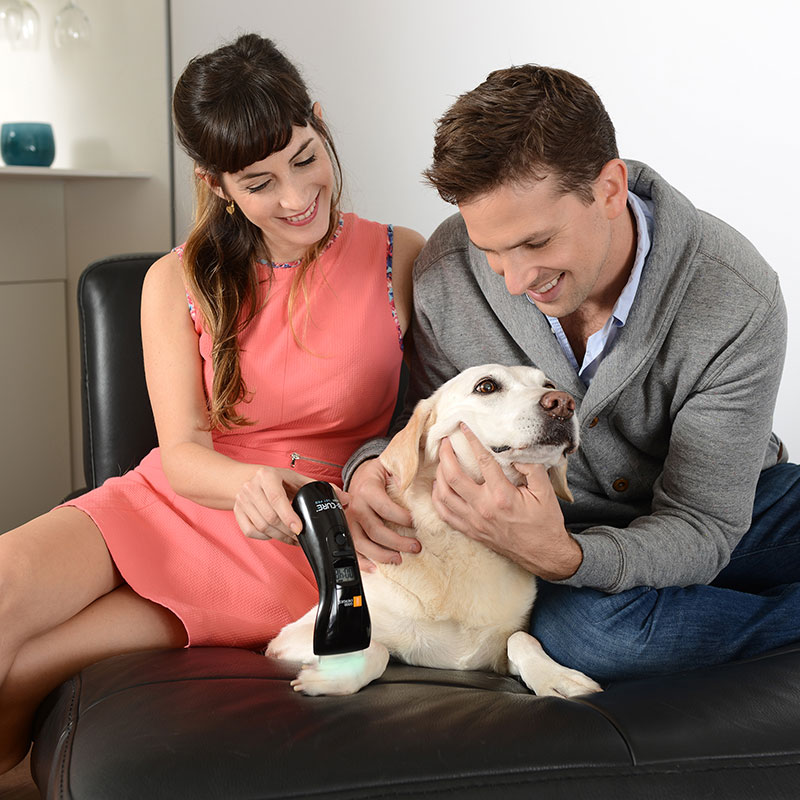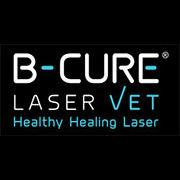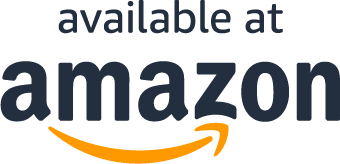 Read More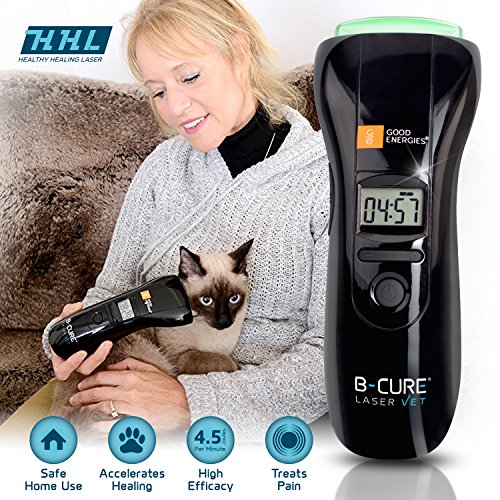 Keep Your Pet Healthy and Pain-Free, While Saving Time and Money on Vet Bills, by Treating at Home.
A 21st-century innovation that could literally change pet owners' life !The B-Cure Laser Vet is a light-weight, portable and user-friendly unit, that brings laser therapy into the pet owners' homes. How does it work? It bio-stimulates the cells, it increases cell-to-cell communication by releasing sodium, potassium and calcium and it increases nerve communication and blood flow and it even releases the hormone endorphin. The end result of this biochemical cascade is pain reduction and faster healing.B-Cure Laser Vet is effective the treatment of musculoskeletal conditions, dental problems and wound management, including post-operative wounds and pain.
INNOVATIVE SOFT-LASER THERAPY: The B-CURE LASER VET DEVICE FOR PETS allows you to treat your beloved animal in the comfort of your home. This cutting-edge technology helps alleviate pain, heal wounds and accelerates the healing process; without heating or damaging skin, it releases sodium, potassium and calcium while promoting blood flow and increasing endorphins that encourage faster healing and pain relief.
MULTIPLE APPLICATIONS: When using the B-CURE VET on your pet, bio-stimulating energy is safely transmitted through the green laser beam to treat localized pain and neurological issues such as nerve paralysis, hip dysplasia, chronic otitis, wobbler syndrome, arthritis, infected wounds, hot spots and scars, as well as dental problems of periodontitis and gingivitis just to name a few; it can also be used as a stimulator for specific acupuncture points.
USER FRIENDLY: Thanks to its compact, lightweight shape, the B-CURE LASER DEVICE is no longer available only at the veterinary office; you can use it at home by simply turning on the green light, setting the timer and applying it to the desired area; its recommended use is 6 minutes 2 times a day per location. The 7.4 by 2.7 by 1.8 inch unit - that weighs only 6.2 ounces - comes in a gift box containing the hand-held laser, 3 batteries, electrical charger with universal adapter and instructions.
SCIENTIFICALLY PROVEN AND ABSOLUTELY SAFE : B-CURE LASER VET is the only soft laser whose efficacy and safety was proven in several double-blind studies, all of which confirmed its clinical value. No side effects or adverse events were reported. Thousands of veterinarians are already using this device to treat several conditions hard to address with conventional therapies.
IT REALLY WORKS! : We know you will be impressed with the results using our device on your dog, cat, horse or other beloved pet; if you have any concerns, please contact us immediately; BUY WITH CONFIDENCE the B-CURE LASER VET HOME THERAPY DEVICE including the laser, batteries, charger, and instructions in a convenient storage bag; save time and money by using this product at home to keep your pet healthy and pain-free.
What Are You Waiting For? Claim your $91 OFF Coupon (On top of the $40 coupon you can apply on the product page! 😎)
What Are You Waiting For? Claim your $91 OFF Coupon (On top of the $40 coupon you can apply on the product page! 😎)
What Our Customers Are Saying
Natural healing assist!
I have religiously use this wonderful device on my border collie's ACL Injuries as well as her lipomas. It has healed injuries in my cats from cat fights and other problems and injuries they have had. I also use it on my own sports related injuries and am always amazed at how well it works on all of us for so many different things. Thank goodness for B-Cure. We all love this gentle and effective method of healing. DB
excellent product,
excellent product, it really relieves the pain of the pet, it is more before using it on our pet, it was used by our veterinarian who just had a sprain in his hand, so he could verify that it was effective
2 thumbs up.
Puppy has a floating kneecap. This seems to help with pain relief. Highly recommend.
Save on Vet bills
I am using it on a cat with an open wound it is working slow progress but positive. Saving on vet bills.
More relief than imaginable
Small, but powerful, handy, but flexible, tiny but powerful.
Had positive experience till now, worked well
Was looking for a natural and non-invasive home treatment for my dog Nikita, as she started to suffer from some issues with her joints (mainly her knee cap).Seems like it worked well, she stopped licking her joints and can run better now.From one hand the treatment is time consuming - (in the last 3 months I treat her with this device twice a day, 5-10 minutes each time). So you need to be very committed (at least we had some quilty time together LOL, I think she pretty enjoyed my attention).. but from the other hand, this device is very intuitive and easy to use. It's lightweight and straightforward so the operation was very easy and I even was able to take it with me to my parents home.Good solution for anyone who's looking for an effective home treatment for his pet.
Love it! Helped me to heal my dog arthritis
Worth every penny and in the bottom line saves on Vet bills!My dog had arthritis in his front legs and after 3 weeks of treatments (and some quality time together...) he's much better and you can clearly tell his movement improved and that there is a positive process! His mobility now is much better and seems like the device really relieves his pain.

PROS:
Easy to use
Very lightweight
Looks like the pet enjoy the attention while I'm treating him.

CONS:
Required patience and 1-2 days of learning and understanding how to use it correctly.
A Happy and Mobile Puppy
Your product was worth every penny I spent on it. We started using it right away and our dog would just lay there quietly and we could tell that she was very happy with the treatment. We rescued her and she had arthritis in her rear legs and your product has been a godsend in regards to her mobility now compared to when we first got her. Thank you very much. Darcy, our border collie thanks you also
What Are You Waiting For? Claim your $91 OFF Coupon (On top of the $40 coupon you can apply on the product page! 😎)
Questions?
Why are you running this promotion?
How can I use my coupon on Amazon?
Does this include free shipping?
What Are You Waiting For? Claim your $91 OFF Coupon (On top of the $40 coupon you can apply on the product page! 😎)