Your First Time Buyer Coupon
Lucidia Natural Allergy Medicine with Quercetin, Organic Stinging Nettle, Bromelain, Organic Reishi Mushroom & N-Acetyl Cysteine. Natural Antihistamine & Immune Support Formula. 60ct.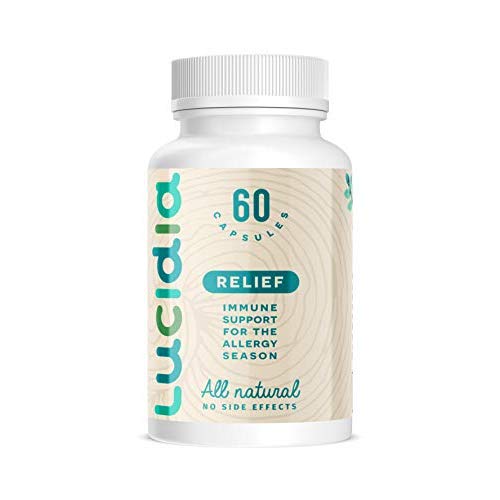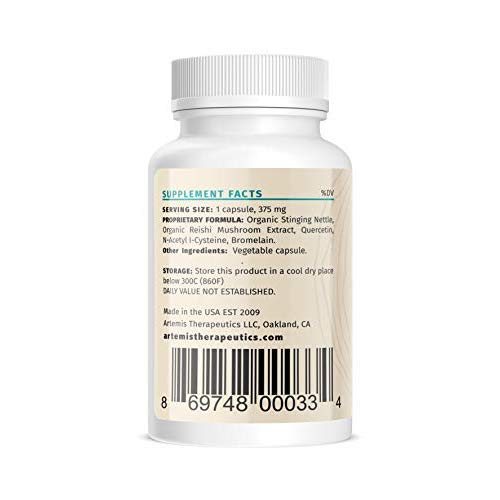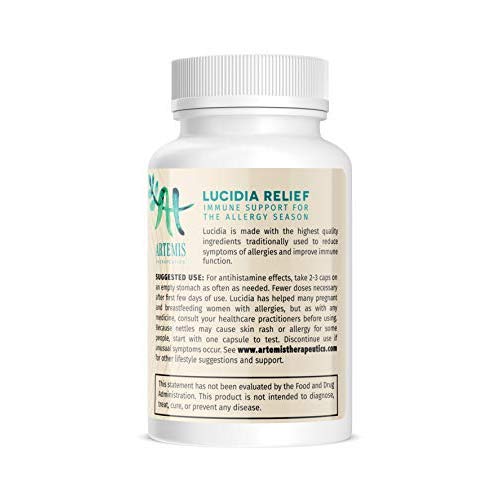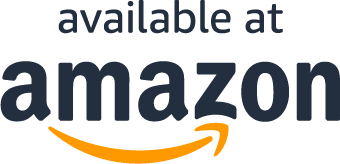 About Lucidia
SAFE AND EFFECTIVE NATURAL ANTIHISTAMINE without Side Effects. Non Drowsy. Non Stimulating. Works best for people experiencing itchy, watery eyes, congestion, sneezing, excess mucous and hayfever or pet allergies. Not indicated for people with dry eyes, dry nose or dry skin due to allergies.
DEVELOPED BY HOLISTIC HEALTHCARE PRACTITIONERS and used clinically for over 10 years providing symptom relief and reducing overall frequency and severity of allergies.
PREMIUM QUALITY, Sustainably Sourced, U.S. Grown Herbs. Made with fresh Stinging Nettles for immediate antihistamine effect & high potency Reishi Mushroom, cultivated by mushroom specialists with over 20 years of growing experience.
Lucidia is the main component of the Artemis Allergy Relief Program. Can be used with the Artemis lifestyle guidelines to optimize immune function, improve liver health, restore mental clarity & energy and experience overall improved health and well-being.
Based on the Wisdom of Traditional Chinese Medicine and the philosophy that health and wellbeing are simple, natural and available to us in this moment. Lucidia is formulated to help the most people possible; however, it cannot be the right formula for everyone. If it does not work for you, please take advantage of our Satisfaction Guarantee.
What Our Customers Are Saying
FANTASTIC AND EFFECTIVE!
I'm shocked at how much this product is helping with my terrible allergies. It look a week or two to get up to taking care of my symptoms so I can function, but I am extremely happy with the relief this product provides. I was taking Mucinex and Zyrtec every day for years because I live in Arizona, where evil plants bloom all year long and never hibernate. This year has been the worst yet. I've been itchy and prickly all over, I've had bloody snot and a sore scratchy throat and eyes, I've fought congestion headaches and facial pain, my ears have been plugged up, and I've been dizzy from all the congestion. I did *a lot* of research on PubMed before I chose to try another allergy supplement because I have tried MANY before without getting any benefit. The active ingredients in this product are ALL supported by research, and I was thrilled to find them ALL in one bottle rather than having to buy each one separately. I'm very pleased with the lack of questionable ingredients, too. I have to take three tables three times per day to keep things under control, but I am happy to do it because I know this product is made up of plants that were created to help us and they are proven by scientific studies to do the trick. THIS IS A FANTASTIC PRODUCT, backed by science, and it's working!
Got rid of a persistent dry cough that couldn't be controlled with other allergy meds.
My routine allergy meds was a rotation of zyrtec, allegra, and claritin. Whenever I felt the medicine wasn't as effective, I would switch and repeat. Last year I had a dry cough that lasted quite longer than the average cough. At first I took OTC cough medicine, but when it ran out I knew it was something else. I tried taking traditional chinese cough medicine as well, but it didn't help too much. I didn't cough all the time; it would happen in random annoying coughing fits that left me red in the face like I was choking. Lucidia came up as an Amazon recommendation, and I bought it based on the positive reviews. The first day, I took 3 pills even though it says to increase your dosage gradually. I didn't care since it was natural ingredients, it wouldn't be as strong as the regular allergy meds anyway. After taking it consistently for a week and foregoing all the chemical based allergy meds, my weird cough was adequately controlled and eventually went away. I was so happy, I recommended Lucidia to family and friends. I don't take Lucidia regularly anymore, just when I feel my allergies are going to get bad like when there's rain in the forecast or strong winds. I've also tried taking NOW brand Quercetin with Bromelain to save money, but I don't think it's as effective as Lucidia, plus I take more pills. I now carry this in my purse just in case. Did you find my review helpful? If so, please let me know and vote yes. Thanks!
Awesome allergy relief!
This stuff is AMAZING. Seriously, clears up my congestion and post-nasal drip within, I'd say, 15 minutes after taking it. Lasts maybe about 8 hours before I take it again. I was looking for a natural antihistamine that wouldn't dry me up like the other OTC meds, and I love this and recommend it to all my friends. It's not cheap - I take 4-6 caps a day depending on my symptoms. But, for someone really allergic to grass pollen, living in Georgia, who doesn't want to take the usual stuff for allergies, this is just excellent.
A most impressive customer service response
It took two and a half business days to get a response to a question I asked the manufacturer. On the third day I got a complete response, plus an apology for the delayed response! I am thoroughly impressed now with this company. By the way, the product does not have rice in the capsules anymore. Good product. Great customer relations.
Working great
I bought this to use for my dog that has environmental allergies. So far he is doing great. Much better than last summer when he took a few different prescription drugs & Benadryl. I'm glad I found the info to order this product on a dog's naturally Facebook page.
A miracle for me
I suffer from horrible allergies year round and pretty much always have. I have been taking Xyzal for a few years and while it certainly helps me more than any other antihistamines did, it doesn't do so much for me come spring and summer, and even this past winter I was miserable. I have continued to take Xyzal at night, and I take two Lucidia capsules each morning on an empty stomach, as directed. I still can't believe it but I was instantly better from day 1! I've been on it for a little over 2 months and this is the first time I've been able to truly enjoy spring!!! I now have MAYBE 1 or 2 little sneezing fits a day, compared to sneezing all day long usually, my eyes have been fine, no congestion, no need for Sudafed. This has been no less than a miracle for me! I got some for my dad and my daughter recently and so far it's helping them, too! This stuff pretty much pays for itself between the Sudafed, eye drops, and tissues I'm saving on! I think at some point I may even try to quit the Xyzal, maybe in the fall--too nervous now with all the flowers outside. Hope it works for you, too!
Questions?
Why are you running this promotion?
How can I use my coupon on Amazon?
Does this include free shipping?
What Are You Waiting For?