An Exclusive Offer For You
Amberen: Safe Multi-Symptom Menopause Relief. Clinically Shown to Relieve 12 Menopause Symptoms: Hot Flashes, Night Sweats, Mood Swings, Low Energy and More. 1 Month Supply
$20.98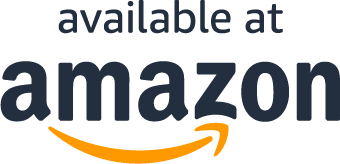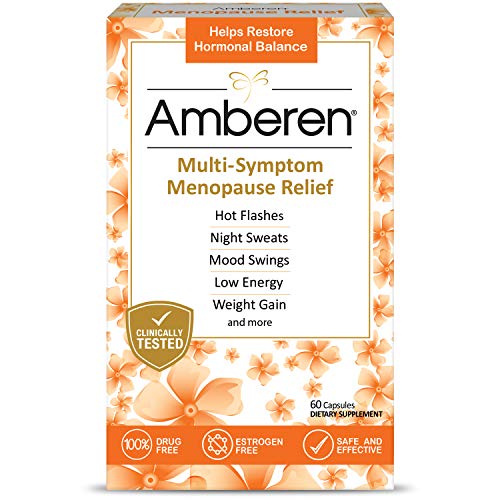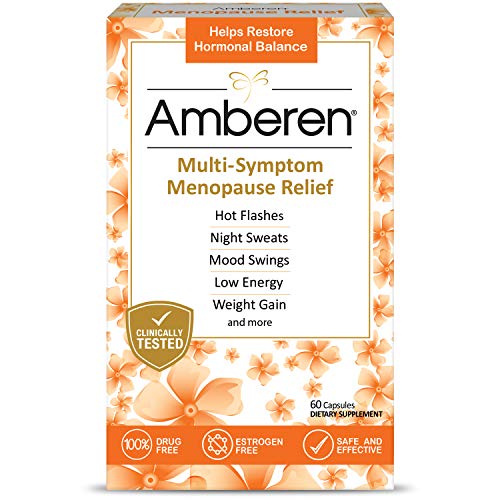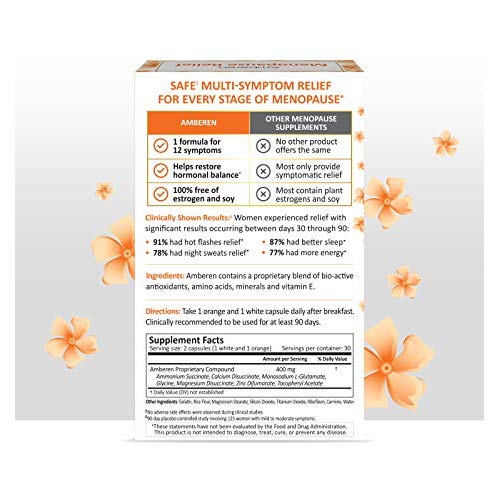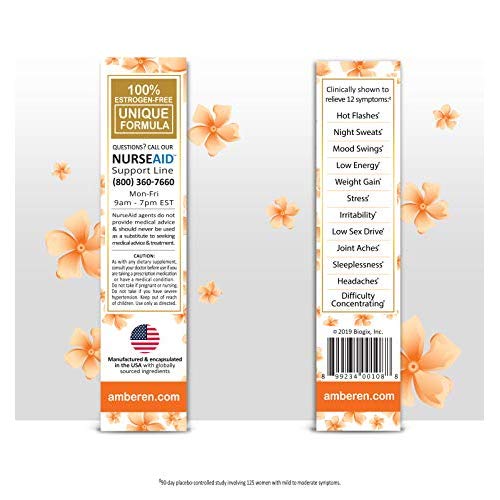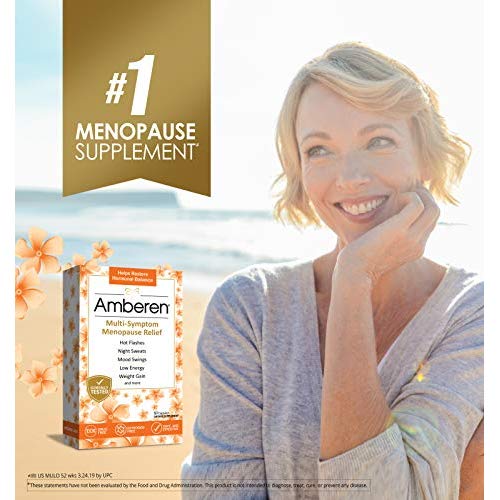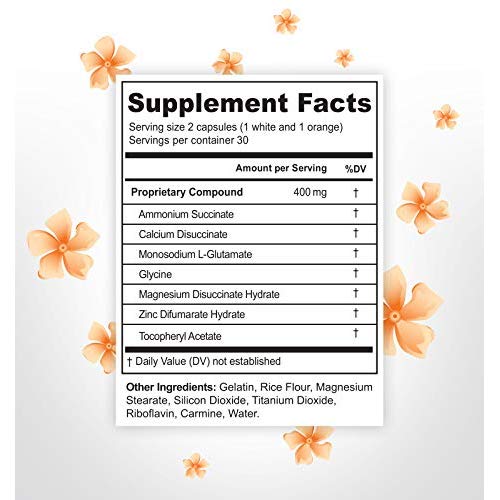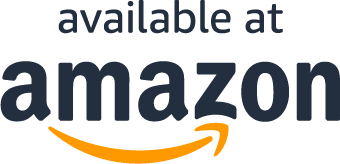 Read More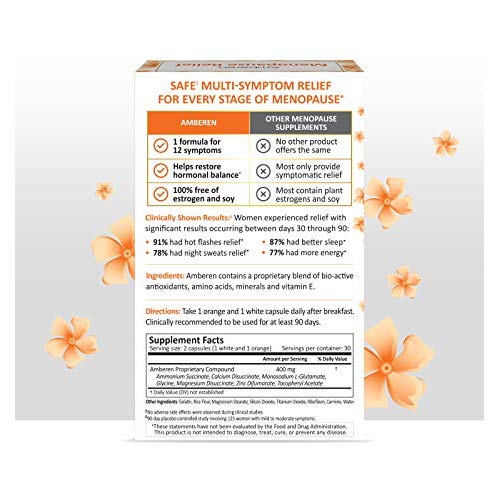 About the product
SAFELY RELIEVES UP TO 12 MENOPAUSE SYMPTOMS: hot flashes, night sweats, mood swings, low energy, weight gain, stress, irritability, low libido, joint aches, sleeplessness, headaches, difficulty concentrating.
HELPS RESTORE HORMONAL BALANCE: Amberen is estrogen-free, soy-free and herb-free and helps get to the root cause of menopause symptoms.
NOTICEABLE RESULTS WITHIN 30 DAYS with clinically significant results occurring between 30-90 days
CLINICALLY TESTED & EFFECTIVE: no adverse side effects were reported in three clinical trials on both perimenopause & menopausal women.
SAFE & UNIQUE INGREDIENTS: Amberen is a proprietary blend of succinates, amino acids, vitamin E, and minerals.
What Are You Waiting For?
What Our Customers Are Saying
Best stuff i have tried yet. I have trued everything except paying 600 to an hr specialist.
Omg I am very pleased with this stuff. I have to say I did find myself chilled throughout the day and tired. As i was taking at breakfast per instructions. So I switch to taking at night before bed. I sleep all night and wake up happy. Wow where has that girl been the last 15 years. Hello 30 days in and starting my next 30 days.
This stuff is a MENOPAUSE MIRACLE
I can not tell you how thankful I am to have seen an ad for Amberen, and then tried it. I've been going through menopause for a year and it was awful. The hot flashes were unbearable. One time I was laying on my couch, in just my bra and shorts, under the ceiling fan while eating a popsicle. True statement! I won't even start about the mood swings, night sweats, and fatigue. Oh, or the fact I've gained 20 pounds. Yeah, menopause is just s*its and giggles! I was put on a prescription of a low dose estrogen pill but it helped a little. I saw an ad for Amberen, read the reviews (never know if it's real or not), and out of pure desperation tried it. After about 3 weeks I started feeling a change. Now, I would take the Amberen over my prescription in a second. This stuff is a menopause MIRACLE ladies!!! No more hot flashes—EVER! No more night sweats, or moodiness (a tiny bit but I think it's really just my pain in the a$$ adult son that makes me lose it). I can't tell you either all the women that have sang Amberen's praises. If you're on the fence or looking for menopause relief but this!!! It changed my life!!!
It's worth purchasing Amberen for your sanity!
Amberen has made all the difference in dealing with menopause. For almost 2 years I'd been dealing with horrible hot flashes and sharp changes of moods. With a considerable amount of doubt I tried amberen. I honestly expected nothing out of this product because they are usually a hoax just to make money. I was shocked when my hot flashes stopped and my mood swings where far less! I sound like an advertisement but being able to sit next to my husband and hold his hand without feeling like I'm going to melt is very welcome! That guy still frustrates me but the mood swings are minimal making marriage better! Lol, convinced amberen isn't a hoax!
... a review for the Evening Primrose and it works better on my adult acne
I wrote a review for the Evening Primrose and it works better on my adult acne. I wrote that the evening primrose stopped my hot flashes but they came back just not as bad. I added this to my taking first thing in the morning and yes under control now. This has help 99% with the hot flashes and I don't see any side effects. I wanted to let everyone know how this has helped me and I use the evening primrose at night for my skin and added help with the hot flashes. Together all is well now. I hope they don't stop making this. Seems like when something is helping it is pulled off the market. I wanted to update how my hot flashes and skin acne is under control. This is amazing and I only ask if you could lower the price. . Thanks I wanted to say because now that the company has jacked up the price because it is probably doing well in sells, They are not really thinking about he benefits of how it is helping people like myself. I'm not surprised but I wanted to come on here and tell everyone, unless you can afford to buy this every month, look else where. I'm having to do this now. This works well for me but I was spending $19.99 as of last year 2018. I'm now seeing a $20 increase in this one box of pills for 30 days, not 31. I'm on here now looking for something to replace this so those volcanoes don't come back to my head. I hate companies like this that are so much out for money than helping people. This is almost at $35 dollars for one box of a 30 day supply. I will no longer buy this product even though it does work for me. I'm now looking for a cheaper relief and if I find it, I will come back and say it works and it is worth cutting the cost buy almost $20.
Welcome back Baby, I've missed you!!
I purchased this in hopes of waylaying the lack of energy and hot flashes I was having. I am at the beginning of 'the change' and I was already getting irritated with it. I didn't have anything MAJOR like the horror stories I've heard, but it was nuisance enough to make it difficult to sleep, etc. With the mixed reviews of it working for some and not for others, I decided to take the plunge and hope for the best. SO GLAD I DID. I feel like the old me again, I have energy again AND I'm down to practically only 1 - 2 minor getting warm phases that only last a minute or so, instead of the 20 x a day for 10+ min. I just received my 2nd 30 day supply and plan on making sure that I keep this on hand. :-)
What Are You Waiting For?
Questions?
Why are you running this promotion?
How can I use my coupon on Amazon?
Does this include free shipping?
What Are You Waiting For?