An Exclusive Offer For You
adidas Men's Climacool Superlite Low Cut Socks (3 Pack)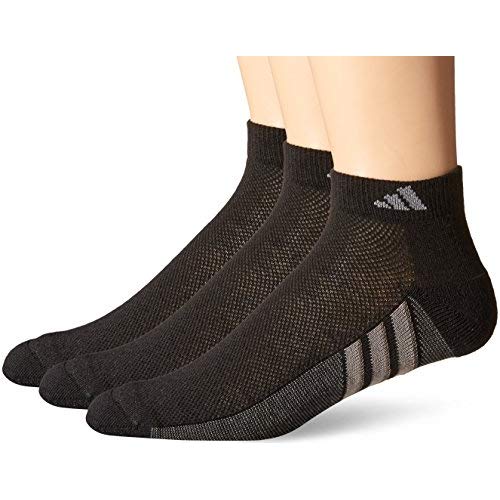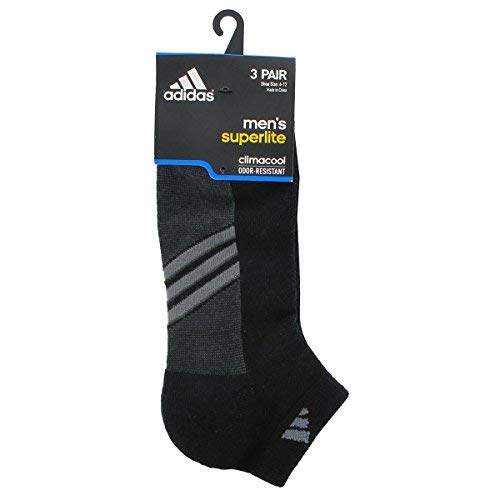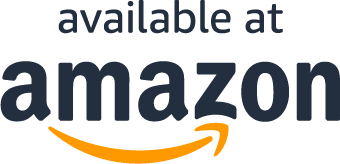 About the product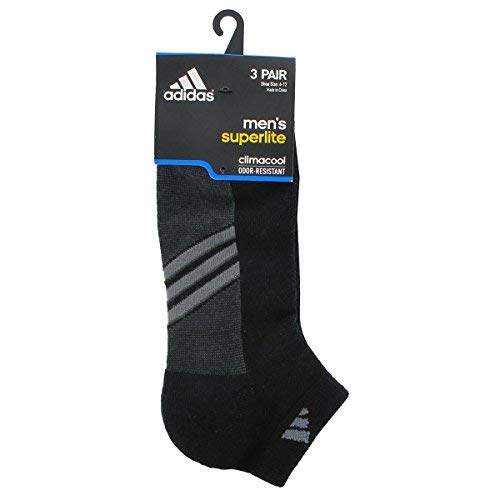 60% polyester / 38% cotton / 2% elastane
Imported
Athletic socks have strategic performance cushioning and odor-resistant finish that helps keep feet fresh
360-degree ventilation technology keeps feet dry and cool during your workout
Cushioning on ball, heel, and toe boost durability and comfort
58% polyester, 40% cotton, and 2% spandex
Three pair per pack
What Our Customers Are Saying
Finally! Socks that don't make my feet sweat!
I purchased 6 more pairs of these socks from Amazon after my new girlfriend came home with them from shopping at a major local department store. All my life I have had problems with my feet getting sweaty and then my shoes becoming the raunchiest smelling grossest things you have ever been near. I am not a big heavy sweaty guy! 5'11" 175lbs and I don't even sweat that much when I work out. For some reason though no matter what kind of shoes I buy the typical department store socks I have always purchased (walmart target 6-12 packs) make my feet sweat ridiculously! Well no more... These socks have a see through mesh on the top side of them that is more apparent in the Graphite/Grey picture of them. It works to allow more airflow all over my feet. I have not done a lot of reviews on the products I have purchased on this website, but since there are none at all for this product I thought I would help fellow amazonians know more about what we got here for some awesome socks! haha This has been such an annoyance for so long and its such a small but little life changer for me that I am just excited enough to post my little review here. 6 stars! great product! Update: (9/14/2013) I still think these are some pretty great socks. I've owned about 12 pairs for over 2 years and they are pretty durable. The white pairs are showing some stains after two years but I have worn them weekly for a long time. Despite the fact that the 3 pack has different printing they are still fine if you buy a couple of the same packs together. I've had one tear in one sock in the ankle area and one in the heal of another. I'm pretty sure both of those were caused by me. I'll trip over some scary air in front of me when I'm walking... kinda klutzy. I've realized more and more that I am the sweaty feet and hands type of person naturally so I pair these socks with the New Balance Baddeley M890v2 running shoes. (i don't run...) They are a mesh external shoe very comfortable shoe that has lots of air flow. They are available on Amazon. In closing I was back here to buy more of them but want to point out that my review was written when they were being sold here on amazon for $12 a 3 pack. (Much more reasonable) Personally because of how much I like them... (buying socks every few years is nice) I will buy more at this price but will be getting 1 3-pack now and maybe one later if I think I need to. Thx 4 reading! Hope this helps.
Great socks in XL sizes, different design than pictured, though
I ordered the XL size, and I wear a size 14. These fit fine, and the heel lines up in the right spot. The top is mesh, just as it appears in the picture, while the heel and forefoot have a thicker, padded texture. They won't replace Thor-los, but they are comfortable, and the design has no side seams to rub or chafe. One of the pictures is slightly misleading. I got a set in white and a set in black. Only one pair in each set is plain with the Adidas logo at the ankle. The others have a patterned bottom with three stripes (grey on the white socks and the black socks), with a logo at the ankle. The fit is the same for all of them.
Adidas ClimaCool socks
The socks are perfect for the summer time hot weather. I bought these for my husband. He wanted mesh socks to wear when he is working outside doing yard work or gardening. Hubby says they are cool, comfortable, and perfect to wear anytime. I bought the three pair pack, and I will be buying more. He tells me the design of the sock makes them comfortable because they don't have a large seam across the toe area, therefore, there is no seam to hurt his toes. I highly recommend this product.
Best socks around - the most comfortable and breathable I've found with near pefect temp regulation!
The most comfortable and breathable socks I have found, by far! I recommend them without any hesitation. I have been wearing many pairs of these as daily socks for over 5 years, they have held up well and some are just needing replacement. I will buy more of these as replacements without hesitation and if anything will be replacing other socks with these. Every other pair of socks I wear is either too hot or too cold and results in moisture build-up in my shoes - these socks allow my feet to near perfectly regulate temperature in all but extreme hot and cold weather conditions. adidas Men's Climacool Superlite Low Cut Socks (Pack of 3), Black/Graphite/Medium Lead, One Size
Excellent quality
I waited a few months to write a review because my husband is tough on socks and has large feet (14/15). These socks have stood up very well. They fit comfortably on his foot and the heel stays in place. They wash well, after 5 or 6 washes they still look brand new. My husband says they are really comfortable and keep his feet warm, but breathable.
My husband wears a size 14 shoe and always finds ...
My husband wears a size 14 shoe and always finds socks are to small (usually only fitting a size 12), but yours fit perfectly & the no show socks are comfy as well. Thank you. Will be ordering more especially if you have the gray ones in stock again.
Questions?
Why are you running this promotion?
How can I use my coupon on Amazon?
Does this include free shipping?
What Are You Waiting For?