Exclusive 20% Off the Revolutionary
Zoë Ayla Makeup Brush Cleaner

Zoë Ayla Makeup Brush Cleaner, Cleans & Dries Dirty Brushes in Seconds, Eliminates Bacteria and Improves Skin. Electronic & Automatic, Premium Quality, Mess Free, Healthier Face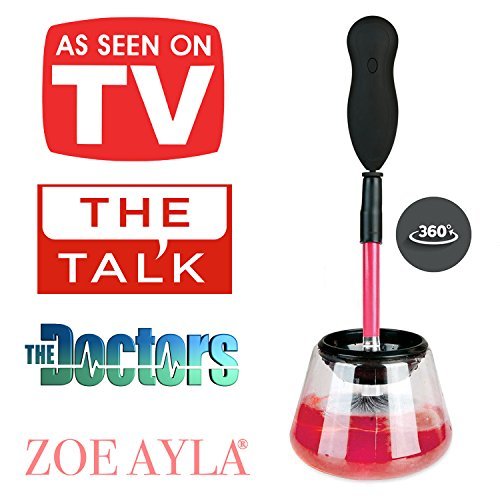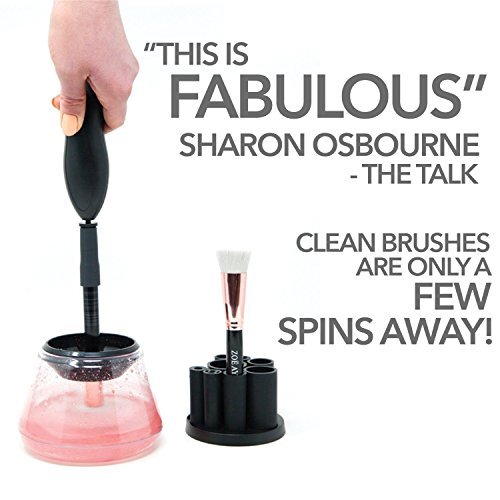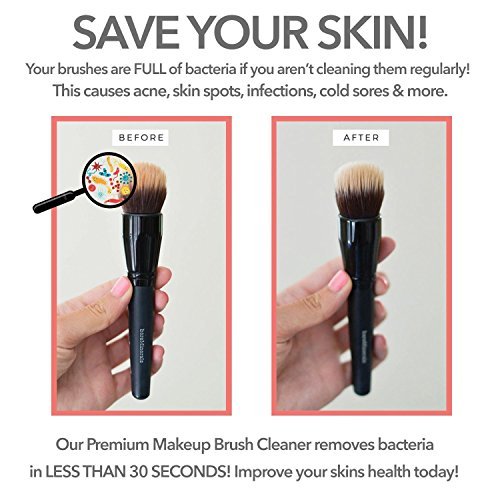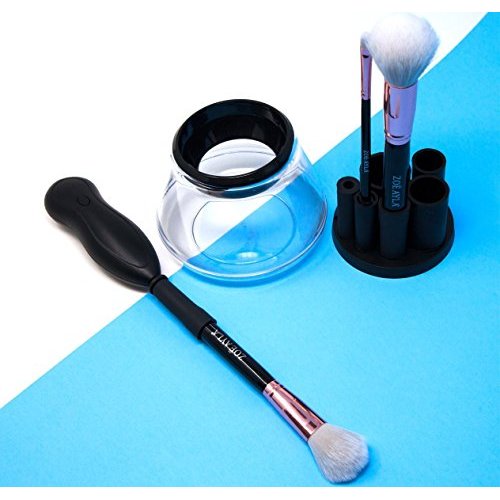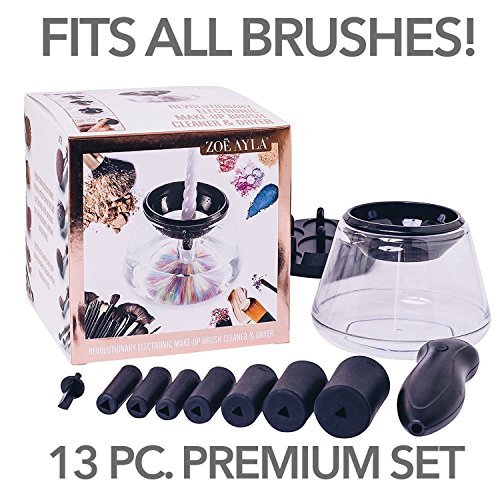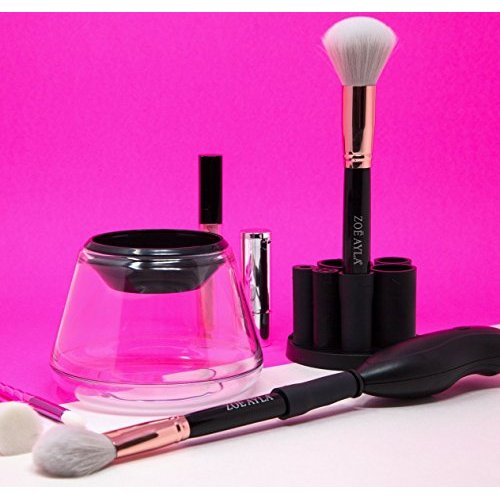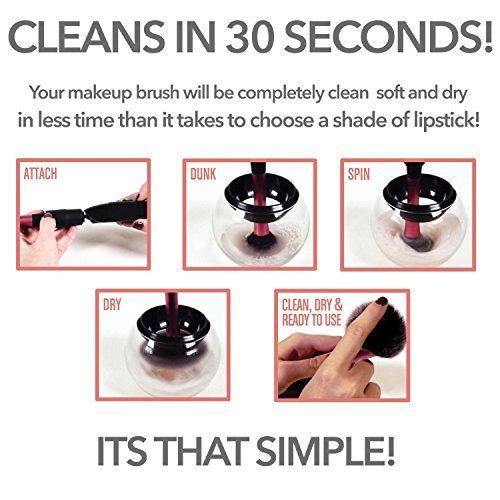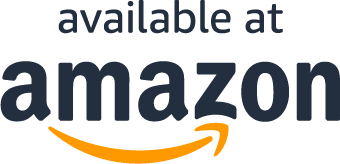 About the product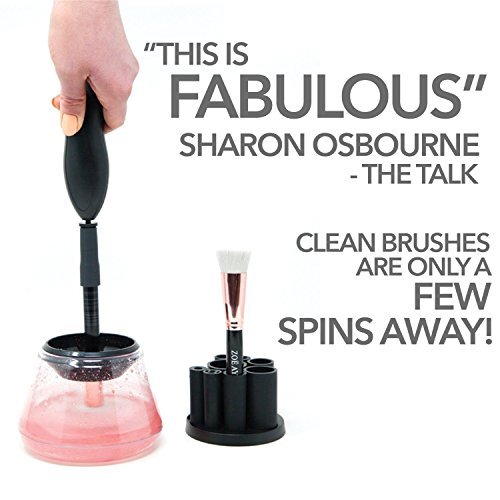 After a successful launch on TV shows such as "The Talk" and "The Doctors", Zoë Ayla Cosmetics Electric Makeup Brush Cleaner is finally available here! It's time to celebrate and treat yourself to perfectly clean makeup brushes!
Did you know your make up brushes can hold more bacteria than a dirty toilet brush? Imagine what that's doing to your skin!
Don't worry though, that's exactly why we created the Zoë Ayla Cosmetics Electronic Makeup Brush Cleaner!
Cleaning and drying makeup brushes can typically take hours to wash, and days to dry if done by hand, but our revolutionary product does all the hard work in SECONDS!
That's right! No more wasting your valuable time, or making a mess of your bathroom.
Sponges, scrubbers, wipes, hand held techniques, gloves, or other washing tools just don't cut it! They are messy and more work is required to do an inferior job. Our Advanced Electric Makeup Brush Cleaner is FAST, EASY, and MESS FREE, and can give you overall improved complexion in only a few weeks!


KEY FEATURES:
❤️REMOVES BACTERIA - Did you know your makeup brushes are FULL of built-up old makeup, bacteria, and skin debris? Without proper cleaning, this build up is being applied to your face every time you put fresh makeup on with these dirty brushes! The Zoe Ayla Makeup Brush Cleaner fixes this problem in SECONDS by spinning all the buildup and bacteria off, leaving your brushes perfectly clean, dry, and ready to go to work!
❤️FAST & EASY -Simply insert your brush into the matching brush sleeve, spin In your cleaning solution for 15 seconds, spin dry for 15 seconds and you're done! Say goodbye to the messy & time consuming hand washing method, and Hello to your new best friend - the Zoe Ayla Makeup Brush Cleaner!
❤️USA - Unlike other makeup brush cleaners, our team of Beauty Industry Professionals helped to design and test our Premium Makeup Brush Cleaner right here, in the USA. We designed It for the Makeup beginner to Professional Makeup Artist alike. With 8 different size collars, you'll have no problem cleaning any of your favourite brushes in a flash! Our kit Is portable, lightweight, and durable, making it easy to travel with.
❤️GUARANTEED! At Zoë Ayla, we consider our customers like family. If for any reason you are not completely satisfied with your product, simply send us a message and we will gladly help make it right. Your happiness Is our priority :)
What Our Customers Are Saying
If you don't have have one def need to get one these are super cool love it!
I'm so infatuated with this. I've heard multiple times about these and finally decided to get one since I love make up and nails but hate how the brushes are so difficult to clean.. I must say This is the coolest thing I've ever seen lol we all been taking turns on it an it is just so nifty. Super cool how it washes and drys it's self lol
Surprisingly Works Well
I just received the product in the mail today. I decided to clean my bronzer brush. I have to admit that I was skeptical at first because the spindle motor felt weak. However when I pushed the spindle tightly into the handle, centered the brush, and I held down the power button, the brush surprisingly spun very fast. The brush head is not completely dry, but it is not soaking wet like when I clean my brush on the rubber pads or mitts. I would definitely purchase this product again as a gift for one of my sisters. I just have to make sure I wrap two AAA batteries to go along with the gift.
Easy cleaning for makeup brushes
I will be honest, I was a little skeptical about this makeup brush cleaner and how well it worked. I can say that I am pleasantly surprised and so happy that it worked awesome!! I don't clean my makeup brushes all that often because when I do I have to plan ahead before I do so that my brushes have time to dry before I need them again. Using this it worked so fast! I didnt see any instructions in the box so I kinda did my own thing with some water and a little hand soap in the cleaning container. Hand soap is what I always use to clean my brushes. I spun it around for about 10-15 seconds and the water turned gross from the makeup stuck in my brush. Then I brought the brush up higher than the water level and spun it some more about the same amount of time and my brush was mostly dry. I did run my brush under the faucet to make sure all the soap was out and then I spun it dry again. So easy!! I love this and I will now have clean makeup brushes more often.
Neat
This is my first electric makeup brush cleaner.. and I gave 5 star for this because it work great for my brushes. I would recommend this for those who were looking a cleaner to their brushes.. I love this product.
Love it!!!
Love it!!! Decided to put it to the test with my daughters brushes that probably hasn't been cleaned for 3 years now! They came ALOT cleaner then I thought they ever would! Very satisfied
Questions?
Can this be used with all brushes?
Does it work for all makeup types?


What Are You Waiting For?