An Exclusive Offer For You
ZOMAKE Ultra Lightweight Packable Backpack Small Water Resistant Travel Hiking Daypack
$0.00
Go to Amazon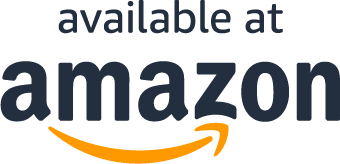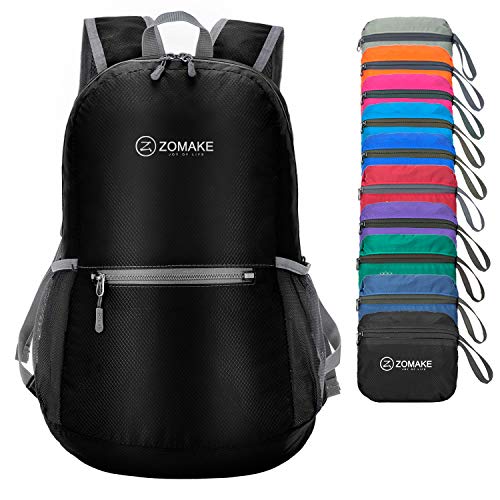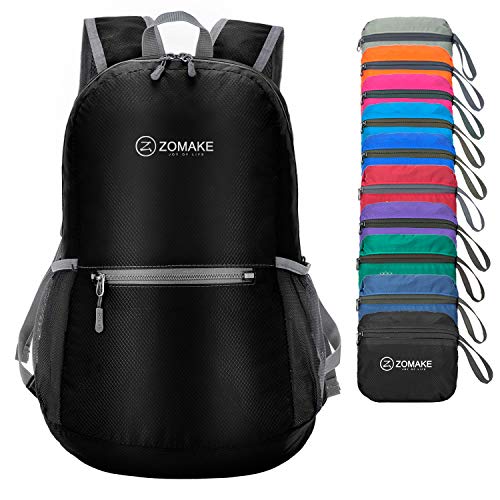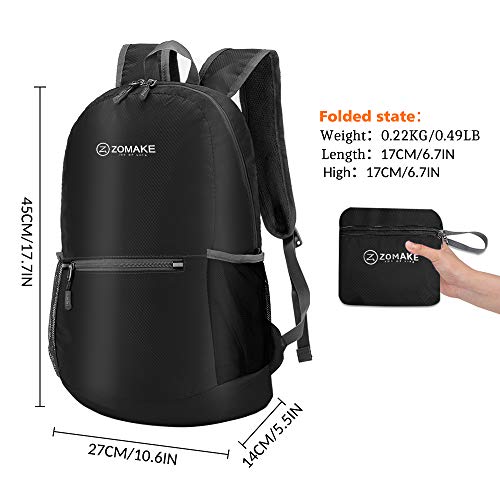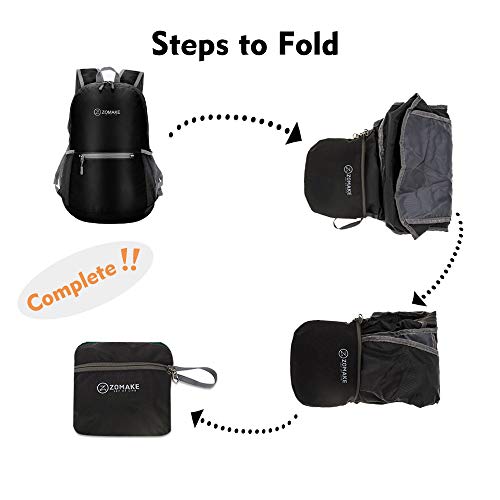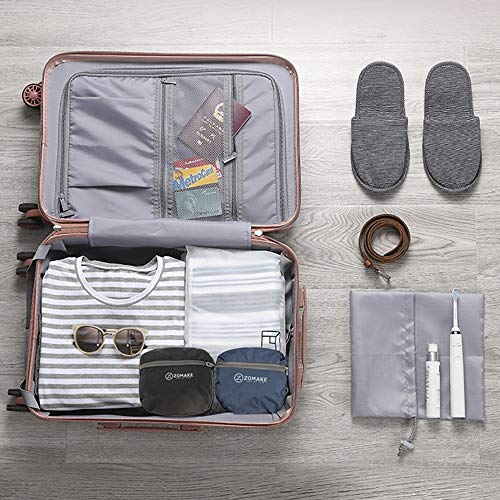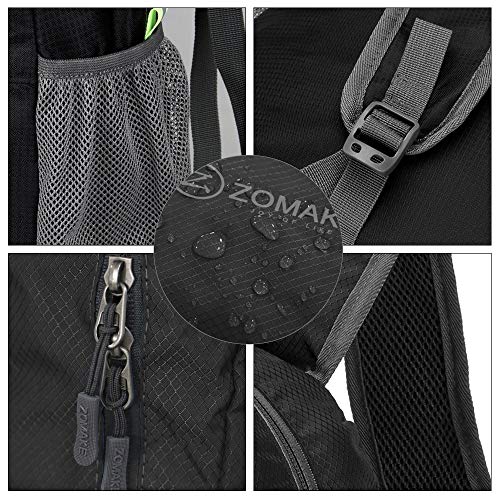 Go to Amazon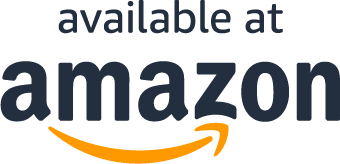 Read More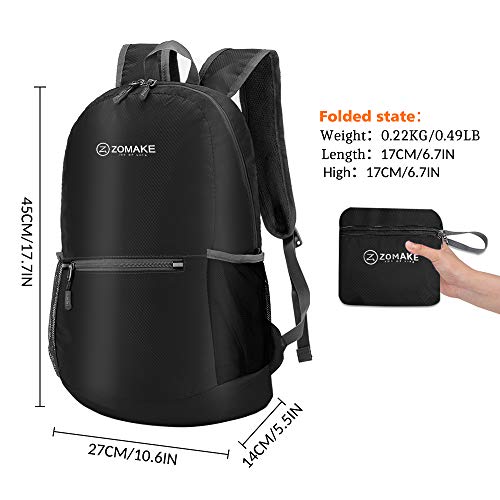 About the product
Zipper closure
48 centimeters high
14 centimeters wide
MULTIPURPOSE - Ultra-light. Ultra-durable. Ultra-awesome. The backpack is perfect for day-to-day use or day trips, vacation, travel, day hikes, school, camping and shopping, and great gift for everyone
CAPACITY - 20L storage space, keep things organized
INCOMPARABLE QUALITY - Made with High Quality Water and Tear Resistant Nylon Material. Durable Abrasion Resistant SBS Metal Zipper Available. Strengthened stitching on over 31 places providing
CONVENIENT AND LIGHTWEIGHT - It fits into an ultra-compact pouch. Easy to folds up into small pocket (Sandwich size). So you can easily pack it in your suitcase for use at their destination as an extra bag for the trip
AIRPORT HERO - Avoid overweight charges, simply unfold from your luggage and use it as a carry on for your excess baggage
What Our Customers Are Saying
Your go-to backpack for all your travel needs...
While getting ready for our trip abroad, we decided that it would be a good idea for both of us to have a decent sized backpack to use as our inflight personal item. After searching for different types of backpacks, we came across these ZOMAKE Ultra Lightweight Packable Backpack and decided to give them a try.We received the two backpacks in small carrying cases, or so we thought, and decided to take one out to see just how big it was. While taking the backpack out of the carrying case, we realized that the backpack appeared to be inside out, but continued to remove it fully before turning it right side out. Once the backpack was fully removed from the carrying case, it then became clear that it wasn't a carrying case, but it was in fact the inner pocket of the main compartment of the backpack. The way that they made the inner pocket the storage and/or carrying case for the backpack is really a great idea and we like it quite a bit.The backpacks are made from a resilient material, based on the sheer number of items we were able to cram into them, and they are elongated to a more natural feel while wearing them on the back. There's a small pocket located on the outside of the front flap and another one on the inside, which doubles as the storage/carrying case. There are also two net style pockets on both sides that were able to have ~16oz water bottle each. After our trip, we washed both backpacks with our laundry (nothing special from the rest) and they turned out looking like new, which is another plus to these backpacks.To try to explain how big these backpacks are, and how much they can store, here is a list of items that we were able to put into only one backpack (see image)...2x deodorant (one 3oz and the other 2.6oz)1 box - 4 5/8" x 3 1/4" x 1 7/8" (Syncwire 4 Port USB Travel Wall Charger)Amazon 5ft USB to Micro-USB Cable (works with most Micro-USB Tablets)hair brushXL men's sweater3x travel toothbrush holdersfloss6oz toothpasteDreamtown Kids Toddler Pillow With Pillowcase 14x19 WhiteChuggington: Chugger of the YearThomas and Friends: My Red Railway Book Box (Bright & Early Board Books)XL men's t-shirtXL women's t-shirtXL men's boxer shortswomen's underwear4T shortsXL women's tank top4T t-shirtmen's dress sockswomen's ankle sockschildren's socksThese ZOMAKE lightweight backpacks are a great thing to have when traveling, as they have a good-sized capacity and the ability to store it inside of itself is awesome. We would highly recommend these as a backpack to anyone in the market for one, whether for your travel or every day need(s).If you found this review "Helpful", please click the button below.
- The fabric feels strong and the stitching seems good. - Light weight and very practical
I bought this item to use as a day/town/ shopping pack , instead of my usual regular backpack, while traveling..The few issues don't outweigh the benefits.Pros:- The fabric feels strong and the stitching seems good.- Light weight and very practical.- It's lightweight and so portable,perfect for taking in the little pouch for packing in a suitcase.- It doesn't look big but it holds a lot of stuff.It able to hold my purse, a few small items, my jacket, and a notebook.- The shoulder straps extremely comfortable.Did not even realize I had one on my back!Cons:- Rainproof but just for Light Rain. You can put your money and ID in the Ziploc bag.Overall, I liked the light weight backpack.
This bag traveled the world with me. Now it's going with me everywhere. Best backpack around!
I was looking for a small daypack for an upcoming trip to India and Italy when I stumbled upon this one. It is everything I could want and more! It arrived in its small compact size and unfolded very easily into the full sized backpack. I was sort of shocked and almost thought I ordered the wrong item when it looked like a tiny satchel of some sort. The pack is decently sized and can fit quite a lot in it. The material seems sturdy and I can't wait to put it to use soon! The bag easily stuffs backs inside the compact packet making it ideal for traveling or camping when space is tight. Great buy!I will try and update this review post trip, stay tuned!Post trip 4/28/17-This bag is EVERYTHING. I bought this bag thinking that I might use it here and there throughout my trip but I ended up using it everyday! It is made out of sturdy material - NO tears, rips, or broken zippers during my entire three week trip. All the pockets were used - water bottle holders on both sides, pocket on the outside, then a small pocket on the inside, and the main portion. I would buy this backpack in more colors and buy it for gifts in the future because everyone can put this bag to use. GREAT BUY! One of the most useful backpacks I have ever owned when it comes to a small compact backpack.
Great add-on to your luggage for essentials
Great lightweight backpack that survived my one-week diving trip. I packed it in my checked luggage (had a separate backpack to hold my laptop etc), and used it to hold snorkels and other essentials (a lightweight fast-dry towel, wallet and a T-shirt). The side pockets can hold two bottles of water (600 ml each) without a problem. The bright color made it very dirt-resistant (also took it to a dusty hike to a volcano, and the color appeared as bright and clean as if new after the hike).
Really compact but opens out to be a really well designed user friendly backpack! Great features!
This is so well designed and surprisingly good for a compact little backpack! They're so handy for here in summer when we often set off in shirts but by the time you get up on the moors the wind is howling and rain is threatening and you need your fleece and raincoat! Its nice to not be committed to carrying a backpack for the whole journey because you can just fold it up and tuck it in your pocket!The compact little zip pack opens and the rucksack folds out easily. The little zip pack then turns inside out and becomes an extra zip compartment inside the main part of the rucksack! Brilliant and a really handy hidden away place for valuables! The main compartment easily fits a fleece, waterproof jacket, hat and gloves with room for other bits and pieces. There is a zip compartment on the back and 2 net pouches on either side which are the perfect fit for a 500ml bottle of water securely. It has a carry handle on the top. The straps are easily adjustable for a comfy fit. After use it is very easy to pack away again. It is comfortable to use and we both wore it for a while on yesterday's walk and liked it.Not only will this be great for lots of our outdoor adventures at this time of year but I can see it being really handy for shopping trips and holidays too! Really pleased with it and all its great features!
Excellent purchase
Needed a small, lightweight backpack for a trip to Venice. I did not expect too much given the price. I was very pleasantly surprised. Rather than the thin 'umbrella' like nylon that I was expecting, this backpack is well made of relatively thick material and was easy to re-pack into the pouch to pop in a suitcase for the return flight. The backpack is large enough to hold everything we needed for the day, with plenty more room to spare. It is very comfortable to wear, even over thick clothing.As ever, the backpack was received when advised, which was important as this was a last minute purchase before our trip. This will now be a permanent item in my suitcase for future trips.
Questions?
Does this include free shipping?