An Exclusive Offer For You
Wood Cutting Board Large Walnut 17x11 Inch Reversible with Handles and Juice Groove, Extra Thick Butcher Block Chopping Board Carving Cheese Charcuterie Serving Handmade by AtoHom
$54.97
Go to Amazon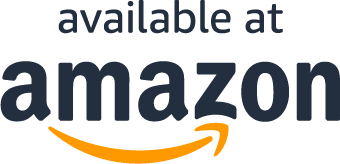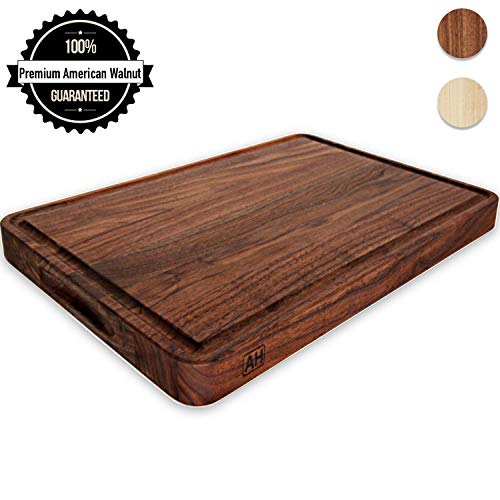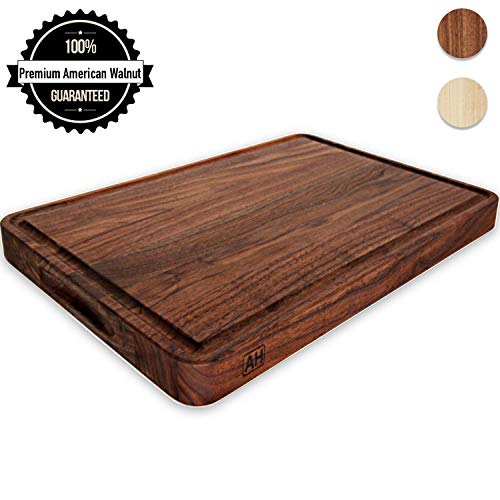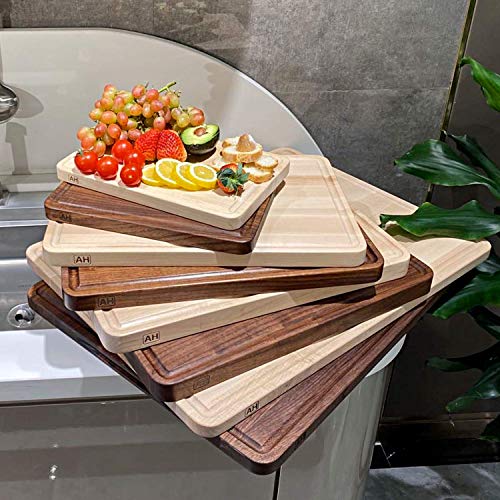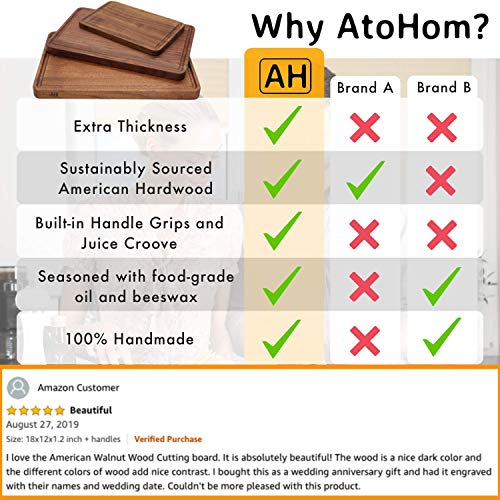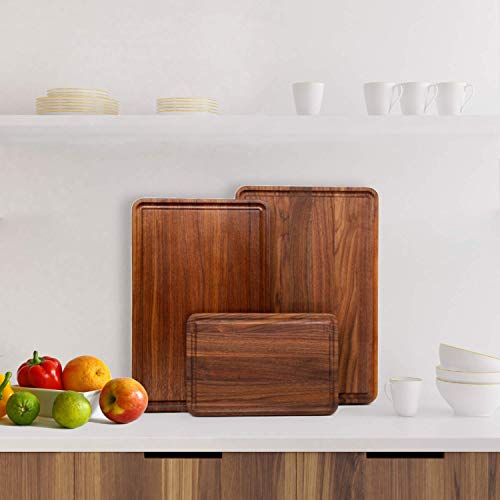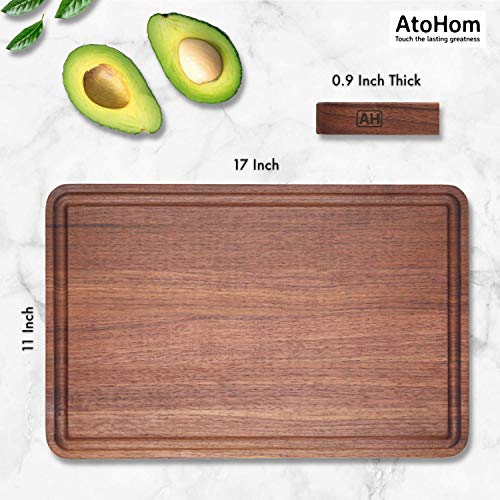 Go to Amazon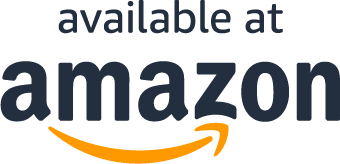 Read More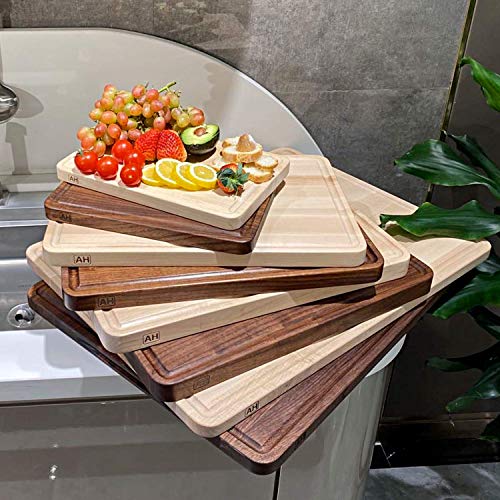 About the product
🇺🇸 AMERICAN BLACK WALNUT, BEAUTIFUL COLOR AND GRAIN – wooden cutting boards sustainably sourced from the highest-grade (FAS) premium selection, coming in its unique and natural color and grain. Pro chefs prize walnut for its durability, stability and beauty, better than bamboo, plastic, glass, acacia and teak for preparing or serving fruit, vegetables, meat or bread.

👍 SEASONED, THICK, HANDCRAFTED – extra thickness provides perfect stability. Edge grain expert handcraft for top durability and resistance to stains. Carefully seasoned and finished with organic and food-grade cutting board oil and beeswax, so you can enjoy using it out of the box. Run your hand over it and you will feel the pleasing touch!
✅ CHOP-N-SLICE, REVERSIBLE, JUICE GROOVE, HANDLE GRIPS – featured with wide and easy-to-clean juice groove to catch excess liquid during food prep. This board is perfect for carving grilled brisket, beef, pork, or ribs at barbecues, or as a cheese board and charcuterie board. The built-in inner handle grips make it easy to grab and carry.
🌱 KNIFE FRIENDLY, DURABLE – this all-natural board has perfect solidity and softness to prevent from blunting your knives. As with all wood cutting boards, it may show some knife marks, but when cared properly (instructions in the box) it will preserve the rich color and be one the most lasting items in your kitchen.
🎁 PERFECT GIFT, 100% MONEY-BACK GUARANTEE – classic gifts for Housewarming, Weddings, Christmas, Birthdays, Mother's and Father's Day, or any other family holidays and special occasions. If you are not satisfied with your product, you can receive your money back. Buy with confidence and enjoy the touchable and lasting greatness!
What Our Customers Are Saying
What a fantastic walnut cutting board!
I have very high standards for my kitchenware because I spend a lot of time cooking and serving food at home. When it comes to cutting board I only use walnut wood – it looks the best with the dark chocolate color matches perfectly with my kitchen. It's also easy to use and doesn't blunt my knives. This is my third walnut wood cutting board but it is hands down MY FAVORITE! The minute I held it in my hands I know it is THE BEST WALNUT CUTTING BOARD on the market! The color and grains are just gorgeous, making me feel bad cutting on it… The size is perfect – large, thick and sturdy. Great for all kinds of cutting and serving. It feels so comfortable and great just touching and holding the board that I just don't want to put it down... It feels a little bit heavy for me but the nicely carved handles make it super easy to carry. The deep and wide groove is indeed helpful when cutting fruits and easy to clean afterward. The overall quality and experience of this board have well exceeded the boards I had paid for like $100 before from other brands. It's just incredible to make such a beautiful masterpiece and making it affordable.Thank you, Atomic Home!
Delicate
So I used the atomic home cutting board to cut some lemon wedges for a dish that I was making and it was awesome. The board is made of a black walnut that would look great in any kitchen and was super heavy duty and well built. It even has handles built into the sides which I really loved as well. My favorite thing about the board was the indented rim along the edges of the board. This prevented the lemon juice from running off the board onto my kitchen counter which was really nice when it came to clean up.
Nice cutting board
By far the most aesthetically pleasing, and traditional option, a wood cutting board is a kitchen staple. The butcher block quality wood won't easily suffer scratches, scoring, or dents from your slicing and dicing. Great quality, durable and worrth every penny.
Excellent!
It's big and thick enough for daily use, also easy to clean. With the gullies at edge, no need to worry spilling out water.
Solid wood and reasonable price!
I've been searching for a walnut wood cutting board/cheese board for a while and this one was an awesome find! The delivery was half a day early. Immediately after opening the box, I could smell the natural wood scent. There was a small scratch on the back but barely noticeable. I love the color and the size! Perfect for a visually pleasing serving board for appetizers. The surface was a bit dry so I washed and oiled it. Here's the photo I took afterward. The seller includes helpful instructions on how to maintain the board. I would suggest not to use a paper towel to dry after washing. The paper towel residues will stick on the board.
like
The goods arrived quickly and intact. The quality is very good, no smell.
Questions?
Does this include free shipping?