Quality weight Bench For Your Home GYM
FLYBIRD Weight Bench, Adjustable Strength Training Bench for Full Body Workout with Fast Folding- 2020 Version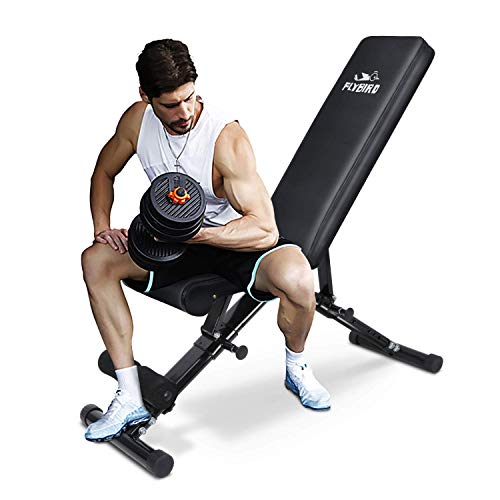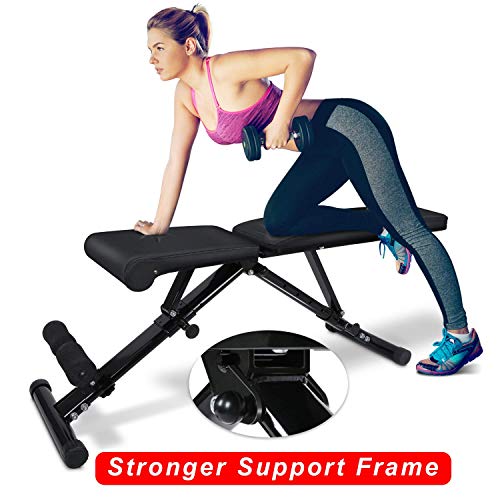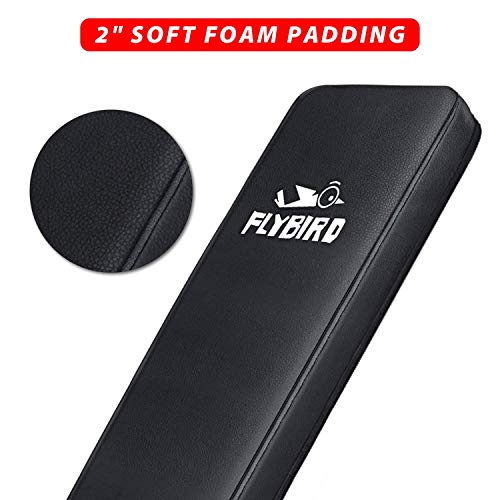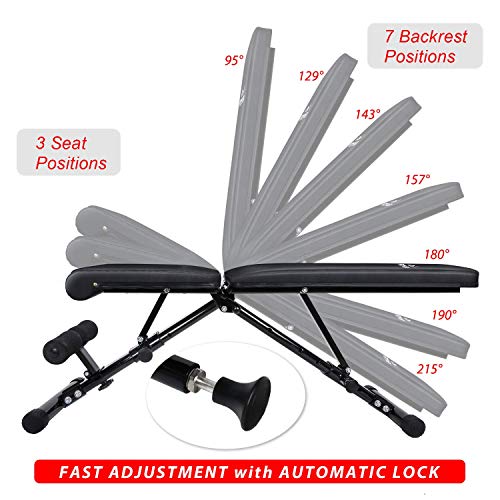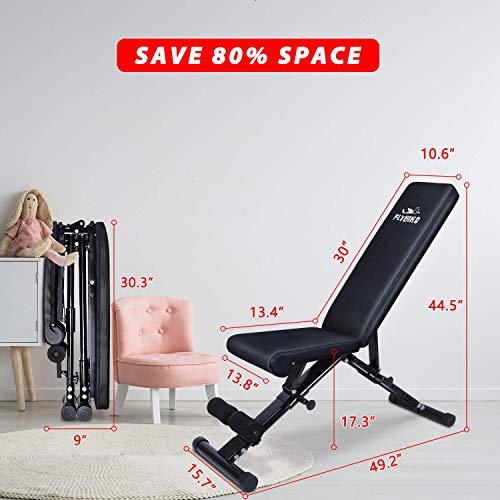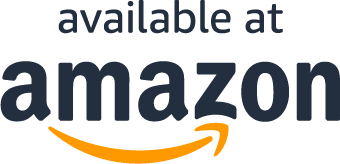 About the product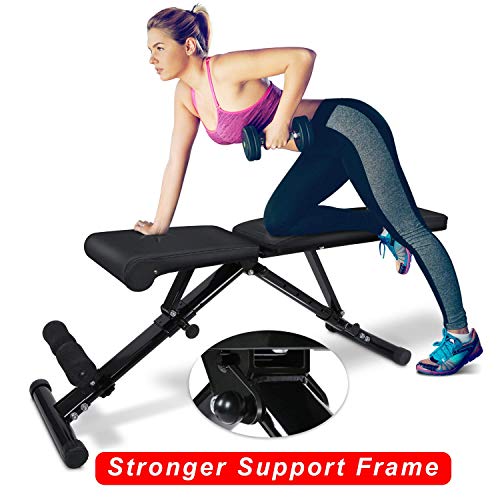 Make sure this fits by entering your model number.
✅【FLYBIRD】Design and produce fitness equipment for 20 years. Especially in WEIGHT BENCH, the bench was designed with advice of professional coach. You need a durable bench, Not a one month bench.
✅【2020 HIGH QUALITY BENCH】Made of commercial thickness steel, past thousands of weight test to ensure safety for workout everytime, Not the mendacious bench
✅【620 LBS WEIGHT CAPACITY】Designed a unique frame with triangular structure and made of heavy-duty commercial quality steel, which is very sturdy and durable, suitable for general bench presses. All this is especially important in your workout.
✅【FAST ADJUSTMENT with AUTOMATIC LOCK】Designed with 7 back positions & 3 seat positions to fit your Full Body Workout, you just pull the FAST BOLT, adjust the place which fit yourself and automatic lock! Safety!
✅【2" SOFT FOAM PADDING】10.6" Upgraded backrest and seat made of leather and filled with soft foam padding to 2" NO CRACKING! Allow you do any exercise with a very comfortable feeling. (All the measurement is actual result)
✅【SAVE 80% SPACE】 FLYBIRD foldable bench, easy to carry & NO ASSEMBLY NEEDED, 30S to set up! Folded size: 30" L x 16" W x 9" H. You can put it in the corner or under the Bed when you finish workout.
✅【NO WORRY BUYING】For all FLYBIRD Bench, the measurement and capacity is actual result, NOT as others mendacious Bench, Order today and get a 1 year warranty on the frame, 30 days warranty on the pads.
What Our Customers Are Saying
Amazing quality workout bench!
I was very impressed with the quality of the Flybird Adjustable Weight Bench! Everything about it is high quality material. I have seen other benches in the same price range and they don't compare to the quality of the flybird! The leather like material on the bench is very high quality, very thick and comfortable as well. The body is power coated black and that also is very high grade.The adjustable seat and back rest is also very high quality. The adjustment handle when adjusting it sounds like it's meant to stay in that position. I've seen some that are low quality but the flybird stays in place and when in place you can hear a loud tick noise to let you know that it's in place.The bench Itself is high quality but it's light and not heavy. It's perfect to carry around. It was very easy to assemble and very sturdy. Stability is awesome, it didn't move from its position. I highly recommend the flybird bench.
Fitness chairs
This chair is better than the one at the gym.It's much wider than a gym chair, and it's soft and comfortable to lie on,The chair is very light but firm and steady,And it has a front can be hooked to the feet of the shelf is very practical,If dumbbells are too heavy to lift, they are easy to hook with your feet,The chair folds up and takes up very little space,This chair that likes to exercise is recommended. It's great
Good bench for dumbbell workouts
Initial set up was easy. Requires no tools. Folding up the machine is quite feasible and quick process as seen in the video. My 230lb husband is quite satisfied with this bench.
Great bench for home gym
Was looking for an adjustable bench for my home gym, and decided on this one - based on its features, favorable customer reviews and for a good price. So far, i'm happy with the purchase. Out of the box it was super easy to assemble. It's lightweight - light enough for my wife or son to move/re-position if needed, but sturdy and comfortable. I've read some comments from 'bigger' guys - a lightweight bench probably isn't ideal for big guys. I'm 5'9", 170 lbs and have no issues. One of the features i like most about the bench is the range of available adjustments. I was especially interested in the decline options. Overall, this bench has been a great buy for me.
Pleasantly Impressed
I was looking for a bench that could handle the weight of a big guy and still fold up for compact storage. The FlyBird looks like it's going to do the job. I just took it out of the box today. Assembly took about three minutes because it only involved screwing on the foot pads.The bench initially wobbled on the flat floor but that was fixed as soon as I inserted the frame pin. I was very cautious to detect any instability because I am 6'2" and 270 pounds. No squeaks or wobbles so far.The bench was due on Monday but showed up early on the preceding Friday. It was shipped via slow-boat UPS ground from CA to me in VA. The package arrived in good condition and packaged effectively. There wasn't a lot of trash to dispose of.Overall I am happy with this purchase. The price was good. The product seems to be good quality. I just hope that it lasts a while.
That's exactly what I wanted!
I bought it, because this bench has a decline adjustment, works really great.Description said it can hold up to 500 lbs , I myself weight 170. bench about 225 for the weights, really stable.Definitely will recommend to friends.
Questions?
Does this include free shipping?