An Exclusive Offer For You
Turmeric Plus 120 Capsules -Turmeric Curcumin 95% with Bioperine Black Pepper Extract for Maximum Absorption. Strongest Potency of 2,000mg per Day. Powerful Anti-Oxidant and Anti-Inflammatory Support. 🔥OVER 900 5-STAR REVIEWS ON AMAZON!🔥

20% off discount is applied automatically for you when you click from this landing page only.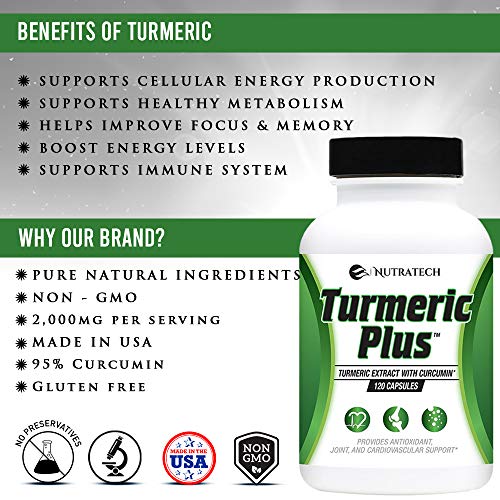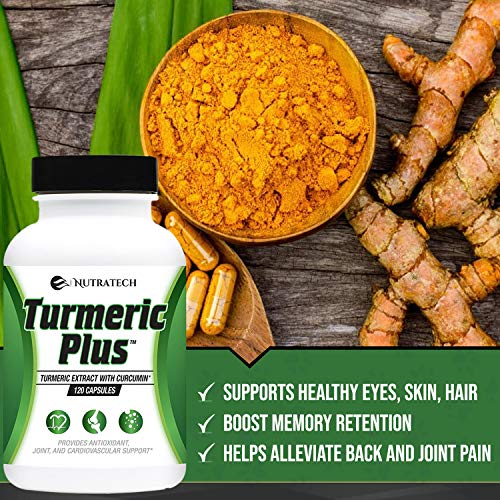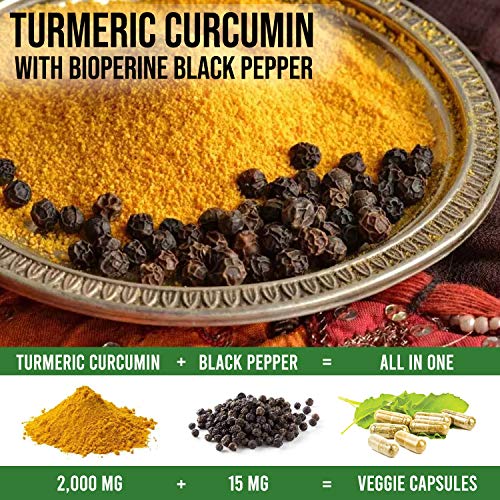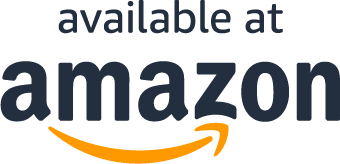 About the product
Every serving of our blend contains 95% curcumin to give you the most potent, pure Turmeric supplement available. Our veggie capsules are free from preservatives, gluten, artificial colors and GMOs.
Turmeric's HUGE range of benefits have been talked about by doctors for years. Turmeric plus not only includes the most powerful form of Turmeric (Curcumin) but it also includes black pepper extract for increased absorption.
With a concentrated dose of natural anti-oxidants, Turmeric helps you fight the daily damage that wears down your skin, eyes, and internal organs.
High quality and made in the USA. Our products are designed and manufactured in a state of the art facility in the USA.
100% Satisfaction Guaranteed. ! - Don't like it? Send it back. At Nutratech we understand that supplements have a different effect on different people, and we stand behind our best-in-class products with 30 day money back guarantee; if you don't like the product for any reason, send it back for a full refund at any time within 30 days of purchase.
What Our Customers Are Saying
I'm so happy that I got it
I heard about this product from a girl at work, well im so happy that I got it...this product is amazing! I have a lot of problems, and especially neck knee and leg pain, I started this product and was amazed...I didn't want to have back surgery, so along with my intense therapy started this Turmeric Plus,and within days' started to help..im taking it for4 months now and so glad, that I gave to my son whose a football player, and hurt his back...he doing great so now only give to him at night, but I take twice a day. I also told my girlfriend about and said she loves it, her leg pain is no more will give to my husband, who has plenty of arthritis. Thank you for letting me find this product.:)
A Turmeric Supplement That Works!
My wife and I both have arthritis flare-ups and I was in a painful flare over the last few weeks. I received my 1st bottle this week and it has significantly reduced the pain and stiffness I have been dealing with in my hands and shoulder. I've tried at least a dozen different Turmeric brands and have only had moderate relief. This product leaves no after taste and is priced right to take the dose needed for my symptoms. Everyone should be taking Turmeric and the benefits it provides are great for anyone. This product is working for me and deserving of a 5 star rating.
Really helps!
This product is really helping the arthritis in my thumb. I started with just 2 pills a day, but when I switched to 2 pills twice a day, I could tell the difference.
Really helps with inflammation!
I was skeptical about this product helping the inflammation in my knees and achilles tendons but after using it for almost a month I am sold on it! I have been in physical therapy for several months and have been taking anti-inflammatory drugs for my problems. I am thrilled to find a natural product that works better than the drugs I've been taking. In the morning, my stiffness is the worst. Bending my knees and walking was very difficult. After taking Turmeric Plus getting up in the morning is much easier. I have less pain and more mobility then I have had in months. As a natural alternative to drugs, I am thrilled with the results of taking this. I anticipate further Improvement the longer I take this supplement. It is a wonderful product and I would urge anyone with inflammation of their joints to try it. It has certainly helped me tremendously.
Questions?
Does this include free shipping?