EXCLUSIVE AMAZON OFFER
🍎 Apple Cider Vinegar Gummies (2-Pack)
by New Age
Amazing Taste with Raw, Organic, Unfiltered Mother ACV, B9, B12, Beetroot, Pomegranate. Vegan & Non-GMO Gummy. Made in USA.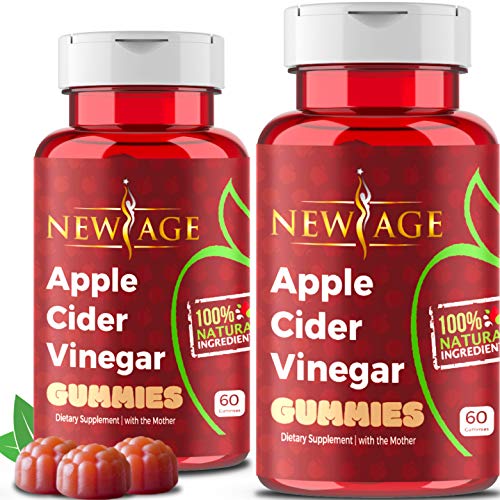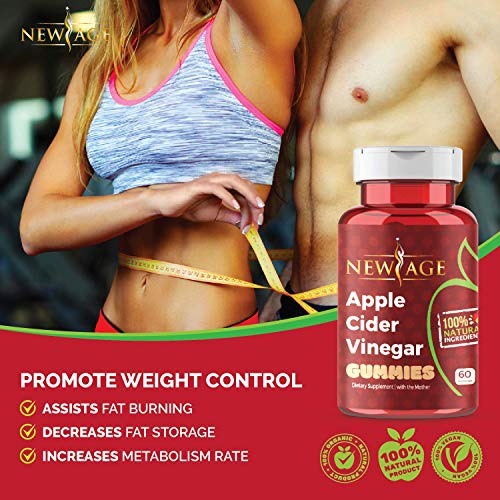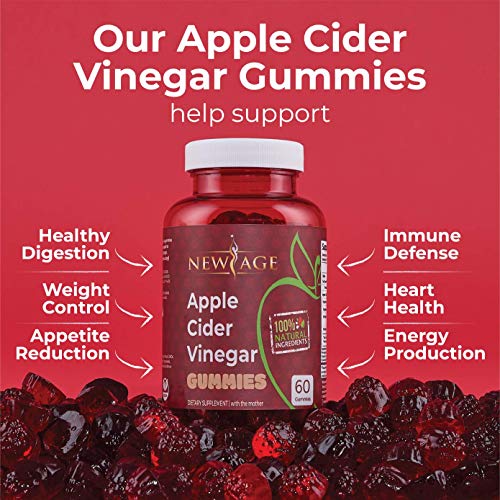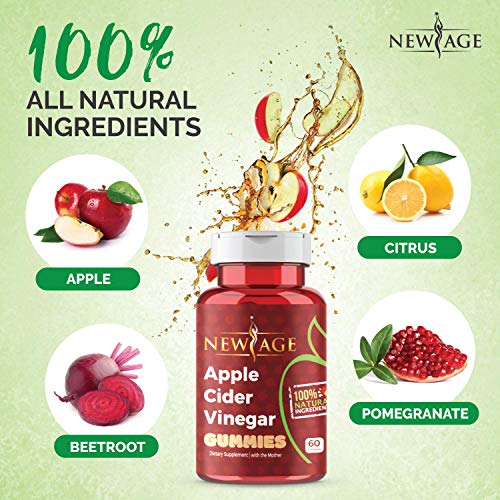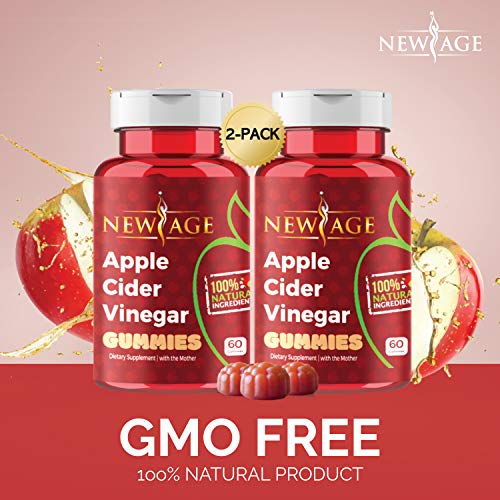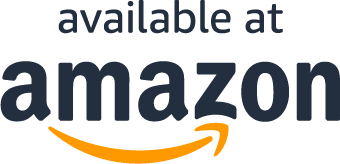 About the product
ENERGIZE YOUR DAY: Apple Cider Vinegar promotes improved bodily functions and overall health, cleansing your body and keeping you feeling refreshed! ACV's unique acid profile can help to detoxify your liver by binding to harmful toxins, which helps eliminate them from your body and prevent them from spreading. Similarly, ACV can be beneficial for colon cleanses, bloating relief, and overall immune system boost.
NEW AGE DIET CONTROL, BETTER DIGESTION, CLEARER SKIN, DETOX: Relieve digestion issues, experience more energy, watch your skin clear up and feel as your body detoxes with Gummies. Enjoy all of the benefits of Apple Cider Vinegar without the downsides of drinking it. New Age is an excellent and easy way to incorporate New Age Apple Cider Vinegar into your daily routine.
REAL APPLES, VITAMIN PACKED, GREAT TASTE: Made with real apples, beetroot and pomegranate, New Age Gummies are as delicious as they are good for you. Our vegan friendly formula is packed with Vitamin B12 and B9 that will help improve your mood, metabolism and much more.
MADE IN USA: We are proud that are gummies our non-gmo, vegan, gluten free, and soy free, made in a Certified, Inspected lab so you can trust the product you are buying.
100% MONEY BACK GUARANTEE - We stand behind our product with pride. If you are not completely satisfied, simply reach out and we are here to help
What Our Customers Are Saying
Tasty and Less Expensive that Other Brands
I've been using Goli Apple Cider gummies for awhile which I love, but they are very expensive. I've tried a few other brands and found them way too sugary. These are excellent. I think they work as well as Goli and are half the price. I will definitely re-order.
10/10
Call me crazy but i love taking ACV shots. But these gummies are a lot easier to take haha
ACV YES ‼️
Taste and flavor are amazing! Really easy to chew! Package came in perfect condition. Everything was sealed. Great way to help weight loss included with my daily workout routine. Cheap and affordable 👏🏼
Delicious!
The flavor of these gummies is delicious (you can't even taste the apple cider vinegar) and unlike when I used to take shots of straight liquid ACV, there is no short term uneasiness due to the overwhelming flavor. Also, the gummies themselves are easy to chew and don't get stuck to your teeth, a great alternative to pills or liquid ACV. Both my wife and I have noticed less digestive issues since we began to take the gummies, which we have both been doing for a little over 2 weeks now. Highly recommend, but I warn that you'll want to eat more than the daily recommendation of 1-2 because they taste so good.
Gummy or nasty capsules, no contest gummies better
exploring benefits of apple cider vinegar. These much less expensive that what is advertised on the tube. Shall see how they work out. Seem to help with carbohydrate craving
Definitely purchase!
I have been looking for Apple Cider Vinegar gummies for a while now, because I cannot stand the taste of the physical apple cider vinegar shot. These are amazing!! They taste great, very fruity, and contain all natural ingredients (a plus). I've also noticed from taking them in the past week that I've felt amazing and a lot cleaner. Definitely recommend!
Questions?
Does this include free shipping?