Ultimate Sanitizer for Your Devices

Portable UV Cell Phone Sanitizer with USB Charger – Multi-Use UV Light Disinfection for Smartphone iPhone 6 6s 7s Plus Toothbrush Watches Jewelry – Aromatherapy Hub UV Sterilizer Cleaner Case (Black)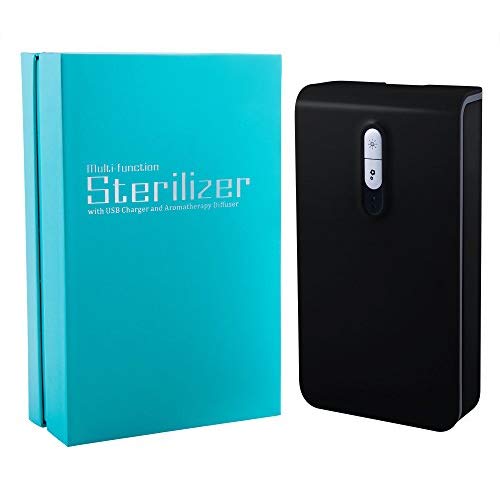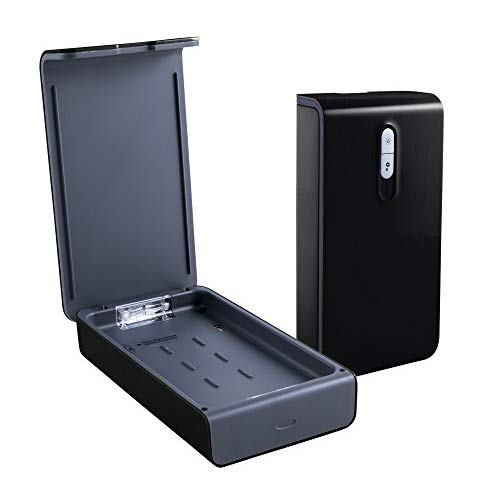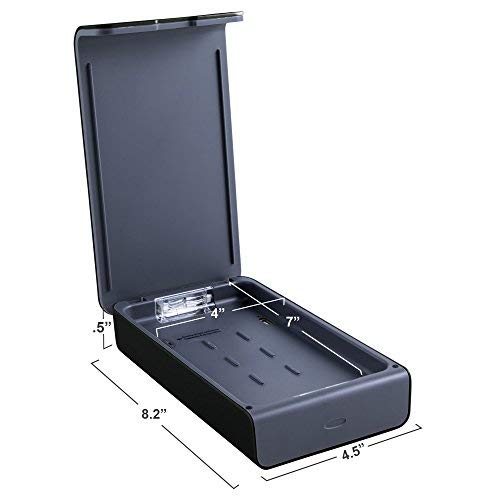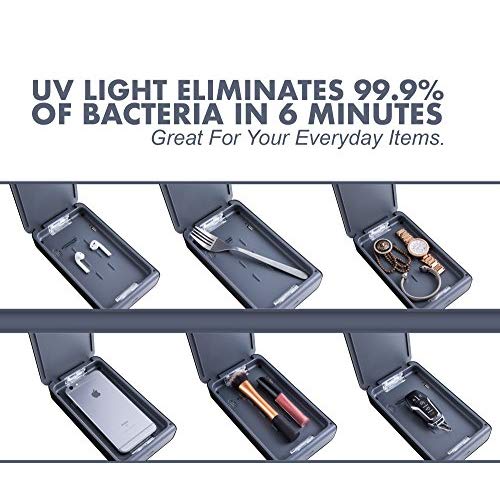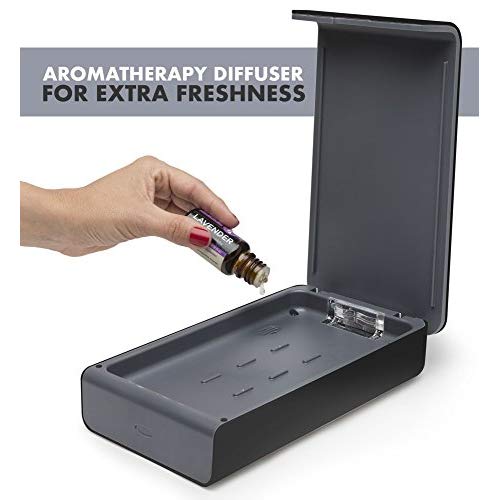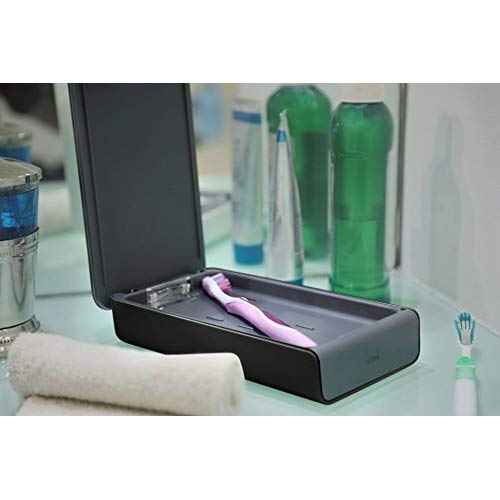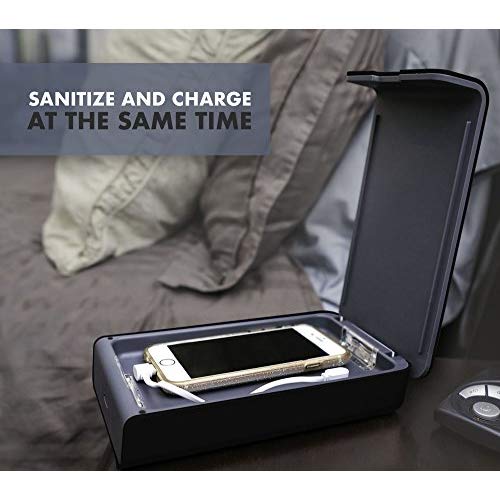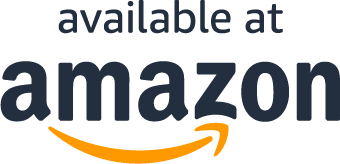 About the product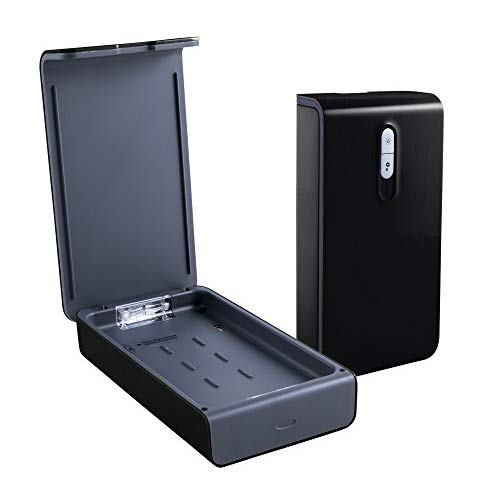 ULTIMATE PROTECTION FOR YOUR FAMILY – Do you find yourself wiping your phone after the little ones have played with it? This easy to use, plug and play UV sanitizer will give you peace of mind zapping those germs, meaning the kids get to use your phone clean and you can clean it right after they use it! Presented in a stylish box, it's an ideal gift for germaphobes and must-have gadget for anyone who cares about hygiene.
ELIMINATES 99.9% OF BACTERIA IN 6 MINUTES – Bacteria is on everything from door knobs, toilet seats, dirty laundry, table counter tops - while your phone harbors more bacteria than a human toilet. Protect yourself from harmful bacteria by sanitizing your phone regularly. The UV light sterilizer kills 99.9% of bacteria and germs in just six minutes. Disinfect your phone while you wait or leave inside to charge overnight.
SANITIZE AND CHARGE AT THE SAME TIME – Compatible with Cell phones and Smartphones up to 6 inches, including phablets like iPhone 6s, 7s Plus, Samsung Galaxy S7, Note 5 and LG G3. Comes with a universal USB port, Android and iOS charger cables, so you can sterilize and charge, without powering off. Great for iPods, mp3 players, Bluetooth earphones, toothbrushes, watches, toys, pacifiers, eyeglasses, keys, jewelry and phone cleaner.
COMPACT, ERGONOMIC & PORTABLE DESIGN – The sleek, ergonomic and compact design of our iPhone sanitizer makes it easy to take with you, wherever you go. Unlike some other sanitizers it won't feel bulky and easily fits into your purse. Whether at work, home, traveling or in the car, simply place your phone (with its case) inside the smart UV sanitizer, and wait while the UV light sanitizes the device front and back.
AROMATHERAPY DIFFUSER FOR EXTRA FRESHNESS – In addition to keeping your favorite belongings germ free, the portable UV sterilizer works as an aromatherapy essential oils diffuser. Simply add a couple drops of your favorite aromatic oil inside to freshen your phone while sanitizing. Your UV sanitizer also comes with a 'Peace of Mind' Guarantee. If there's any issue with your purchase, our friendly team are here to help.
What Our Customers Are Saying
GREAT PRODUCT
Love this convenient cell phone cleaner. Large enough to fit many items for cleaning. Easy to use. Bought this was a gif for My brother in law who is great fan of cell phones and buy every new models that launches in the market ( Apple and Samsung). He always love mobile related gifts and he really needed this pretty product to keep his mobiles clean and nice. Just yesterday my Bro in law called and told me that he loves the product . The Multi-Use UV Light Disinfectant and Cell Phone Sterilizer made his Smartphone Sanitized and he feels that the phone is sterilized . He told me that he would put his Jewelry, watch, even and nail clippers in the Sterilizer to sanitize. LOOKS LIKE A GREAT PRODUCT_ WILL ORDER FOR MY SELF.
Highly recommended!
Excellent Portable UV Cell Phone Sanitizer with USB Charger .Works great! It's very fast, easy to set up and use, and does a great job.This Sanitizer lets me know my phone is clean and I don't worry about causing damage to it.exactly as advertised - this is a great UV sterilizer. It also will sanitize just about anything else that will fit inside! Perfect thing to have
Feel more comfortable having my phone up by my face!
After watching a documentary on how disgusting cell phones actually are, I was very happy to find this product. I always hesitated to use any type of "wipe" cleaner as I feared it would ruin the glass. The fact that this can safely sanitize my phone (as well as a slew of other products) is PERFECT! I can sanitize, charge and receive some aromatherapy all at the same time:-) It's portable which I makes me appreciate the convenience. Quality product that works!
Seems Legit
Seems legit to me. I don't have any materials to put this to the test but after reading a ton about how our phones are the germ trap of our lives, I had to get one. I use it every night I get back from work. Even if it kind of works, less germs is better than more. The unit is decently built. Doesn't feel cheap but not premium either. I like the feature of the air diffuser even though I haven't tried it. I would buy again and would recommend.
Beautiful find
I have to say, some purchases are just fun to open up. And this was one of them. I don't know what I was expecting, but when I opened this up it was set in a beautiful, high quality gift box. The sanitizer is a fabulous size and exactly as pictured. It is made of extremely high quality material. Definitely happy with purchase.
LOVE IT!!!
This is exactly what we needed. We've all used it on iPhone and Samsung phones in the house, even friends have tried it. It's fast and easy and just makes me feel better that our phones are clean. If you think about it, it's crazy what we do and touch and then touch our phones, seriously!! It was easy to hook up and just put the phone in, push the button and done. It also came with a nice cloth to wipe your screen off as well. I'm also a Mac/Apple user and so it fits in with the clean white lines and looks great on my desk.
Questions?
Does this include free shipping?