Exclusive pink switch pro controller
Switch Pro Controller Wireless Bluetooth Accessories - Compatible with Nintendo Switch Console | PC Gamepad Joypad Remote with Gyro Axis (Turbo Buttons) by EVORETRO (Pink)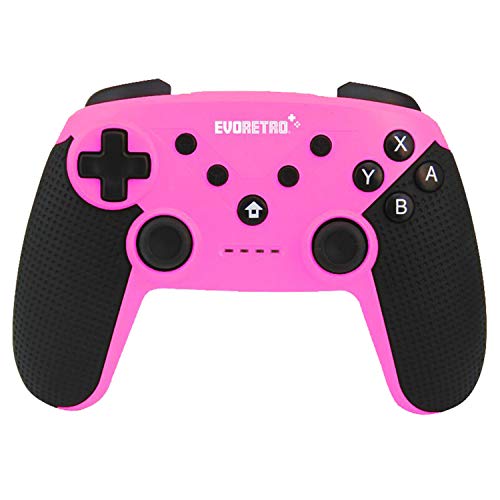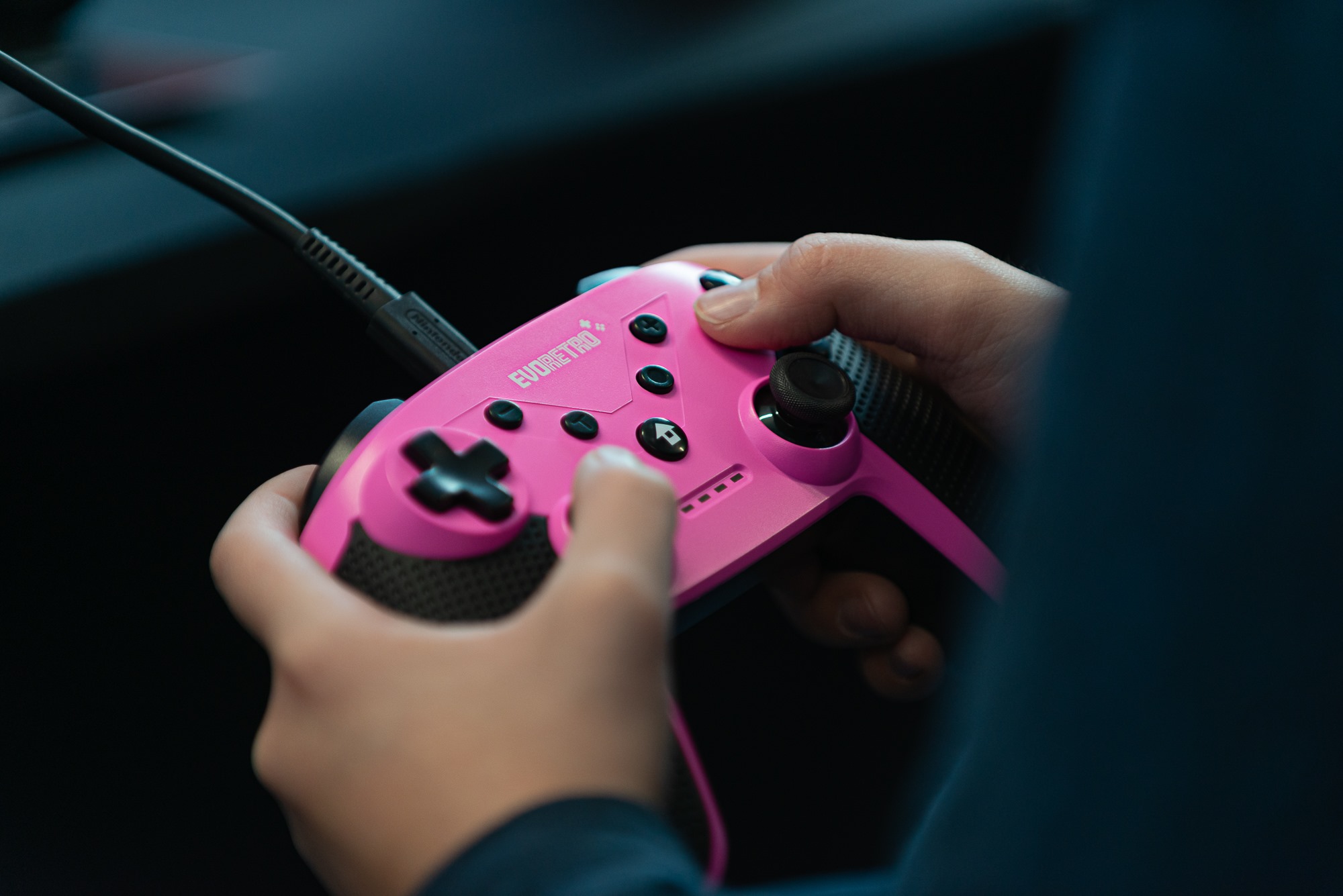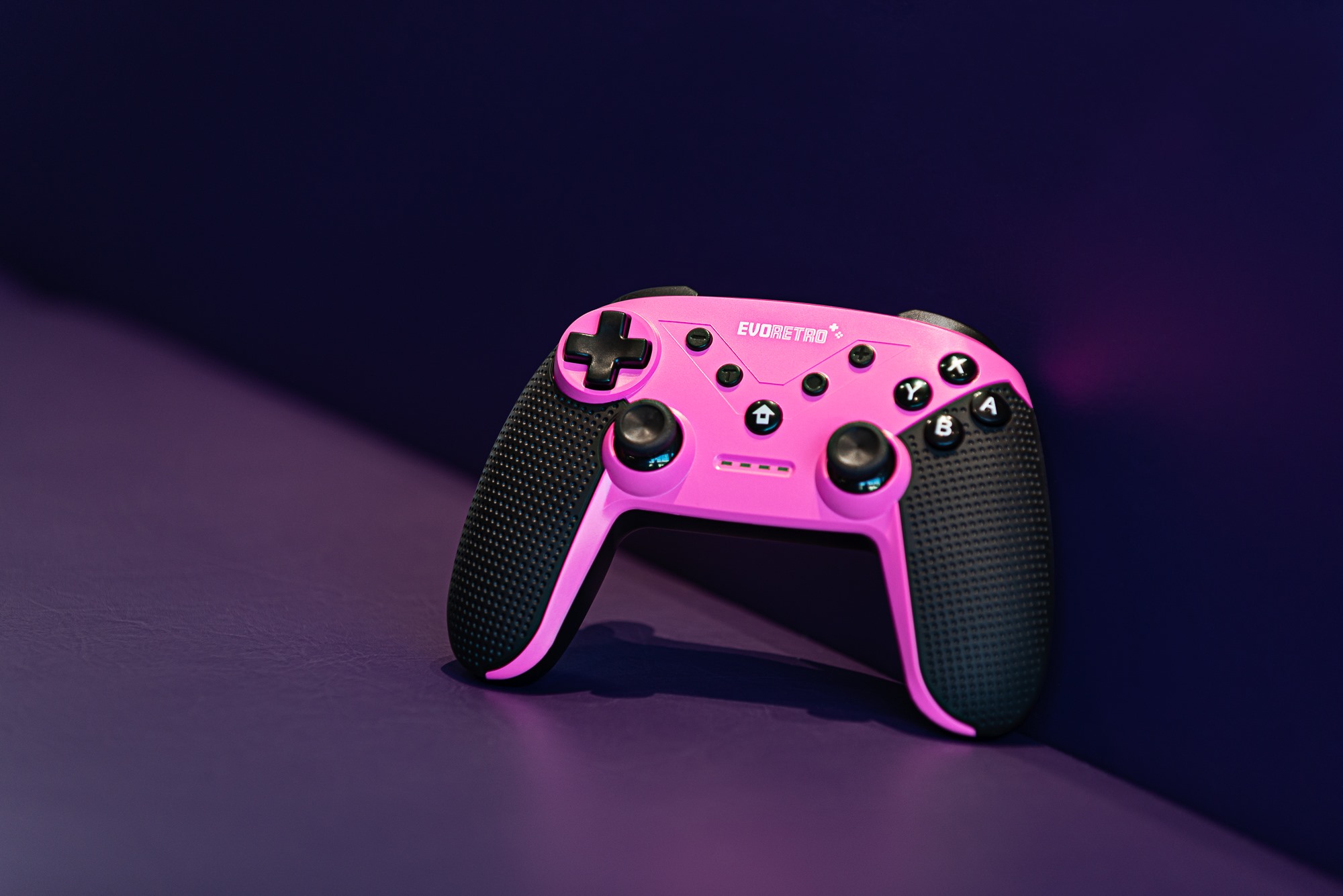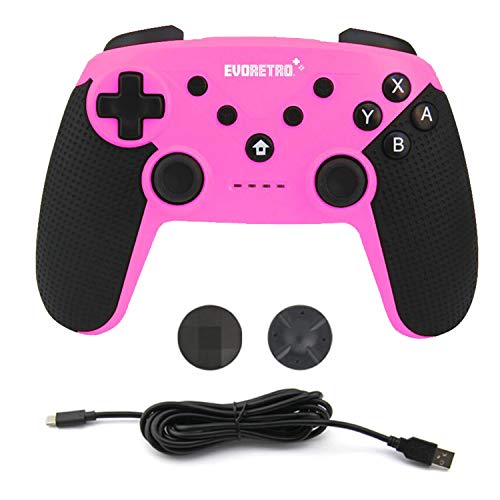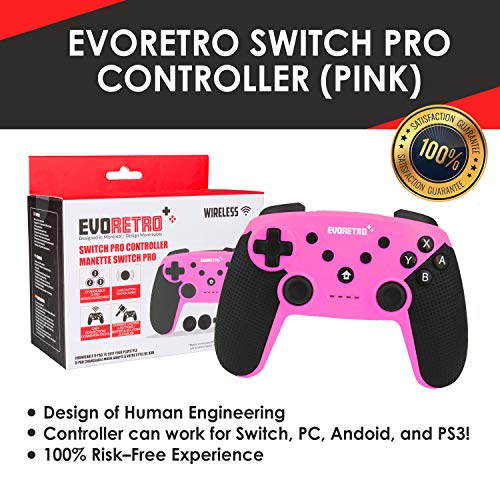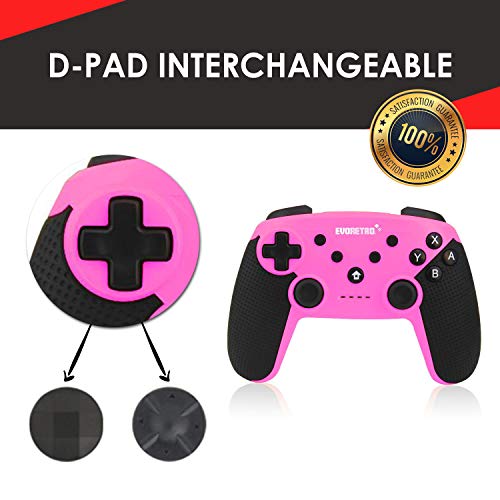 About the product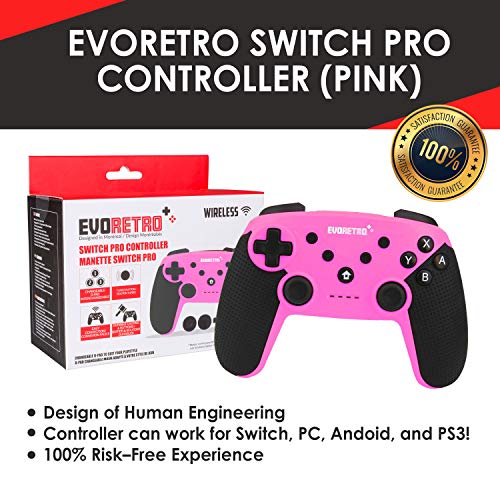 Perfect Compatibility bundle : This Turbo Nintendo Switch Bluetooth connection with 8 meter range to bring you the precision and feel that you are all too familiar with to make your gaming session all the more authentic. No need a wired controllers. Play at your favorite game like Xenoblade, Fifa 18, Skyrim 2018 doom, Bomberman, Super Street Fighter, Tetris Splatoon, chronicles 2, Sonic Mania or Mario Kart with this Wireless Controller.
High-Quality Ergonomic Design Accessory: Made from lightweight high-end casings and buttons for a premium surface feel which provides maximum comfort and enables precise movement of your character.
Plug and Play Controllers: No need to install any driver and just connect via code matching to enjoy top quality Nintendo Switch controller that has Gyro Axis Dual Shock [Turbo Buttons] Best for Smash Bros. / Star Allies / Zelda / Mario Odyssey etc.
Extended Battery Life: 15 to 20 hours of battery life on a single charge for that non-stop gaming action. Comes with a Premium Quality 1.8m USB-C Charging Cable and a quick charging time of 2.5 hours.
Guaranteed: We ensure 100% customer satisfaction by providing the highest quality in the market. Our customers are first on our priority list and we simply provide you the best product and service.
What Our Customers Are Saying
Well worth the 45$ they are charging on amazon !
All the buttons feel fantastic; the shoulder buttons give you a solid clicking feeling regardless of where you press on it which I'm amazed at how they managed to do that o.O The joysticks are very nice feeling though there seems to be a bit of a dead zone but that could be a setting on my Nintendo Switch and not a fault of the controller itself( I'd have to check ) however the deadzone is VERY small and doesn't affect me in the slightest when playing Zelda: Breath of the Wild.Motion controls are a tad sluggish compared to the joycons themselves but it's not a deal breaker by any means. I also noticed the gyro takes a few seconds before it stops drifting( when you aim using motion and then stop, the gyro is read as still moving in that last direction you moved but only ever so slightly and it eventually stops after a couple seconds )The controller comes with a premium quality feeling USB Type-A to USB Type-C cable with nice hefty cable as opposed to the dinky cables you're used to getting with products from China. I'm definitely buying at least 1 more, probably 3 more XD !
Great controller for the price.
Using this controller for my Nintendo Switch. So far so good. The controller is much more comfortable for medium to large size hands. Connection was a breeze and it continues to connect everytime I use it. Great product. Also it was designed in Montreal so, Go Canada!!
Absolutely great value!
I purchased this controller as a stop gap for my new Switch, so I'd have a traditional controller to use while I waited to buy a "proper" Pro Controller. I have been very pleasantly surprised with it! I'm giving it five stars even though it's not quite perfect, because it is such a great value. The two things that I do not love about it are that it's awkward to turn on, pressing B and Home, and it vibrates when I charge it via the Switch rather than a wall charger. That said, it's comfortable and works just fine, no problems at all, and I love the way it feels in my hands. It's light, but doesn't feel too cheap, the rumble works fine, and it seems like it will last a while. For the price, I absolutely recommend this as a secondary controller, or even as a primary one, which is how I've been using it since I got it. Very happy!
Très bonne qualité.
J'ai la manette depuis 2 jours je joue principalement à des plateformer, roguelike, metroid vania. Je voulais avoir de quoi de bien avec un bon D-pad à bon prix. Celle ci est très bonne. Elle sera durable. Pas du plastic cheap. De bons triggers, les boutons action réagissent bien. Pas de latence. Le bouton turbo fonctionne mais pour les jeux que je joue j'en ai pas besoin. Les joystick sont aussi bon que la ps4. Nous avons l'options d'ajouter des plates pour le D-pad mais perso en les ajoutants j'ai tendance à descendre vers le bas. Une excellente manette, bonne durée de pile je la recommande.
Performs flawlessly, very impressed!
Love the controller. For 40 bucks you can't go wrong. It feels solid, was easily paired once I followed the instructions and has preformed flawlessly. I refuse to spend 100 bucks on a pro controller and this was exactly what I was looking for. It costs as much as a wired controller at the store.I highly recommend it for anyone in the same train of thought as myself. I get tired of the nintendo tax but still love them despite it.
Perfect match with your switch! Match parfais pour la switch!
English version follows,Wow! | Vraiment un bon achat! Cette manette est parfaite pour la switch. Si vous n'avez pas besoin du NFC reader pour les amiibos, alors cette manette est parfaite pour vous. Un bien meilleur investissement que la pro controller qui ce vend le double du prix. La manette fonctionne super bien, elle est confortable en main et répond très bien sans aucune latence. Ce que j'aime bien avec le design, c'est l'emplacement des joysticks, similaire a la manette de la ps4. Si vous chercher une manette pour votre switch et lisez mon opinion sur le produit, j'ai qu'une chose a vous dire: vous avez trouver votre manette!Wow! | It was really a good buy! This controller is perfect for the switch. If you do not need the NFC reader for amiibos, then this controller is perfect for you. A much better investment than the pro controller, who sells twice the price. The controller works great, it is comfortable in hand and responds very well without any latency. What I like about the design is the location of the joysticks, similar to the joystick of the ps4. If you are looking for a controller for your switch and now you are reading my review on the product, I have one thing to say to you: you already found your controller!
Questions?
Does this include free shipping?