FUN GOLF EXPERIENCE AT HOME WITH PHIGOLF!🏌️‍♂️
Phigolf Mobile and Home Smart Golf Game Simulator with Swing Stick - WGT Edition 2019

💛Please ensure to purchase a Phigolf WGT Edition from PHINETWORKS

⛳️If you can't get to the golf course, bring the course to you.

👉 Save 10% extra 10% off the sale price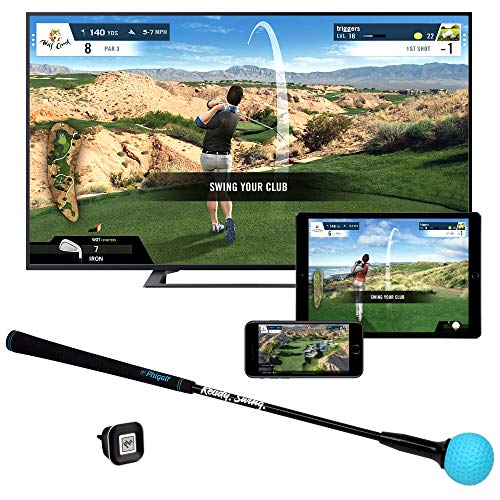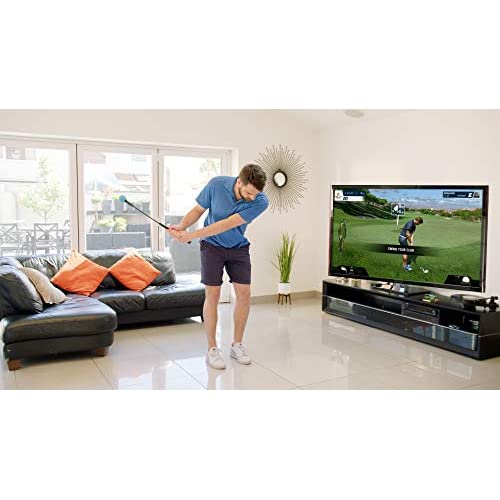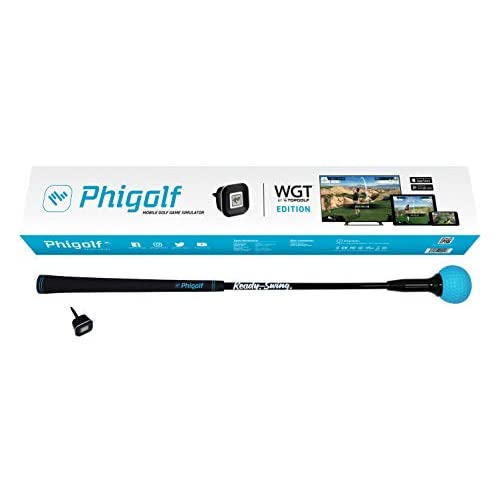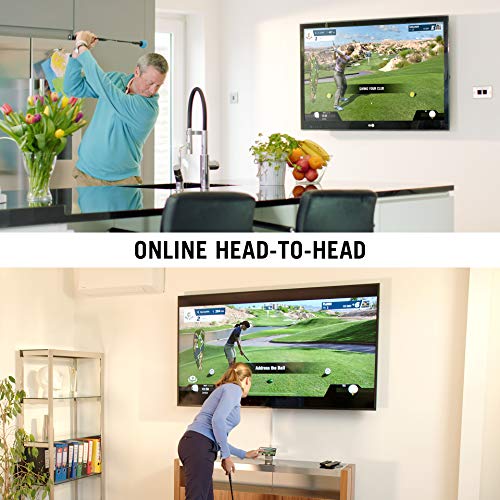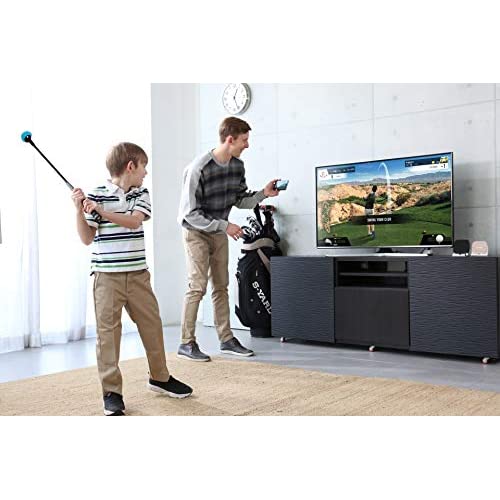 Go to Amazon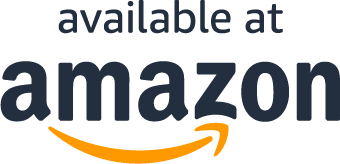 Enjoy Phigolf on two mobile apps and play golf with friends over the internet
Phigolf WGT Edition is an entertaining golf game where you control the gameplay with your real golf swing!
The most awesome thing about Phigolf WGT Edition is that up to four users can play head to head over the Internet.
To play against one another over the Internet, each player needs his/her own set of Phigolf sensor and PhiStick.
Phigolf App provides local and online multiplayer where up to four people can play against each other locally or over the internet.
In WGT App, you could play golf on stunning courses head to head online with a friend.
Made up of a state-of-the-art motion sensor and swing stick allowing you to play golf at home or in the office, Phigolf is portable and easy-to-set up wherever you are.

Download the popular WGT Golf app to your smartphone or tablet and play on breath-taking photorealistic simulations of world famous golf courses including Pebble Beach, St. Andrews and Pinehurst.

Download and play on the Phigolf app which has 7 different game modes including stroke play, nearest-to-the-hole and longest drive for hours of fun with friends and family!
Show off your golf skills and compete with other golfers from around the world in our monthly tournaments.
Phigolf is the perfect introduction to golf and a fun way to enjoy the game anytime, anywhere!

What Our Customers Are Saying
Love my phigolf
I bought the previous version of phigolf and loved it. I have been playing wgt golf on my phone on and off for a few years now but wanted something I could use a swing stick with to get a better golf experience. I can play with the simulator from the comfort of my own home. I did have an slight issue using mirroring to a large TV but was able to contact phigolf for support and it was just a simple setting on my iphone. Looks amazing! All in all great product, would recommend.
Easy set up and fun to play
After searching Youtube and FB reviews, I decided to give Phiolf a shot.It was within my budget (slightly over $200), easy to set up and my family loved it so much we ended up playing all weekend LOL. I think I will buy a couple more sets as a Christmas gift for my parents & in-laws for their long Midwestern winter months. They'll love it!!You don't actually hit the ball but it tells you exactly what is wrong with your swing & putting and that's good enough for me. I'm 18 handicap. Love it so far.
So much fun and great for practice
Have improved my swing more in one week then with 2 months of going to a golf pro weekly. You have to understand how to read the data but once you get that down this is the most fun way to practice all parts of your golf swing.
Sensational device / great game for family
I am a quite a fan of playing golf but unfortunately I don't have much time to go out to field these days.This product is perfect for my needs and also great for family recreation time. We had so much fun together.Overall, This is great device. Some reviewer mentioned that the golf club that comes with the device might take some time to get used with. Of course It is not a real golf club. You need to practice with this. I wasn't happy about for my first shot but now I am 100% satisfied with. Accuracy and sensitivity and so on. This might be one of good purchase that I had this year.User friendly setting up and reasonable price is also plus.I would highly recommend this product to other golf lovers who doesn't have much time to go to field.
Truly amazing graphics!
Ive played the mobile game wgt on my phone for a couple of years and when I saw this phigolf wgt advertised I thought it would be a great new way to play and its even better than I thought it would be. This takes wgt to a whole new level, I've not tried the phigolf app yet but look forward to giving it a go and playing on multiplayer with my son. I found it simple to use straight out of the box, surprising not being a techy guy myself. The youtube quick start guide was really helpful. I've been playing with it for a few weeks now and I love that I can play wgt by swinging a club. Now got an awesome golf game set up in my own living room and with the only hardware being the swing stick and sensor and the app on my phone I can actually take it anywhere. The graphics on wgt have always been impressive but I mirrored it to my tv from my iPhone and looks awesome!
SO MUCH FUN!
I was really surprised by Phigolf WGT Edition, in the most pleasant way possible. I'm not a golfer, but do enjoy watching the Open Championship etc when it's on and I do occasionally play on the WGT mobile game, I saw this device advertised on WGT app when I was playing and I'm so glad I did it makes WGT even better. Even if you don't play golf you can still appreciate the amazing photorealistic graphics. If you are looking for a fun game to play with friends and family I highly recommend this game even if you don't play golf you will have fun here!
Questions?
How does Phigolf WGT Edition work?
What devices are the Phigolf WGT Edition compatible with?
What's included in the box?
How much space do I need to set up Phigolf WGT Edition indoors?
How do I cast the game onto my TV?
How do I get access to all the golf courses on WGT?