An Exclusive Offer For You
True Wireless in-Ear Headphones with Wireless Charging Case and 5W Qi Charging Pad. ORvolt X8 Features Bluetooth 5.0 IP68 Waterproof Rating 25H Playtime 3D Stereo Sound and Deep Bass.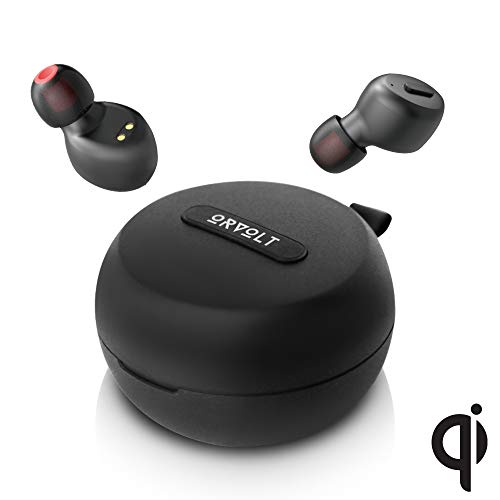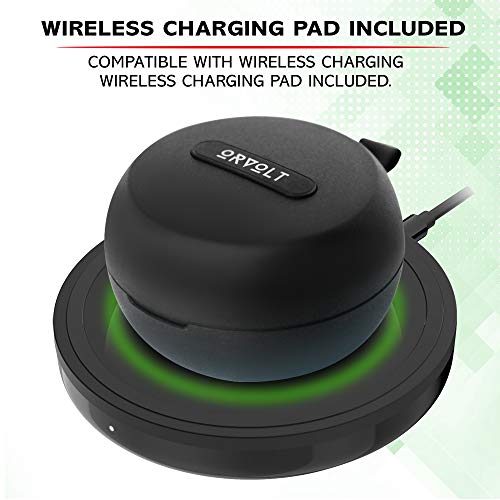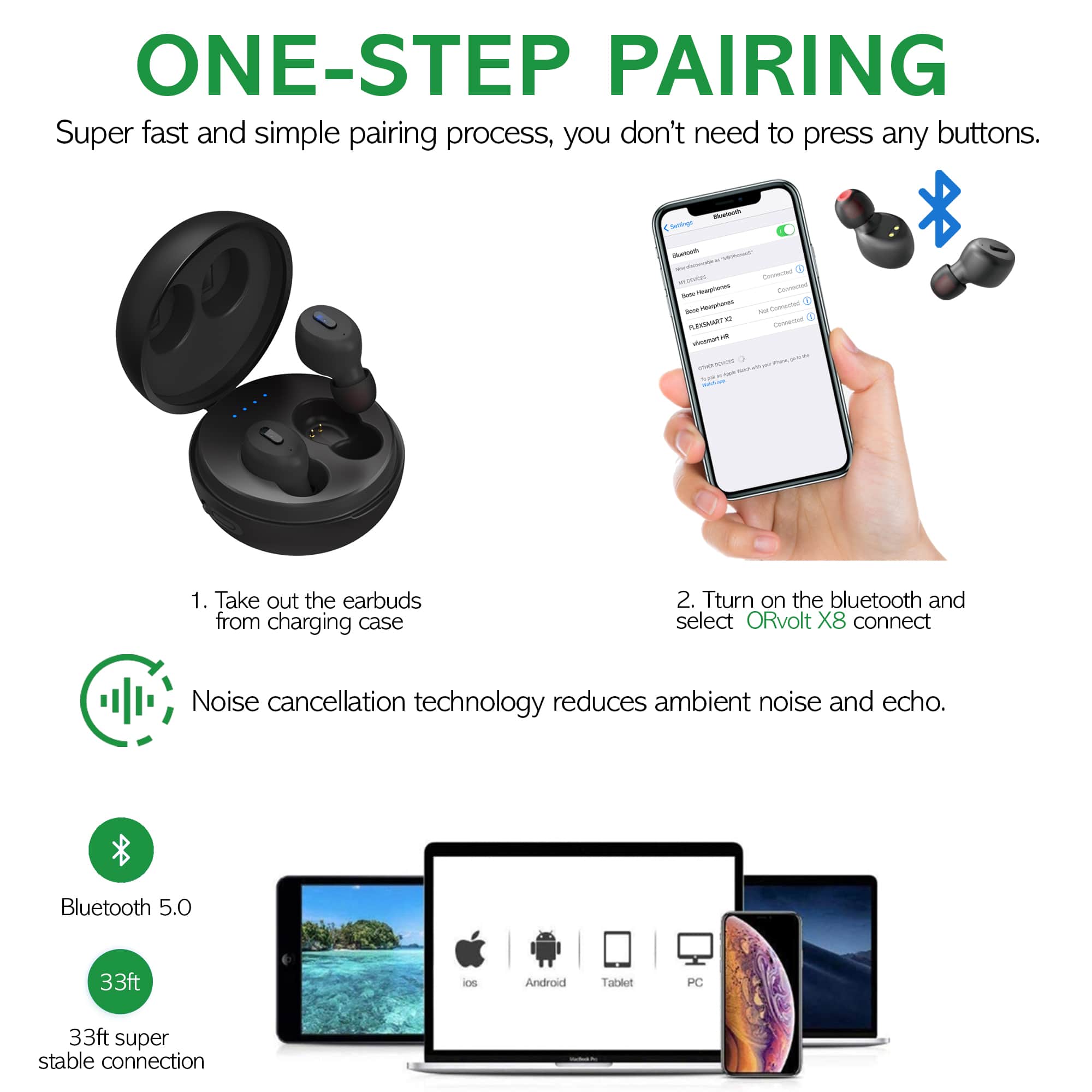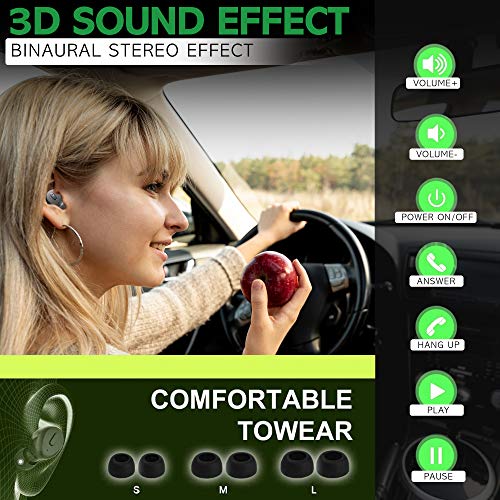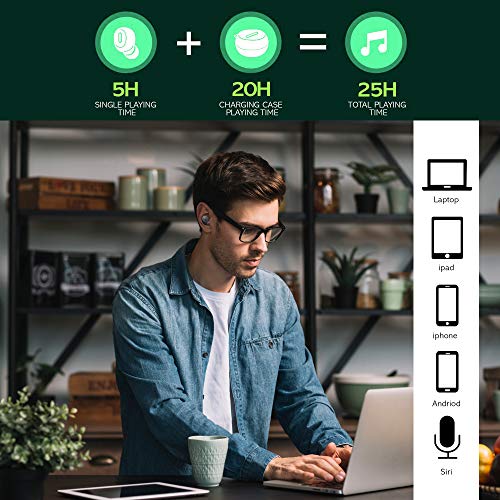 Go to Amazon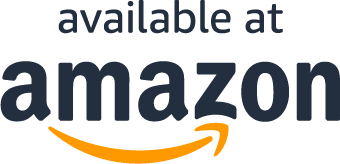 About the product
🎧Qi WIRELESS CHARGING PAD - For added convenience, your earbuds come with a 5W Qi-Certified wireless charging pad. Includes a non-slip silicone rubber surface to secure any device. Supports phone cases with 8mm of thickness, in addition to your earbud charging case.
🎧BLUETOOTH 5.0 CONNECTIVITY AND SUPERIOR SOUND - ORvolt-X8 comes equipped with advanced Bluetooth 5.0 technology, providing a more stable and one-step connection. Built-in stereo sound and deep bass provide a realistic experience plus the best sound quality.
🎧 IP68 WATERPROOF RATING - With the help of the highest waterproof rating of IP68, this prevents dust, sweat and rainwater effectively. By avoiding these from getting into the earbuds, rest easy knowing that it's well-protected in case of accidents.
🎧LONG BATTERY LIFE - Single charging can maintain earbuds for up to 5H. Our portable battery case provides up to 4 times the charging for earbuds, totaling 25H of battery life. With the convenience of your wireless charging pad, your earbuds will always be ready for use.
🎧LIGHTWEIGHT AND COMFORTABLE FIT - No wires and no entanglement. Say goodbye to the burden of weight on your ears. Each ORvolt-X8 earbud only weighs 4.7g, leaving you with a sense of comfort. We offer S, M, L sized ear caps to help with a firm and better fit.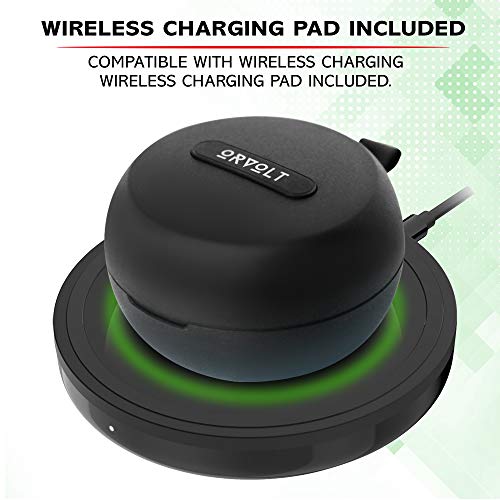 What Our Customers Are Saying
Dont sleep on these!
For starters, unboxing was a treat mostly because the packaging was professional and very brand oriented. The headphones ere super easy to pair/connect and I didn't have to read the manual. For my personal use, I prefer single-ear-mode while at work in the morning. Later in the day after I get bored of talking to people, I tend to use both earphones.But, whether I'm using one or two earphones, the noise cancelling feature works pretty well, better than my Bose Soundsport Wireless Headphones—which, aren't as sound proof as ORvolt X8. For about a month now, I've been in the market for new headphones and when these popped up on my radar, I couldn't beat the price.They stay in my ears pretty well, so the comfort and fit is there too.The only minor thing about this pair is they aren't AS crisp in sound compared to my previous headphones but, the deep bass is there and sound quality still really good. Never had a wireless charging case, so that's cool; and the fact that it comes with a wireless charging pad is a nice addition too, because I can use that for both my phone and the earphones. This past week, I've been using them more and more as I get used to true wireless in-ear headphones. I personally love these based on the price, fitment and noise cancellation. Would definitely recommend for other buyers.
Very affordable, Big Sound, Quality, and Durability ...
I received my ORvolt wireless earbuds in December just before Christmas and I have to say, I am a true believer. Im amazed at the sound quality that comes through a small package at such a reasonable price. When it comes to other brands that are high priced, with lesser quality, the crisp and clean clarity plus bass that comes from ORvolts drivers, fails in comparison. The packaging with the accessories, multiple sized tips, along with the portable charger was well put together.What really helps ORvolt stand apart, is their Qi wireless charger. Since my purchase came with one, Ive been able to simultaneously charge my Qi enabled devices: personal and work phone, as well as my earphones. Something in the description left me really curious though—the fact that my earphones are waterproof. Hmmmm... how many times do other companies say that and they're just full of BS? But these premium earbuds have really went through all my tests; the usual working out in the gym or running outdoors but, what really took the cake is I actually showered with themSo you can pretty much check shower earbuds and fitness earbuds off the list for me. If you're considering this true wireless headset, take the noise cancellation very serious. It really blocks all sound from passing through and they're exactly what you'd need as far as soundproof earbuds for music. I definitely plan to spread the word about ORvolts TWS headphones and look forward to future products from this company. I highly suggest you give them a shot and realize that technology doesn't always hurt your pockets.B.HMargate FL
Exceeds all expectations. Truly better than expected.
Let me start by saying that these earbuds are FIRE!!It took a little while getting used to at first, then after using them for about a week ago I found that this is probably one of the best purchases I've ever made. The deep bass and the clarity when on the phone, it's truly incredible. One of the best things I LOVE about these wireless headphones is no matter how loud you have them, anyone around you won't be able to hear your audio. I've found that on many earphones, you can hear someone else's audio or music.With that said, compared to other brands the price is very reasonable too. You get a good amount for the price: true wireless headphones, a charging case, a wireless charging pad, etc. Oh! And speaking of which, I've only had to charge right out the box and i'm going on a few weeks without having to charge a second time yet. I've since ordered two more after my first order was received. They're that good I had to give a couple as a gift for family members. Don't miss out on the value and quality!
Amazing Product!
Orvolt definitely knows how to market their products. I didn't expect to be wowed by the packaging so much but, the detail put into the branding is unmatched and I'm very impressed by that. I currently own Powerbeats and they're starting to fail me during my day to day usage. It's a lot of money to fork over for just headphones. I decided to see what kind of value I could find in a less expensive alternative. Boy! Let me tell you, the only cheap thing about these is the price. Everything else is Grade A!Powerbeats are okay earbuds but, now that everything is moving away from being wired, I wanted to actually experience in-ear wireless headphones—Orvolt X8 doesn't disappoint. Bluetooth 5.0 is pretty standard now in everything—not much to say there. What I will praise from the rooftops is the single or dual mode. When I don't need both, I can simply use one side and the quality doesn't diminish. But, say you DO want to use both left and right earphones, the noise cancelling function fully surrounds all hearing.Whether you're taking a phonecall or blasting music, the quality is clear and you can hear every aspect. I don't think I'll ever experience the waterproof part of it but, it's definitely peace of mind if I'm ever caught in the rain. At the end of the day, I still have a full charge and the wireless charging case is always ready. When I initially shopped around, I was looking for value and quality. I got that and more with Orvolt and their bluetooth headphones
Amazing headphones, best value!
Purchased this headphones and was amazed at the quality for the amount of money I paid. Battery is amazing when using for phone calls and hold well with just music too. Description is as it says deep bass headphones and they do pack a punch. Reasonably comfortable and definitely works well even in the rain. Love the case for them as it is a soft hard case and is compact and fits well in my pocket. Most of all the wireless charging pad is pretty unique for something with such a good price range. All in all you can't beat the value of these headphones. Even if they broke, for the price I would just purchase another pair. Bought 2 and not disappointed one bit.
Questions?
Does this include free shipping?