The outrageous couples party game! 🏠
In The Dog House


In The Dog House - The Brutal Couples Party Game Adults Party Drinking Quiz Game. PERFECT FOR CHRISTMAS & NEW YEAR PARTIES!
Best not to play infront of your Mum!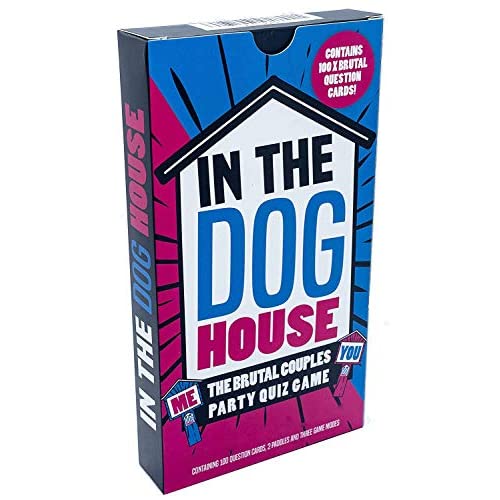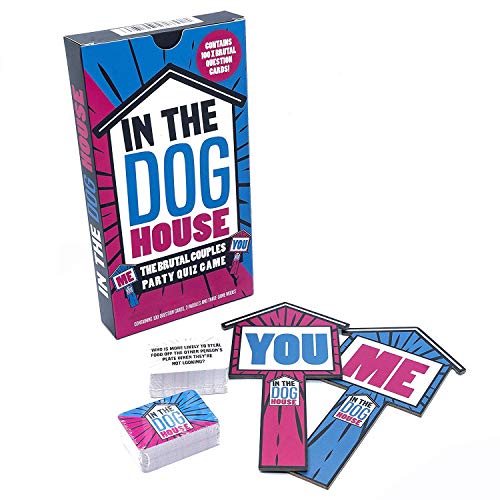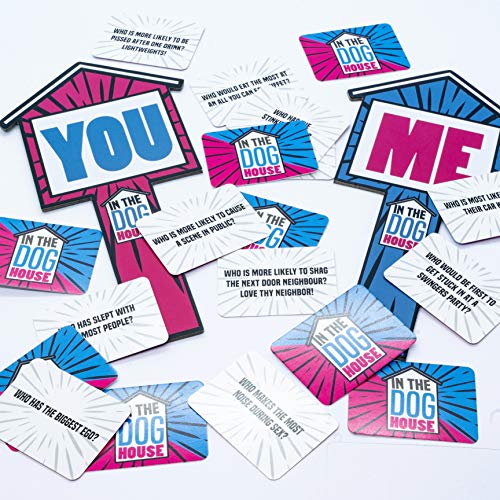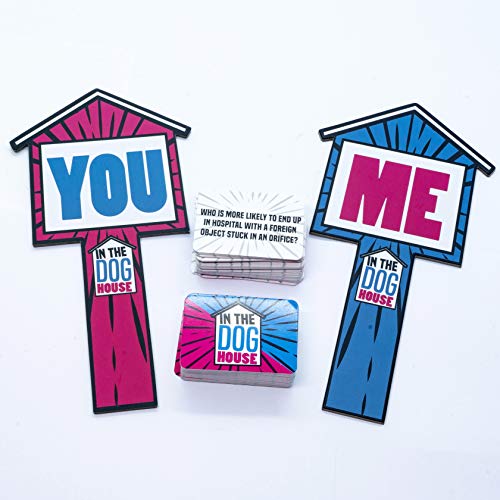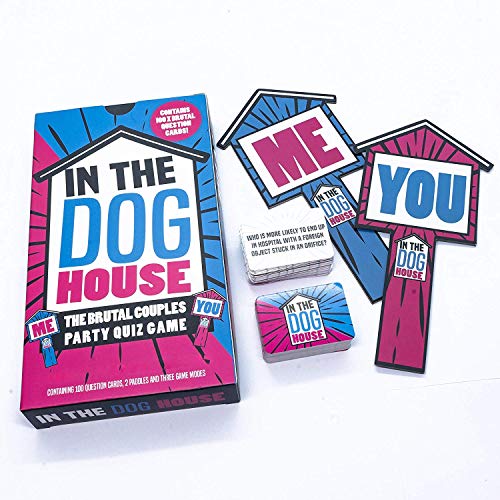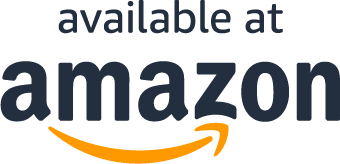 About the product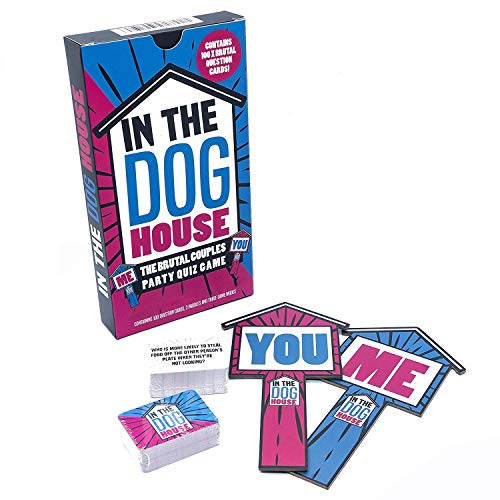 BRUTAL COUPLES GAME - 100 x brutal, hilarious and revealing couples questions. Play with friends or play together. Best not to play in front of your mum.
'THINK OF THIS GAME LIKE MR & MRS ON STEROIDS' - the laugh out loud couples quiz game featuring completely inappropriate questions. Banter game must be on point.
MULTIPLE GAME MODES - play with friends or play together - includes drinking game mode! For added embarrassment play in a large group.
SUPER TRAVEL FRIENDLY - comes in a small and light box making it ideal to take on holiday, festivals, nights out and dirty weekends away oi oi.
QUICK AND EASY TO PLAY - read out the question cards and hold up your paddle with 'You' or 'Me'. Chose carefully, you wouldn't want to end up in The Doghouse now would you?
What Our Customers Are Saying
Amazing Purchase
I bought in the doghouse whilst actually being in the doghouse with the girlfriend. With all my wisdom I thought this was a great idea, with the potential to go one of two ways but hoping it could possibly make light of the situation and get me well and truly out of the doghouse.Anyway in my excitement I decided to scrap giving it to her as a stocking filler for christmas and unpacked it ready for a game or two to break the somewhat antarctic frosty reception.Word of advice it would appear that answering that she was 'most likely to get an object stuck in some sort of orifice' is not big, nor clever.However we have played this for a couple of hours now, got drunk and the doghouse is completely forgotten about.Amazing Purchase and I would highly recommend for some savage adult humour. Were looking forward to getting our group of mates together to give the drinking mode another go of the festive break.
Brutal!
So I grabbed this as we were having a weekend away with friends and we've all played Mr & Mrs mainly preferring the paddle rounds. The first couple of question were quite harmless, but then... Ouch. We watched our friends break in to an argument and learnt way more than we bargained for. Thankfully they're still together! Lots of questions and awkward moments. If you like Mr & Mrs, you'll love this.A hilarious yet slightly brutal game for couples.Wish there were more questions!
Good fun, we are still together!
This was a great game for us as part of a New Year's Eve get together. The question cards are smaller than anticipated, but that's not a problem. There are cards that seem simple, but in-jokes made them as amusing as some of the more awkward! A good game to keep in the cupboard to try and split up couples!
One time fun game
This game can only really be played once unless you get it out every couple of years to find out if anything has changed. Took us about half an hour to play and was a lot of fun. Played on Valentine's Day in a 6 month relationship. We may have not been together long enough for some of the answers but it was fun anyway!
Hilarious party game
This game is hilarious and perfect for party games with other couples. Some of the questions are risky but we all found them very funny and thankfully no one had any arguments! Can't recommend enough
The perfect Christmas couple cringe chaos!
We have 12 people round at Christmas, 6 couples of different aged family members and their partners and every year we get drunk and play games! This is PERFECT - we played Mr and Mrs last year so this is the next level!
Questions?
Does this include free shipping?