Myro Deodorant
Plant-based & Aluminum Free
Myro is turning personal care necessities into pro-you, pro-planet, obsession-worthy essentials. Our aloe-based formula glides on smooth while bacteria-neutralizing probiotics and sage keep you feeling fresh all day long.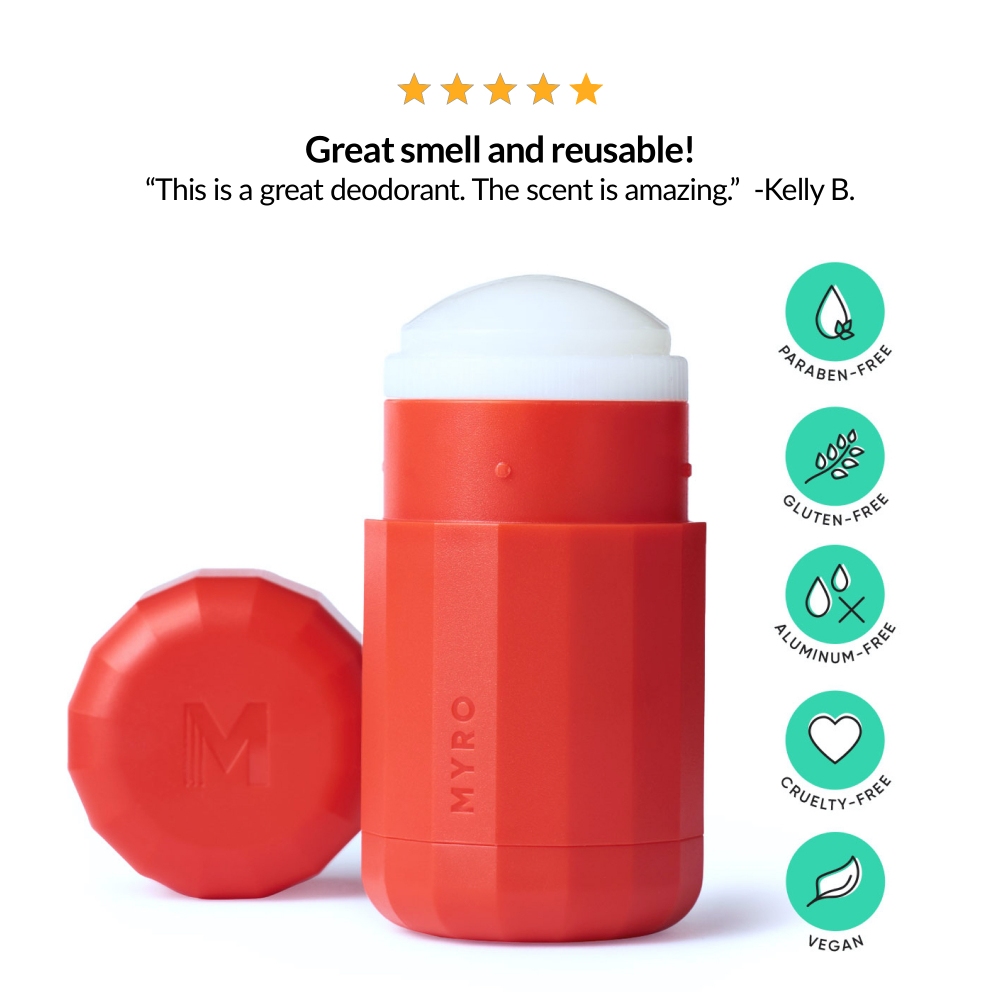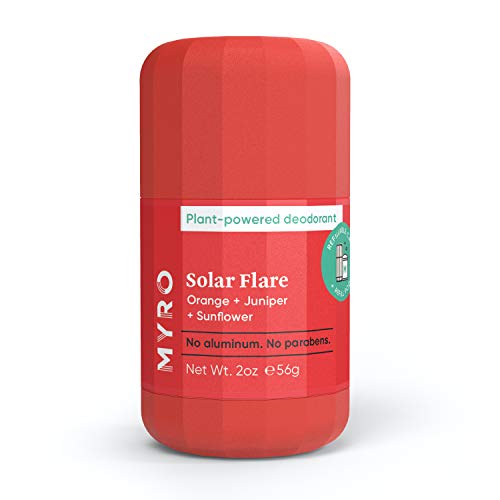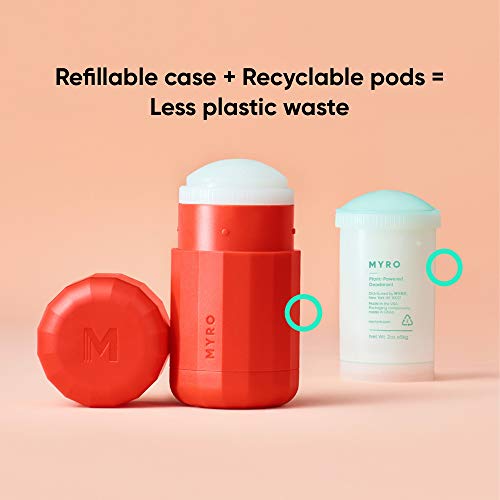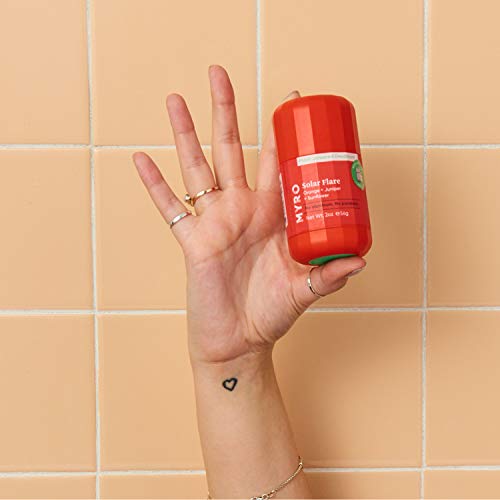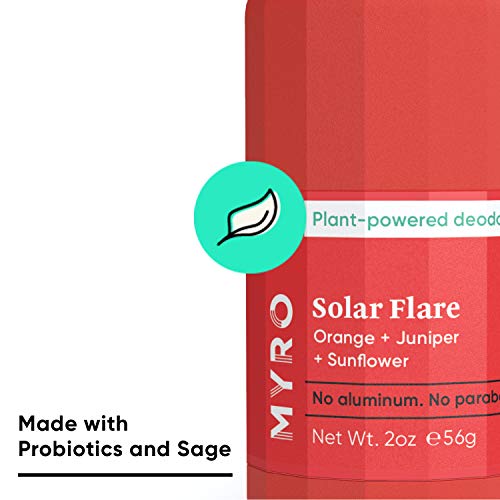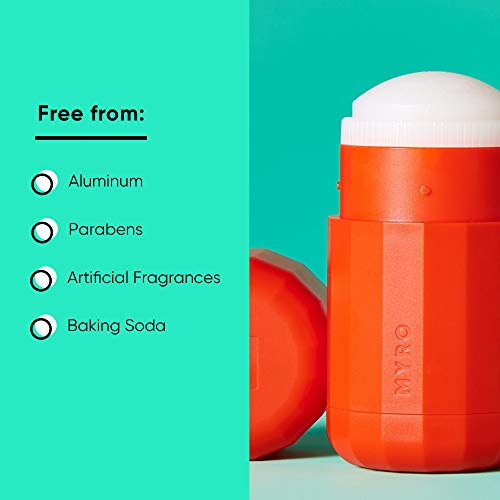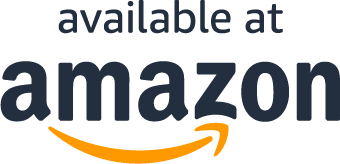 Pro-you. Pro-planet, too.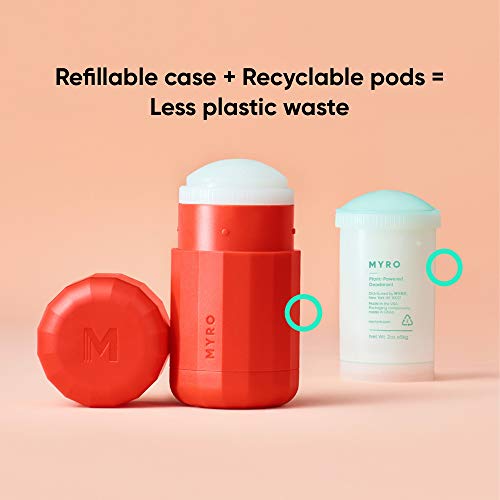 A hardworking, plant-based formula in recyclable refills (that use 50% less plastic than a typical drugstore deodorant).
Mood-inspiring scent: So bright you might need shades. Solar Flare, inspired by the orange groves of La Palma, Spain, is infused with juniper and sunflower
Eco-friendly: Each Myro case is refillable, durable and dishwasher safe, designed to be refilled time and time again with our pods, which are made with 50% less plastic than the typical drugstore deodorant
Aloe-based formula: Hardworking, long-lasting, no toxic anything, we use bacteria-neutralizing sage and probiotics to fight odor and keep you feeling fresh
Zero nasty ingredients: No aluminum, parabens, triclosan, steareths, phthalates, talc, or any irritating elements like baking soda, artificial colors, synthetic fragrances or gluten
TSA-compliant: The 2oz. size and case with a locking lid make Myro your perfect travel deodorant while its long-lasting formula is sure to earn it a spot in your everyday routine
What Our Customers Are Saying
Great smell and value
I'm always skeptical of all natural products and if they can deliver what they promise, but I'm very happy with this one. I think it smells great and it lasts the duration of the day. Extra bonus for the refillable tube. I'll be purchasing again.
Love scent & deodorant but the refillable container does not stay locked inside
I love the three different scents and the refillable option BUT sadly all three of the variety pack had mechanical issues. The refills do not stay locked into the housing. Every time I turned each of the three different deodorant bars the entire refill would flow up instead of just the deodorant itself. I would love to buy these and recommend to all if they fix the packaging so there's a real way to lock the product inside the container for daily use and travel instead of the very weak non-locking design being offered today. Would be a huge fan if only they actually did lock in place for use or (sadly), if they offered a traditional disposable one time use product with the deodorant as is because it smells great and seems to work well. Please correct the packaging so the refillable tubes actually stay locked in place! I'd still recommend buying for a non antiperspirant but natural deodorant with killer scents and a slick concept/execution. Just please enhance the refillable cartridge into a true "lock in container" for stable and easier use.
Finally a plant-based deodorant that works!
I'm so happy to have finally found a deodorant that smells good, keeps me dry and I can feel good about purchasing. If it's your first purchase I would highly recommend solar flare.
Amazing
Smells great, packaging is great, I had shampoo and conditioner in the same package and it spilled all over this deodorant, however that was a result of poor packaging on another seller's product
Great!!!!
Love this deodorant for the smell, protection, the neat container where you pick the color and fact it doesn't have all the bad ingredients. I have tried several scents and love them all. I do recommend and will continue to buy!!!
It works!
Nice subtle aroma (Solar Flare) going on, keeps me fresh all day. I like the environmentally-responsible packaging plus that it is "healthy" - no aluminum or parabens and is gluten-free, cruelty-free and vegan.
Questions?
Is this an anti-perspirant?
Is this for men, women or both?
How long does a pod last?