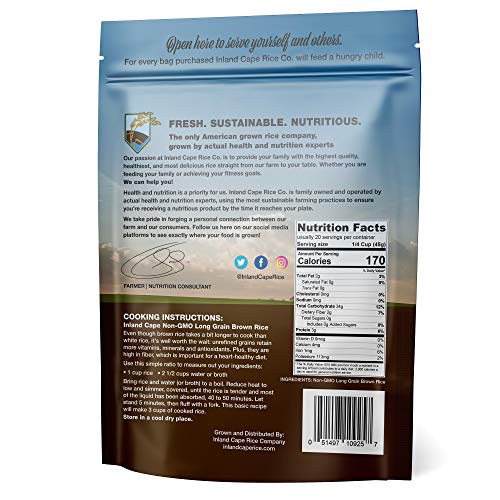 About the product
Set of two resealable 2 lb bags of Inland Cape White Rice; the highest quality, healthiest, and most delicious rice straight from our farm to your table
Our traditional long-grain white rice is not your ordinary rice; this is sustainable, non-GMO verified rice high in fiber and nutrients - a staple for any healthy meal
Rich in vitamin B1 (thiamine), manganese, folate, niacin and selenium; stays separate and fluffy when cooked
We're the only American-grown rice farm thats family owned and operated by health and nutrition experts; providing you with healthy all natural whole grains with a fresh, farm-direct, sustainable, nutritious rice
WE GIVE BACK - For every bag purchased, the Inland Cape Rice Co. will feed a hungry child
What Our Customers Are Saying
Rice nicety!
Although I haven't used this rice yet, It was so nice and a lovely surprise getting a note from Inland Rice thanking me for purchasing it & if I had any ?s to call! Once I use, I'll update my review.
Delicious.
This rice is delicious. I love the specialty rice from Japan, and this is a very good match. It is properly soft, fluffly and has a lovely taste. I will buy again.
Taste Great!!
Rice is one of my favorite foods, grew up in south Louisiana where it's a common staple. The flavor and texture of this brand is the best I've ever had. I love the fact it's grown right here in the midwest and not imported. Will be purchasing more.
Best Rice Ever
This rice is delicious. It has a clean, delicate taste that melts in your mouth. Cooks up nice and fluffy. I can honestly say it's the best white rice I have ever eaten. You are getting a total of 4 pounds of rice, so it is a very good value for the money. There was a hand written thank you note inside the package from the seller, which was a nice touch.
Wonderful rice!
Great product, exceptional service from the grower! Will definitely purchase again.
Questions?
Does this include free shipping?