An Exclusive Offer For You
Gold BJJ Jiu Jitsu Gi - Ultra Strong Gold Weave Premium Kimono - IBJJF Competition Approved Uniform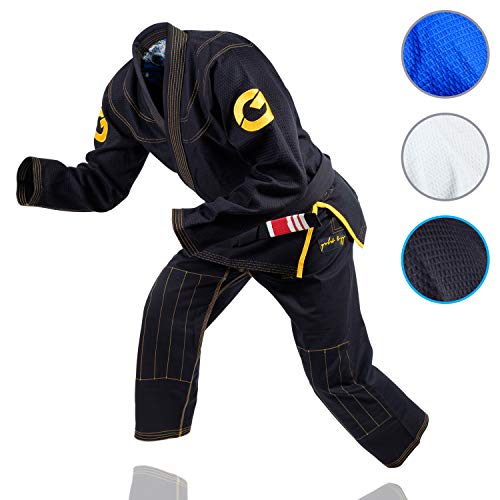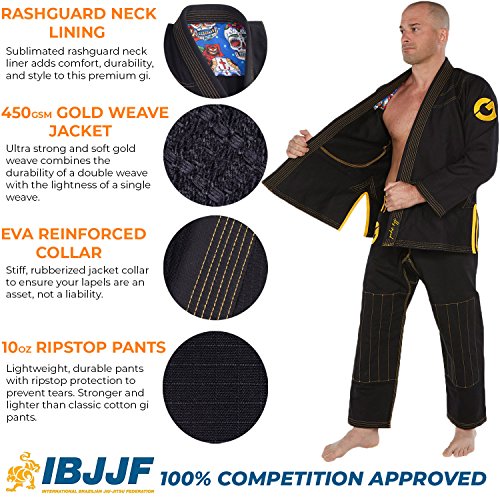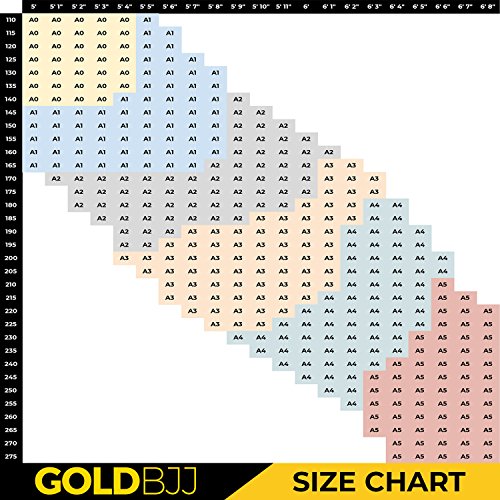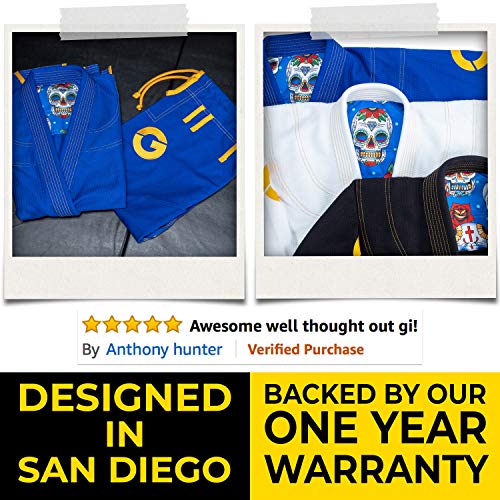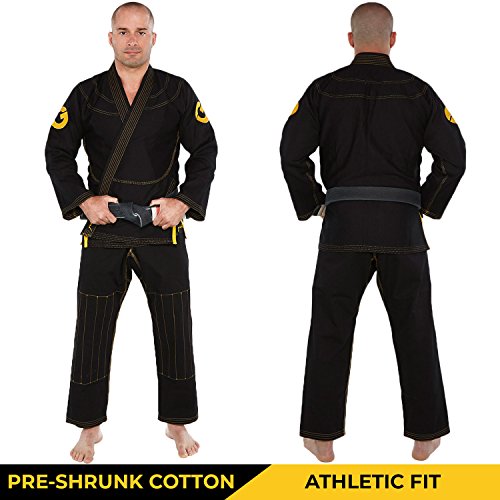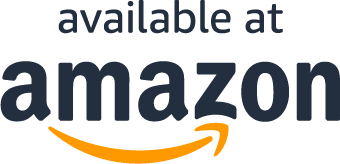 About the product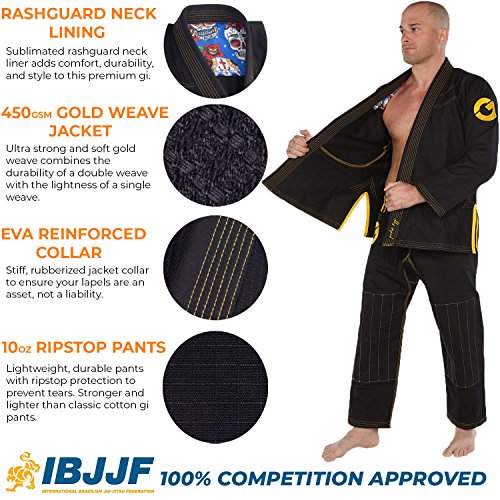 PREMIUM, SOFT, AND DURABLE GOLD WEAVE - Gold weave jiu jitsu gis are renowned for their amazing feel and durability. Our medium weight 450gsm weave combines the strength of a double weave with the lightness of a single weave. This gi will feel great every time you drill, roll, or train.
RASHGUARD NECK LINING - This gi has a sublimated rash guard neck liner that feels amazing the second you put it on. Inspired by Dia de Los Muertos, we named this gi the "Calavera" and outfitted it with an eye popping sugar skull pattern. It looks amazing, and style points count (at the very least, they're worth an advantage).
10OZ RIPSTOP PANTS - Ultra light and more breathable than traditional cotton gi pants: ripstop is the future. No one wants to be squeezing the sweat out of their uniform 30 minutes into class. You're going to love these premium lightweight gi pants.
REINFORCED, STIFF COLLAR - Everyone likes a nice stiff collar, and this gi ensures your lapels are an asset on the mats. We used top of the line EVA rubber to make the collar on this gi feel strong, sturdy, and long lasting.
BACKED BY THE GOLD BJJ GUARANTEE - We're not a huge conglomerate, we're a small family business owned and operated by jiu jitsu athletes. It's important to us that we're creating products loved by the BJJ community, and that's why we back them with the Gold BJJ Guarantee: if for any reason you're not thrilled with your purchase, or it fails within a year of purchase, we'll replace or refund your order no-questions-asked.
What Our Customers Are Saying
Great fit, no binding in the shoulders or back
I am very impressed with the new Gi from Gold BJJ. I am 5 foot 11 195 lb and built like a typical weightlifter. I am wearing a size A3 and really like the way it fits. Out of the box the sleeves were a little long but after a wash on warm setting I think they shrunk just the right amount.My previous gi in the size A3 was a little snug across the back and in the shoulders. This one has a wider back and a little extra fabric in front of the shoulder area. There is no binding and very little rise when I raise my arms over my head. An ideal fit for the guy that lifts.At 450 GSM this is a nice sturdy gi and the gold weave is comfortable against the skin. The rash guard material around the neck is also very comfy.I like the non flashy look and the gold G logo is very subtle. The gold piping on some edges looks nice.The pants are a nice lightweight ripstop nylon. It has a nice roomy crotch made out of the gold weave fabric as well as reinforcing at the knees. I can raise my knees up high without binding at the crotch.I will try to get some more pictures while rolling.I know I'm not huge but my previous gi was tight across the back. This one is just right.
Super cumfy Gi
I am a lean 218lbs at 5'11" with a big back, chest and shoulders so fitment can be an issue when ordering a Gi online. After an initial wash and dry I found the A4 to have ample room in the shoulders. The Gold Gi top is probably the softest one I've felt, especially strait out of the bag. I was able to roll in it comfortably with no rash gaurd which is a big plus in Arizona. I also like the understated "G" emblems, makes it easier for custom patches and looks cleaner. Usually I am swimming in A4 pants however these have enough leg room for good movement but not in eccess to grab and leg drag. I am fairly flexible and feel able to move freely in these pants. The draw string waistline is nice as well, plenty of loops in the waistband to keep the string in place. For the value, fit, quality and comfort the Gold Gi is sitting on top of the list for my next purchase.
Great quality, great looks, love the Gi
I was looking for a new white GI for events and photos, but did not want to blow a lot of money on one I may not wear often. I loved the looks and the colorful design inside, so went with this. The material is wonderful. Not exactly lightweight as much as others, but still light for the durability it seems to have so far. I also love that it is a very bright white, so far easy to keep clean. So as a result I am wearing it much more often to roll than planned. I also bought it a size large, hoping to shrink it down to fit (I like to wash and dry mine) but it so far has resisted any significant shrinking. The weave is very soft but holds up well. Overall these are great gi's - do not hesitate to buy one for daily gear.
This Gi is legit and a great deal. Looks sharp and fits well
Info: Male, 5'8", 140 lbs, A2 (shrunk), Black GiOverall: This Gi is legit and a great deal. Looks sharp and fits well. Everything about it is as expected.Me: I train about 4 time a week and needed a new gi. I am about 5 foot 8 140lbs with a semi stocky building. For comparison I have an A1 (Tatami) and an A1.L (93 Brand) that fit a bit tight and a shrunken A2 (Loyal) that fits a little loose. I can wear any of them and be happy but I prefer the size of the Loyal.Sizing: Since I prefer a little more room to move and I already knew I'd occasionally need to throw it in the dryer, I chose to purchase an A2. After a warm wash and 30+ minutes in the dryer (and checking often) it shrunk down just right. It's exactly as expected and fits the same as my A2 Loyal gi.Fit: Sleeves are just long and loose enough to get some good Ezekiel Chokes. Shoulders and chest have enough room to feel very mobile. Length is just right for using lapels to choke/hold. Pants are a little baggy, and could be shrunk more, but I don't mind and is definitely a function of me ordering up a size. Seeing how true to size the A2 was I wouldn't hesitate ordering an A1 for myself or someone of similar size without shrinking.Quality: Material is legit and the black/yellow stitching looks good. I've rolled in them a few times now without a problem. Reinforced stiches are in the right spots and fabric feels strong and sturdy. Not super heavy overall, most of the weight is in the fabric for the collar. It doesn't come with a gi bag, but I have others so no big deal.
Awesome Gi, many compliments.
As someone that is new to the Jiu Jitsu world, this is the first Gi I have ever bought and owned. When looking to buy a Gi I was told spend as much as I could afford because higher price meant better quality. I did the 21st century thing and checked online for Gi reviews and honestly I did not find this gi or company anywhere in reviews, and that is a shame. I turned to trusty Amazon, where I seem to buy 90% of the things in my life and this gi met 2 important points. I could get it next day, and it was affordable. The reviews on amazon were all very positive. I honestly liked the idea of ordering from a small hometown company as well. Wearing it for the first time today, it felt great. Several experienced Jiu Jitsu practicioners that I rolled with were impressed with not only the quality but the design as well. When I mentioned the price they were even more impressed. I can definitely see myself buying more gi's from Gold Bjj.Gold BJJ Jiu Jitsu Gi - Ultra Strong Gold Weave Premium Kimono - IBJJF Competition Approved Uniform (Black, A3)I would definitely recommend this gi to anyone that was in the market for a new one, or just starting out.
Out of all the Gi's I've bought this one without a doubt is the best quality for the money
Here is my husband's review: "Do yourself a favor and buy this Gi! I've been training 4 to 5 times a week for a little over two years and I've purchased 7 Gi's in that time. Out of all the Gi's I've bought this one without a doubt is the best quality for the money. Spend the few extra dollars, you won't be disappointed. Excellent product!!!"
Questions?
Does this include free shipping?