An Exclusive Offer For You
Cervical Pillow Contour Pillow for Neck and Shoulder Pain, Coisum Orthopedic Memory Foam Pillow Ergonomic Bed Pillow for Side Sleepers Back Sleepers, Neck Support Pillow with Washable Pillowcase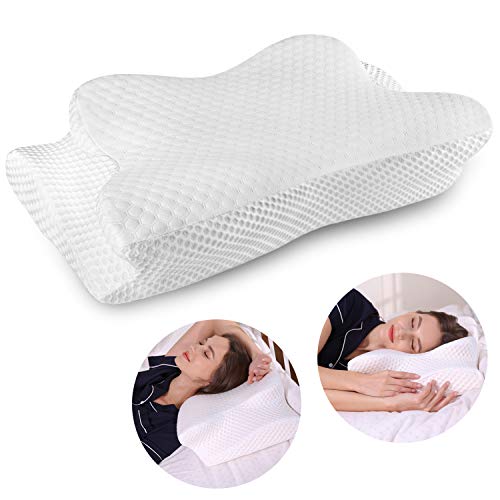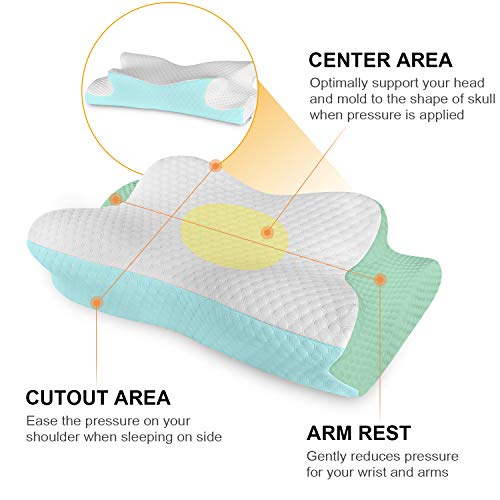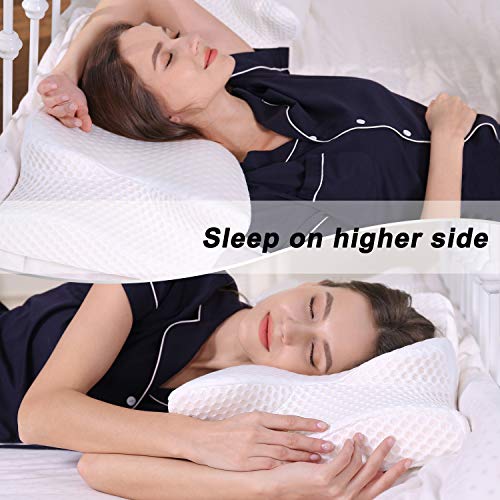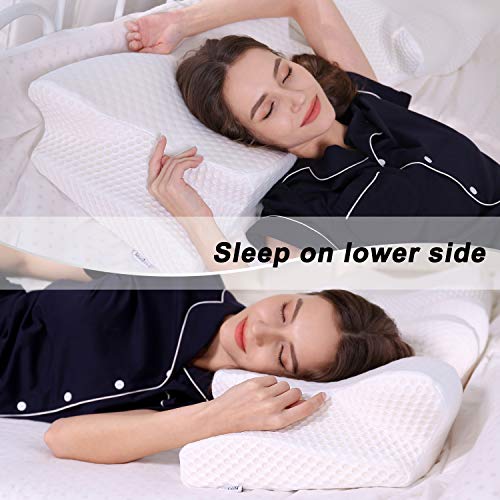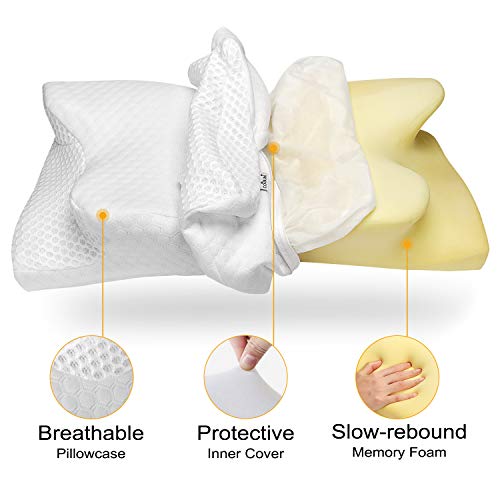 Go to Amazon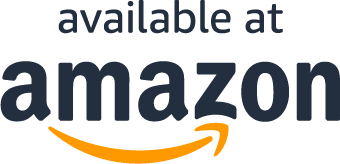 About the product
【ERGONOMIC DESIGN TO RELIEF NECK/SHOULDER PAIN】The central cavity adapts to your neck contour, which helps to RELIEVE NECK&SHOULDER PAIN/STIFFNESS/SORE and allows you BREATHE EASIER -- The lower recesses on each side CRADLE YOUR HEAD and REDUCE TOSSING AND TURNING -- The cutouts under both sides will fit your shoulder well when sleeping on side -- The cutouts beside sleeping area are designed to relax your arm. It's a ideal sleeping pillow for who SIT ALL DAY or who HAVE A CHRONIC NECK PAIN
【PILLOW FOR SIDE SLEEPERS & BACK SLEEPERS】As a back sleeper pillow, it supports your neck perfectly to KEEP YOUR SPINE IN NATURAL CURVE. As a side sleeper pillow, it WON'T PRESS YOUR SHOULDER to make you feel sore/pain. If you are a back sleeper with neck pain/snore when sleeping, we recommend you to sleep on the higher side with 2 horns, otherwise the lower side might fit you better
【HIGH-QUALITY SLOW-REBOUND MEMORY FOAM】It's made of 60 density High-quality Memory Foam, it has a medium hardness. The memory foam has a feature of temperature sensing, making the pillow FITS INTO YOUR NECK PERFECTLY
【BREATHABLE PILLOW CASE】The skin-friendly pillowcase is removable and washable. A breathable surface lets air circulate to keep the pillow cool while you sleep.
【BEST HEALTH CARE GIFT】No harmful chemicals were used in memory foam. It offers a comfortable sleeping, and has a exquisite appearance, perfect for elderly, office workers, people who sits all day or who has a chronic cervical vertebra issue. It's a good present to show your care to somebody you love.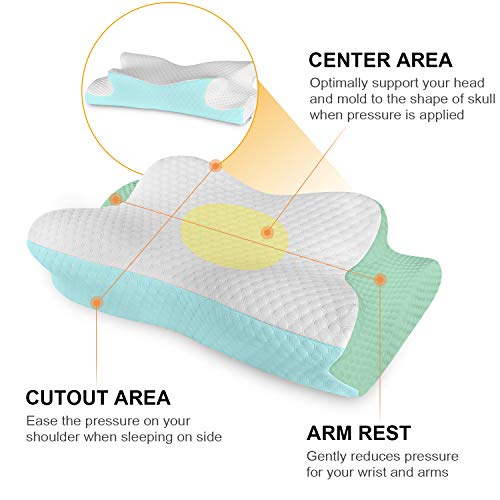 What Our Customers Are Saying
You may have to buy 2.
I bought this pillow about a month ago. It has this cuplike area for your head that properly aligns it for better sleep. The problem is the cup is the perfect size for a senior, 8 pound cat to sleep in blissful comfort on the memory foam. Most nights it's not a problem, because the same cat will happily sleep on my thighs or belly.Not last night. She was determined to sleep in the cup in my pillow. Unfortunately for her, I was also determined to sleep on my pillow. I'm not sure how many times I woke up with her literally wrapped around my head, leaning on the top/back of my head trying to push me off the pillow, and one time, about to lean on my face.Today, I feel a bit like hell. She's probably sleeping in the cup in the pillow.Be forewarned. You may have to buy two. I'm seriously considering it.And before you say don't sleep with the cat, she's old, and we love her, so we make concessions for her.
Great for neck support
Very comfortable pillow.
Love this pillow!
I suffer from severe migraines with neck and shoulder pain..I'm a side sleeper and I always wake up with my head tucked to my chin and my teeth clinched. This pillow I swear in one night as relieved my neck. My head stays on the pillow and I didn't wake up with a migraine or a sore neck and shoulders ...one day and Im in love with it! This pillow is a must.
Best pillow I have tried for neck pain and headaches
I only wish it had gel for cooling, but the special cover does a decent job of keeping the pillow somewhat cool. I get migraines, and have neck problems that can get so severe that I cannot turn my head side to side. This pillow has been the best I have tried out that helps alleviate these pains from coming from sleep position. I sleep side or back, and this pillow has two sides that help both positions, which is ideal. The pillow is very sculpted, which I thought I would not like, but turns out to be the best feature, as the sculpting really helps keep my neck comfortable. A drawback is that you cant flip this pillow to use the other side, but that is minor. As with all cervical pillows, it is smaller than a standard pillow, but I have found that it is a good size, and I have seen smaller pillows offered. This is a good size. I would recommend this pillow to anyone who has neck paid from sleeping.
Neck/arm pain gone!
I struggled with waking up with my arm feeling numb/"asleep" and it took a long time for feeling to return - with lots of tingling discomfort. I tried a few cheaper options before biting the bullet and buying this pillow. It's true, it took a couple days to get used to, and figuring out which side worked best, but I've been pain/discomfort free in the two weeks I've had this pillow.
Good nights Sleep
Great, Great, Great, After reading what others have said, I felt I should give it a try for I have had pain in my neck and left shoulder for a number of years now. After receiving the pillow could hardly wait to try it out. After the third nights sleep the pain I normally would have in the morning was gone. It seems one must use the pillow a couple days to get use to it.Now, just try and take it away from me. NO WAY, Nuff said.
Questions?
Does this include free shipping?