An Exclusive Offer For You
Fansteck Educational Mosaic Peg Boards Game for Kids From Ages 2+ ,Plug In Buttons Art Toys, Learning Jigsaw Puzzle Toy of Building Block Sets with Mushroom Nails ,Ideal for 2 3 4 Years Old Children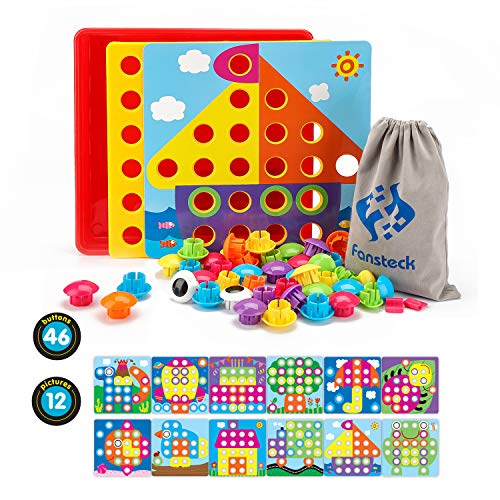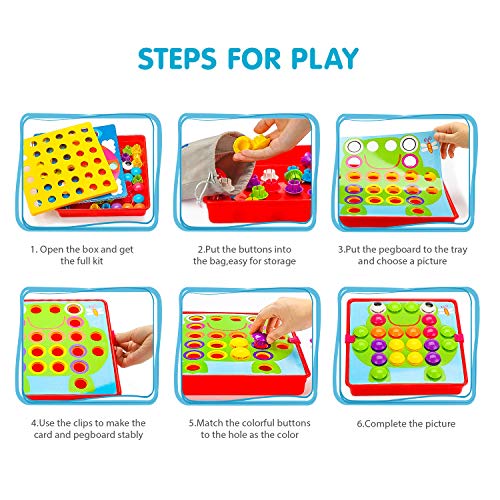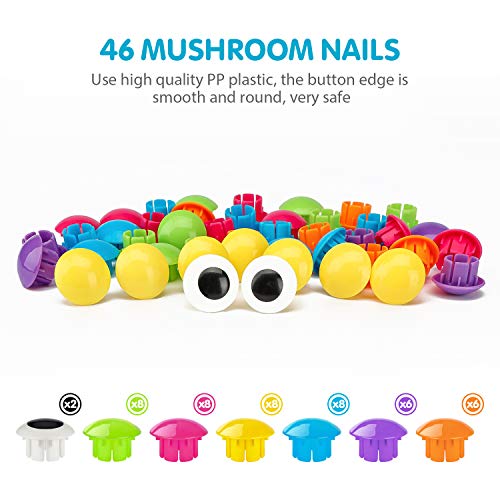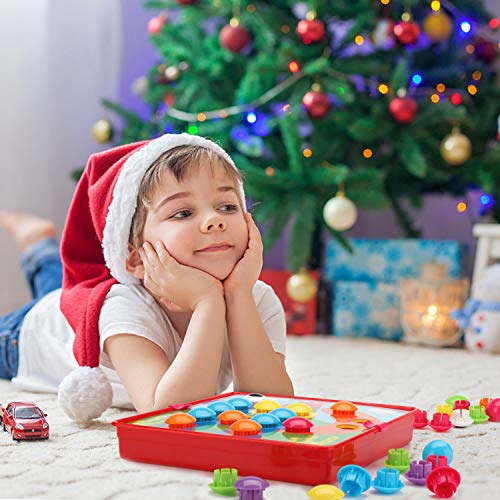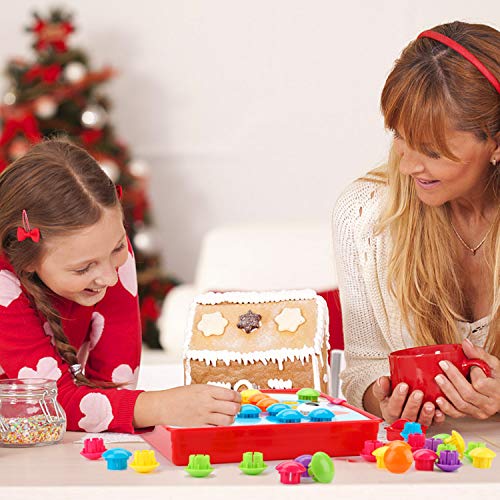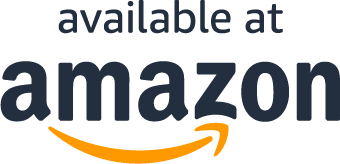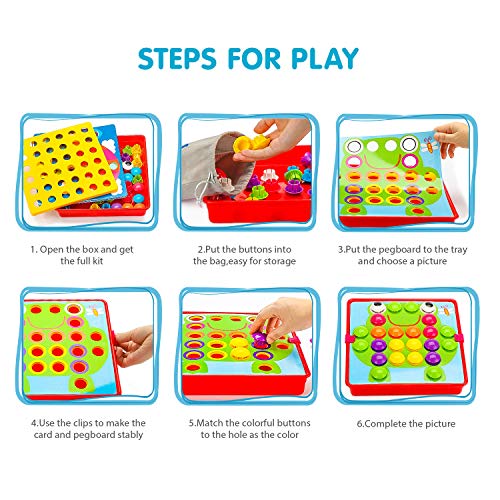 About the product
🎁 Creative Educational Toy --- Start matching and pushing the colourful buttons onto the illustrated mosaic pegboard to create lively cartoon-style images! Then your kids can follow their creativity and imagination, creating their own unique designs with this pegboard!
🎁 Ideal Gift for Kids --- This button mosaic pegboard can not only exercising kids' imagination, but also develop their motor skills, hand-eye coordination, colors and patterns recognition
🎁 Superior Material --- These buttons are made of good and safe ABS material, certified by FDA. They are smooth without any cracks or burrs that might cause uncomfortable sensations. Each button is 3.3cm in diameter, so that it cannot be ingested by toddlers. Suitable for kids from 1 to 5 years old
🎁 More Stuff, More Fun --- There are 46 colorful buttons, 12 colourful pictures and 1 storage tray. The chunky colorful buttons are easy to handle for little hands and can be easily pushed into the mosaic pegboard
🎁 Easy to Clean Up --- It comes with a drawstring bag to store the buttons easily and conveniently. All pictures can be placed in the storage tray. Never lose any pieces! | If you have any problem, please contact us at our email: eu-support@funcombo.com
What Our Customers Are Saying
Develops so many things in kids
I bought this toy for my kids as I knew that these kind of toy would be interesting for my elder son as he always likes playing these kind of educational toys. I was surprised that even my little one was very interested in it. It is now one of their favorite toys, they even fight for it. This toys gave me the opportunity teach them turn taking and learning new things. For the first time my younger son aged 3 years, played with it for long period of time. While he is engaged entertaining himself I could do a lot of work around the house.I am very pleased with the material, it seems a good quality and safe for kids. The pieces are not too small, eliminating the hazard of getting choked if swallowed, so parents don't need to worry.Easy to play, lots of various colors so your kids can learn matching and naming colors, counting and patterns. It develops imagination, creativity, fine motor skills and paying attention. It has 12 nice pictures and a really nice bag to keep the pegs tidy. My younger one loves cartoon based pictures, but the elder one was using his own imagination to create his unique things. Good value on money as well. Recommended!
Puzzles with a difference.
This was bought for my 3 year old granddaughter for her birthday . It was the first thing she played with ,and has continued to enjoy using it since . Her mum said she would love to get some more .
Nicest quality peg board I've seen.
This is brilliant. I bought this one for my 3 year old and another different one for my 6 hear old which has smaller pegs. Both were quite cheap I thought at time of purchasing. The quality of this one is far superior to the other I bought. It's a lovely tray, with a nice sturdy pouch to keep the pegs in. It can be used with or without the pictures. The pictures are all nice and interesting. The picture cards which go over the tray feel like a thin plastic sheeting rather than cardboard so feel like they'll last. Both my 3 and 6 year old have played with this and enjoyed it.Easy to clean with damp cloth.This is a nice quality toy which will last a long time I'm sure. Would make a nice gift for a child.
Great fun for all
Great activity so much in the one set , the various peg patterns, bright colourful pegs, a storage bag for pegs and storage in the base of the tray so great for travelling or trips out. The various patterns are great there is so much variety and all so colourful and attention grabbing. The older children love playing with this along with the younger ones and on their own which surprised me but it's great .Excellent learning toys colour recognition, hand eye coordination great value for money.
A really nice toy!
My little boy adores this toy and is teaching him his colours and teaches him patience and concentration while having fun and making great pictures,the pieces itself are perfect and are easy for him to hold,they for perfect and the pictures of all the characters are bright and colourful and are perfect,hes learning more words and we have some time together making these,he lives them and has been playing with these everyday!
Good educational toy
I like buying educational toys for my children. I bought this for my 3 y.o. daughter. She absolutely loved it. She enjoyed changing pictures and matching them using pegs. Pegs are good size for my daughter`s hands. This toy is good for hand and eye coordination, fine motor skills and learning the colours. Toy is solid and came with little bag for pegs.
Questions?
Does this include free shipping?