An Exclusive Offer For You
Fansteck Stress Balls for Kids, [4 Pack] Stress Relief Ball for Adults, Squeeze Ball/Sensory Ball, Rainbow LED Stress Ball, Ideal for Autism, Anxiety & More (4 Different Balls)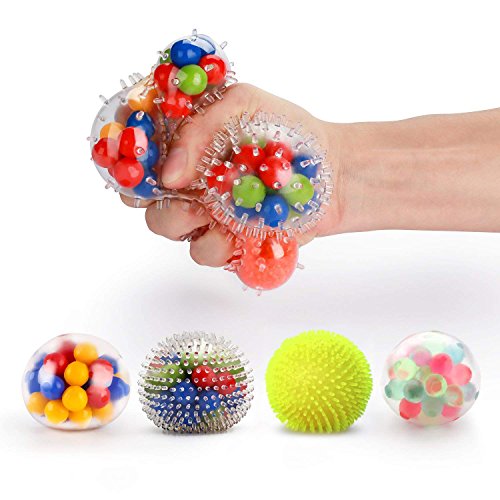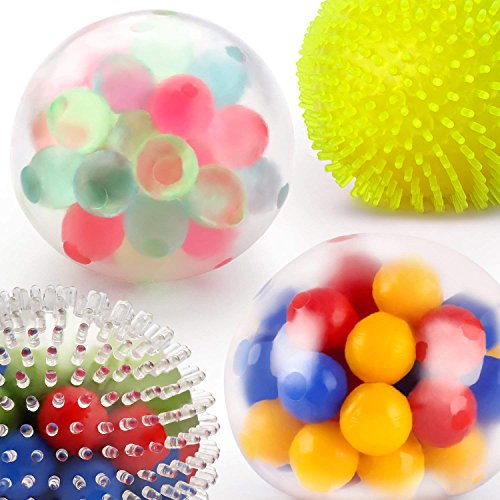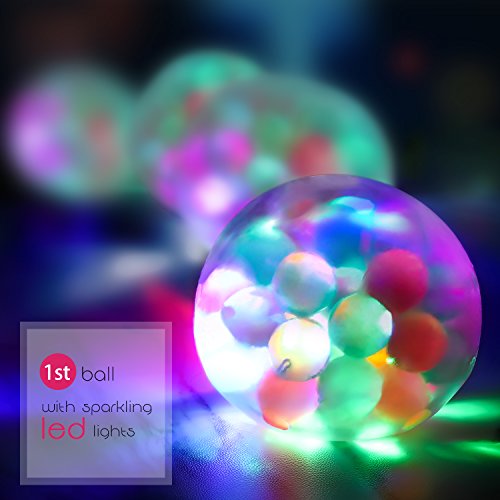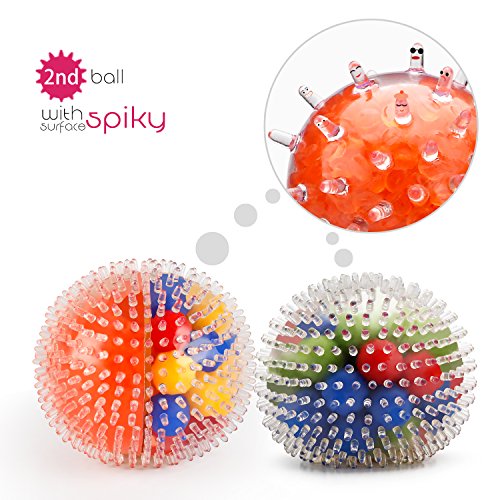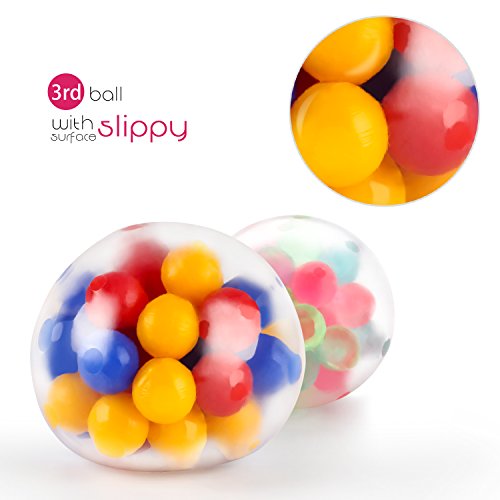 Go to Amazon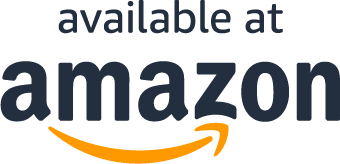 About the product
COOL Design: 4 different styles of colorful stress balls (one ball with sparkled LED LIGHTS, the neon light will flash on impact). Attractive and fun for kids as well as adults
Safe Material: These sensory balls are made of natural silicone material which is NON-TOXIC, providing SAFE user experience. [ It is normal that the new stress balls with little smell, and the smell will fade away naturally after being placed in airy places or being used for several times]
Reliable Quality: Our squeeze balls are made of material with ultra malleability, making them DURABLE and STURDY. The little balls inside will not be popped out easily while squeezing them repeatedly. And they are NON-STICKY, so they can keep your hands clean even after long time use
Stress Relief & Funny Exercising: These stress relief balls help alleviate stress and anxiety in children and adults. Enjoyable relaxation aid, they can help people with autism and ADHD. It is also good for strengthening hand, wrist forearm muscles, and ideal for rehabilitation and physical therapy
What You Get: 4 Different Styles of Squishy Balls, 1 User Manual, our 18-month worry-free and life-time friendly customer service, we'd like to give you a 100% satisfied solution if you find your balls are defective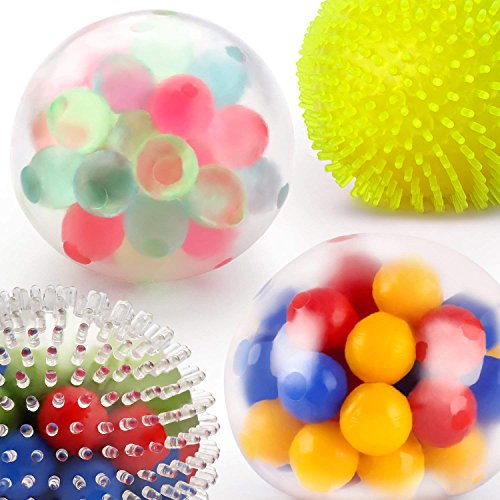 What Our Customers Are Saying
Pretty but easy to bite through.
Want to let people know that the company saw my review and was kind enough to provide a refund. They said they will also check into the issue described below. This was totally unexpected and really nice to see they are paying attention to their customer reviews. These were very cool but would caution to supervise if child is prone to putting toys in their mouth. I bought these for my son. He is 14, non-verbal, and autistic but loves looking at videos of similar products with multi-colored balls and interesting textures. Unfortunately, he was able to bite through each of these within a few seconds. I had to fish them out of his mouth and clean them up. Obviously, not a great toy for him or others with similar inclinations. They did look cool but not good for him. I updated my rating based on the company's response. Fantastic response by the company and hope they use the feedback to improve the product for special needs children.
Get TWO sets for anxious, neurodiverse hands
This 4-pack is outstanding, meeting my need to touch/crush my anxiety in 4 different ways. They are perfectly sized, soft enough for my damaged hands (I have RA), but resilient enough to deal with my unrelenting squeezing & stretching. The only problem, kind reader, is that I need the SAME weight/size/texture in both hands at any given time, or it can *increase* my anxiety. So if you are getting this set to settle someone's embattled hands & mind, please buy TWO 4-packs.Also, the two non-spiky balls are slightly sticky, though they do not make your hands sticky. If the recipient doesn't like sticky things, you can dust them with baby powder. But please let the recipient decide for themselves. I HATE sticky stuff, but after 10 minutes, I liked these balls (as long as I had the same thing in each hand.)
See edited review.
This is my first review which is a one star review....and I stand by that rating of the product in general...I would not reccomend the product.All broke within the first week... very dissappointing to my 2 asd kiddos...I'm starting to not believe a good stress ball exists put there ☹️.However, I would highly reccomdend the seller. Five stars for them. As soon as I published this review they messaged me immediately offering a refund. So, definitely check out their products, because they are awesome.
My kids love these!
Great value for the 4 pack! My kids love these things! The light up one is cool! Eaxh one has a different texture/feel to it. Pretty neat. Seem durable.
Awesome customer service; they care about their customers!
The balls were very cool at first. Within a week however they popped and were covered in hair/etc. Sticky on the outside. I have to add that i was discouraged with the original product but after my review the company reached out and replaced my order. I can't wait to see how the new ones work. This is a great, reputable company that cares about its customers!
Great in all aspects!
I am very happy with these! I love having them at work, or just for boring tasks (lol). There are a variety of textures in this package; I have found some are more appealing to my touch than others. Having TTM for a decade has made it very difficult to stop for me, and these are a great solution to keeping my hands away from my hair. As a matter of durability, they are made of a relatively medium/thin plastic material- thus I would expect over time that I will see damage or deterioration eventually.For the price, I would highly recommend. they were delivered & packaged in great condition!
Questions?
Does this include free shipping?