An Exclusive Offer For You
Fansteck Water Drawing Mat 40x40 inch, Large Water Doodle Mat with Storage Bag, Aqua Magic Doodle Mat with 24 Accessories, Educational Toys and Idea Gifts for Boys, Girls Age of 3 4 5 6 7 8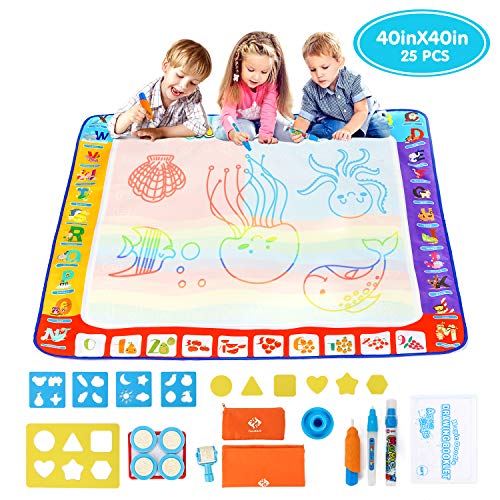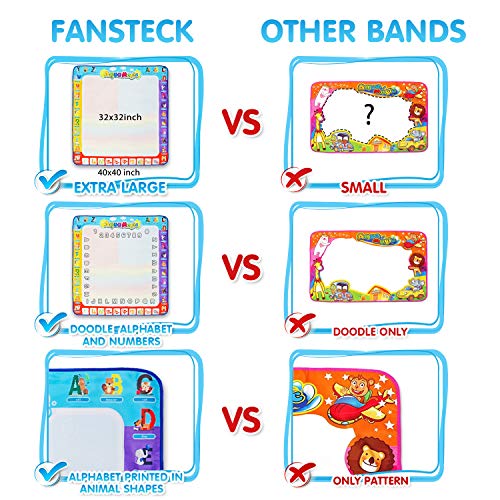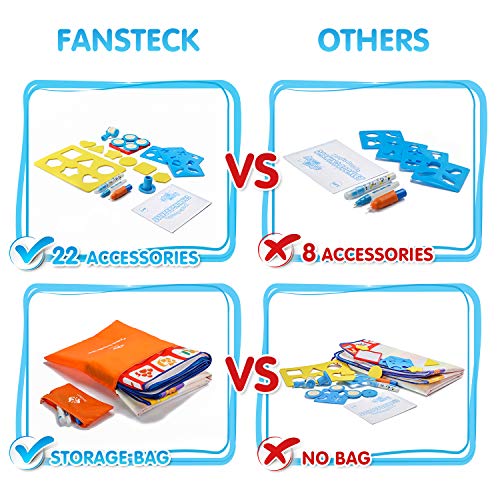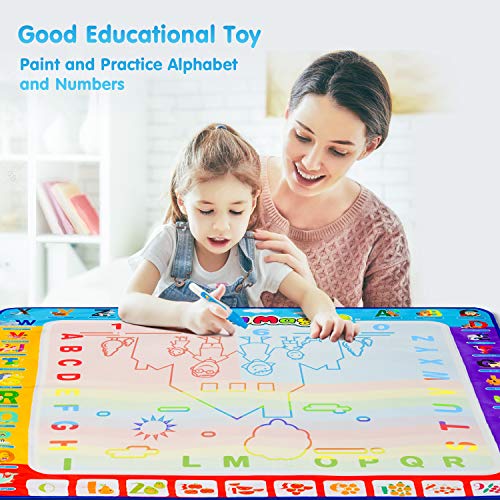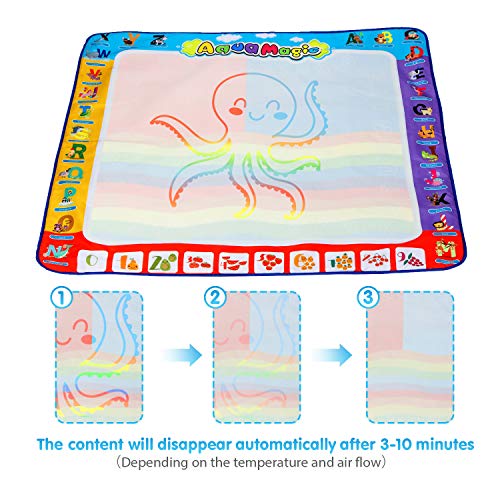 Go to Amazon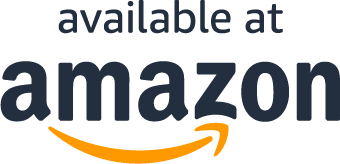 About the product
1.LARGER AREA for KIDS--- It's 39.3x39.3in (100x100cm) and the valid drawing area is 31x31in (80x80cm). The drawing area is large enough for OVER 3 kids to draw together and offers the parents a great way to spend quality time with their kids
2.SAFE & NO MESS DESIGN --- Made of non-toxic and soft material, safe for kids to take doodle. The front of mat is covered with the soft warp knitted rain-coat fabric, the back is made of water-resistant nylon material. After draw on the magic mat 3-10 minutes, it magically disappears (depending on temperature and airflow), so children can paint on the drawing mat again and again. No worry about wetting or messing the floor.
3.AQUA MAGIC MAT with MORE ACCESSORIES --- The package comes with 3 Magic Pens, 4 Stamps, 5 Templates, 6 Drawing Mold, a Stamp Tray, a Brush Pot, a Wheel Stamp, a Drawing Booklet and two storage bag. More accessories, more fun! It also comes with our 18-month worry-free warranty and friendly customer support
4.EDUCATIONAL TOY & IDEAL CHRISTMAS GIFT --- The neat sized letters and animals printed on side can help in kids' early learning education, and the mat is designed to inspire imagination and creativity, getting kids of any age to grow their drawing ability and color discrimination.
5.EASY TO USE --- Steps: 1. Fill the water doodle pen with pure water; 2. Draw on the mat and watch your lines and patterns appear in multicoloured; 3. As the water dries, the drawings will fade away, and you can draw new pictures once again. [NOTE: 1. Please immerse the pen into the water for 1 hour before the first use; 2. Please use pure water without dust otherwise it may leave stains]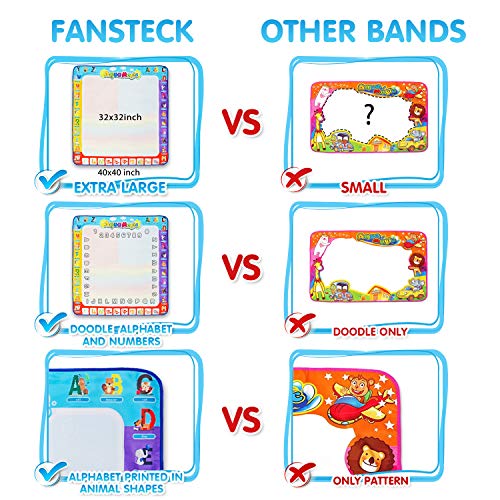 What Our Customers Are Saying
Packaging was less than desirable but my neice loved it
First, I think this is a great gift for any 4-6 year old. I gave it to my neice this last week and while she absolutely loved it, she had no idea what it was when she opened to the present. It comes in a nylon bag with no pictures or markings of any kind. I suppose its nice that keep everything in the bag but I had to help her open it and get everything set out before she realized what it was for. She has cousins and siblings and everyone had a fun time with it.It was big enough for 4 people to be around it all coloring their own area. Came with enough pens for four people and a lot of extra fun things. It dries in about 30 min after being completely wet. The stencils didn't work like we though they would but they still had fun. One thing to note I thought was strange, the caps twist off OPPOSITE of everything you are used to. Overall, it was the right price for a great gift!
Loving this!
My boys are having so much fun with this. I love it because it's large enough for them to share and there's no mess! There is a bit of a chemical smell out of the package, but I just let it air out and it's much better.
Very good for kids
I believe this is the most valuable item i have ever bought on amazon for kids. My kids loved it. Its very good to keep them busy while camping .
Great gift for 2 year old
Great gift for my goddaughters 2nd birthday! She loves to color on "everything" & was instantly playing with this! Great way to keep her entertained without getting crayons on the walls or couches! It comes in a pouch so can be taken easily on trips to visit family!
ITS MAGIC! BUY! You won't regret it
Oh my goodness! This Water Drawing May, AQUA MAGIC is truly magic! Seriously it is one of the top three things bought for our grandchildren, age 5 and 3! They love it! BUY BUY BUY! It's incredible!!
"Perfect Gift not only for kiddos but for adults as well"
This was a life changing experience for kids now a days! Every kid out there are just on their phones, tablet , tv. This generation missed out on good things like this aqua matt its extremely fun, brings out kids creativeness and not only that even adults like me granny, their mom and dad gets to participate. It's s perfect gift to get everyone off their phones! Thank you seller and amazon for sharing us the best gifts for our grandchildren! God bless both of you.
Questions?
Does this include free shipping?