An Exclusive Offer For You
Fansteck Water Doodle Mat, Large Water Drawing Mat 40X40 inch, No Mess Aqua Magic Doodle Mat with 24 Accessories, Colorful Educational Toy and Ideal Gift for Toddlers, Boys, Girls Age of 2 3 4 5 6 7 8
$22.99
Go to Amazon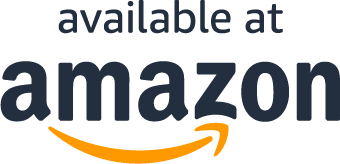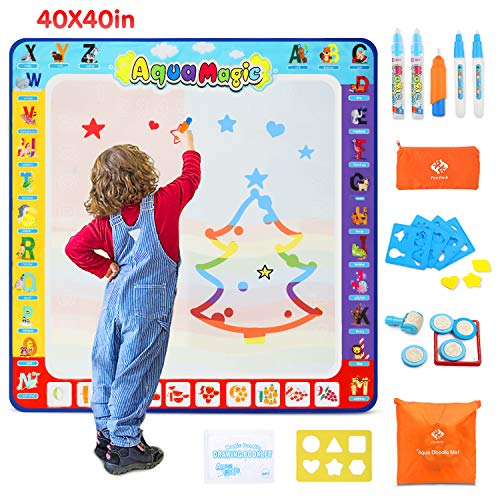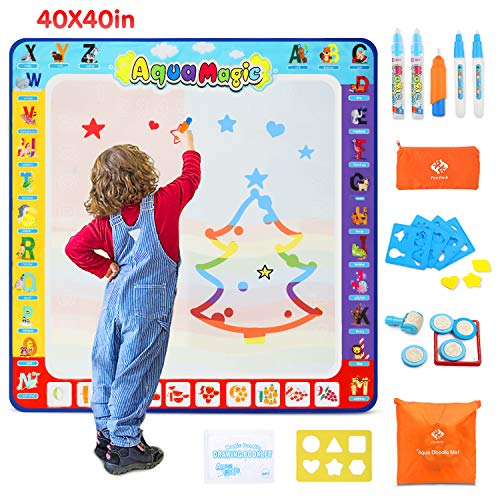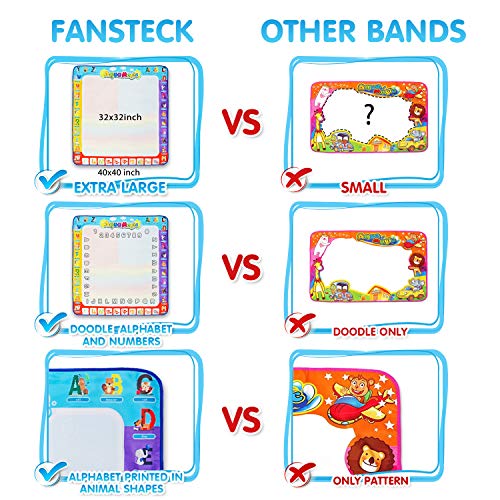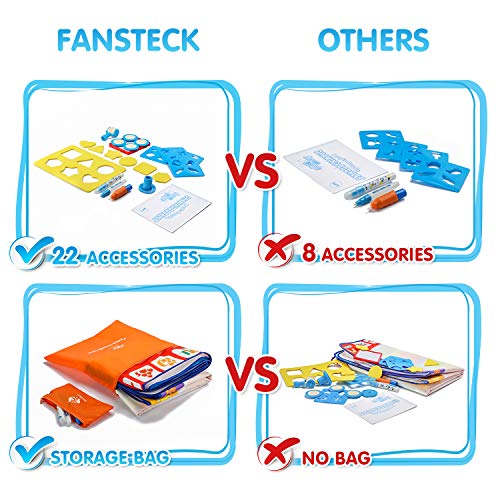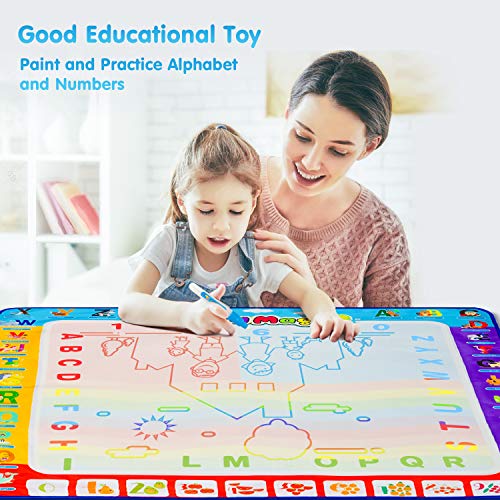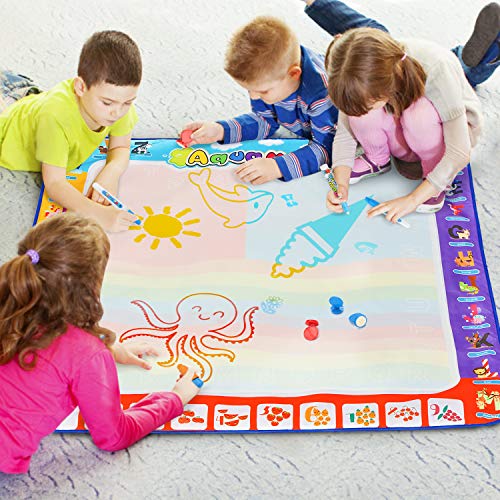 Go to Amazon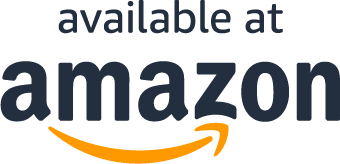 Read More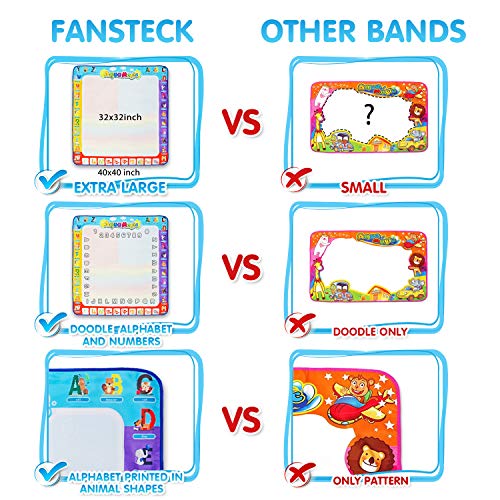 About the product
Larger Drawing Area --- The whole size of the Doodle Mat is 40x40 inch, and the valid drawing area is 32×32inch (80×80cm), which is large enough for parents and kids to draw together and offers a great way to spend quality time with your kids
MORE ACCESSORIES --- The package comes with 3 Magic Pens, 4 Stamps, 4 Templates, a Brush Pot, a Wheel Stamp, a Drawing Booklet and two storage bags. More accessories, more fun! It also comes with our 18-month worry-free warranty and life-time friendly customer support.
NO MESS DESIGN --- Made of non-toxic and soft material, safe for kids to enjoy. The front of mat is covered with the soft warp knitted rain-coat fabric, the back is made of water-resistant nylon material. No worry about wetting or messing the floor. Let your kids draw freely and get rid the worry of colored pencil and crayon marks all over the walls or furniture
EDUCATIONAL TOY & IDEAL GIFT --- This Water Drawing Mat is a great educational toy for toddlers. They can spend hours drawing whatever they like without wasting paper and pencil. Decorated with colorful letters and cartoon animals, the mat is designed to inspire imagination and creativity, getting kids of any age to grow their drawing ability and color discrimination
EASY TO USE --- Steps: 1. Fill the water doodle pen with pure water; 2. Draw on the mat and watch your lines and patterns appear in multicoloured; 3. As the water dries, the drawings will fade away, and you can draw new pictures once again. [1. Please immerse the pen into the water for 1 hour before the first use; 2. Please use pure water without dust otherwise it may leave stains]
What Our Customers Are Saying
BEST PURCHASE!
This is by far one of the greatest purchases I have ever made for my kids!! They've played with nonstop since I received it. No mess and even if they press too hard it's ONLY WATER! 👏🏼🙌🏼 The size is perfect for up to four kids. Love the variety, although I wish it would come with actual "words" not just shapes :)
Very big, very fun Aqua Doodle!
It can be so hard to tell sizes of these things online (pictures are often doctored to make items look bigger). But this is a really great size that several people can use at once. I wasn't sure if the letters that show up under the water would be a good feature, but my 3 year old loves "painting" them and watching them appear. She loves to draw, color, and paint, and this is such a fun mess free option for her. She loves using this mat and it works great. All the little accessories are fun for her and we've used them all! I love the fact that I can use it to help her learn shapes, numbers, and letters while she enjoys expressing her creative side. I highly recommend this product.
Fun for all ages!
This aqua doodle is huge and kids love it! We have had another brand in the past and while the kids enjoyed it occasionally, it didn't hold their attention as long as this one due to the vast number of included accessories! It is a very cool concept and I love that it comes with lots of accessories and pens so all 3 of my children can play/draw at once....with only water! As a mom, my favorite part is the carrying case that holds all the things and the small carrying case for all the accessories. I would recommend this product, especially with winter coming and more time spent indoors!
Awesome gift
This mat is amazing. My 18 month old and 5 year old enjoy it together. The pens are a little too fancy for my 18 month old, so I just give her a damp wash cloth and she goes to town! Great activity for being stuck inside and still get to "make a mess" but just with water!!!I have also given this as a gift for 1st and 2nd birthdays and they have loved it!!!
No messed up as water is ink-recommended
I really liked this mat. It's big enough for a kids to draw whatever they want. They don't have to erase as well and it will just disappear within 5 min. Good for kids who can't stay with one thing for longer time. It will erase in 5 min and you can redraw. Best park I liked is you only have to use water in pen provided to draw so ko mess up. Only thing is you need to dry mat once you are done and then store. But loved it and would recommend
love this so much
My daughter is 7 and this is the perfect mat for her to practice her writing. I love it because she doesn't make a mess with any markers or paint. It only takes about 5 mins to dry so she can make a new drawing or she can write some more. I love the size. It's not to big and it's not to small. Perfect size and I love how when you're done with it you can put it back in it's bag and put it away and all the pieces stay together.
Questions?
Does this include free shipping?