An Exclusive Offer For You
4 Pack Gamecube Controller Bundle - with 4 Extension Cords and a 4-Port Adapter for/Switch/PC by EVORETRO

Use Promo Code 10EVOGC4 on Amazon checkout page and get another 10% discount! ❤️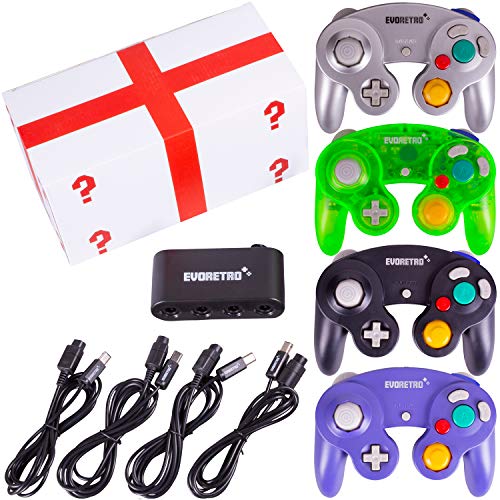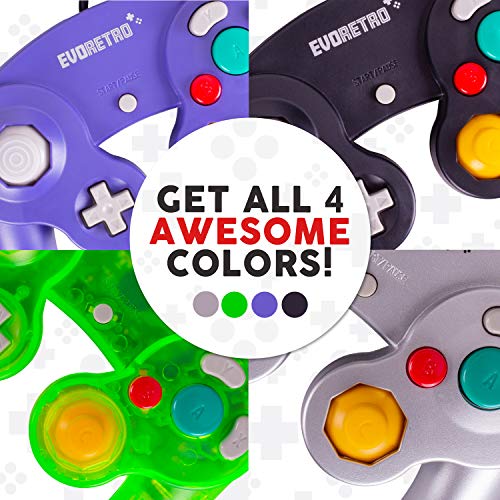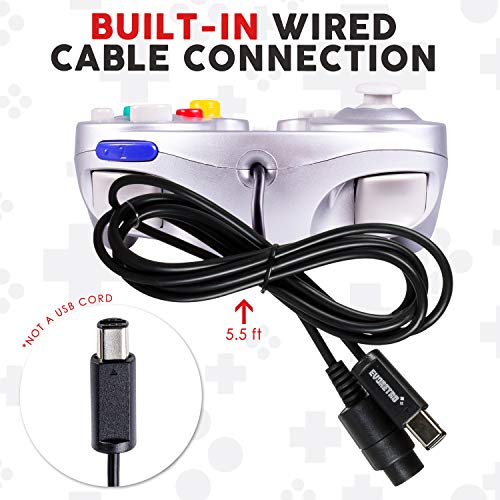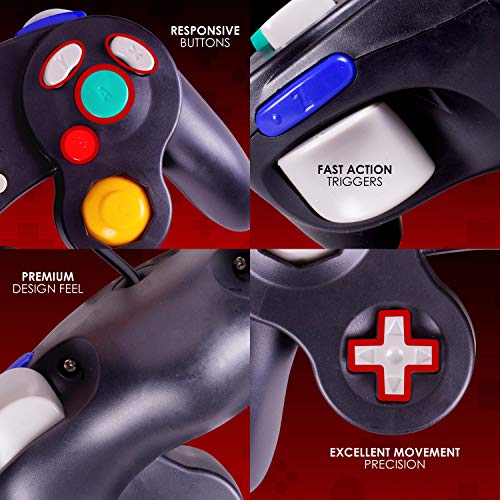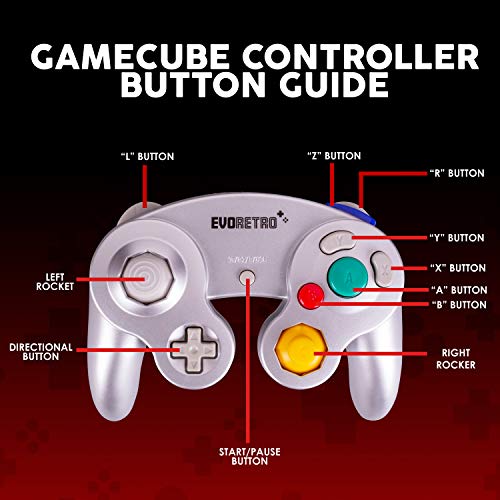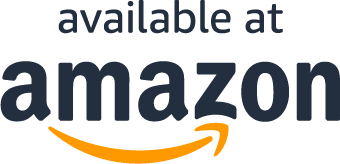 About the product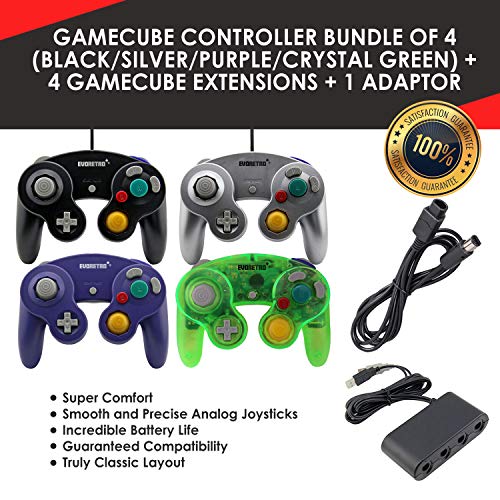 The Ultimate GameCube Bundle: This set includes 4 extension cords, a 4-port adapter, and 4 sturdy GameCube controller in 4 different colors ((Black/Silver/Purple/Crystal Green); they give you the same shape and button layout as original Nintendo's pro controller for accessibility and extended gameplay comfort.
Superior Compatibility: This pro controller works with all GameCube and Nintendo Switch games so you can definitely ace your Super Smash Bros., Mario Kart, Splatoon, Zelda, etc. as well as every game on both versions of the virtual console which makes navigating a lot easier.
The Multi-port Capability: The adapter has 4 docks that can connect up to 4 controllers at the same time with no lags or delays, letting you have an awesome time with three of your friends. Adapter can connect up to 4 controllers at the same time with no lags or delays, letting you have an awesome time with three of your friends.
Multi-Platform Support: Free yourself from limitations with these accessories that can support PC, and Nintendo Switch which also has a hassle free switching from PC mode to GameCube mode by just toggling a selector on the side of the adaptor, giving you smooth transitions all the time.
Guaranteed: We ensure 100% customer satisfaction by providing the highest quality in the market. Our customers are first on our priority list and we simply provide you the best product and service
What Our Customers Are Saying
4 great controllers and extra necessities for the price of one Nintendo controller
If you're looking for EXTRA controllers and a adapter, this is what you need. I originally bought this because we have over 4 people playing smash at my house all the time for our YouTube videos and we mostly use GameCube controllers. I originally came here for the cheap price of so many controllers, the adapter and extensions were a perfect addition. The controllers are almost the exact same. However you can tell the sticks are little unsteady when neutral/not being moved. But that has little effect. The buttons work pretty perfect for not being the original $50 Nintendo controllers. Plus the controllers have great designs and I even use the clear green one when I compete in smash. I'm not a huge judge on products like controllers, for people like me, this is it.
This was as good as advertised surprisingly
Honestly, I thought the other reviews we're a bit dramatic but I have to say this is a really good quality product, to my surprise the only thing I could complain about is the d-pad when you press down and sometimes press the sides on one of the controllers, but to my surprise and just for Giggles I have decided to test if it will work on my actual GameCube oh, you did and to my surprise it feels nearly identical to a GameCube controller brand new, when you break the bad boys in you literally won't be able to tell the difference. 10 out of 10 would recommend to anyone especially if you're getting this for smash. This honestly work a lot better than I anticipated its high quality and I'm impressed, especially since some other third-party controllers cost the same amount for One controller or maybe two. This honestly is an amazing bundle in an amazing deal I highly recommend if you're getting a remote to play smash on you get this bundle
AAAAAAAAAAAAAAAAMAZING!
I was very skeptical at the price, but these are amazing. Buy this now!Alright, if you are still reading here is my honest review with the good, the bad, and the ugly. First off, YES you get 4, YES you get 4 extension chords, and YES the hub works with the Switch. Bonus, these all work perfectly with the original Game Cube, as well - or an original Game Cube controller can be plugged into this hub. The transparent green is especially cool.With the extension chords there is plenty of length for my family of 4 to play Mario Kart on the Switch comfortably from the couch. The thumbsticks are actually great! Most cheap thumbsticks are garbage but these feel really amazing. They have resistance and are sensitive to small inputs - my biggest pet peeve on cheap controllers.Now, I do have one complaint, although it's not quite enough to drop from 5 stars to 4... the Z button. This Z button is so stiff it could be confused for a non-moving piece of the frame. It is awful and I would never use these controllers for a game that requires it. Also the triggers are a little stiff. As someone who plays Mario Kart and gets ultra-competitive, the stiffness starts to tire my fingers after about a dozen races. They are also super clicky which doesn't bother me, but I think it's kind of funny because I can hear my wife when she initializes drfits ;)All in all I have a few complaints but for most games on Game Cube or Switch these are fantastic. They are WAY above the quality I expected them to be and they work great. I especially love the extension chords and the fact I can use these on Game Cube or original Game Cube controllers on this hub.
Worth the price - Good quality and FAST shipping
If you're worried about getting a low-quality Gamecube controller, don't. This 4-pack is well worth the money. I was skeptical and pulled the trigger with confidence that I would return it if I wasn't happy. But that won't be happening right now.I'm playing smash bros ultimate. My *only* wish was that these controllers had the 2nd L Button (L+ZL) and the switch's home button. But I bought these fully knowing that it would be the gamecube standard button format. Included is a great box that currently is substituting as a carrying case for me, extension cables to get extra length for your controller and the all important adapter to use it. I'm currently not sure how "turbo" works but I doubt I'm going to be using that feature. Just remember to switch the adapter to the n-switch setting before complaining that this doesn't work!
Just Amazing! (My very first review)
Even though I only had these for about an hour now, these controllers and conditions are amazing and mind blowing! The moment I picked up and played with one of the controllers, my childhood me opened up and I was blown away, never in my life have I experienced this before until now, best controllers to have ever! You guys have a new customer and you just made my year for 2019, wish you all the best for 2020 <3
An incredible value with minor quality concerns.
The first thing to know is that these are not first party pieces of hardware; everything in the box is an EvoRetro piece of hardware. Because of this, there are some slight oddities with the controller that might immediately jump out at you if you're very used to a standard Nintendo GameCube controller; the X and Y buttons are a little stiff, the control stick feels like it takes slightly more effort and has slightly more travel than a standard stick, etc.The USB hub that comes with the set is also an EvoRetro product and will not support native rumble on select platforms. The hub requires two USB ports as well (one for power and one for the actual hub functionality, both of which are unlabelled) so you may need a USB power outlet to get the hub going depending on how many free USB ports your device has. The hub does include a turbo function (or TRUBO as the manual occasionally calls it. The manual seriously needs a proofread.) to "enhance action games" and has a toggle on the back so you can use the hub with the WiiU, Switch, or PC.All of the hardware included also feels a little cheap as well and the controllers feel particularly frail compared to a first party device.So, this product earns a 5-star rating almost entirely on its value. At this price point there is simply no earthly way to get 4 GCN controllers, a USB hub, and 4 extension cables for this price. All of these at first party prices would be monstrously expensive and, despite aesthetic quality issues, all the devices function just fine. The box also includes a lovely card from the owner thanking you for your patronage which is a nice touch.
Questions?
Does this include free shipping?