An Exclusive Offer For You
Everlasting Comfort 100% Pure Memory Foam Back Cushion - Lumbar Support Pillow for Office, Car and Chair, Standard, Black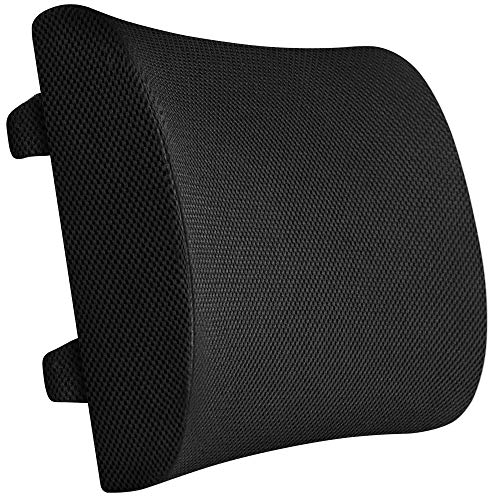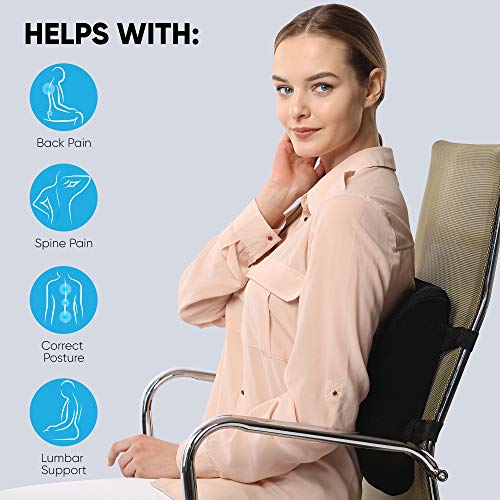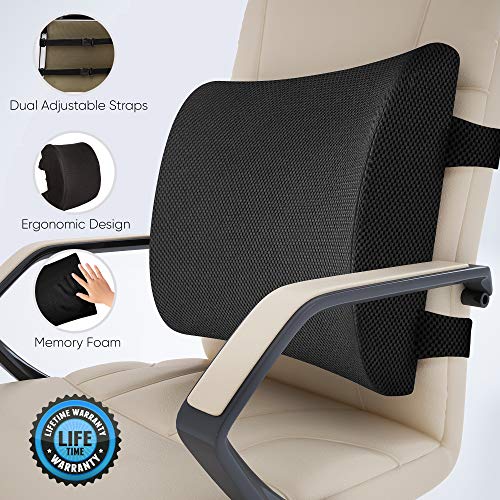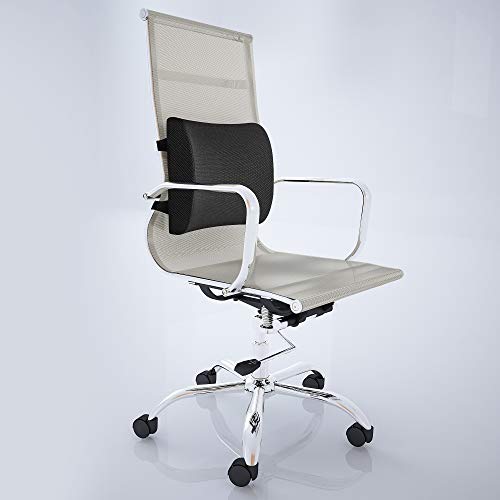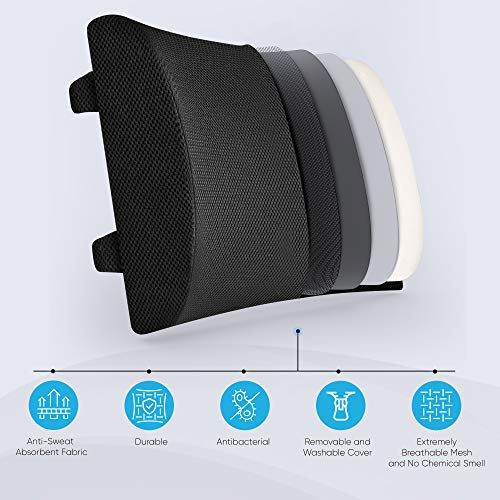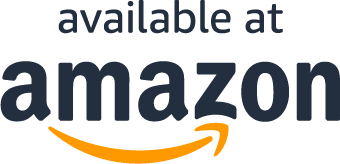 About the product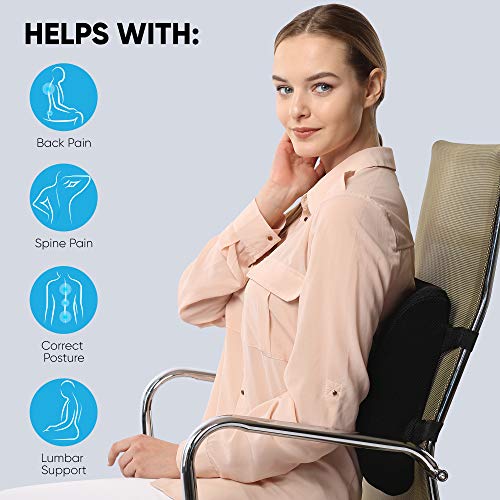 100% PREMIUM QUALITY MEMORY FOAM LUMBAR PILLOW - Our memory foam back pillow is 100% pure and is made of the exact same material as the world's leading memory foam products. Relieves and alleviates both acute and chronic pain from: back aches, muscle aches, arthritis, stenosis, herniated disks and general sore backs. Our memory foam is the perfectly formulated blend of comfort and support.

ERGONOMIC DESIGN SPECIFICALLY TARGETS BACK PAIN - Due to our universal contoured structure, our back support cushions can be placed anywhere along the back of a chair for neck, upper, middle, thoracic, or lower back and spine pain relief. Use this backrest as a posture corrector to help with alignment and relieve pressure while driving your car or sitting on your office chair at work. Ideal for a gamer, truck driver, elderly men or women.
DUAL ADJUSTABLE STRAPS - Most low quality lumbar pillows only have 1 flimsy strap which does not hold the cushion in place. Our dual adjustable straps can be secured tightly to the back of the seat so your cushion stays in the desired position and does not fall or slip down the desk chair.
LIFETIME REPLACEMENT GUARANTEE - If anything goes wrong with your lumbar cushion, we've got your back...literally! NOTE: Our lumbar support cushion is designed to help relieve aches and pains but with some people it will not completely eliminate all symptoms.
HYPOALLERGENIC, BREATHABLE 3D MESH COVER - Allows airflow through the cushion to keep your back cool and dry for the best experience. Our posture cushion can also be used on the couch, wheelchair, auto vehicle, office chair, or as a portable travel companion while flying on an airplane. IMPORTANT - If your back cushion has a slight odor, put it in the dryer on low heat for 30-40 mins with a scented fabric softener sheet.
What Our Customers Are Saying
If you have a bad back, you are willing to do a LOT to improve seat comfort, yeah?
I read all the 5-star reviews on this product with some skepticism, but upon receiving it today via Amazon Prime, I was at once impressed. The build quality seemed decent, and as someone else wrote, this memory foam product is the 'goldilocks' of seat cushions... not too firm and not too soft. The included elastic belt/buckle/extension units reached around my new executive chair quite easily, and I was able to adjust the height of this cushion to maximize pressure on my lower back area and thus my discomfort whilst sitting evaporated. I shot a couple of pics so you can see how well this product works and how it attaches to your existing chair. I'm not sure how this would work in an AUTOMOBILE seat as they are quite thick and wide, I did not try it in my car. Everlasting Comfort did a nice job packaging this in a plastic bag with a moisture wicking pad, instruction sheet, and lifetime warranty registration (online) instructions. I was impressed, as the manufacturer even gives their email address and invites you to immediately contact them if there are any issues or defects, and they will directly send you a replacement! That's outstanding, tells me they have confidence in their product. For the small price, I think this is a worthwhile purchase, and speaking as a person who is now dealing with daily chronic sciatic and lower back pain, I regard this item as a very good purchase decision on my part and recommend anyone in similar circumstances to try it. Given Amazon's liberal return policy, why not? I didn't even take it out of the plastic bag until I sat in my chair a bit and tried it out. Note that in my photos, a secondary chair pad (purchased here on Amazon) is shown where you 'sit' - that item is from a different memory foam manufacturer well known for their mattresses. The chair itself is also from that same famous memory foam manufacturer, but the chair did not support my lower back at all, even trying every conceivable adjustment on the chair. So this cushion was a Godsend. Mark me a happy camper.
Takes some getting used to, but seems good
I've only had it a short time and I've only used it a couple times on short car trips.That being said, I think it will help a lot on long trips.It takes some getting used to and a little adjusting to find what works for you but I think it was a good investment.As you can see from the pictures, it sits kind of funny in my smaller cars seats, but once you sit in the chair it fills the gap.I'm taking a longer trip this weekend, so I will try to get back on here with an update.
It works!
Had really bad back pain because my chair has no back support and I spend hours on my chair. Decided to give the cushion a shot and just after a couple of days my pain was gone! Transformed my chair into a super comfortable chair. Avoided buying a new one. Check it out.
3,000 Mile Road Trip in 2 Weeks
A 2-hour drive used to do me in, with a soar hip and back. Put this to the test during a 2-week 3,000 mile road trip. Fortunately, I asked my chiropractor ahead of time how to survive it without feeling stiff with hip and back pain. He suggested I get a cushion with lumbar support, so after researching various options I bought this one... actually two of them, one for the driver and one for the passenger. For the first hour or two, I didn't necessarily like it and it felt a bit unnatural. After I got more used to it, I realized it helped... a lot... a whole lot! My traveling companion felt the same way. We both remained pain-free and were not stiff at all the entire trip or afterward! After about 2,000 miles, I ordered an additional one for my husband so he could start using one right away. He also feels this helps him remain comfortable and pain-free. He had an old lumbar cushion in his car but said this one is much better. When I sang the praises of this to a friend who drives 2-hours daily, unbeknownst to me, she had already gotten this exact one and loves it. So this makes four very happy "campers" between the ages of 21 and 71, with different body-types. This is one of the best purchases I have ever made and think this would make an excellent gift. If you ever feel soar after being in the car, you can do something about it by getting one of these. It makes all the difference... just give it a couple of hours to get used to it.
I am completely satisfied with this genius lumber support cushion
I bought it just for a try! Surprisingly, ever since I had this cushion attached to my office chair, I cannot sit without! I am completely satisfied with this genius lumber support cushion. Was diagnosed with lower back, L4 and L5 disc damage from aggressive running and heavy liftings. Went to physical therapy twice a week since last Oct. Purchased this item in December 2017. So far, it saved my life!!With this lumbar support, I haven't had low back pain due sitting at work till I had to stand up to release the pain or I had the feeling of pain like I'd want to vomit! I am serious! This cushion supports lower back area just perfectly. It SUPPORTS so well and I even introduced my coworker ordered one who had the same back issue as mine. Of course, on the the side of sitting with this cushion while at work, you also need to do lots of stretches and tostand up to walk around every 30 mins if possible. But, do so to prevent from further damage to reduce pain not because of long lasting pain.
Finally, relief!
I recently switched jobs, and the chair at my new job killed my back. I had tried a couple of different styles of back support for my chair that I had purchased locally, and my back pain still continued. After reading many reviews for similar products on Amazon, I decided to give this one a try. After the first day, I noticed a huge difference and my back didn't hurt as much. The only complaint I have is that even after tightening the straps as tight as they will go, they're still a little loose on the back of my chair and I have to adjust the back cushion a couple times per day. I don't think this is a fault of the product, but due to the fact that my chair back at work is slimmer than most office chairs. However, because of the relief it's provided, I would buy again. Oh, and I love the extension straps to allow for this to be used in my car, if needed.
Questions?
Does this include free shipping?