💪New Year New You! 👍

❤️ Elderberry Gummies ❤️
w/ Vitamin C & Zinc

Blueberry Flavor
Fight Cold & Flu
For Kids & Adults
45 Day Supply
Made In USA

Vegan
Non-GMO
Save $4 and secure yours today!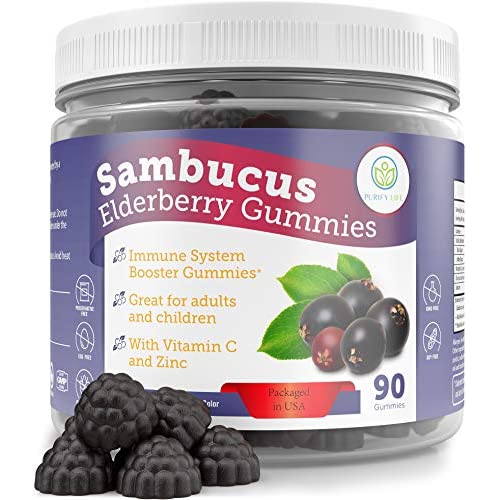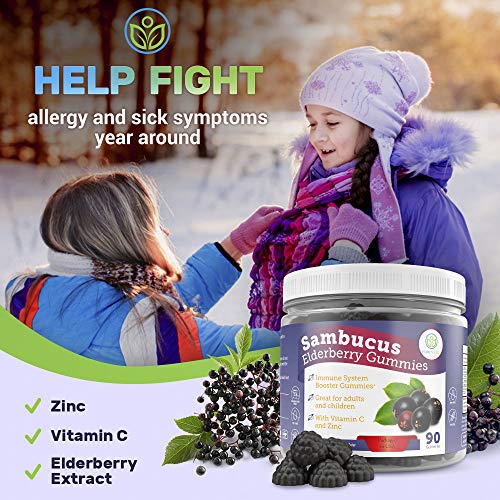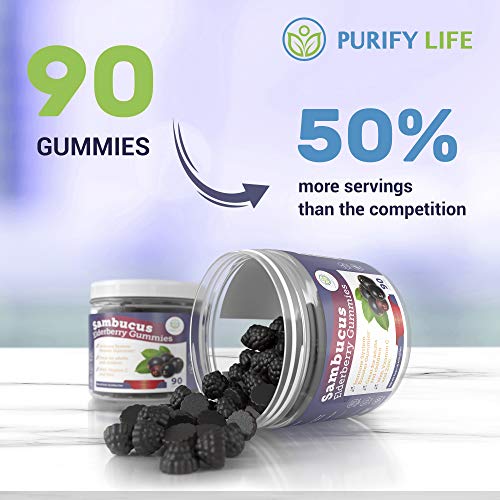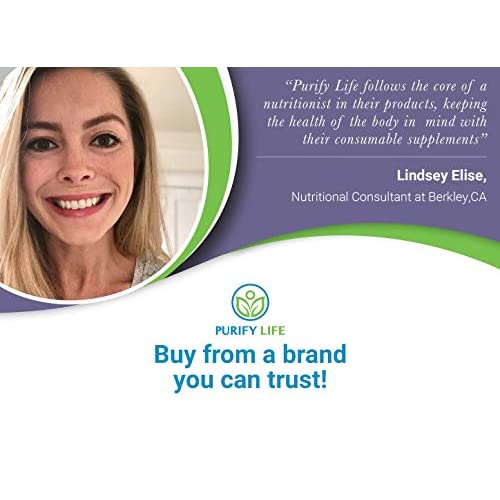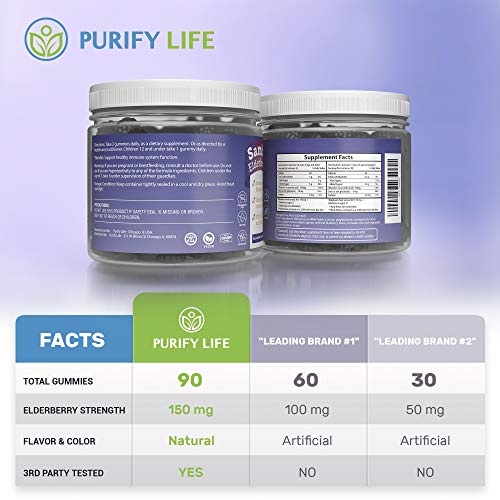 Go to Amazon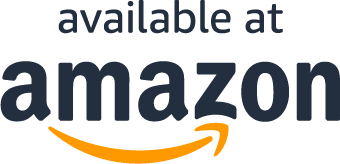 About the product
Super Immune System Booster For Kids & Adults
50% MORE THAN LEADING BRANDS: There are 90 gummies in each jar of Purify Life Elderberry Gummies which is 50% more than all other brands available.
MULTIVITAMIN FOR MULTIPLE SYMPTOMS: Our Vitamin C, Zinc, and Elderberry supplement is proven to help fight and minimize cold, cough, and allergy symptoms.
NATURAL HERBAL BLEND: No gluten, no pectin, and no artificial colors. Our all natural low-sugar sambucus nigra supplement is hypoallergenic and taste great!
SAFE FOR ALL AGES: Designed for kids, toddlers, and adults or seniors, this vegan gummy option is easy to chew and swallow without choking.
WIDE OPENING TO EASILY GRAB GUMMIES: The bottle is a wide-mouthed jar which allows for easy access when grabbing the gummies versus pouring out several at a time, or them getting stuck at the mouth when stuck together.
What Our Customers Are Saying
Great Value
The quantity for the price is a great value. While comparing brands the quantity vs the serving size was my deciding factor coupled with the good reviews. I bought these as I've heard great things about elderberry and sickness prevention. We moved to a new state a couple months ago and my daughter was starting a new school. From past experiences with PreK and K she's gotten sick shortly after starting both with the sicknesses lasting weeks even with a flu shot. I wanted to try these and just see for myself if they did anything at all. Well, here we are 6+ weeks into her new K and she is healthy! She got a little bit of a cough last week and I thought she was getting something, but it was short-lived only lasting a few days. Does the elderberry work? I think it's helped, yes. Even her new pediatrician said she's heard of elderberry and she recommends zinc & echinacea so she was in full support of her taking these gummies. My daughter is extremely picky food-wise. She didn't really like them at first, but the taste has grown on her. She says she likes the way they taste now.
I Believe It's Working
A friend of mine in the medical field suggested for me to take Elderberry to boost my immune system as I complained that I had suffered upper respiratory tract infections more than 10 times last year. It was my sickest year ever! I bought a jar just to try it out. I'm now on my second jar. So far so good even after I hung out with my best friend's family where his wife and 3 kids were coughing up a storm. I was almost sure I'd get the bug but got out of that unscathed. I'd definitely recommend this product.
Good Quality and excellent taste.
These gummies taste amazing and I feel as they have helped keep me healthu, though everyones body is different. I enjoy the taste and overall texture. They do not clump together like most gummies, nor do they leave a nasty aftertaste. They are sweet but not to sweet. I honestly wished the company made regular candy gummies because they are very high quality. I would recommend these to anyone wanting a good and tasteful gummie. Also its nice that one jar can last an individual for a few months. The price is overall affordable.
Taste good
Elderberry gum taste great and good smell,soft and chewey so I like the texture .my son really like.
Yummy!
The elderberry gummies were surprisingly yummy! I now have my whole family taking one a day and have to tell the kids that they can only have 1 because they want to eat the entire container! For the price you get a lot in the container. They seem to be working because we were able to avoid a cold that many people that we came in contact with had.
These Elderberry Gummies with Zinc and Vitamin C are Helping Boost our Immune Systems! ~
These Elderberry Gummies with Zinc and Vitamin C are helping us stay well. So far, so good. They are soft and chewy, easy to take, and taste good. I like that these are safe for adults and kids. We go through them pretty fast with our family, but definitely feel a little safer taking them. I like that these come sealed for safety. Their expiration is over a year and a half out, which is plenty of time to use these up. Nice product. Helpful to our immune systems.
Questions?
Does this include free shipping?