CRLight Dimmable LED Candelabra Bulbs
CRLight 6W 700LM Dimmable LED Candelabra Bulb 2700K Warm White, 60W Equivalent E12 Base Filament LED Candle Bulbs, B11 Clear Glass Torpedo Shape Bullet Top, 360 Degrees Beam Angle, 6 Pack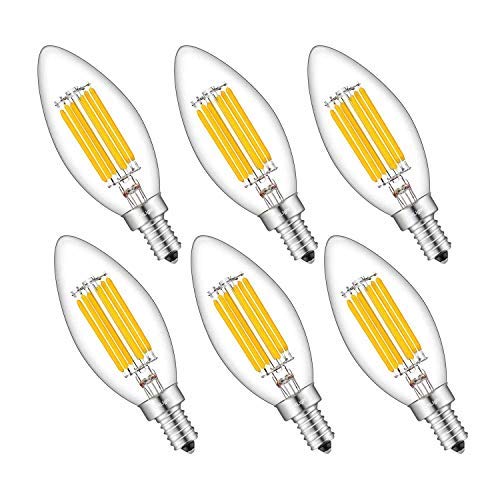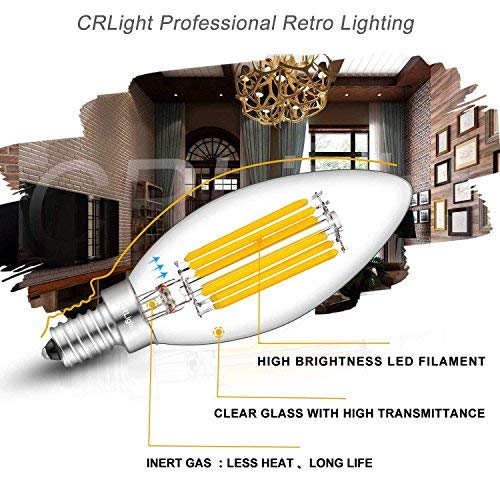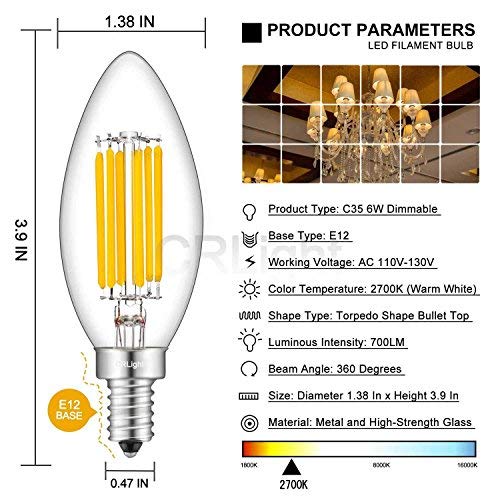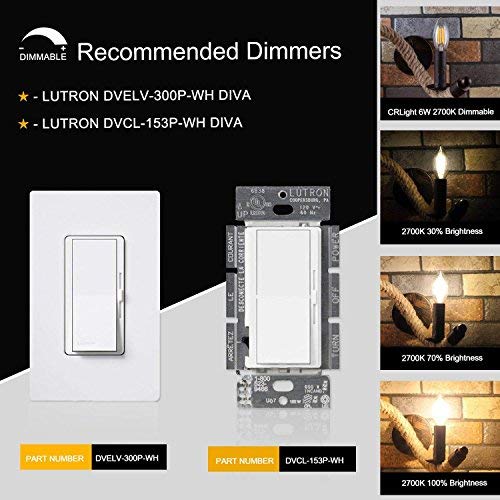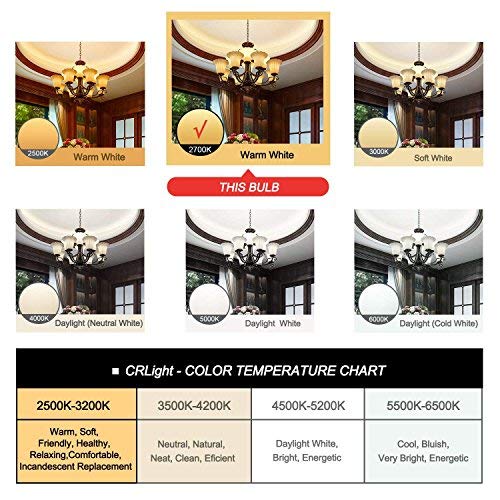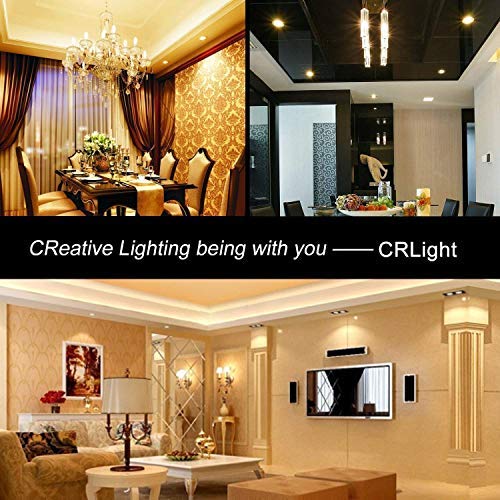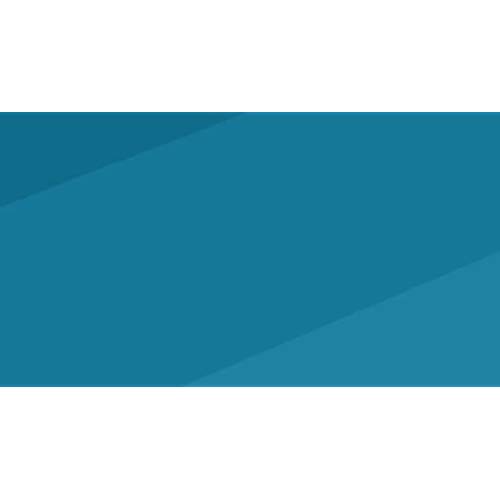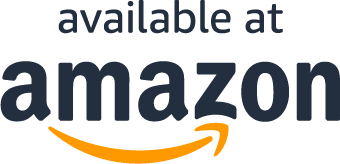 About the product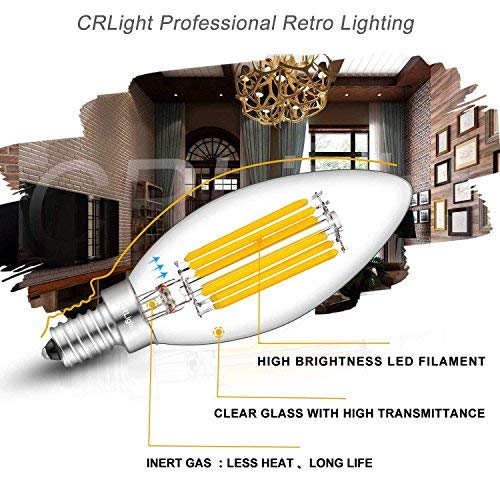 Make sure this fits by entering your model number.
Glass
TECHNICAL FEATURES - Dimmable LED Filament Candle, E12 Candelabra Base, AC 110V-130V, with Overload Protection, Short Circuit Protection and Over Temperature Protection, The Best Recommended Dimmer is Lutron DVCL-153P-WH Diva
COOL RETRO LOOKING LED BULBS - Antique Style, B11 Torpedo Shape Bullet Top, Warm White 2700K, 700 Lumens, 360 Degree Beam Angle, Light Pattern Same as Incandescent Bulbs
ENERGY SAVING - Replace 60W Incandescent Bulb by 6W Filament LED Bulb, Save over 90% on Electricity Bill of Lighting
ECO-FRIENDLY LED BULBS - Ultra-thin Crystal, Clear Glass with High Transmittance, Mercury-free, No UV, CE and RoHS Authenticate
EXTREMELY LONG LIFE - Average 30000 Hours Lifespan, 16 Years Life (5 Hours per Day), 2 Years Warranty
What Our Customers Are Saying
Fantastic solution when the entire bulb is visible in fixture
I have a light fixture from the nineties in my new living room (I just bought the house) and decided to look at the bulbs being used, since this light fixture is on a LOT right now. Turns out this little fixture was using three 40-watt bulbs, making it a 120W light fixture. I decided to change them out for basic LED bulbs from the hardware store, 40-watt equivalent. They worked, but in this light fixture the entire bulb is visible, with most of the light coming from the sides of the bulbs. The basic LED's are half plastic and it was casting a shadow downward where I needed the light the most. I then found these. Considering the decrease in watts I decided to bump up to the 60-watt equivalent and give them a shot. They were exactly what I needed. Now the whole room is well lit and the entire fixture is only 18W compared to the 120W it was before. If their longevity is even half what they have listed, this will still be a great deal. If your entire bulb is visible in the fixture like mine was, pick these up, you won't be disappointed. If you have a fixture that sort of points the bulbs where it's intending to cast light, the basic LED's in the hardware store will probably work just fine and cost less. This saved me from having to replace the entire fixture. EDIT: I later changed the switch I had going to the fixture to a dimmer switch (one I made sure works with LED bulbs), and these bulbs dim perfectly and without any noise I can hear.
Soft but bright light
I bought these frosted LED bulbs for a new ceiling fan that has a lamp aimed directly at the door, hoping the light would not be as harsh when glanced at as a non-frosted bulb. Success! They also dim all the way down, in steps but without flickering when stopped at a given level, and are reasonably bright all the way up. They take a second to reach full brightness after being turned on, but that could be due to the way this dimmer works. I chose the 4000K bulbs because I prefer the whiter light. I wish frosted bulbs didn't cost so much more than clear bulbs, but I'm happy with them in this particular fixture. I've been using them less than two weeks and will update this review if I have any problems. Update two years later: They're still working fine. But if I were to buy bulbs again for this ceiling fan in my bedroom, I'd buy the 3200K frosted bulbs instead, as the 4000K light is too white before bedtime. Maybe someday they'll make bulbs that have a daylight white color during the day and become yellower in the evening and at night....
Questions?
Does this include free shipping?