An Exclusive Offer For You
Cinema Light Box with 240 Letters with Extra Long Durable USB Cable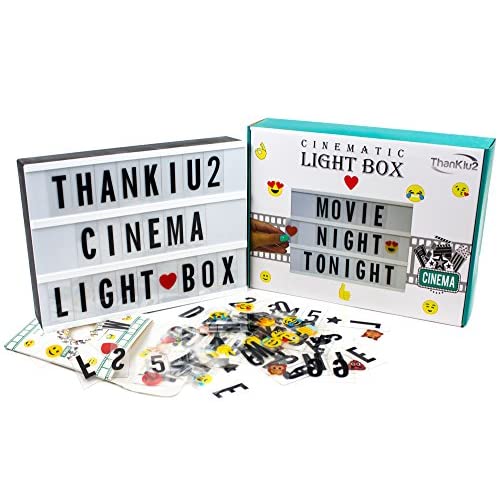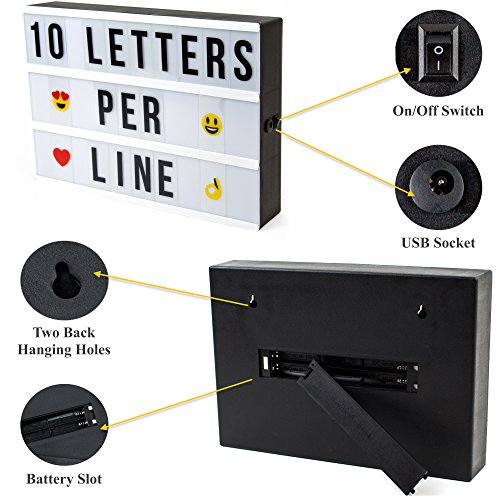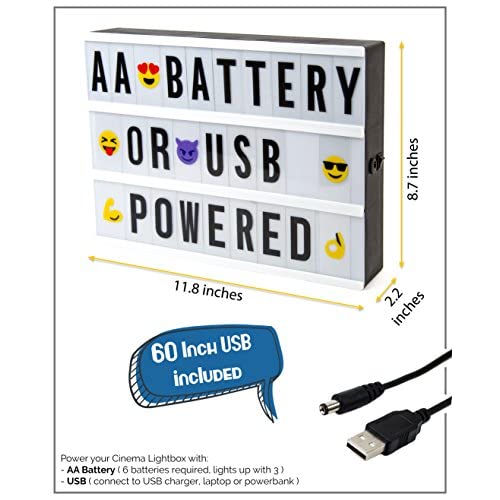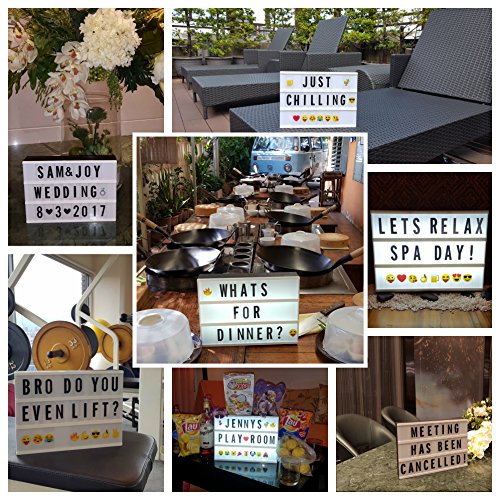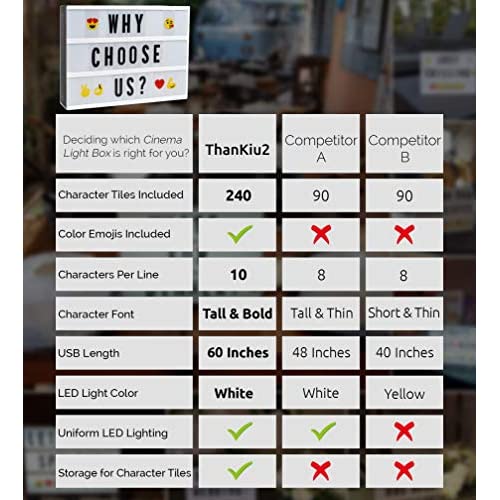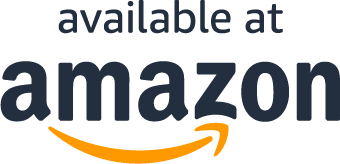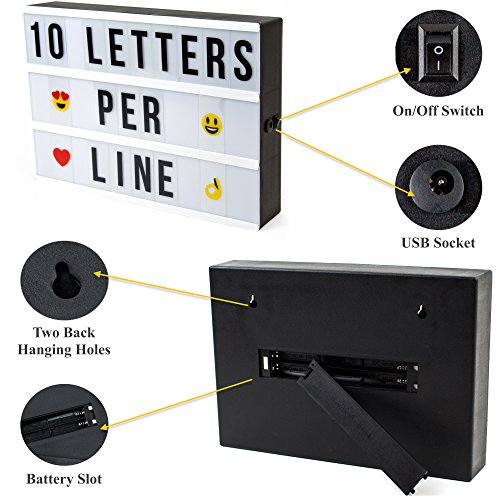 About the product
😍A VINTAGE CINEMA STYLE LIGHTBOX: Are you looking for a unique decorative piece with vintage vibes? Then the cinema light box is exactly what you need! The LED light up box is designed to look like those retro cinema and theater signs that would advertise a movie and share a fun message. You can now write your own fun, inspirational or motivational message on the mini lightbox and create a black-and-white film feel to your space!
😂MORE LETTERS, SYMBOLS AND EMOJIS: So what message are you planning to write on the cinema lightbox? Thanks to the 240 letter set which now includes MOVIE NIGHT THEME emojis, your options are endless! The A4 LED light up box has three lines and each line can fit 10 marquee letters, more than any other cinema light box with letters on the market! So be creative and change the message on the light up box as often as you want! The procedure is fast and effortless!
❤️DECORATE ANY SPACE YOU WANT: You can decorate any space with the cinema style light up message sign for any occasion. First of all, you can decorate any room of your house and turn on the LED light box once the sun goes down. You can also decorate your office to make it warmer! Finally, you can use the light up box for weddings, Christmas parties and baby milestones. Thanks to the extra long durable USB cable, it won't be hard to find the perfect spot!
😎YOUR MESSAGE WILL BE VISIBLE FROM FAR: Get the ThanKiu2 letter light box and write a message on it. Then plug it in and take a few steps back. Can you see that? Thanks to the super-bright white LED light of the cinematic lightbox and the thick and bold black letters, numbers, symbols and emojis, your message can be easily seen from far! Try it out and see for yourself!
👍YOUR SATISFACTION IS GUARANTEED: Here at ThanKiu2, we're very confident about the quality, durability and amazing style of our cinema light up box. For this reason, we have backed it up with a 30-day money back guarantee! So if you're not completely satisfied with the mini lightbox or if there is some kind of problem, contact us and we will do our best to help you!
What Our Customers Are Saying
Wonderful Light Box & Some Tips !
Box is clearly well built with a nice USB power adaptor or batteries. In my opinion what makes this item better than others is it includes multiple letter & emoji sets so there should be less of an issue crafting phrases with requiring redundant letters. Additionally, the letters provided are all printed on nice plastic.Recommendation:i) to help more quickly find the letters for completing a message I would get some Avery business card plastic sheet holders for putting the letters in. This makes an amazing difference even though the letters are nicely packaged with a durable cardboard holder.ii) when separating the letters initially I would "carefully" pull them apart as they have a nice plastic coating on them. Although this plastic coating can be removed if you pull the letters carefully you do not need to remove the plastic film.
Cost effective solution for marketing. Already many positive comments ...
Cost effective solution for marketing. Already many positive comments. While there are others on the market, this one is confirmed a quality product.
This is amazing! I am SO happy with this item!
I purchased this to place on my desk at work. I wanted something eye catching that my clients would remember. This is EXACTLY what I wanted! It's bright, cheery and so unique. I can change the saying depending on the season, mood or intent. I've had it up for about 1 hour and have had several people comment on it. It came with two packets of letters and tons of emoji's. I can't yet speak to it's durability, but I hope it holds up for quite a while because I'm a bit obsessed with it. :-)
This cinema light box with letters is the perfect size to fit in my kitchen counter without taking ...
This cinema light box with letters is the perfect size to fit in my kitchen counter without taking too much space. It's super easy to slide the letters in every line and it looks very nice when the light are on. It comes with plenty of letters, a Christmas tree and lots of emojis. I received a lot of compliments recently at my holiday party.
Quality of product AND company!!
Very cute box. Nice size to place on my desk at work. I bought a package of extra letters/symbols but I feel like the letters it comes with is plenty. Light is very bright and I love that you have both options of batteries or cords. But what I appreciate the most from this purchase is the email I received after I got my package. It came with some inspirational quotes and felt very personal from their company. Great service. If I decide to give this as a gift I'll definitely shop with them again. Thanks!
This is a good one!
The size of this cinema light box is nice. It is big enough but still looks great on a desk. It can fit 30 letters or other characters. The package comes with a lot more letters than the previous one I purchased. The light box is a hard plastic box so it is extremely light weight. I always believe in paying a little more for a better product. I do think this light box is still a little too expensive with the materials provided. Nonetheless, this would be a nice gift for most people.
Questions?
Does this include free shipping?