An Exclusive Offer For You
Charcuterie Cheese Board & Stainless Steel Knife Set - Bamboo Charcuterie Platter Serving Tray with Cutlery - Wine, Meat & Cheese Night - Perfect for Birthday, Housewarming & Wedding Gifts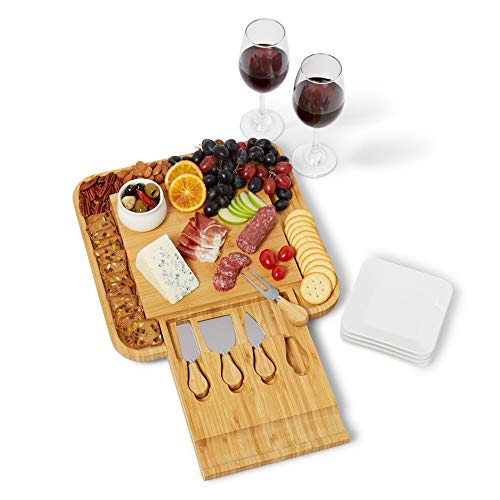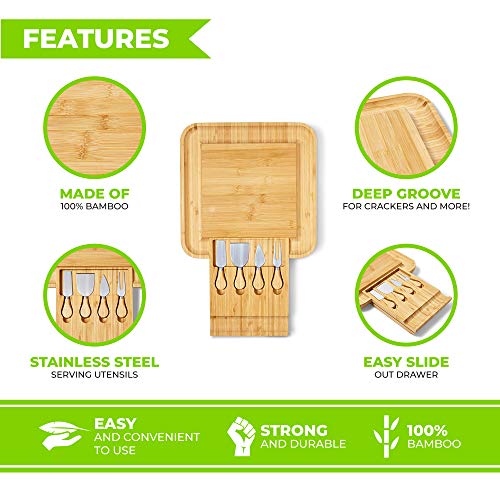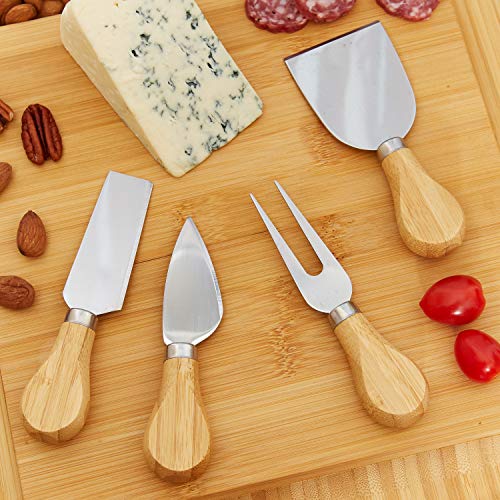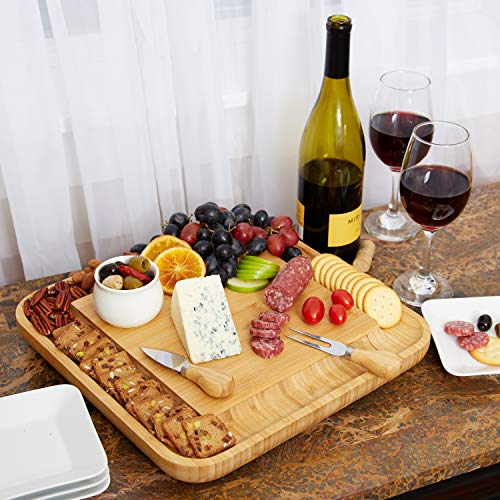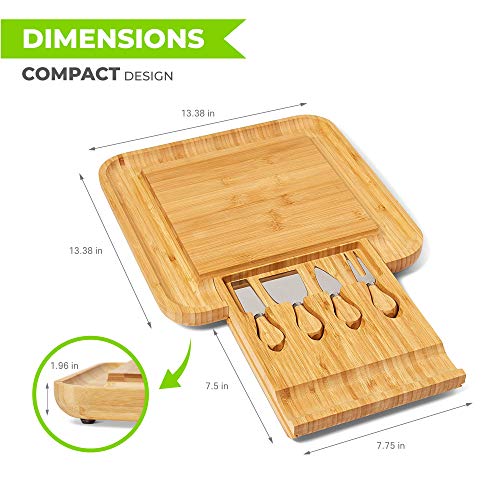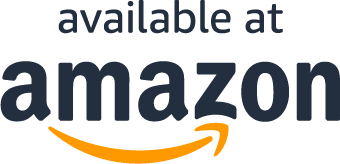 About the product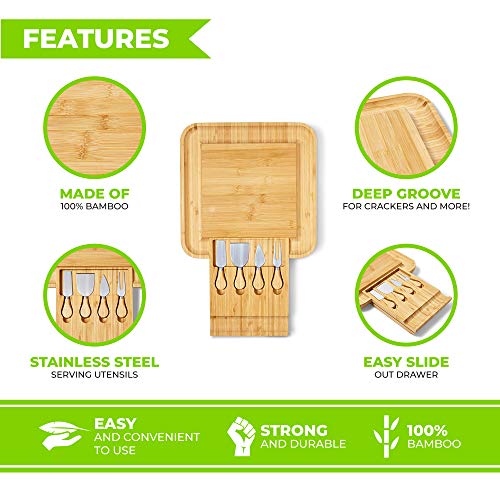 ✅ AMAZING PLATTERS! If you love hosting and creating colorful & yummy platters our cheese board is the one for you! Our product is large with a lot of room for goodies! Throw a ceramic bowl with dip, foreign cheeses, and crackers! There is an endless amount of creativity you can have with our cheeseboard! It has ridges to prevent slipping and extra room! You can create a dynamic appetizer or snack for your guests! They will think you're from the food network!
✅ HIDDEN DRAWER! We have a hidden drawer full of goodies! There are four stainless steel utensils for your convenience! The four knives are specially made for cutting cheese! Making and cutting a cheese board is an art form! This set makes it easy to cut with the mini size! No need to hassle with random and large cutlery! The drawer is there for easy access and custom made so the utensils fit like a glove! Our goal is to take your mind off hosting and enjoying the party as well!
✅ PARTIES, KICKBACKS, CELEBRATIONS! Use our cheeseboard for all of your activities! They are wonderful for parties! For large parties use this tray for your appetizers to pass around to guests! If you are hosting a girls night we have the best option for desserts and wine! Our platter has more uses than cheese! Add cheesecake, cupcakes, and other goodies for a sweet platter! No one can pass up wine! Whether you like big, small, sweet or savory our wooden board is perfect for you!
✅ HOUSEWARMING GIFT! Switch up your gift gifting and get something useful! Ditch gift cards and money to gift something real! Mothers, fathers, chefs, and new couples can all get use out of this! Our cheeseboard is premium quality so they are getting the best gift! The large size is built for larger parties and extravagant celebrations! Your loved one will be able to make professional looking charcuterie boards! A mix of nuts, grapes, meats, and gourmet cheeses will have guests mouth watering!
✅ U.S.A. Design and Testing: While our products are manufactured overseas (let's be honest, what isn't these days..) ALL of our DESIGN AND TESTING was done right here in the United States. Our USA customer service team stands by to provide you with exceptional, lightning quick responses to your every concern. Your satisfaction is our #1 priority.
What Our Customers Are Saying
Wonderful Addition For Any Home
I received this product sometime ago, and my fiancé and I are already in love with it! We love having friends over for dinner parties and game nights, so this will be a wonderful addition to our apartment. We have already used it and has proved to be very durable. I also love how it comes with its own utensils. You don't see that a lot, so it was a nice touch! Seeing how much we already love it, we will be purchasing more for gifts for family and friends!
Desirable entertainment cheese board!
This product is an ingenious design for use in home or office parties. Ideal cheese and fruit preparation board which includes utensils needed for preparation of items. Excellent design. Bamboo is excellent choice of wood!
Its a must!
Couldn't wait to get this Cheese Board! This cheese board is a perfect accent piece for any party table. The groves on the side are perfect for crackers and it keeps them from sliding off the tray.Definitely would recommend this to a friend. Quality of wood and the accessibility of utensils makes this a great cheeseboard.I believe each friendly house should have one of this boards for their guests. Thank you so much for this product and delivering on time.
Wife loves it
What I like about this cheeseboard is that it is nicely designed and it's heavy. Got it as a gift for my fiancé and she just in love with it. Really easy to use and friendly. We thought that drawer would disappoint us however it stays well shut, unless you tip the whole board over lol but at that point everything goes. We are thinking to get it as a gift for our moms. Really good quality and will recommend it!
Highly recommend for gatherings
The board has natural bamboo, quite heavy. I like it, has large size, could handle bigger volume. Come with a box and well wrapped inside, can give this as a gift if you want. I really enjoy specially in the evening when we get together. Highly recommend
Awesome for cheese and resting my steaks!
Great quality! Super sharp knifes and the drawer slides way smoother than expected!
Questions?
Does this include free shipping?