An Exclusive Offer For You
BedMaid Hybrid Fitted Sheet - Mattress Protector (Queen, Grey)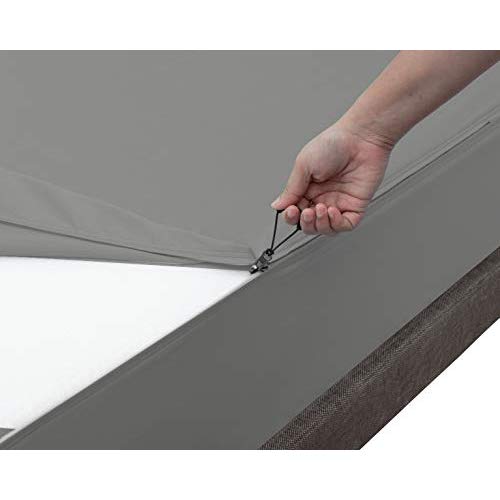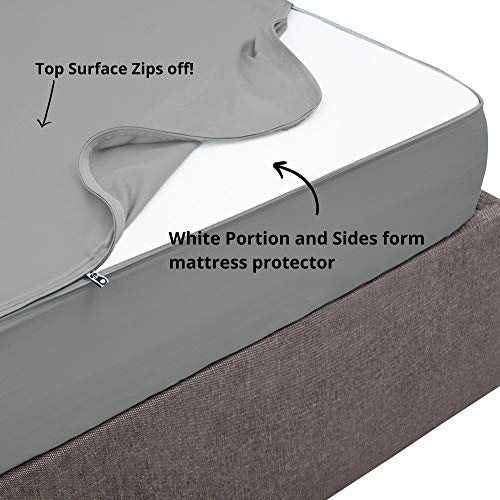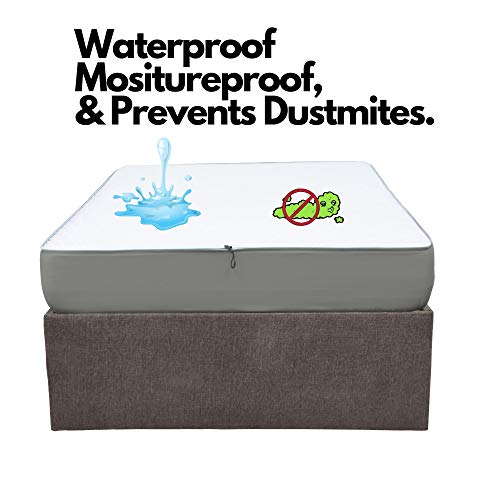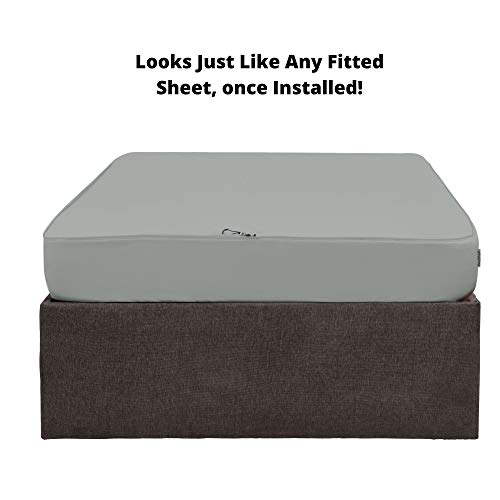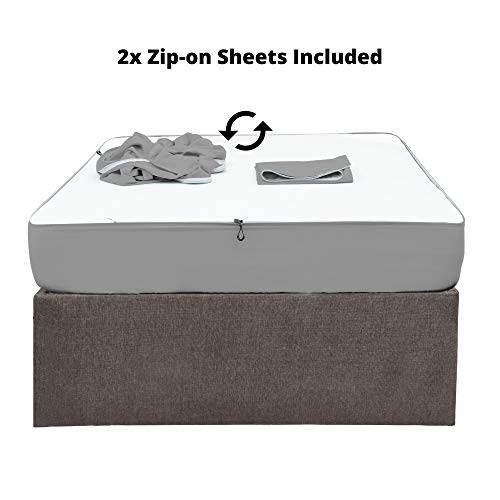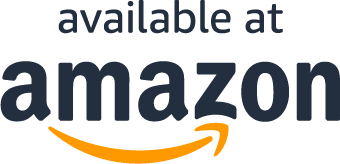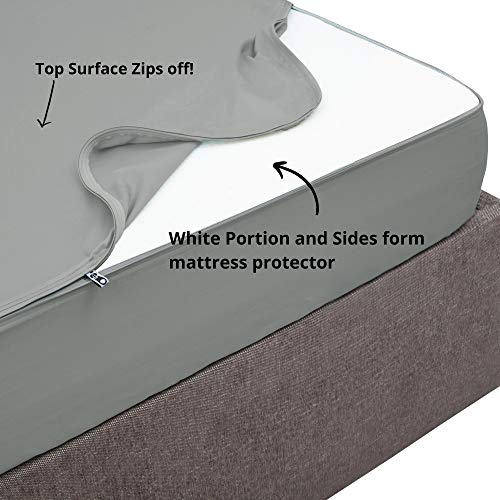 About the product
Make sure this fits by entering your model number.
Innovative Hybrid Mattress Protector - Only fits mattresses 12" and less in thickness - Replaces both your Mattress Protector and Fitted Sheet
Never Tuck in your sheet again - Bedsheet Zips on and off to the waterproof mattress protector that stays on the mattress
Always have a clean sheet waiting - pair of 2 zip-on sheets included. Stand-by Sheet folds effortlessly unlike your current fitted sheet
Works perfectly with your favorite sheet set - Simple discreet design replaces any fitted sheet
No Compromises - Noiseless, Crinkle-free and reliably waterproof with 100% Pure 500 TC Cotton Sateen zip on sheets (sleeping surface)
What Our Customers Are Saying
Comfortable, Unique & Practical
BedMaid~This sheet set-up is so unique, creative and yet practical, once it is set up.This base layer fitted sheet set is comfortable and stable. It doesn't bunch up under you and the best part is: when it's time to change, it is super easy to zip away and zip the next one on without the struggle of the typical fitted bottom sheet issues.I do recommend 'reading the instructions' on how to put it on. I had pre-washed mine and had them unzipped when I first attempted to put the mattress protector on by itself (and by myself). Let's just say, that did not work. Exhausted, I finally read the instructions that stated, to make sure they are zipped together when first putting it on the mattress. Yes, details matter. That made the difference and I was able to put the sheet set on without any assistance.I highly recommend giving BedMaid Sheets a try. They also make a great gift for anyone that you think may be tired of dealing with the hassle of putting that fitted sheet on after each wash... which is pretty much everyone!I appreciate all the thoughtful effort that was put into making this such a fantastic product.
Changing sheets just got much easier!
I was a Kickstarter backer of the original version and the designer offered me a free upgrade to try out the new version. My fiancee were already impressed with the original and the upgrades on version two exceed our expectations! The sheet, while hard to get on initially, doesn't move once it's in place. The improved zipper makes is much easier to change the top part of the sheet. And the new material is much cooler, which addresses one of our initial dissatisfactions. My only outstanding wish is to have the top part of the sheet sold separately in case we need to replace them.All in all, this is a well improved version of an already solid product! We'll be using this for a long time!
Where has this been all my life? 5 stars!
First impression from the packaging was that it was very thoughtful. The entire theme is 'unzippable sheets', and even the cardboard box can be unzipped! How neat!As for the sheets themselves, it required a bit of force to get on the bed but once that's done, they seem to be anchored well and fit nicely. Love the extra zip-on included as I don't hesitate to replace my sheets and just chuck the dirty ones in with my clothes. I wash my sheets 3x more often now that I don't dread tucking them in after washing. Pretty well designed as zip is well concealed. Will be buying more to gift this Christmas!
Finally sheets that stay in every mattress '
I love these sheets ! I had the older version and they improved just about everything! Finally sheets that don't come off the mattress when you roll over . Why did it take so long for these sheets to be invented !!!!
Best quality sheets I have ever tried
What a great product!! Saw an ad for these and was intrigued by the concept, was a little hesitant at first because of the price but having received and tried them on, I'm so glad I bought them! The quality is pretty solid and I can definitely see myself changing my sheets a lot more often. Mattress protector seems good too, just wish it was available in pad form. Great packaging, also wish they sold extra zip-ons.
Great product!
Such a great invention. My dogs sleep with me so I wash my sheets at least once a week. It's so nice to just unzip the fitted sheet and wash. Also it doesn't bunch up in the dryer like a normal/elastic fitted sheet. I'm telling all my friends and family to consider this product when they are ready for new sheets.
Questions?
Does this include free shipping?