独家优惠
BALDR便携式电站330W,2019年更新了家用便携式太阳能发电机,带QC3.0和TypeC SOS手电筒的CPAP备用电池以及用于户外野营旅行应急的无线充电器
$249.99
Go to Amazon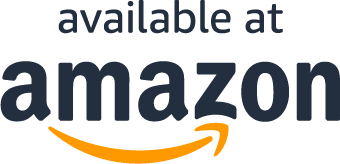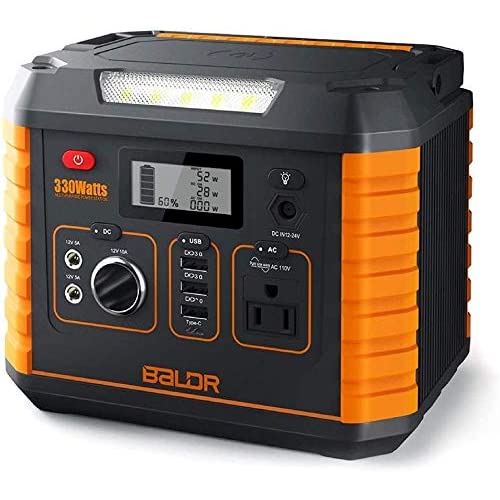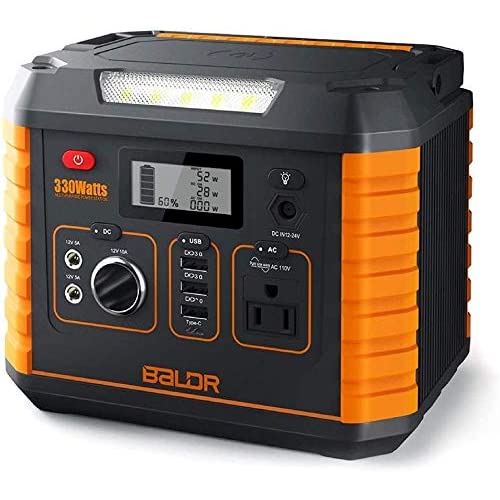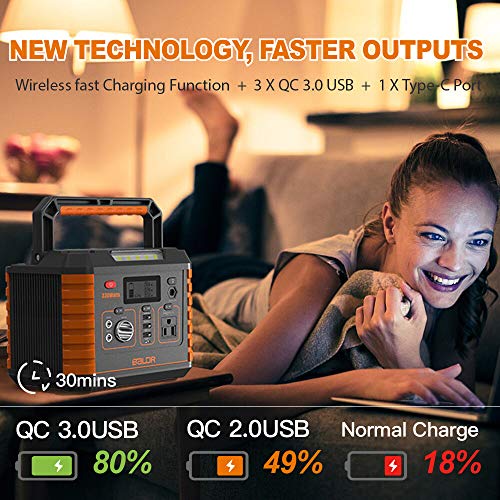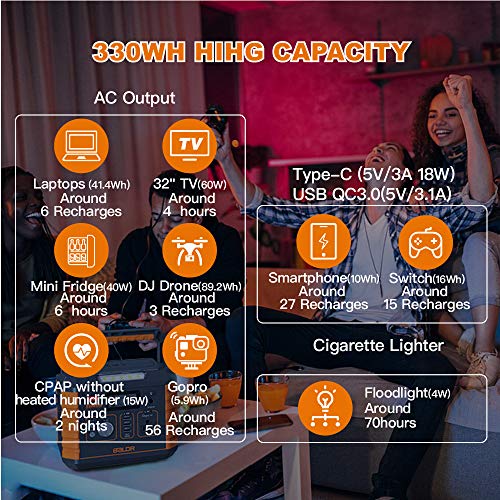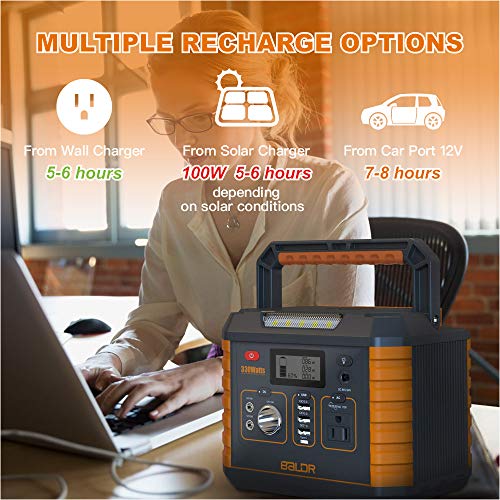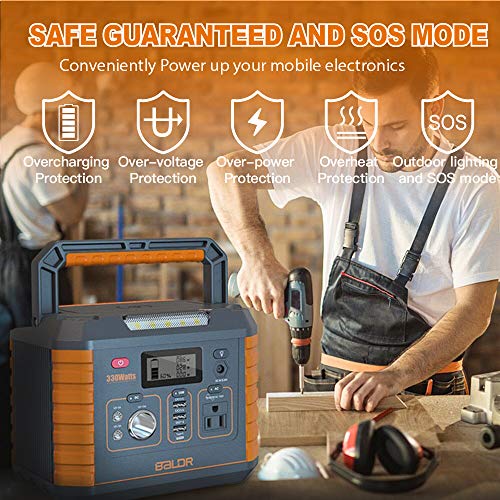 Go to Amazon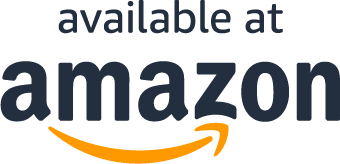 Read More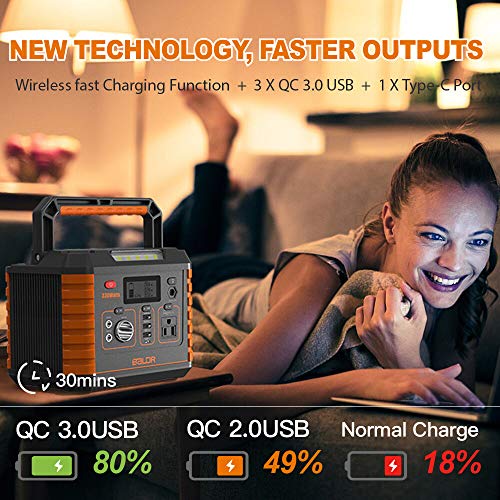 关于产品
通过输入您的型号确保适合。
【大容量便携式电源】:Baldr 330的功率为297wh,与其他野营电池相比,可为相同的电子设备有效地供电更长的时间。Baldr330便携式电站发电机功能强大,充满电后可用于家庭/旅行/露营,可为手机,平板电脑,平板电脑,GPS,笔记本电脑,对讲机,GoPro,相机,无人机,节日灯和CPAP机器
【三种简便的充电方法】:1)任何兼容的100W太阳能电池板(不包括在内)都可以通过太阳能的方式为发电机充电,并且可以在5到8个小时内充满电。2)插入壁式电源插座进行充电,可以在5到8个小时内充满电。3)插入汽车的12V插座即可充电,并且可以在7-8个小时内充满电。发电机只有7.1磅,您可以随身携带,永远不用担心电源不足
【多功能输出口】:BALDR电站配有标准的1 *纯正弦波交流电源插座;3 * QC 3.0 USB(5V / 3a,最大15W); 1 * C型(5V / 3a,最大15W); 1 *车辆端口(最大12V / 10A 120W); 2个DC端口(最大12V / 5A 60W)。随时随地为CPAP供电:我们强烈建议CPAP用户使用直流转换器与该电站配合使用,以获得更好的效果。
【SAFE AND RELIABLE】: Portable power station use battery management system (BMS) to improve battery utilization, and extend battery service life through short circuit protection, overcurrent protection, overvoltage protection, overload protection, overheating protection and other functions. In addition, the portable generator is equipped with a wireless charger and a built-in multi-mode flashlight, which can quickly charge the mobile phone in case of emergency and help with LED SOS mode
【HEALTH AND GUARANTEE】: Pure sine wave inverter, working faster, quieter and more stable. No gasoline or toxic fumes, completely healthy and environmentally friendly. Baldr always provides professional and friendly customer assistance so that you can better understand and use the product. We offer 30-day refund guarantee, 2-year warranty and 24-hour friendly customer service
What Our Customers Are Saying
Great power product, Christmas recommended!
Hands down! This is amazing! I recently purchased it and use it everyday. It controls a USB fan while charging my phone plus watching movies on my laptop, all this at the same time! It definetly supports my power needs.I would highly recommend this product to everyone. No matter where you are in the world you'll always have mobile power with it. I really like this brand and the customer service was very friendly and professional. Try them out! You won't be disappointed!
Exactly What I Needed!
I'm new to the solar power world and not very technically inclined so I did the online research. I always liked the simplicity of the goal zero products from a far though never made the purchase. When I saw reviews of the Baldr units I was drawn in. Decided to purchase the 300w to power my mini fridge. The generator on it's own ran nearly 12 hours in 12v mode. I'm sure results may vary between appliances but this unit performed beyond my expectations. Will be purchasing another 300w to rotate between the two and I'll be set. Great products and Customer services. Thank you! Highly recommended.
Looks great, highly recommended!
I bought this as a backup. I like its design - small, portable and looks fashion! Just used it to charge my cell phone, it has wireless charge on top of it, so convenient!
Very nice battery backup with 3 ways to charge it and 4 ways to charge/run devices. Has a light too!
Very nice battery backup with 3 ways to charge it (AC, DC, Solar) and 4 ways to charge/run devices (AC, DC, USB, wireless). Has a light too! I have not had a chance to charge with a solar panel yet, but I did learn it does not require a charge controller (MPPT nor PWM). Just connect solar panel to the MC4 cable that comes with it. Will be very handy this summer.
Compact, Rugged, Good Features
Specced out a number of these units and found a great deal on this one. Will be hooking it up to 2 110W Nature Power Solar Panels (via SAE connector/adaptors) and a Renogy Wanderer Li 30A 12 PWM NGC Controller. Hopefully this setup will work 4me.
Easy to use
这是我第一次购买或拥有这样的小型发电机,因此我没有什么可比拟的。该产品为运输做好了充分的准备,并达到了理想的状态。它比我想象的要小,并且比我想象的要强大。它结构紧凑,相当便携,并提供了良好的电源。我只用了几次就很好了,我在车上用过。我很喜欢。它会在很长一段时间内保持充电状态,这意味着我可以在充电之前先为我的物品充电。