APC-90 Digital Breathalyzer -
Professional Breathalyzer with LCD Display
DURABLE, ACCURATE, AND CONVENIENT
The APC-90 breathalyzer is a durable digital alcohol tester that is portable and compact in design. It is made using improvement techniques & hardy materials to give accurate measurements with every use. It has a large digital screen with blue lit background to make it convenient to use, especially when you use it at night.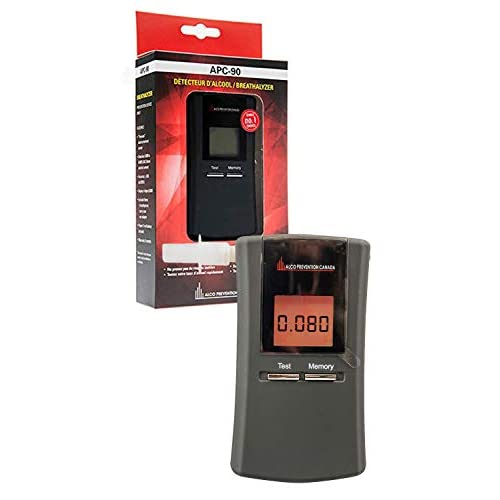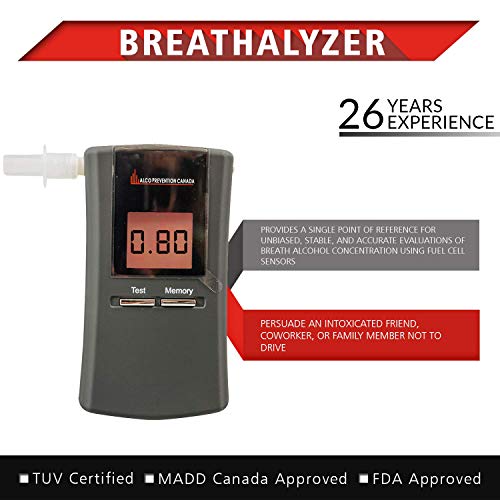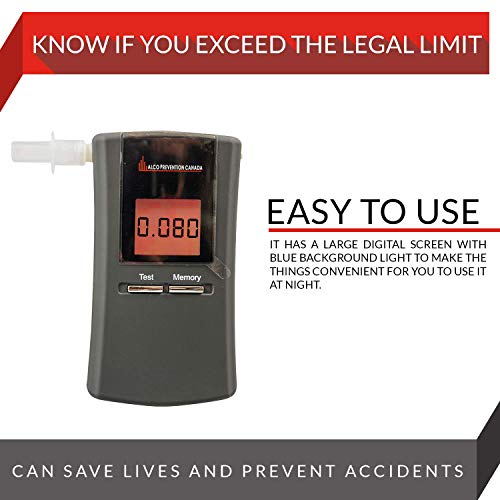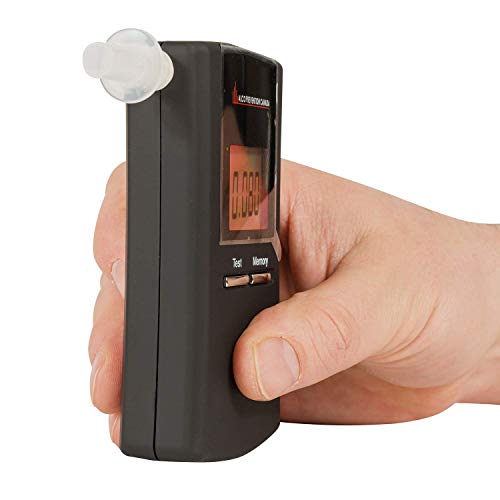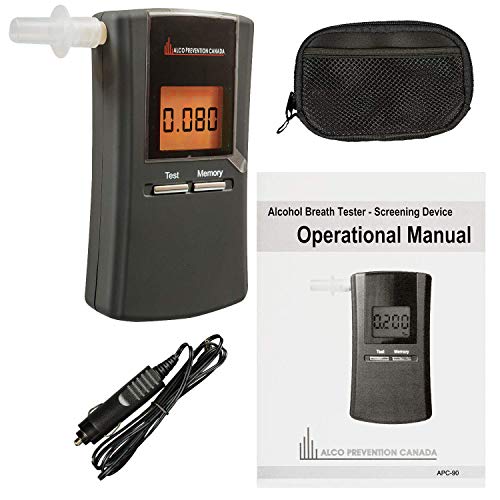 About the product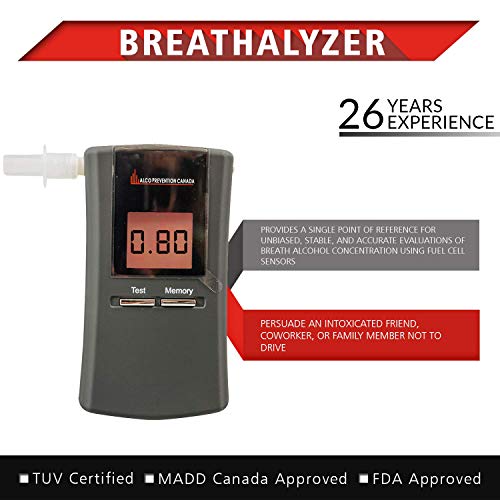 APC-90 uses the premium quality Platinum Fuel Cell Technology, the same alcohol sensing technology trusted by professional users worldwide.
An approved screening device by the National Food and Drug Administration (FDA) for consumer sale and use.
Comes with a car plug & the facility to detect the blowing pressure.
Comes from the factory fully calibrated.
Intended for every consumer and family alcohol screening need including; family testing, home bars & parties, office parties & designated drivers.
Accurate Results
Our breathalyzer tester uses Platinum Fuel Cell Technology, the same alcohol sensing technology trusted by professional users worldwide. Alcohol detector devices that use this technology are known to provide precise results.
Durable Design / Easy to Carry
This alcohol tester will fit into almost any shirt or pants pocket. The APC-90 alcohol monitoring device features a durable LCD screen that's easy to read in bright light or low light conditions. Choose the format you are most comfortable with as results can be read in two different formats: %BAC and mg/L.It comes with a handy case and a car plug which allows you to use it wherever you are. This makes it more convenient for you, especially while traveling. You can check what your blood alcohol percentage is anywhere, anytime.
Perfect for Everyone!

The APC-90 Alcohol Breathalyzer is not only ideal for our law enforcement officers, medical facilities, and other professionals but it can also be used by anyone in your family. Take it with you wherever you go and gain peace of mind - keeping your loved ones safe with Alco Prevention Canada Breathalyzers.
What Our Customers Are Saying
Avec ça, t'es en buisness mon chum!
Je me suis procuré cet outil car je travaille sur la route.Et dans mon autre vie, je fais beaucoup de soirées d'humour.Donc, soirées dans les bars, beaucoup d'alcool. Bref, je ne dois pas perdre mon permis, sinon ma vie est foutue.Je pense que c'est le 200$ le mieux investi dans ma vie.Tout le monde sais que la limite c'est .08. Mais qui sait vraiment quel est le "feeling" de .08.c'est plus qu'on pense, mais c'est rassurant de savoir que t'es safe si jamais y'a un barrage.Merci à Preach pour la recommandation!
Accurate and quick, but tough on batteries
I've used this device extensively for christmas parties, and it is accurate, very little variation in between blows (for the same person). Very easy and intuitive to use, display is easy to read and interpret.However, it runs on a 9V battery, and it lasts about 50-75 blows before getting low battery warnings.And definetely not suitable for outdoor use at sub-zero (celsius) temperatures.
Blow baby blow
So far, so good. Small price to pay. Guests like it/hate it.Don't drink and drive.
Monitorer notre alcoolémie
Je trouve ça très utile pour se situer dans notre consommation et apprendre à se connaître.En ce qui me concerne, à voir comment je me sens à 0.08, je considère que cette limite est passablement élevée.À 0.04-0.05, j'avais l'impression au feeling d'être "limite" légal par crainte. Je vais continuer à viser 0.05 maximum pour moi. Hier, j'ai quitté un party BBQ à 0.000 où j'avais bu un peu et beaucoup mangé. La nourriture change beaucoup la vitesse d'absorption et peut la retarder également... Il faut en tenir compte.
Peace of mind
I live in the country and have to drive alot. This tool is very paractical and guarantee's my safety (and others). Then I know if I sleep over a friends place or drive home.
100% accurate
Wow I just got this device after spending so much on others and after my drinks took itTo police station to match it with their device.Amazingly the result came 100% the same.Thank you so much and much much appreciateHighly recommend to everyone looking for these deviceIt's just pricelessThank you , thank you, don't know how else I can thank for it
Questions?
Does this include free shipping?