Amazon Exclusive Offer- Get Your Discount Code In Messenger 👇

3X Large Ultra Bright LED Page Magnifier with 12 Anti-Glare Dimmable LEDs (Provide More Evenly Lit Viewing Area & Relieve Eye Strain)-Ideal for Reading Small Prints & Low Vision
$9.97
Send to Messenger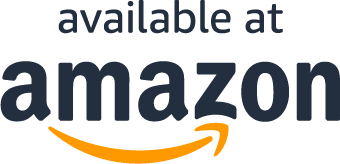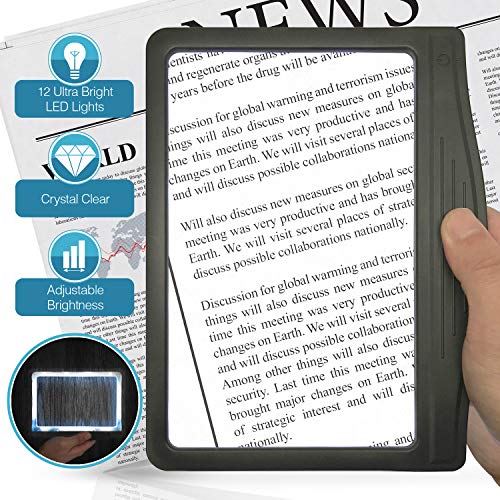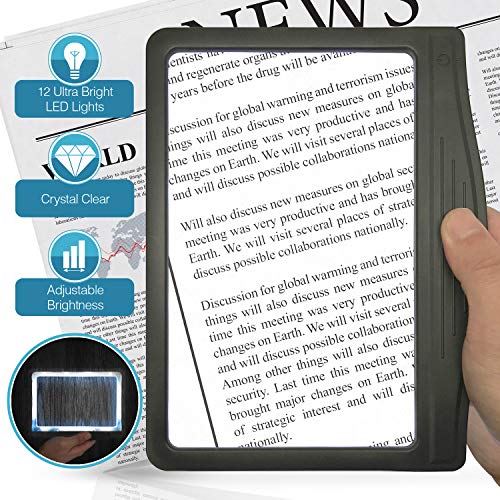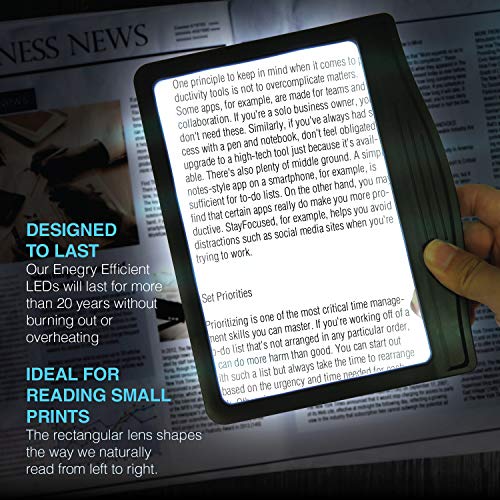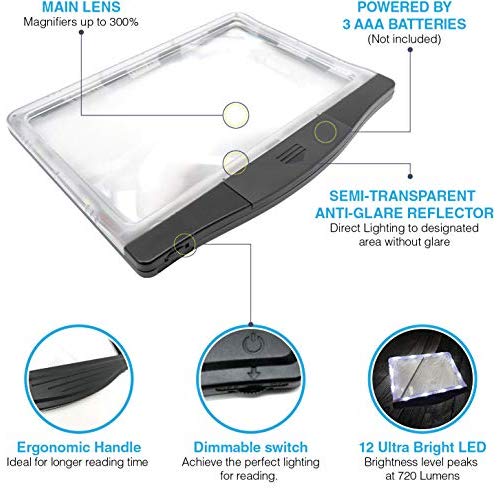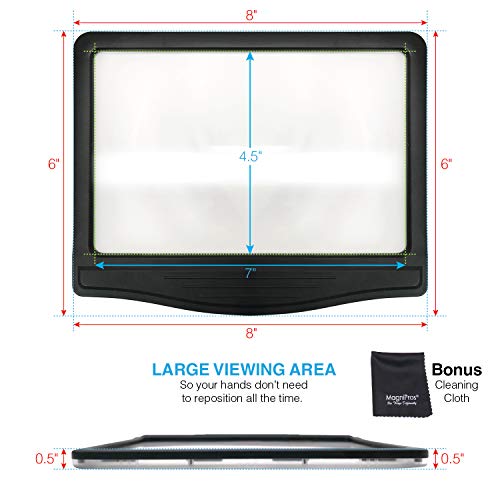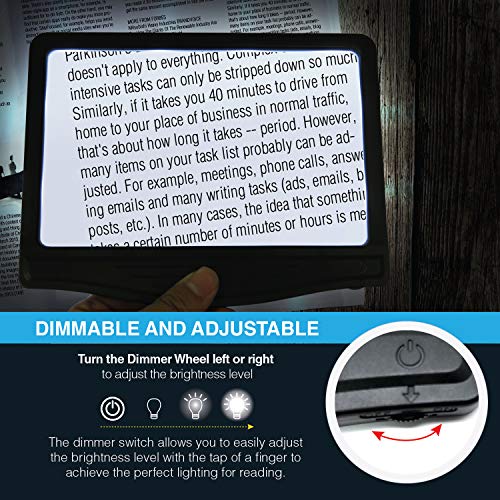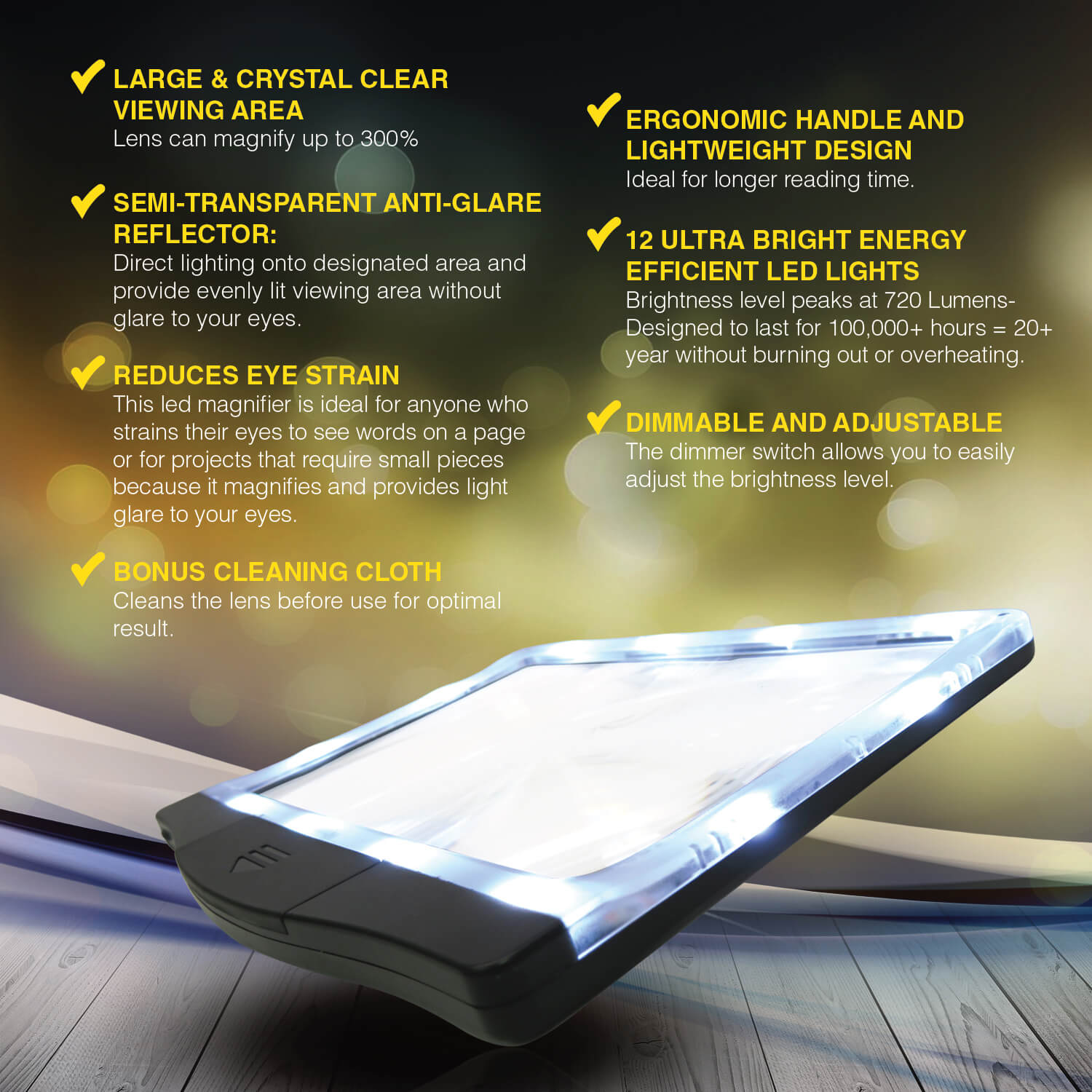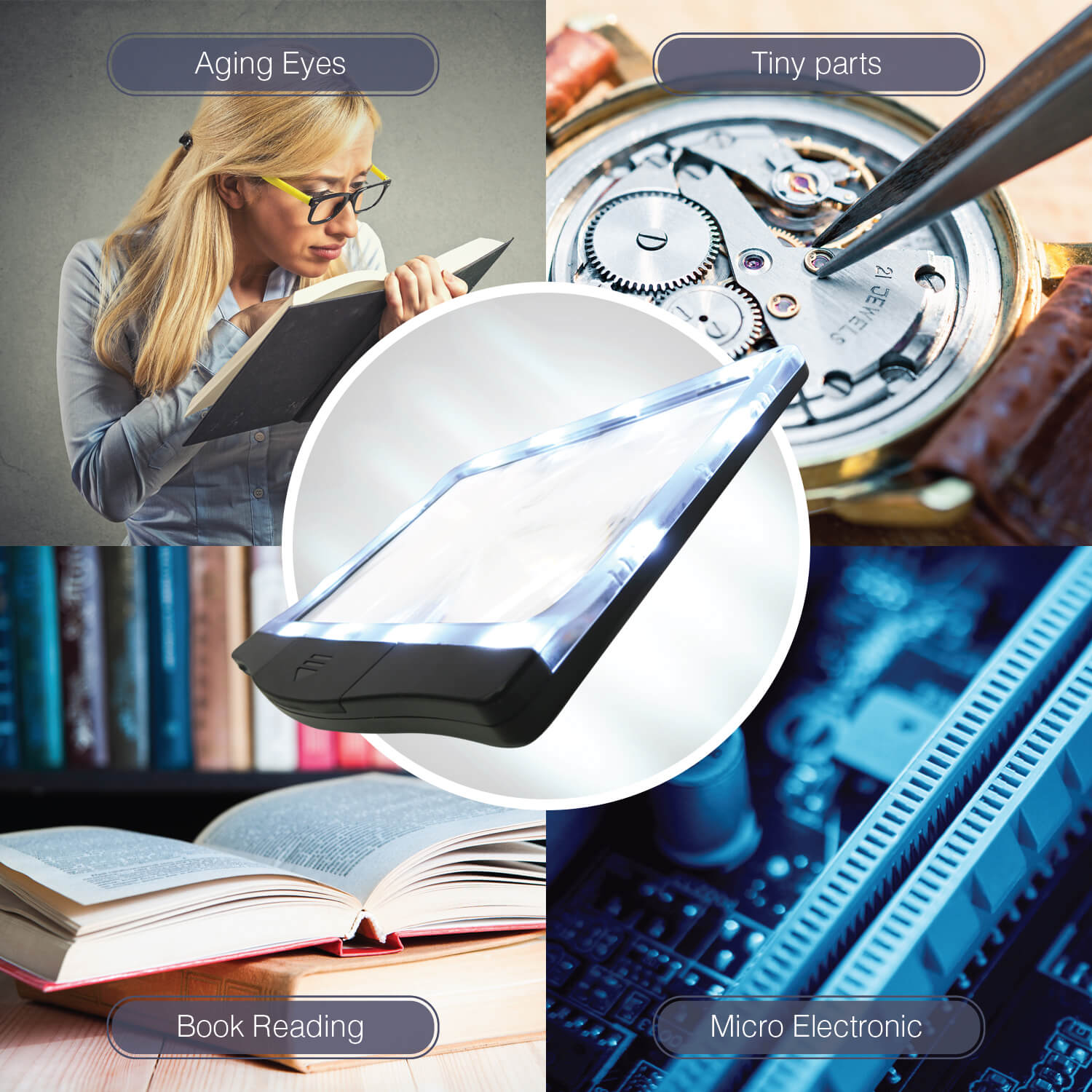 Send to Messenger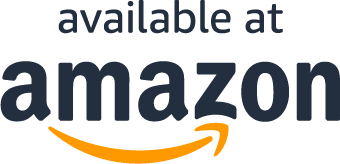 Read More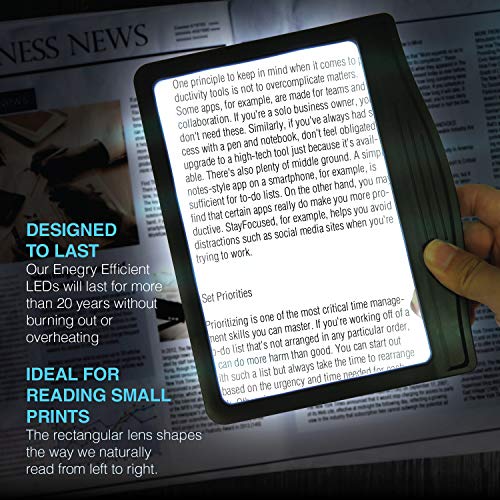 About the product
★ THE MOST ADVANCED LIGHTING SYSTEM ON MAGNIFIER: This led magnifier is equipped with 12 SMD led lights which are covered by anti-glare reflector, therefore, lighting will be directed to an designated area without glare to your eyes, and provide evenly lit viewing area.
★ LARGE VIEWING AREA WITH CRYSTAL CLEAR LENS: Optical grade magnifying lens covers large viewing area without having your hands to move all the time, lens(viewing area) is measured 4.5"x 7" and magnifies up to 300%.
★ 12 ENERGY EFFICIENT SMD LEDs CONTROLLED BY DIMMABLE SWITCH: Our SMD LEDs are designed to last 100,000+ hours not only provide more evenly lit and brighter viewing area but consume less power than traditional LEDs so a new set of batteries would last twice longer.
★ LIGHTWEIGHT & ERGONOMIC DESIGN: The unit itself only weights 6 ounces, and the grip of this LED magnifier is ergonomically designed for most hands, therefore, ideal for long reading time.
★BRIGHTEST & THE BEST READING MAGNIFIER:The brightness level peaks at 720 lumens, the brightest on the market, these LEDs are designed to last for more than 20 years without burning out or overheating.
What Our Customers Are Saying
A great lighted page magnifier
This is my second review for this product. My husband and I are both seniors and the print - - whether in books,or on cosmetics, medicines, and it seems like a 1,000 other things is just too small to read. This lighted magnifyingpage is just wonderful. I purchased the first for him to use with his morning devotion book. He uses it daily, andwe liked it so well that I purchased one for myself. The brightness of the light is adjustable. It fits my I-pad case perfectly. This is a wonderful product that I highly recommend. The lighting and larger area makes it much better than readers -- especially at home or in our RV.
Magnifier
WoW, what a difference.......as I get older my eyesight is rapidly changing. This magnifier is terrific....Thank you so much, I am now able to read my Bible again..
Perfect for me
I use this product for reading the newspaper and non-glare magazines. It works well I also have an Ott light beside me which helps add more light through the magnifier on my paper. If there was one about 75% of the size of this one I would prefer it as it would concentrate more of the LED light to my readings. Overall happy with the product. I use it daily.
Great for people who don't like wearing reading glasses!
Brought this fit my 85 yr old dad as I've seen him having trouble reading the paper. His stubbornness has him constantly saying that he doesn't need the help. Casually left this on the table where he reads the daily newspaper and didn't mention anything about it. Found him using this magnifier while reading the paper. SUCCESS!This magnifier is large enough to cover a good area to read. The LEDs come in handy when lighting is low. I would recommend this to anyone who does not like to wear reading glasses.
Questions?
Why are you running this promotion?
How can I use my coupon on Amazon?